Bumper guards prevent your vehicle's bumpers from getting unsightly dings, scrapes, and dents. In turn, this helps to keep up your car's value and even give it a more aesthetic appeal.
With a bumper guard on your vehicle, driving and parking will be less worrisome because there is less risk of damaging your vehicle if you bump into something accidentally.
But like everything else, you need to choose the best bumper guards from the different options available. In this bumper guards review, we aim to make things easy for you.
Here, we provide a list of some top models and a detailed buying guide to help you make the right choice.
Editor's Recommendation: Top Bumper Guards of 2021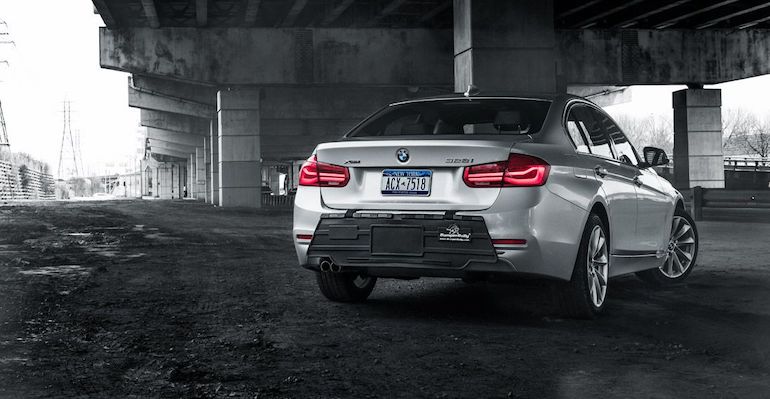 Summary of 10 Best Bumper Guards
IMAGE
PRODUCT
FEATURES

1. BumpShox XL (Best Front)

Tough V-Tech all-weather foam
Sleek pyramid design
Recessed screw design with no protruding metal parts
Flex-fin fender for extra coverage

2. Luv-Tap Bumper Thumper (Best Budget)

Budget-friendly
Extra-wide bumper guard - 15 in
Super flexible frame design
Wide enough view angle

3. Luv-Tap BG001 (Best Universal)

Universal vehicle fit
Secure bungee cord or suction cup attachment
Easily customizable & reusable
Machine washable

4. Bumper Bully Extreme (Best Rear)

Large protection area - 46 x 12 in
High-intensity safety reflectors
Premium grade rubber material

Steel reinforced straps

5. Bumper Bully (Best for SUV)

Extra-wide to fit SUVs
Patented stabilizer bars
Easily installation
Waterproof straps

6. BumpShox 3.0 BS-435 (Best All-Weather)

Designed for all-weather use
Super-strong & flexible rubber foam
Universal fit system

Recessed screw design

7. T-Rex 12012 (Easiest to Install)

Easy handling
360-degree protection
Universal fitting
High-density foam material

8. BumperBadger HD Edition (Most Stable)

Patented top stabilizer bars

Premium quality materials
Impact absorption zones

Triple-stitched straps

9. BumpTek Rhino Guard (Stylish Stick-On)

Perfect stick-on guards for your four corners

Air pocket design
Flexible and durable material
Matte black appearance makes it blend in

10. Bumper Badger Retro (Most Flexible)

Highly flexible impact zone
Strong triple-stitched trunk straps
Extra-wide surface
All-weather protection
1. Best Front Bumper Guard: BumpShox XL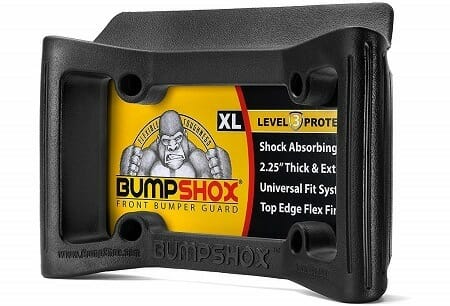 Dimensions: 14 x 8.5 x 2.2 inches
Position: Front
Material: V-tech all-weather foam
The BumpShox XL is a top-rated bumper guard that offers you front bumper protection using V-tech All Weather Foam. This material is tougher than steel and will make the guard almost indestructible, which is just what you want for the front bumper.
This foam guard is thicker and wider than a regular plate frame and also includes a flex-fin extender to ensure it provides maximum coverage for the front bumper. Hence, you will never have to worry about scratches and dents.
With its pyramid design, this guard not only looks sleek but will be more flexible to ensure maximum shock absorption.
For cons, it won't work with certain Volvo vehicles where you can't remove the license plate screws. However, once installed, you get permanent peace of mind.

---
2. Best Budget Bumper Guard: Luv-Tap Bumper Thumper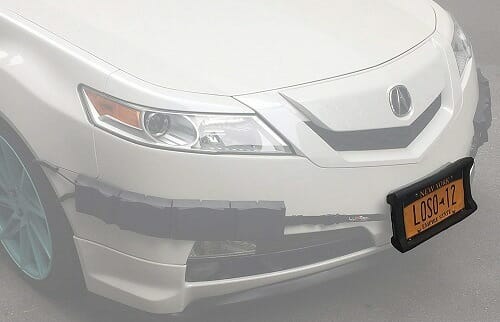 Dimensions: 15 x 7 x 2 inches
Position: Front bumper
Material: Foam
This Luv-Tap's bumper guard is also one of the best bumper guards for anyone looking for a more budget-friendly option. It's 15 inches wide to provide more coverage, and this also ensures a wide view angle.
The foam is also 2 inches thick, which allows it to offer more shock absorption. But the patent-pending flexible frame is what ensures it provides maximum protection. Also, the material is all-weather and will neither break nor rust.
One other nice feature is that this package includes stainless steel installation screws, which the previous offer lacks. It enables you to either install this bumper guard on the OEM plate mount or directly on the bumper.
Although it does not come with the corner bumper guards, these are quite affordable and should hence not be the deal-breaker.

---
3. Best Universal Bumper Guard: Luv-Tap BG001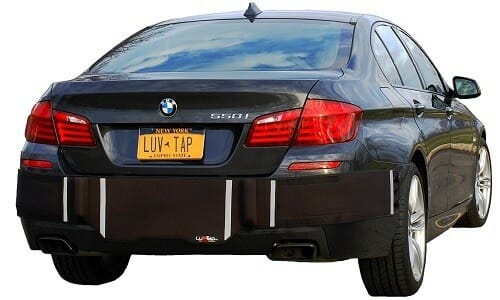 Dimensions: 105 x 11 x 0.2 inches
Position: Rear
Material: Extendable material
Luv-Tap BG001 is a unique approach to bumper guard design that sets it apart and gives it entirely distinct advantages that other bumper guards don't have. For instance, it stretches more to fit different car sizes, making it a fantastic universal product.
The package includes both bungee cords and suction cups to hold the bumper guard in place, and once in place, you can even drive the car with the guard attached.
It comes with reflector lines that glow in the dark for better safety, making it one of the best car bumper guards.
One drawback is that it is also not color-matched, which means it might not look very good on vehicles with certain colors.

---
4. Best Rear Bumper Guard: Bumper Bully Extreme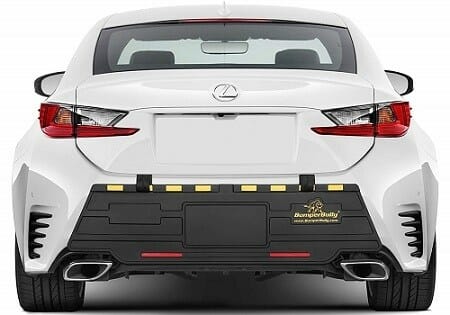 Dimensions: 46 x 12 inches
Position: Rear
Material: Rubber
Bumper Bully offers this rear bumper guard that comes with many advantages like its large size. The bumper guard measures 46 x 12 inches to ensure maximum coverage.
This bumper guard will include some high-intensity reflectors that improve your safety by letting other vehicles easily see your car. Unlike the Black Edition, this Gold Edition features steel-reinforced trunk straps to help deter theft.
The Bumper Bully Gold Edition uses 100% premium rubber and includes a golden stabilizer bar to keep the bumper guard well aligned.
For the downsides, you will always have to install and uninstall the bumper guard every time you are parking. But, this is typical of most of these bumper guard types.

---
5. Best Bumper Guard for SUV: Bumper Bully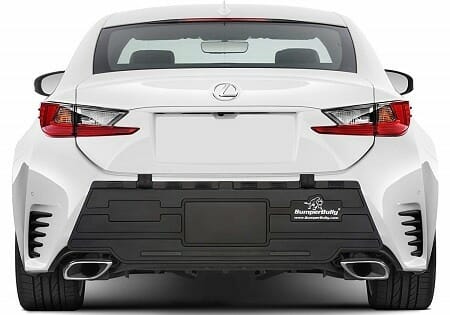 Dimensions: 46 x 12 inches
Position: Rear
Material: Rubber
With the Bumper Bully Black Edition, you get one of the largest rear bumper guards out there, which means it will be perfect for an SUV as it provides enough coverage larger vehicles.
This model is also more affordable than the company's Gold Edition and is an attractive entry-level offer. And it still has the waterproof trunk straps that can withstand the elements.
For the construction, the guard is made from a high-quality rubber material free of any PVC to make it safe for the environment. With the patented stabilization bar, you can be confident it will always remain in place.
The main drawback is that it does not have steel reinforcement, which makes it easier to steal. However, for its price, it is still okay. And having to set up every time you are parking is also not a big deal.

---
6. Best All-Weather Bumper Guard: BumpShox 3.0 BS-435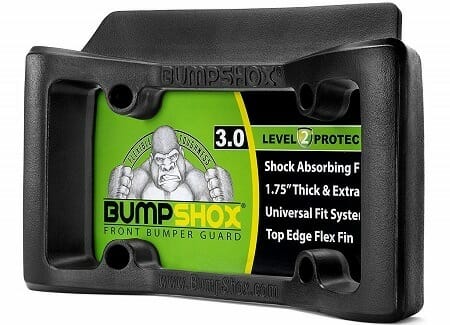 Dimensions: 14 x 8.25 x 1.75 inches
Position: Front license plate
Material: V-tech foam
The BumpShox 3.0is designed for all-weather use as its tough V-Tech foam will not rust or crack when exposed to the elements.
Because it has a recessed screen design, it does not have any protruding metal parts that may scratch or damage other vehicle bumpers. And with the pyramid design, it looks not only sleek but also offers maximum shock absorption.
With the universal fit design, this bumper guard works for almost any vehicle out there. Also, it includes a flex-fin extender that provides some additional coverage for the bumper.
This guard is nearly identical to the BumpShox XL, except for a few differences. Both are 14 inches wide and around 8 inches high, but the XL is 2 inches thick, while the 3.0 is 1.75 inches thick.
While the provided screws might not be the best quality, they still hold then guard securely enough. What's more, you can always replace them with better ones which are cheap and widely available.

---
7. Easiest to Install Bumper Guard: T-Rex 12012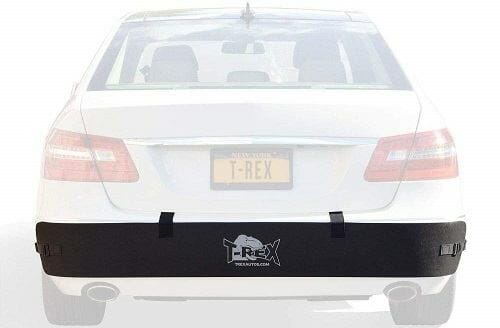 Dimensions: 72 x 8 x 0.25 inches
Position: Rear and sides
Material: high-density foam
With the T-Rex 12012, you get one of the easiest to install options. It is an easy-to-handle guard that only weighs 1.5 pounds, which makes installation a breeze. And you can then secure it easily with Velcro straps.
With the universal fit design, you can almost be certain that this bumper guard will work for you regardless of your vehicle type.
The guard measures 72 inches across, and this is enough to cover most vehicle's bumpers and even curve around the sides for a 360-degrees coverage. And the high-quality foam material will ensure you get many years of service.
One thing you may find a little down-letting is the 0.25-inch thickness of the foam material. It seems a little too thin, but there is nothing to worry about as it is high-density foam. A smaller size option would have been great, but this one still fits most vehicles.

---
8. Most Stable Bumper Guards: BumperBadger HD Edition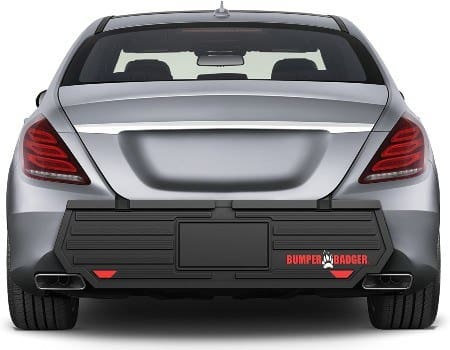 Dimensions: 46 x 12 inches
Position: Rear
With patented top stabilizers, the BumperBadger HD Edition is one of the most stable bumper guards out there, and you can be sure it will remain in place when reversing the vehicle.
The triple-stitched trunk straps are strong enough, and they help anchor this guard inside the trunk. The guard is made from some highly durable and all-weather material to ensure you can use it all year round with no worries.
Because this bumper guard has some special impact zones, it is very effective at cushioning minor parking bumps, and hence you will not need to worry about scratches.
These bumper guards are designed for temporary use only and are not suitable for use when driving. However, this is typical for most of these products and should hence not be a deal-breaker.

---
9. Stylish Stick-On Guards: BumpTek Rhino Guard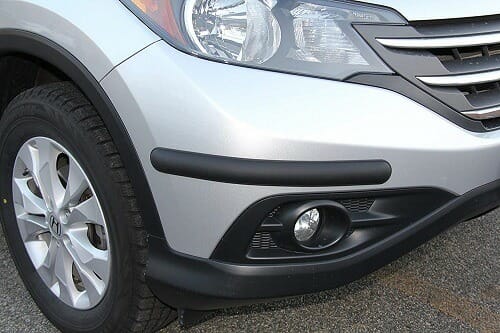 Dimensions: 20 x 2 inches
Position: Corners
Material: Flexible plastic
The BumpTek Rhino Guardfeatures a matte finish to give them OEM-look and blend in with most car trims. They are also available in three sizes of small, medium, and large.
The package includes four bumper guards for all four corners of your vehicle. This is especially important if you've already got front and back protection, as the side guards will complete your car's protection.
When you buy this bumper guard, you will also get everything you need for the installation, including the surface cleaner and adhesive tape.
These guards only stick on painted parts, so if you have an unpainted bumper, then forget it. Also, they are only for corners, but in most instances, this is the part of the bumper that requires more protection.

---
10. Most Flexible Bumper Guard: Bumper Badger Retro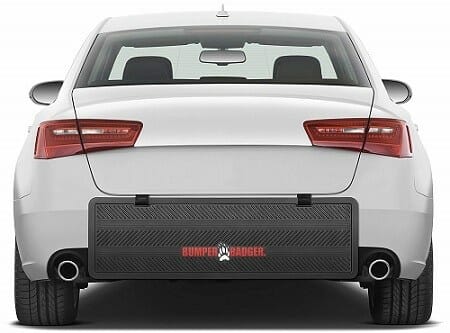 Dimensions: 40 x 12 inches
Position: Rear, trunk-mounted
Material: Rubber
The Bumper Badger Retro Edition is for those who want the best rear bumper guard in a simple design reminiscent of earlier trunk-mounted bumper guards. This bumper guard is also more flexible when compared to others, which ensures maximum impact protection.
It's made from premium quality and all-weather rubber, so there's no need to worry about sunshine or rain. Simply park your vehicle, unload the bumper guard, and that's it.
There are no fancy designs on this bumper guard, except for the raised ribs and the Bumper Badger logo in red. It offers a 40x12-inch wide protection area, with triple stitched trunk straps for strength and durability.
Adding one or two reflectors would have made this bumper guard more valuable, but it may also spoil that retro look.

How to Buy the Best Bumper Guards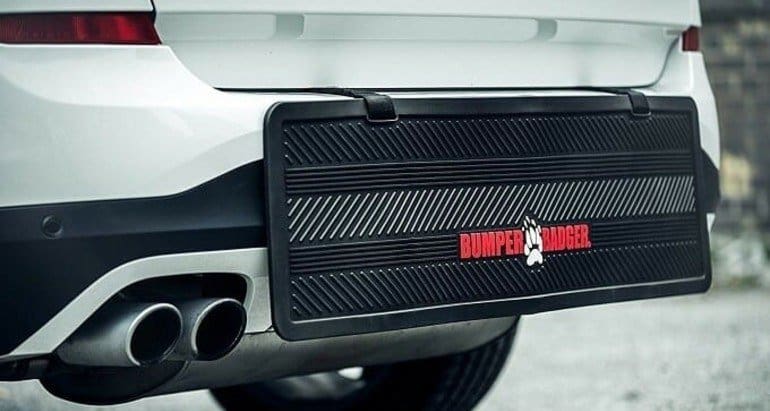 1. The Type of Bumper Guard
There are many bumper guard types out there. These types are mostly based on their size and on what part of the bumper they get mounted. Here are the most common ones.
Stick-on. A stick-on bumper guard is for sticking on a bumper using a special type of adhesive. They are usually not a permanent solution, although the adhesives are strong, so you can also remove them when you want.
There are stick-on guards for bumper corners like the BumpTek Rhino Guard. Their disadvantage is that they are often ugly, although you can get better results with color-matched options.
Trunk Mounted. With trunk-mounted bumper guards, no one sees them after they get mounted. You only remove the guard after parking so that they can protect your vehicle from other vehicles.
The downside with this type is that they don't offer any protection while you're driving. You'll also need to flip them in or out each time you park or want to drive away.

License Plate Mounted. This type of bumper guard offers a sleek design that's often simple and easy to use. You install them in your vehicle's license plate frame mount and then install your license plate normally.
License plate bumper guards like the BumpShox XLare usually thick guards with plenty of bump protection. However, their downside is that they only mount in the middle, so they can't protect your bumper's corners.

Hitch-Mounted. As the name suggests, this type mounts on a vehicle's receiver trailer hitch and protects its rear bumpers.
They can offer plenty of protection for any vehicle they're installed on, and they're also easy to install and remove. On the downside, they're often not very good-looking, and you'll also need to have a receiver hitch before you can install them.
Buying Advice: Every bumper guard has a varying level of effectiveness, and this will also depend on the quality of the model you have. The type of vehicle that you have should also guide you when shopping. Some like license-plate mounted guards seem to work better for smaller vehicles like sedans.
2. Compatibility
Some bumper guards are specifically for certain vehicles, while others like Luv-Tap BG001 have a universal fit to work for almost any vehicle. You can choose to go with a bumper guard that's custom-designed for your car or not.
3. Protection Area
Unless you're getting a bumper guard designed exactly for your vehicle, you'll need to know how much bumper area you need to cover.
This means measuring your bumper beforehand to get the right length that you want to work with. Keep in mind that a guard that's a few inches longer can wrap around the corners and work as corner guards as well.
For example, the Bumper Bully Extreme measures 46 x 12 inches, which is a wide enough coverage to accommodate almost any vehicle.
4. Material
You want to make sure that you're getting a bumper guard made from a durable material, so you don't have to change it now and then.
Rubber is the best material here, followed by compact foam. Whichever material you choose anyway, just make sure that it's weather-resistant, so that it can last you a little longer.
5. Installation Ease
This is yet another important consideration because most peel and stick bumper guards are very easy to install, while license plate and hitch-mounted guards need a little more effort.
Trunk-mounted bumper guards take the most effort as you'll have to constantly remove and replace them each time you park or are about to drive off.
6. Legality
As you buy a bumper guard for your vehicle, you will also need to check its legality in your jurisdiction. Legality becomes even more important when buying the types that will be on your car throughout when driving.
Some jurisdictions are very strict about adding anything to your vehicle that is not OEM. Also, in some cases, using bumper guards can affect your insurance coverage. Hence, you need to check the legality of the bumper guard you intend to buy.
Conclusion
We've reached the end of this bumper guards review, and you've seen the top bumper guard offers in the market, including the universal designs and the more unique offers.
In making your choice, it's left for you to choose the bumper guard offer that best fits your vehicle and meets your needs as best possible.
But, if you want something for the front bumper, the BumpShox XL is our recommendation. And for those looking for something more affordable, the Luv-Tap Bumper Thumper is perfect.