Though RVs are driven on roads just like other vehicles, they spend most of their time parked outdoors as the owner enjoys some quality time inside while away from home. This means that the vehicle's body and tires are exposed to the elements at all times.
Therefore, it is important to keep the important parts such as the tires covered when parked and for this, you need RV tire covers. These pieces are usually designed to protect the tires from UV damage, corrosion, dust, rust and other kinds of harm for durability purposes.
With that in mind, you need reliable covers and here is a list of the best RV tire covers from which you can choose a fitting size for your vehicle.
Top Rv Tire Covers of 2021 by Editors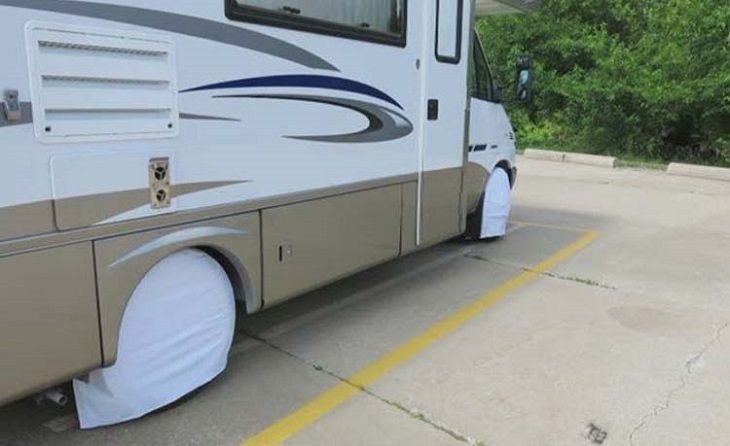 Summary of 7 Best RV Tire Covers
IMAGE
PRODUCT
FEATURES

1. Camco 45323 (Best Overall)

Affordable 2-piece cover set
Available for 24 to 42-inch diameter tires
Durable and weatherproof vinyl construction
Buckle and strap installation design

2. Classic Accessories 80-222-162302-00

4-piece cover set in different sizes
Easy to clean vinyl material
Protects against UV rays
Elasticized back panel for quick fitting

3. ADCO 3960

4-piece cover set that is available in 4 sizes
Bungee-ball fastening system
Water and weatherproof vinyl construction

4. TCP Global WM-30245

2-piece cover set for 24 - 31-inch diameter tires
Waterproof and weatherproof vinyl construction
Elastic inner edge
Nylon strap buckle

5. Leader Accessories 90201039

4-piece set in 4 different size options
Waterproof and UV-stabilized vinyl body
Non-scratch soft cotton backing
Elasticized back and corded eyelets

6. Classic Accessories 80-244-050402-00

Dual axle tire cover in 3 different size options
Protects against the elements
Elastic back and rear eyelets for tight fitting

7. ELUTO ELUTOncvvhivsdv14

4-piece tire cover in 3 different tire diameter sizes
All-season oxford and cotton construction
Durable, eco-friendly and easy to clean
Elastic back with hooks for secure fitting
1. Camco 45323 - Best Overall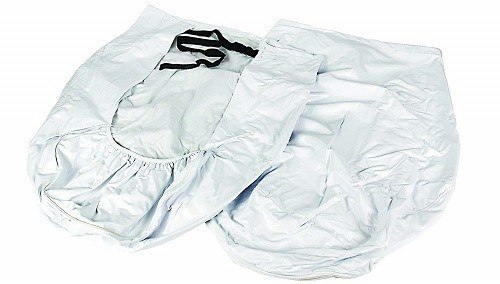 Size: 30-32 inches
Material: Vinyl
Camco's 45323 stands out as the most affordable RV tire cover in this review but this does not make it substandard. In fact, this set of 2 is also the top-rated tire cover in this review and this shows there is something unique about it.
For starters, the covers are made using a durable vinyl material that is weatherproof, and this protects the tires and rims from dirt, rust, corrosion, UV rays and other elements.
With these features, the cover comes in a fitting size for 30 to 32-inch tires but is also available for smaller 24-26 and 27-29-inch tires, as well as larger 33-35, 36-39 and 40-42-inch wheels. This means you will certainly get a fitting size for your tires in this wide size range.
Each of the different cover sizes is equipped with a buckle and strap fastening mechanism, which makes it easy to install and remove the piece for convenience in use.
Aside from this, you also get 3 color options to choose from according to your preference. These are white, off-white and black.

---
2. Classic Accessories 80-222-162302-00 RV Tire Cover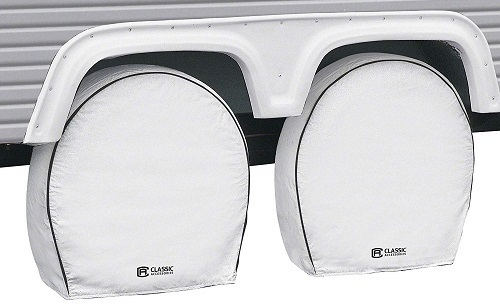 Size: 27-30 inches
Material: Vinyl
This RV tire cover stands out due to its easy-to-clean vinyl outer material, which is designed to be simply wiped when smudged for easy maintenance. Considering it comes in a snow-white color only, this is quite beneficial because dirt on white is easily visible and noticeable.
Though quite expensive, you get a 4-piece set for size 27 to 30-inch tires, with a width of up to 8.75 inches. There are also other different sizes that range from an 18-inch tire fitting size on the lower end to a 41-inch size on the higher end, with different width compatibilities.
Whichever size you buy, a storage bag is included for convenient storage when you want to get back on the road.
Other features include heavy-duty protection from sun damage (UV light), easy fitting due to an elasticized back panel, 2 rear outlets plus a rope to secure the bottom flap and soft non-scratch backing that is very durable.

---
3. ADCO 3960 RV Tire Cover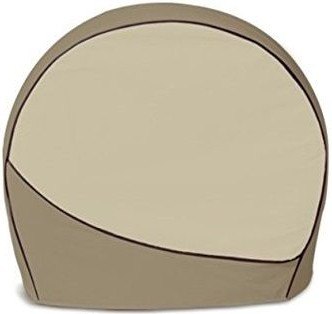 Size: 36-39 inches
Material: Vinyl
If you don't mind spending to get a good quality RV tire cover, then this 3960 from ADCO should be your go-to option.
However, being the most expensive product in this review, it has the features to show for it such as a bungee-ball fastening system with reinforced brass grommets that give a precise fit so as to avoid being blown off by strong winds.
That said, the cover is available for 4 different tire diameters, and these are 27-29, 30-32, 36-39 and 40-42-inch tires, with this larger size being the most expensive of them all.
Each size is made using a heavy-duty flannel-backed vinyl that is waterproof and weatherproof so as to keep the elements such as the sun's UV rays from reaching the tire inside, and this helps to prevent cracking of the tire's sidewalls, which may cause blowouts as you drive.
Other features include a set of 4 covers that are packed in a convenient storage bag, and all are only available in a tan color.

---
4. TCP Global WM-30245 RV Tire Cover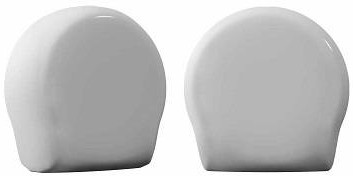 Size: 26.75-29 inches
Material: Vinyl
TCP Global's WM-30245 comes as a set of 2 vinyl-made covers, which are waterproof and weatherproof, which makes them ideal for protecting your rims and tires from the elements during either summer or winter.
The covers are actually made using a flannel-backed, heavy-duty vinyl that has an elastic inner edge plus a nylon strap buckle. These two combined, help in securing the piece firmly into the tire, and especially so when winds are strong.
Additionally, the two also simplify the installation process by expanding over the wide tire diameter, then contracting at the bottom.
With this snug fitting, you get 3 different sizes for matching with differently-sized tires, and these are 24-26.5 inches, 26.75-29, and 29-31.75 inches. All three are designed to fit into tires that have a width of up to 11 inches.

---
5. Leader Accessories 90201039 RV Tire Cover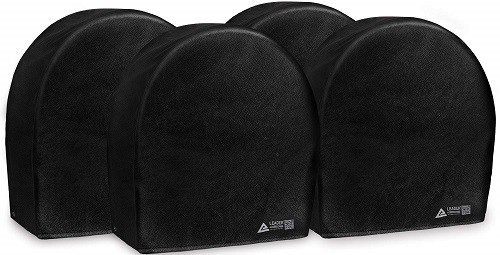 Size: 32-34.5 inches
Material: Vinyl
Coming as a 4-pack set of covers, this product gives you 4 size options to choose from, and these include a 24 - 26.5-inch size, 26.75 - 29, 29 - 31.75 and 32 - 34.5-inch size. In addition to this, you also get 3 color options to choose from, which are black, white and grey.
With this wide array of size options, you can use the cover set for different vehicles such as Jeeps, trucks, campers and of course, RVs.
Once installed, the cover protects the tire and rim inside from dirt, corrosion, UV rays, and other elements, and this is due to its heavy-duty vinyl construction that is waterproof, UV stabilized and built not to age or fade with time.
Other features include a non-scratch soft cotton backing for the vinyl, and an elasticized back hem plus corded eyelet for securing the cover to the tire so as to prevent being blown away. On the downside, this set is quite expensive, but at least you get a 4-pack for the whole RV.

---
6. Classic Accessories 80-244-050402-00 RV Tire Cover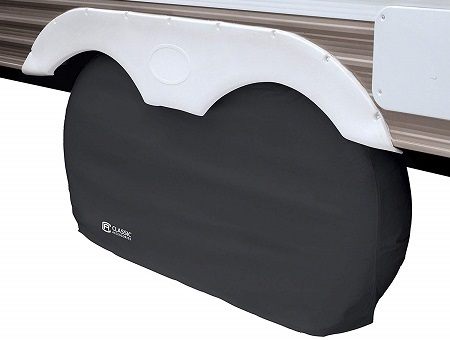 Size: 30-33 inches
Material: Vinyl
If your RV has dual axle rear wheels, then this set from Classic Accessories is your best bet. Though packed as a single cover, the piece covers 2 wheels on one side, which basically makes it equivalent to a twin pack.
For the dual axle, this cover is available for 3-wheel sizes, and these are the up to 27-inch small size, 27 - 30-inch large diameter wheels and 30 - 33-inch diameter extra large wheels.
Once you get a fitting size for your RV, the cover protects the vehicle's wheels from sun damage as well as the elements, and this is due to its heavy-duty vinyl construction.
This structure is waterproof and has a soft, non-scratch backing. Combined, these keep even the sun's UV rays at bay.
Other features include a slip-on fit due to its elastic back, rear eyelets, and availability in snow white, grey and black colors. However, a rope is not included for the eyelets and thus, you need to buy one separately so as to secure the cover tightly to the wheels.

---
7. ELUTO ELUTOncvvhivsdv14 RV Tire Cover

Size: 27-29 inches
Material: Oxford, Cotton
Aside from the fact that this RV tire cover has a very long name, it is quite unique in that, the materials used to make it are Oxford and cotton wool. Waterproof oxford is used as the outer material while cotton wool forms the inner lining.
The result of this combination is a tire cover that provides protection from the elements during all seasons, while also preventing tire oxidation and damage via frost (cotton provides a very effective insulation layer).
This construction is also eco-friendly, highly durable, easy-to-clean, and includes an elastic back plus hooks for quick installation and snug, secure fitting.
Other features include 3 size options (for 24 - 27, 27 - 29 and 29 - 32-inch tire diameters), 4 pieces per set and the inclusion of a convenient storage bag. However, the 4 covers are only available in silver color for the exterior oxford layer.

How to Buy the Best RV Tire Cover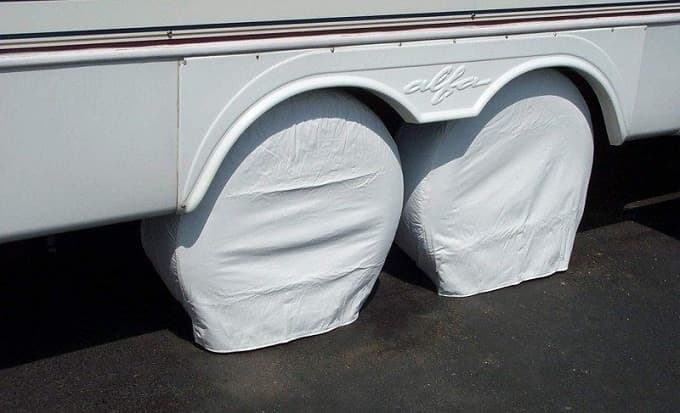 1. Size
With these RV tire covers, the first and most important to check is compatibility. Obviously, for the cover to work, it must fit on your vehicle's wheels.
This means that you have to measure your wheel's diameter beforehand, then look for a cover that is just slightly bigger so that it slips on easily.
However, instead of measuring, you can just check the tire's size, which is usually indicated on the sidewall. With this figure, buy a cover that is 1 - 2 inches larger, then use its fastening system for snug fitting.
2. Material
The other important factor to check is the material used to make the cover. While most of them are made using vinyl, some are made using reflective materials that are superb at directing the sun's UV light away from your tire.
Apart from that, some of these pieces feature thick cotton linings that help in frost and extreme cold protection.
Basically, you should consider buying the cover whose material offers the most protective features so that your tires are maintained and kept as good as new.
3. Weather Resistance and Waterproof
Apart from UV protection, weather resistance and waterproof properties are a must have for any RV tire cover. This is because the kind of protection offered by these two features gives the basic and first line of defense that is necessary for reducing corrosion, rust and other damages.
Therefore, always ensure that the product you buy offers at least UV protection, is waterproof and weather resistant as well.
4. Ease of Cleaning
An easy-to-clean product is always better to have and, in this case, you need to check for features such as quick-wipe waterproof surfaces.
Also, for the inside, cotton wool lined covers might be a little bit difficult to clean since the material can be easily stained, and will require some scrubbing. Ideally, if you want a super easy to maintain RV tire cover, ensure all the surfaces are wipe-clean.
5. Ease of Installation
Carrying on from the size factor above, once you find a fitting tire cover, you need to make sure that slipping it into the wheel when you park the RV is a simple task. It wouldn't be nice to waste a lot of time doing this.
Similarly, removal should also be easy so that you can get ready to leave camp in the shortest time possible.
With that in mind, these best tire covers for RVs have different designs but basically, an elasticized back should form the basis for an easy slip-on design, then coupled by a fastening mechanism for tying the piece firmly to the wheel to avoid being blown away by strong winds.
6. Price
Due to their different designs, these RV tire covers come at different prices, but the cheap ones are not necessarily low quality. Their features might not be as many but they will still offer the basic function of protecting your vehicle's tires.
That said, you can get an affordable piece at less than $30, but if your funds are not limited, you can go all the way to double this price for the premium, top quality cover.
Conclusion
In summary, if you own an RV, then you definitely need to invest in its tire covers if you want the rim to have extended durability and the tire to serve you well throughout its lifespan.
This is because heat, water, extreme cold, and other elements tend to weaken and damage the tire when exposed and therefore, once you park your RV for those few days at camp, a lot could be going on that you are not aware of.
To avoid such damages, simply go through the RV tire cover review above and pick the best motorhome tire cover that suits your vehicle.