Car air purifiers are helpful devices that improve the air inside a car's quality by using different methods. An air purifier provides cleaner and safer air inside the car, and this can mean a lot.
This prevents allergens and other disease-causing germs from circulating inside the vehicle and additionally keeps the car smelling fresh and clean.
If you're considering to buy a car air purifier, then you've made the right choice, and this car air purifiers review will give you a buying guide and a list of the top offers in the market.
Editors' Picks: Top Car Air Purifiers of 2021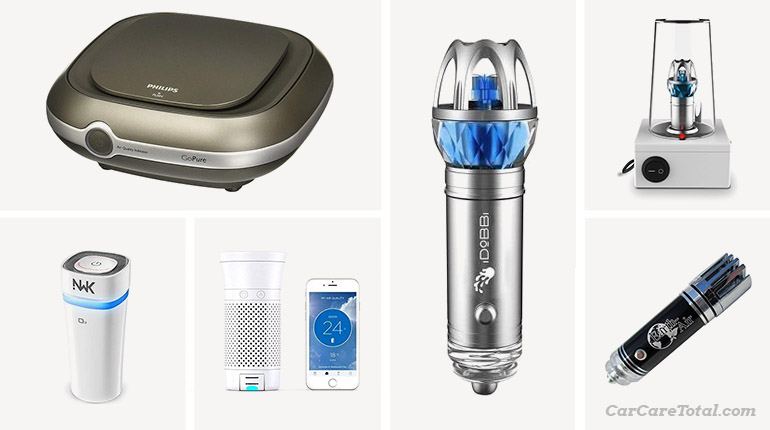 Summary of 6 Best Car Air Purifiers
IMAGE
PRODUCT
FEATURES

1. FRiEQ AP-C (Ionic Air Purifier with Blue Light)

High-intensity ionizer with up to 4.8 million ions per cm³
The lovely design makes your car look better
Features a decorative blue light

2. NWK Deodorizer (Stylish Ozone-based Design)

Powerful odor remover for cars and confined spaces
Easy to use and needs little maintenance
Works in as little as 90 minutes

3. Wynd PURWHTV01 (Smart & Portable Package)

A high-quality air filtering device
Includes a detachable air quality tracker
Comes with a smartphone app

4. Philips GPC20GPX1 (Compact 3-Stage Filtering Air Purifier)

Medical grade air purifier for cars
Features a 3-stage filtration system
Simple 2-speed operation and stylish design

5. Earth-Air EA-224 (Affordable & Fast-acting Ionic Air Purifier)

Easy to use cigarette lighter port ionizer
Just plug it in and it works
Offered at an attractive price

6. iDobbi Ionizer (Portable Air Purifier & Odor Remover)

Simple ionizer for cars
Just plug it in and it starts working
Removes smoke odors in just seconds
1. FRiEQ AP-C - Ionic Car Air Purifier with Blue Light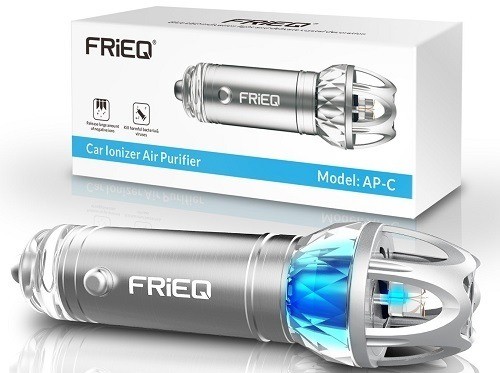 This FRiEQ AP-C ionizer is one of the best automobile air purifiers in the market because it's easy to use, it needs no maintenance whatsoever, and it also helps make your car look good with its blue light.
It releases up to 4.8 million anions per cm³ that help kill bacteria, destroys bad odor, dust, mold, and viruses. This improves the environment inside your car.
Featuring a compact design, this purifier gets powered from the car's 12V cigarette lighter port, but keep in mind that it won't work with 24V systems as you find in trucks.
It's also not the most effective car air purifier out there but FRiEQ backs it with a 1-year warranty and it's offered at a low and attractive price.

---
2. NWK Deodorizer - Stylish Ozone-based Car Air Purifier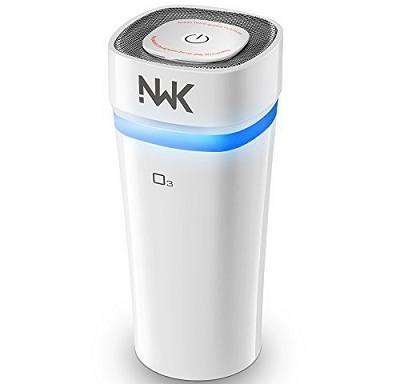 This purifier is an ozone generator, which means that while it provides powerful odor removal, it's also dangerous for humans because it can damage the lungs or cause respiratory problems.
You can still use it when you are away from your car. Simply park your vehicle, switch on the NWK Deodorizer, and go about your daily routine for at least 90 minutes.
The important thing is that you ventilate your car when you get back and want to drive off. This ventilation is what prevents you from getting sick while giving you a fresh-smelling car.
Another feature that makes it one of the best car air purifiers is its stylish and compact design, which means you can use it in other confined space. It comes with rechargeable batteries, a wall charger, and a cigarette socket charger.

---
3. Wynd PURWHTV01 - Smart & Portable Air Purifier Package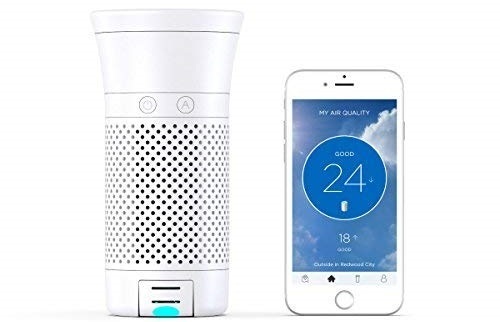 If you're looking for the best portable air purifier for cars and personal spaces, and the price isn't a problem, then you need to take a look at this offer.
Started on Kickstarter, this air purifier is in a league of its own, producing over 9 liters of clean air per second and including a detachable air quality indicator.
Then there's the included smartphone app, which lets you keep an eye on your air quality, control the fan speed, check battery level, and filter usage.
The downside here is price and the occasional filter change, but if you want the best car air purifier, then it's probably worth it.

---
4. Philips GPC20GPX1 GoPure - Compact 3-Stage Filtering Car Air Purifier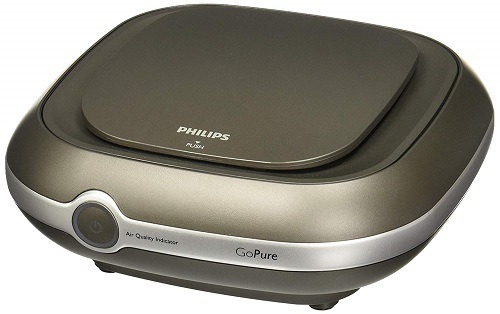 Philips GoPure air purifier is one of the best quality devices that you'll find. It offers medical-grade air purification, removing up to 99% of harmful gases, bacteria, smoke, and lots more.
The system features a stylish and modern design that fits into most vehicle interiors, although you can also choose to use anywhere else that you choose.
There a 13-ft long 12V power cable in the package, plus it also comes with an attachment-belt and suction cup for simple and easy installation wherever you want.
As with the Wynd system, this Philips purifier is also relatively costly but worth it. It comes with a 1-year warranty.

---
5. Earth-Air EA-224 - Affordable & Fast-acting Ionic Car Air Purifier
How about another low-priced car air purifier? This one comes from Earth-Air and is very easy to use. Just plug it into your car's cigarette lighter socket and it gets to work.
It will cut most odors such as cigarette smoke in just seconds and it's also one of the best car air purifier ionizers for those on a budget because of its low price.
The problem with it, however, is that ionizers aren't the most effective car air purifiers, but they are pretty good for the price.

---
6. iDobbi Ionizer - Portable Car Air Purifier & Odor Remover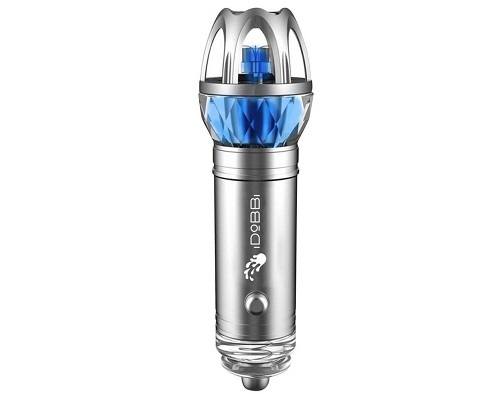 The iDobbi ionizer is like most other cigarette-lighter port ionizers. Simply plug it in and it starts to release negatively charged ions into the air to purify it.
It features a stylish and modern design with a LED light that brightens your car offers it a touch of style. The iDobbi releases 4.8 million ions per cm³ each second, making it a high-intensity ionizer.
Still, ionizers aren't as effective as filtered air purifiers, so this one also can't offer you a 99% purification rate. In its defense, however, it's offered at a very low and fun price.

How to Buy the Best Car Air Purifiers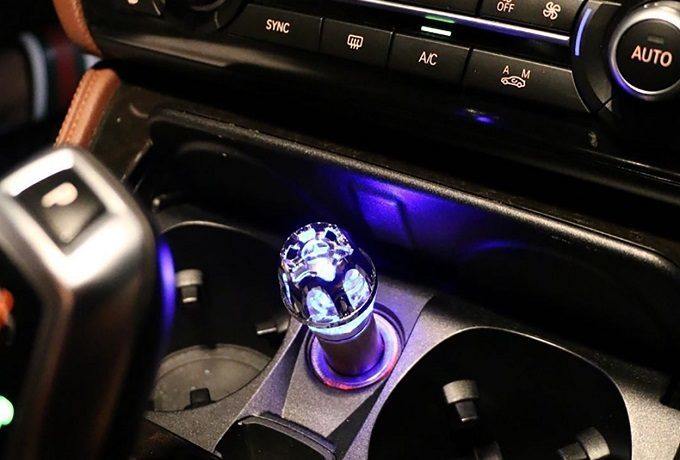 There are different methods of purifying the air inside a car and so, different manufacturers take different approaches in making their products. This often leads to confusion for those buying a car air purifier for the first time.
To get a better understanding of these devices and be able to make an informed and better decision, the following buying guide list all the major features to look out for.
1. Types of Car Air Purifiers
The first thing you'll need to understand about car air purifiers is that they use different technologies, which has given rise to three major types.
They are ionizers, ozone generators, and HEPA filters. Following is a closer look at each type.
Ionizers. As their name suggests, ionizers work with tiny ions, charged particles that the eyes can't see, but which are effective in making changes at a molecular level.

Here, the devices release anions into the air. Anions are negatively charged ions and will naturally try to interact with any and everything that has a positive charge. In this way, many particles get neutralized.

The downside of ionizers is that they only neutralize about 30% of airborne particles, so they are not 100% effective. On the plus side, they need little maintenance and no filter changes.

Ozone Generators. This type of air purifiers is highly effective in eliminating odors and killing off bacteria and other microorganisms without needing a filter.

It works by releasing three oxygen molecules into the air as ionizers do. This three-molecule oxygen is a very effective air purifier but it's also a heavy lung irritant, making it unsafe for residential use.

HEPA Filters. HEPA stands for High-Efficiency Particulate Air filtration and it's considered the gold standard when it comes to filtering air. As the name suggests, HEPA devices use highly-dense filters to remove 99% of particles.

It relies on sucking air and passing it through the filter and you'll also need to change the filter from time to time. Asides from that anyway, it's the best type of air filter that you can get for your car.
Read More: 10 Best Cabin Air Filters
You'll also find some devices that combine ionizers and HEPA filters and this makes them more effective. You can go for them if you want to but just keep away from any ozone-emitting device.
2. Placement
This is a decision that you'll have to reach by yourself because only you know the space you've got available in your car and the type and size of an air purifier that might fit in.
3. Noise & Settings
Air purifiers aren't normally loud, but some are quieter than others. So, if you care about noise and want as little of it as possible, you'll need to keep an eye out for an air purifier's noise levels.
This is important if you like listening to the radio while driving for instance, or for other reasons, where silence is of major importance.
4. Extras & Attachments
Some car air purifiers come with extra features that might be valuable to you, so you need to check every potential purifier that you want to buy.
This might include purifying systems combinations for improved efficiency or smartphone app additions for monitoring or control of the device.
5. Air Quality Indication
This is one of the most important extra features that a car air purifier can come with, but it's not available in every device, so it's left for you to check for it if you need it.
An air quality indicator is a sensor that checks the air's quality inside your vehicle's cabin and informs you of it. Most devices use simple LED lights with for instance Green for good, Red for bad, and Blue or Yellow for okay.
6. Maintenance, Cost & Ease of Use
You'll also need to decide what's best for you by choosing between a filtering system that costs more, needs more work, but also filters more and an ionizer system that costs less and needs almost zero maintenance, but is also less effective.
Conclusion
We've come to the end of this car air purifiers review and you've seen all the different offers out there, from the very affordable cigarette-lighter port ionizers to the more pristine air filters.
It's left for you now to make your choice because it's only you that knows what will best fit into your ride, as well as your budget for it.