When the inevitable happens and you find yourself with a weak or a dead car battery, then only a jump starter kit can save you from having to jump-start your car using another car's battery.
Jump starters have developed quite well over the years, so today, you find them with lithium-ion batteries and with extra features such as compressed air production, USB charging ports, and torchlights for working in the dark.
In this jump starters review, you'll learn about the important features that you need to watch out for when making a choice, plus you get a list of the top jump starters in the market to choose from.
Editors' Picks: Top Jump Starters of 2021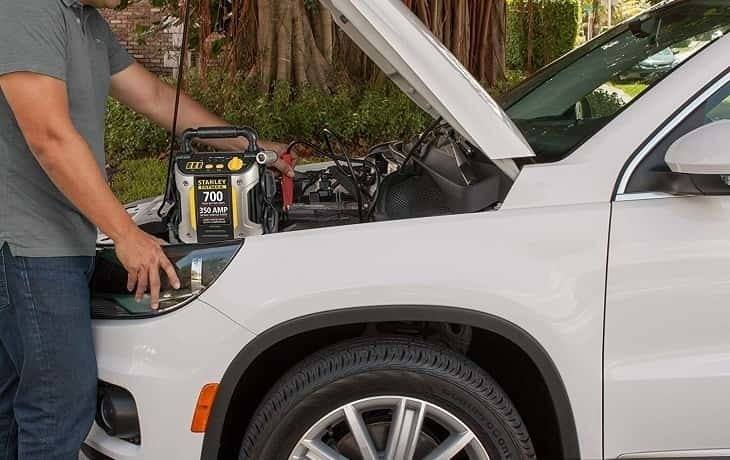 Summary of 7 Best Jump Starters
IMAGE
PRODUCT
FEATURES

1. DBPower DJS50 (Best Overall)

Delivers up to 600 Amps
Jump stats up to 6.5 L petrol engines
Backed by a 3-year warranty

2. Noco GB40

Features 1,000 Amps of peak power
Includes many safety features
Holds its charge for up to 1 year

3. Beatit BT-D11

Features an 18,000 mAh battery
Also works as a power bank
Includes a flashlight and 2-year warranty

4. Truck PAC ES1224

High-powered with 3,000 peak Amps
Includes a selection switch for 12 and 24 Volts
Includes industrial grade clamps

5. Potek 5824093994

High-performance jump starter with 1,000 peak Amps
Includes a 150-PSI air inflator
Charges through USB and 12V outlets

6. Schumacher DSR114

Pro-grade kit with high-output AGM battery
Package includes 50-inch, 4-gauge cables
Backed by a 1-year warranty

7. Stanley FatMax J7CS

Jump starter with torch & air inflator
Delivers 350 Amps cranking and 700 peak Amps
Offers three USB ports and a 12V DC output
1. DBPower DJS50 - Best Overall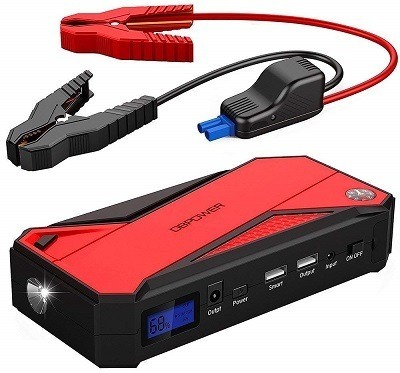 Cranking Power: 6.5 L gas engine, 5.2 L diesel
Peak Power: 600 Amps
This offer from DBPower is a little more than a mere car jump starter because it comes with lots of extra features that make it a true multi-talent.
Starting with up to 600 Amps of peak power delivery and up to 18,000 mAh of stored power, it can crank gas engines that are up to 6.5 liters large and diesel ones up to 5.2 liters.
In addition to that, it offers 12 V and USB charging ports for your different smartphones and tabs, as well as a torchlight with strobe and SOS functions for emergencies, plus a compass to help lead you back home if you're lost.
One thing you might not like about this offer is that the jumper cables are rather short at 4 and 6 inches of length, but the package also includes an 8-in-1 laptop charging adapter and it's backed by a 3-year manufacturer warranty.
Needs a cooling period after each jump to prevent cable melts

---
2. Noco GB40 Jump Starter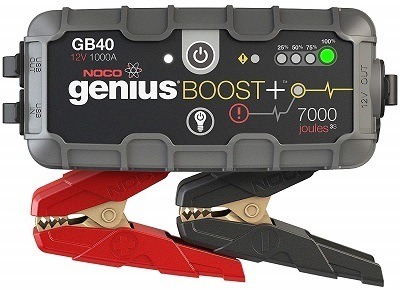 Cranking Power: 6L gas and 3L diesel engines
Peak Power: 1,000 Amps
Here's a great offer for those who are looking for the best portable jump starter. It measures just 8 inches in length and fits beautifully into the palm of your hand.
The GB40 from Noco is a 1,000-Watt jump starter, designed for gas engines up to 6 liters and diesel ones up to 3 liters.
If you need more power than this, then Noco also offers other models with peak powers ranging from 1,500 Amps to 4,000 and even 20,000 Amps.
Although its warranty is only for a year and the package doesn't include many accessories, it includes nice features like a 100-Lumen bright torch, battery level display, USB ports for charging, and safety features to prevent electrical sparks or accidents.

---
3. Beatit BT-D11 Jump Starter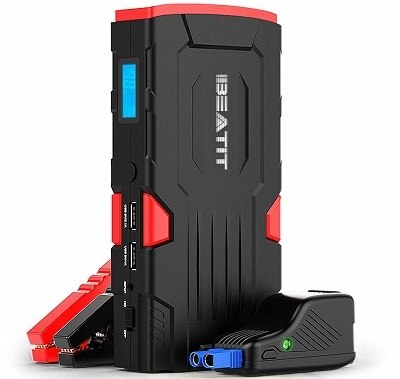 Cranking Power: 7.5L gas, 5.5L diesel
Peak Power: 800 Amps
The Beatit BT-D11 is a stylishly designed black and red jump starter with a power bank feature. It's also one of the best jump starters in the market because of its additional circuit protection features.
It comes with an 18,000 mAh battery capacity and an 800-Amp peak power. Beatit states that it's able to jump-start gas engines up to 7.5 liters and diesel engines up to 5.5 liters.
Although the package lacks impressive accessories and you can get more powerful jump starters, only few offers can beat this jump starter's price.

There is also a multi-functional LCD monitor with status, charge, and operating mode updates. Its jumper cables feature spark-proof and reverse polarity protection and Beatit backs it with a 2-year warranty.

---
4. Truck PAC ES1224 Jump Starter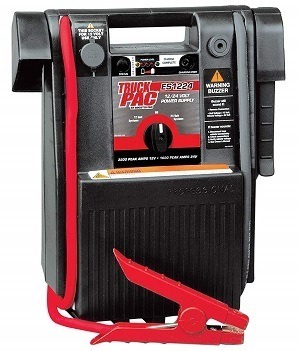 Cranking Power: 750 Amps
Peak Power: 3,000 Amps
Clore Automotive's Truck PAC ES1224 is a 12/24-Volt car jump starter, designed for large batteries and engines. It comes with a switch that lets you select between the two voltages and an Off position.
When in 12-Volt mode, this jump starter has a 3,000-Amp peak power and 750 cranking Amps. In the 24-Volt mode, it has 1,500 peak Amps and 370 cranking Amps.
This system is specifically designed for jump starting vehicles and does not include much else. So, there's no torchlight, no USB charging ports, and no compass. It's also expensive and comes with only a 1-year warranty.
There's a 12-Volt DC port on this device though, which is great for powering accessories. The system also comes with industrial grade Hot Jaw clamps, a LED indicator, and a 1-year warranty from Clore Automotive.
Features a 12 and 24 Voltage selection switch
Comes with industrial grade Hot Jaw clamps
Extra long cables make jump-starting easier

---
5. Potek 5824093994 Jump Starter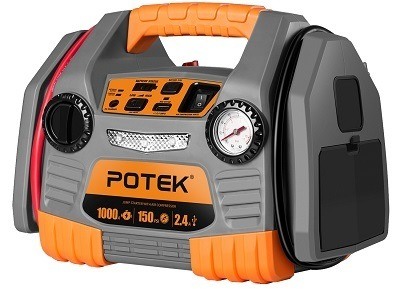 Cranking Power: 500 Amps
Peak Power: 1,000 Amps
There's no limit to the type of accessories that can come with a car jump starter, the important thing is that it makes sense, just like this one with its extra tire inflator.
The basic device is a 1,000 peak Amps jump starter with a USB port for charging your mobile devices and it comes in a beautifully designed box that is reminiscent of a 1960s radio.
Although it lacks smart circuit protections and there are cheaper jump starters, it includes a main On/Off switch, an air gauge, and a working light in the front panel, with its jumper cables wrapped around each side of the device.
You'll also find a 12V DC power outlet on the side, and a DC charger input on the front panel that both allows charging from the mains AC and using the cigarette lighter socket in your vehicle.
Nice and compact jump starter design

---
6. Schumacher DSR114 Jump Starter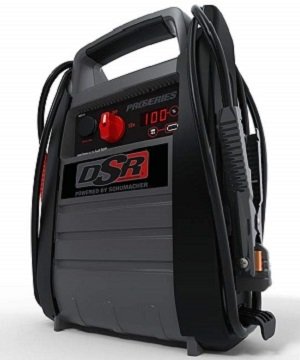 If you're just looking for the best jump starter without extra features, then here's an offer to take a closer look at. It's not cheap though, but it comes with a high-output 22-Ah AGM battery.
In addition to that, it features a USB port for charging mobile devices and offers a peak power of 2,200 Amps. It also has 4-gauge, 50-inch jump cables, making it very compliant to high industry standards.
The downside is that while jump starters powered by lithium-ion batteries weigh just about a pound, this Schumacher DSR114 weighs about 24 pounds with its AGM battery. It's also less compact than other offers and relatively costly.
Another issue is that Schumacher offers just a single-year warranty on this device, but it also comes with a digital display and offers safety features like reverse connection warnings.
It's a very costly car jump starter

---
7. Stanley FatMax J7CS Jump Starter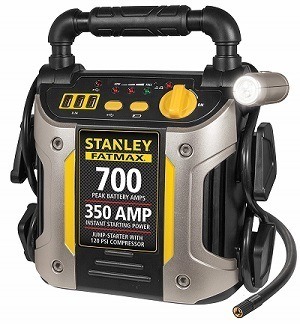 Cranking Power: 350 Amps
Peak Power: 700 Amps
The Stanley FatMax is a high-power jump starter that's guaranteed to re-start a range of vehicles, including big V8 engines. It features 350 instant Amps and 700 peak Amps
In addition to that, it includes many extra features like a compressor, which produces 120 PSI compressed air for pumping tires, three USB charging ports, and a 12-Volt DC outlet.
It also features a bright torchlight that can pivot 270 degrees around, plus an illuminated pressure gauge for tire pumping on the back of the device.
One unappealing part of this jump starter is that it uses just three LED indicators to show battery charge levels, and the second one is that you have to charge it every 30 days to keep up its charge.

How to Buy the Best Jump Starters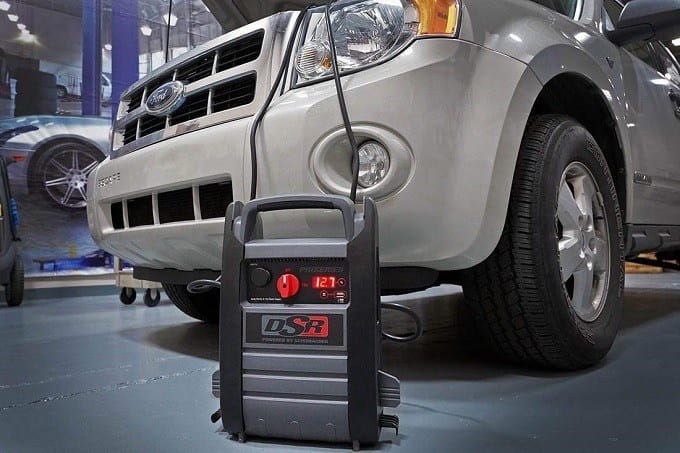 Choosing the best jump starter depends on your ability to understand the different features in a typical model. By weighing the differences between the different devices, you are then in a position to make an informed decision.
Following are these important factors that you need to keep an eye on when deciding.
1. Types of Jump Starters
The use of different types of technologies has brought about two major types of jump starters. The first is the Plug-in jump starter, while the second type is the jump box. Here's a more detailed look at both.
Plug-In Jump Starters. This type is so-called because the jump starters need being plugged-in before they can work. In other words, they depend on the mains AC of your home or other building and are, therefore, not really portable.

Some deliver a few Amps to trickle charge your car's battery, while other designs offer a start feature to directly crank your car's engine to a start.
Read More: 12 Best Trickle Chargers
Jump Boxes. This breed of jump starters are completely portable and usually made up of sealed, maintenance-free batteries, with attached jumper cables. Although initially made from lead-acid batteries, lithium-ion has been recently finding its way into this scene.

Many jump boxes also include different features like providing charging ports for mobile devices or being able to charge a car battery as plugged-in jump starters do. Such a device will help to keep up your car battery's health.
2. Power Output
There are different power requirements for the two types of jump starters, so you'll need to keep that in mind when making your choice.
Plug-in chargers don't need plenty of current to work because batteries are better charged slowly. So, a top power output of 6 to 10 Amps is okay for this type.
When it comes to jump-boxes though, you'll need plenty of power to crank the engine and the exact amount of power that you need depends on the size of the engine. This type usually has peak power outputs of many hundreds and even over a thousand Amps.
With jump boxes, you also want to look at its storage capacity, if you plan on using it as a power bank to charge your devices on the road. Battery capacity is usually given in mAh, with the higher the number being the larger the battery's capacity.
3. Cable Length
Cable length isn't of much importance when it comes to jump-boxes, but they do matter a lot when it comes to plug-in jump starters. This is for the simple reason that they need to connect to your car's battery and to a mains socket at the same time, so you should keep that in mind.
4. Portability
A smaller jump starter is easier to use than a larger one because it can better fit into the glove compartment, it's easier to handle and carry around, and it's lighter, making it more user-friendly. You'll have to make your personal choice here between price, power delivery, and portability.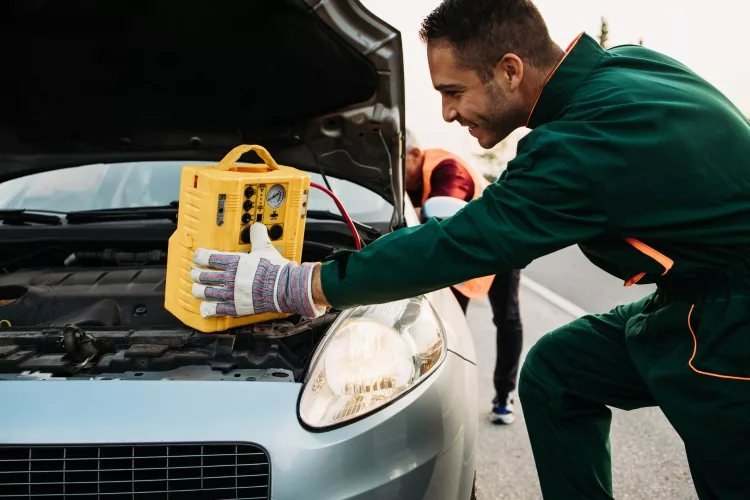 Modern jump starters come with so many extra features to make them worth having around in the car. For instance, many also work as power banks and others offer one or more USB ports to charge your phones and tablets.
In addition to that, some offer tire inflators with high-pressure air delivery as an emergency tool and you'll also find those with different circuit protections like over-voltage and wrong-polarity protection.
Conclusion
We've come to the end of this jump starters review and you've seen all the interesting offers out there in the market, including those with fancy extra functions and others designed to deliver the most power. You've also seen those designed for compactness and the others for affordability.
As you can see, therefore, there's no single best jump starter in the market. It's just left for you to choose the offer that best meets your budget, power, and extra features needs.