The trickle charger is a special charger type that helps prevent your vehicle's battery from discharging. Hence, it is very beneficial for those that park vehicles for extended periods.
These chargers work by sending a small but consistent charge to your battery to keep it charged at all times. Unfortunately, many people often confuse the trickle charger with a regular battery charger. The key difference is that the latter aims to charge the battery as fast as possible and hence sends more power to achieve this.
If you are on the market for one, our trickle charger review below has you covered. We have hand-picked some top quality trickle chargers and also give you a buying guide.
Editors' Picks: Top Trickle Chargers of 2021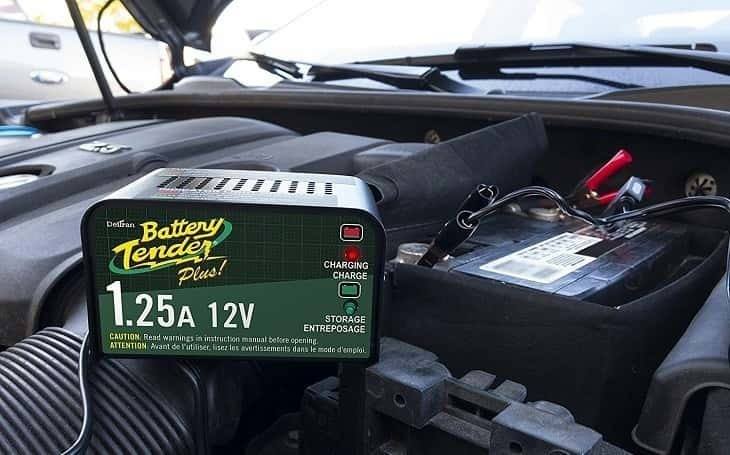 Summary of 7 Best Trickle Chargers
IMAGE
PRODUCT
FEATURES

1. Noco Genius1 (Best Overall)

All-in-one solution
Integrated thermal sensor
Fully automatic design

2. Battery Tender 021-0123 (Best Budget)

Budget-friendly
Efficient, 4-step charging process
Fully automatic

3. Battery Tender 021-0128 (Best 12V)

Compactible with most 12V batteries
Low-maintenance design
Complete 4-step charging
Smart charger features

4. Noco Genius G3500 (Most Versatile)

Highly versatile design

Charges batteries up to 120Ah
Advanced repair mode
Excellent build construction

5. Foval BC01B-1 (Safest)

Safe to operate with ETL listing
Efficient 3-stage charging
Long enough cable

6. LST EPA1020-0612 (Best 5-Stage)

Up to 5 stages of charging
Intuitive LED indicator

Multi-protection design
Charges both 6V & 12V batteries

7. BMK EPA1205 (Smart & Portable)

Designed for maximum portability
Higher capacity - 5-amp
Smart 4-stage charging
72-hour safety feature
1. Best Overall: Noco Genius1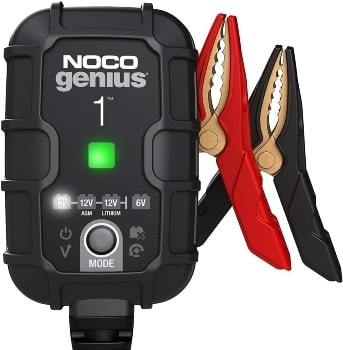 Amperage: 1 A
Voltage: 6V / 12 V
Display: LED indicator
Noco Genius1 is our best overall model as it provides an all-in-one solution, is usable in any weather, and offers a fully automatic charging.
With the all-in-one design, this unit can work as a battery charger, trickle charger, battery maintainer, and battery desulfator. Hence, regardless of the issue you have, this small gadget will come in handy.
Also, it has an integrated thermal sensor that allows you to use it in any weather. The sensor detects the ambient temperature and then alters the charge to ensure more precise charging by eliminating over-charging in hot weather and under-charging in a cold climate.
The fully automatic design ensures worry-free use, and this model is 35% smaller than typical ones to ensure it takes up less room but still delivers up to 35% more power. One more thing users love is that it is compatible with all vehicle types.
The LED indicator on this unit is relatively smaller and is not multi-tier. However, it is still handy and will make monitoring the charger easier.

---
2. Best Budget: Battery Tender 021-0123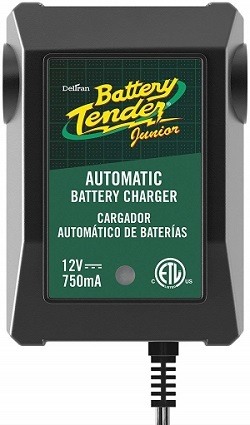 Amperage: 750 mA
Voltage: 12 V
Display: LED indicator
Although trickle chargers are generally not very pricey, the Battery Tender 021-0123 is an even more budget-friendly model that should suit the needs of almost any motorists out there.
Besides being a budget model, this charger uses a smarter and more efficient 4-step charging that ensures the battery always receives the correct level of power. What's more, it is a fully automatic model that you can set and leave with no constant monitoring required.
The easy to use and low maintenance design ensures more convenient ownership. Better still, you can be sure this charger is super handy to have around as it can charge all kinds of batteries from lead-acid to AGM and gel cell.
Since this charger has a slim and compact form factor, it does not take a lot of space on your electric wall socket. Furthermore, it has an LED indicator to show you the charging status at all times.
The only negative thing about this battery charger is its relatively weak capacity of 750 mA. Also, it has a single LED indicator, which is quite basic but still acceptable as it quickly and easily tells you the status of the charging process.

---
3. Best 12V Trickle Charger: Battery Tender 021-0128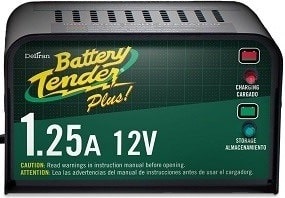 Amperage: 1.25 A
Voltage: 12 V
Display: LED indicator
What separates the Battery Tender 021-0128 from the rest of the competition is that it can charge and maintain almost any 12V battery, whether on a car, UTV, ATV, or even a motorhome. Better still, it works for all battery types.
The trickle charger comes in a low maintenance design that makes charging easy and fast even when using it in confined spaces. The battery also uses the complete 4-step charging to ensure the optimal level of power is always delivered to the battery all the time.
With a myriad of smart features like a quick disconnect harness, automatic battery health management, and spark-proof design, this will be a more convenient and safe charger to use.
Monitoring the car battery charge state is made easier by the solid-state two-color LED indicator. This model also comes in a more compact and portable size for even more user convenience.
The only problem with this unit is that it is a little pricier when you compare it to others on our list, but you can be sure it will be worth the few extra bucks.

---
4. Most Versatile: Noco Genius G3500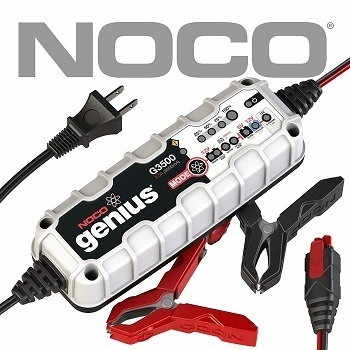 Amperage: 3.5 A
Voltage: 6 V / 12 V
Display: LED indicator
The Noco Genius G3500 is a highly versatile trickle charger that, besides charging batteries, also helps maintain their charge level. Its versatility makes it ideal for use with both 6V and 12V batteries and can work for a wide variety of vehicle types.
Also, this is a high capacity model that can charge batteries up to 120Ah. Better still, the well-built professional-grade charger is guaranteed to serve you well for a long time without breaking down.
Another element many users find highly useful is that this charger has an advanced repair mode to help reverse the adverse effects of leaving batteries uncharged for a long time. Hence, it can be instrumental at restoring a dead battery, so that you do not have to buy a new one.
There are several highly useful LED indicators on this charger. You get an indicator to show you the total charge on the battery and various other battery charging modes.
The only caveat we note with this trickle charger is its steep price and difficulty getting a warranty from the manufacturer. Other than this, it is an excellent choice, especially for professionals.

---
5. Safest Trickle Charger: Foval BC01B-1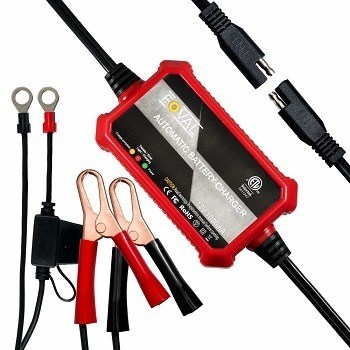 Amperage: 1 A
Voltage: 12 V
Display: LED indicator
Safety should always be at the top of your mind as you shop for a trickle charger. That said, the Foval BC01B-1 is one of the safest models on our trickle charger review. It is an ETL listed product with spark-proof design and reverse polarity protection for maximum safety.
This charger uses a highly efficient 3-stage charging to ensure optimal power delivery to your battery. Better still, it has a longer 8-foot cord and a smaller body to ensure you have an easy time holding and using the charger.
Additionally, there are 3 LED indicators. These indicators show you if the battery is charging, when the battery is fully charged, and if there is some error with the charging process.
Connecting this trickle charger to any battery terminal is very easy. It comes with 2 types of terminal connectors, the O-rings and alligator clips, to make it even easier.
Furthermore, there is a small circuitry inside this trickle charger that will not only charge your battery safely but also prevent it from discharging.
The 1 amp capacity is relatively lower compared to other products on our list. However, this is still enough power for trickle charging most standard car batteries.

---
6. Best 5-Stage Trickle Charger: LST EPA1020-0612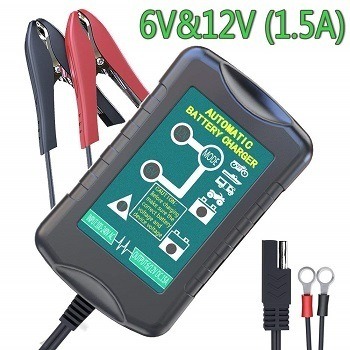 Amperage: 1.5 A
Voltage: 6 V / 12 V
Display: LED indicator
With up to 5 stages of charging that start with qualification and end with float, the LST EPA1020-0612 gives you more efficient trickle charging and the best possible care for your battery.
If you want versatility, this charger is also a perfect choice. It can work with both 6V and 12V batteries and is also designed to charge all types from lead-acid to AGM. Hence, whether you are charging a car or motorcycle battery, it will be super handy.
Keeping track of the charging is more effortless with this model as it includes a more intuitive LED indicator. This indicator makes it easy to tell the battery status at a glance.
Better yet, this charger provides multiple protection from things like overcharge, over current, polarity reversed, and short-circuiting for maximum battery safety.
Some users might find the power cord a little shorter or at least not as long as what many top models provide as it is around 5 feet, but the good news is that it is still usable.

---
7. Smart & Portable Trickle Charger: BMK EPA1205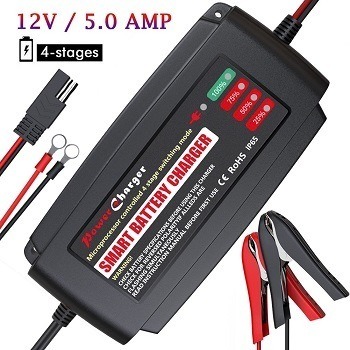 Amperage: 5 A
Voltage: 12 V
Display: LED indicator
For motorists that prefer a trickle charger they can easily carry around and use in different locations, the BMK EPA1205should be perfect as it comes in a more compact size.
Besides being our best portable trickle charger, it has a smart 4-step charging system that ensures the battery always gets and maintains optimal charge.
With its 5 A amperage, the BMK EPA1205 is a high-capacity trickle charger, and so you can be sure it will not have any difficulties charging relatively larger batteries.
When it comes to safety, this charger has you covered as it uses an updated 72-hour safety feature to ensure you never have to worry about issues like over-charging, over-current, and even short-circuiting.
The only notable shortcoming for this trickle charger is that it seems to run a little hot. But, there is hardly anything to worry about as in most cases it is just a little warm, and should hence not cause any problems.

How to Buy the Best Trickle Charger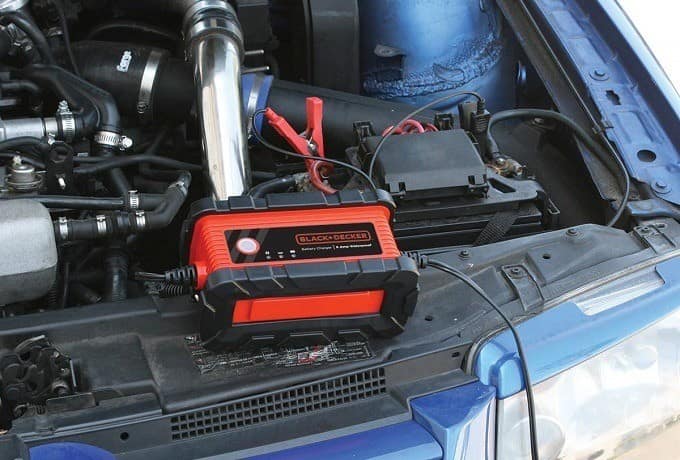 1. Types of Trickle Charger
Traditional or Dumb
The dumb trickle charger is the most affordable option out of the 2 types. It typically has simple circuitry with 2 wires that connect directly to the battery terminals.
These chargers are quite powerful and they can charge almost any battery type and size. However, these 'dumb' chargers do not monitor the charging status, meaning they can sometimes lead to overcharging of the battery if you leave them unsupervised.
Smart
The smart trickle charger is quickly becoming the industry standard. It uses more advanced technologies and with a dedicated microprocessor that allows it to monitor the battery status at all times.
With the smart trickle charger's advanced safety features, you can leave the battery unsupervised when charging, making them highly convenient.
However, unlike the traditional chargers, they cannot charge all battery types, and come at a relatively higher price tag.
2. Engine Size
The engine size goes hand-in-hand with the battery type and size. In general terms, bigger vehicle engines need a bigger battery to get enough power to start your vehicle.
Therefore, you must also take into account the engine size when purchasing a trickle charger. If you have a large and more powerful engine with a large battery, you need a charger that can deliver enough power.
The 6-amp Black & Decker BC2WBD is a perfect choice for larger engines as it can deliver enough power to charge the higher capacity batteries.
3. Types of Battery
There are several types of batteries on the market. Some are heavy-duty and big, so they require more amperage to charge. Others are small, and the amperage doesn't matter much.
So, it is vital to know which type of battery your vehicle is equipped with to have an idea of the trickle charger to purchase.
For example, AGM batteries are usually heavy-duty and have a higher capacity. Therefore, you will need a trickle charger with higher amperage.
If you need to use the trickle charger on various battery types, something like the LST EPA1020-0612 that handles all types and sizes is a perfect choice.
4. Display
Most smart trickle chargers have a display that shows you how much it is charging at all times.
Many traditional trickle chargers do not have a display. Therefore, you need to occasionally check the voltage to see if your battery is charging.
A trickle charger that usually comes with a display is generally more expensive. But, it is always worth it as it ensures you have an easy time.
5. Ease of Use
One of the advantages of the trickle charger is how easy it is to use even by absolute beginners. Indeed, you do not need any experience to operate the trickle charger.
Simply pop open your vehicle hood and connect the triple charger connectors to your battery terminals. However, some can be a little complicated than this. Hence, before settling on any model, make sure it comes with clear directions on what to do.
Conclusion
The trickle charger is a lifesaver when you do not plan to use your vehicle for an extended period. And now finding the perfect model is as easy as picking from our review above.
To make your choice even less complicated, the Noco Genius1 is our best overall option. This trickle charger offers an all-in-one solution, is usable in any weather, and has a fully automatic design.
However, for motorists shopping for a more budget-friendly option, the Battery Tender 021-0123 is a more suitable option.
Sources
What is a Trickle Charger? - Lifewire