Brushing off dirt from car carpets and other fabric surfaces in your car's interior can be challenging because of the semi-permanent marks that are left behind.
However, this is the case if you use ordinary detergents and cleaning solutions because they are not formulated to penetrate deep into the fabric so as to release these stains.
With a carpet stain remover though, this cleaning process will be easier and faster because these solutions are equipped to provide the professional strength required for deep cleaning and stain removal.
For the best results, we recommend that you pick one of the best car carpet stain removers in the market, which are listed in the review below.
Top Car Carpet Stain Removers of 2021 by Editors' Picks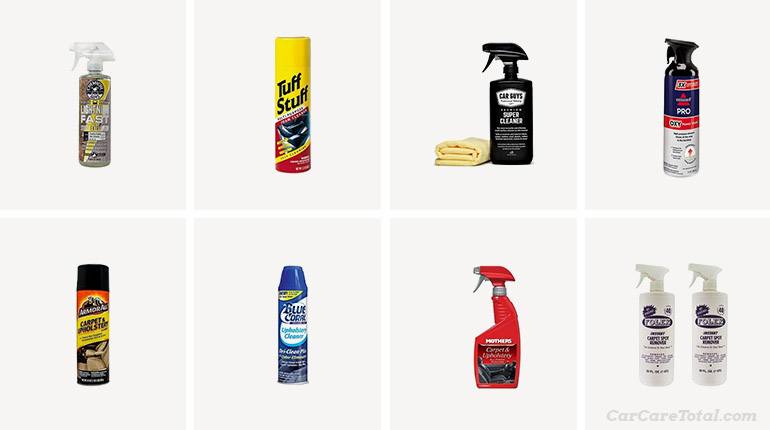 Summary of 7 Best Car Carpet Stain Removers
IMAGE
PRODUCT
FEATURES

1. CarGuys 5864128327 (Best Overall)

Advanced nanotechnology formulated cleaner
Environmentally friendly
Usable on multiple surfaces
Comes with a towel

2. Chemical Guys SPI_191_16

Highly concentrated stain remover
Can be diluted for light cleaning applications
Prevents future staining
Easy to use

3. Folex SYNCHKG047991

2-pack kit stain remover
Ideal for multiple stains and surfaces
Safe on colorfast fabrics
No rinsing or vacuuming required after use

4. Tuff Stuff 350

Affordable aerosol spray stain remover
Powerful multipurpose foam cleaner
Ideal for washable and painted surfaces

5. Bissell 95C9

Eco-friendly, biodegradable detergent
No VOC formula
StainLift Technology
Recyclable packaging

6. Armor All 597B

Easy-to-apply stain remover, creating a rich foam
Penetrates deep into fabrics
Does not discolor upholstery
Restores the plush look and feel

7. Blue Coral DC22

Odor eliminating stain remover
Comes with a built-in brush cap
Lifts different types of stains
1. CarGuys 5864128327 - Best Overall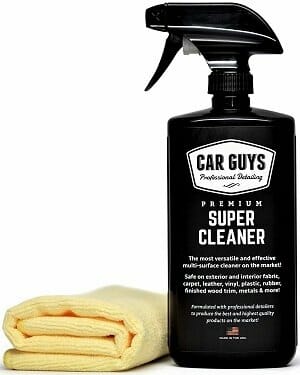 CarGuys' 5864128327 exhibits superior cleaning power because it has an advanced nano-technology formulation that is very effective at removing and lifting away dirt, grime, tree sap, bird poop, grease and many other types of stains.
Additionally, the formulation is suitable to use in multiple surfaces, ranging from leather to plastic, vinyl, rubber, wood, metal, etc.
Once cleaned, this product does not leave behind any tacky, cloudy, greasy or any form of glossy film, but instead, creates a clean finish that can be coated later on with a protector of your choice.
Other features include having an environmentally friendly formulation and it comes with a towel as part of the kit. Combined, these features make this the top-rated car carpet stain remover in our review.
However, the stain remover is quite expensive and does not provide UV protection after cleaning.

---
2. Chemical Guys SPI_191_16 Carpet Stain Remover

If you are looking for an extremely strong carpet stain remover, this one from Chemical Guys is a good option to consider primarily because it has a highly concentrated formula that is very powerful, but still very gentle on fabrics.
The product can actually be diluted with distilled water in the ratio of 20:1, which shows you just how concentrated it is, and this dilution is recommended when scrubbing light fabrics or light stains.
That said, this stain remover can be used on carpets, sofas, upholstery and a variety of other fabrics, in which it also helps to prevent future staining by leaving a protective layer as you clean.
Aside from this, the solution also has a deodorizing function that leaves your interior smelling fresh and new.
Other features include having an easy to use trigger spray bottle application mechanism and while on fabric, the concentrate does not destroy the color or cause it to fade. However, no towel is included in the package for wiping purposes.

---
3. Folex SYNCHKG047991 Carpet Stain Remover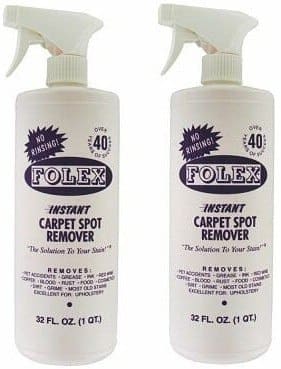 Though very costly, Folex's carpet stain remover comes as a 2-pack kit, with each container holding 32 ounces of an instant cleaner. This means you get a total of 64 ounces, which is quite a lot, and therefore, worth the money.
With this large quantity of stain cleaner, you can scrub off pet waste, ink, red wine, rust, blood, food, cosmetics and many other types of stains from different surfaces such as carpet, wood, walls, and upholstery.
Additionally, the solution is safe to use on colorfast fabrics on carpets and upholstery because it won't cause them to fade.
The product is also very to use because it is packed in a trigger spray bottle, which simplifies the application process, and after use, the cleaned surface does not require rinsing or vacuuming. On the downside, a towel is not included in the pack.

---
4. Tuff Stuff 350 Carpet Stain Remover

If you are on a tight budget, you can get this 350 from Tuff Stuff, which is a powerful multi-purpose foam cleaner that works best on vinyl upholstery, floor mats, and carpets, as well as other washable surfaces such as tiles and painted walls.
The product is packed in an easy-to-use aerosol can, which makes the foam application very simple, and helps to push the solution deep into the fabric so that it can provide a deep cleaning action, lifting dirt and restoring the original color of the underlying surface.
On the downside, no towel is included in the kit but with its price, you can easily get a wiping cloth with the saving that you make.

---
5. Bissell 95C9 Carpet Stain Remover

It is important to be considerate of the environment even as you clean your car and solutions such as this Bissell 95C9 are designed to be as eco-friendly as possible.
Basically, the product is composed of a biodegradable detergent with a no VOC formula (no hazardous propellants) and is packed in a recyclable container that can be reused to prevent littering after use.
That said, the remover is still very effective, and contains a StainLift technology that permanently removes stains and odors, such as pet soil, red wine, motor oil, coffee, grape juice, etc.
However, the solution is only suitable for carpets and area rugs, and comes in a relatively small 14-ounce packaging, but with a trigger spray mechanism for shooting the high-pressure cleaner deep into the fabric.

---
6. Armor All 597B Carpet Stain Remover

Armor All's 597B is an aerosol-can-packed stain remover that is very easy to apply, and this mechanism pushes the cleaner solution deep into fabric and carpet fibers, creating a rich foam in the process that lifts soil and debris while also breaking up tough stains and dirt.
When doing its work, this stain remover does not discolor or cause carpets and upholstery to fade but is very tough on grime and dirt. In the end, the cleaner restores the plush look and feel in the fabric or upholstery that it was used on.
On the downside, this stain remover can only be used on upholstery and carpets, and no towel is included as an accessory in the pack.

---
7. Blue Coral DC22 Carpet Stain Remover

With the DC22, you won't have to buy a scrubbing brush because it is well equipped for the job. The stain remover's container has a convenient built-in brush cap that helps you to scrub and remove stains from upholstery, carpets and floor mats.
The product itself is designed to lift multiple types of stains such as coffee, grease, tar, blood, lipstick and the like, but is limited to work only on upholstery, floor mats, and carpets.
On the bright side, the cleaner also acts as an odor eliminator, which means all the funny smells that were present in your car will disappear after the wash. However, it is quite expensive to buy but at least you get a brush cap to help you get started with scrubbing.

How to Buy the Best Car Carpet Stain Remover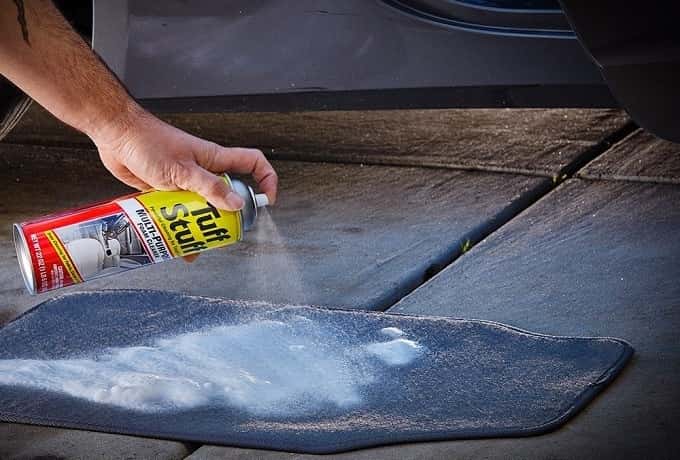 1. Surface and Material of the Carpet
Each carpet stain remover has its own list of compatible surfaces that it can be used to clean effectively. Even if you just want a stain remover to clean your car's carpet, it would be a good idea to buy a product that can clean up other surfaces such as metal, wood, rubber, etc.
This way, you will have a widely compatible and highly versatile product that you can use to get rid of stains throughout your car's interior and exterior, as well as for home cleaning.
2. Eco-Friendly
Another thing to consider is whether stain remover is environmentally friendly or not. Since you will rinse off the used-up detergent to go down the drains, it is better to wash your mats using an eco-friendly cleaner that will not harm the environment once it's down there.
Therefore, look for the products that are labeled as eco-friendly or have pH neutral formulations, no VOC and are biodegradable.
3. Ease of Use
An easy-to-use product is always better to buy and, in this case, you should look for features such as a trigger spray mechanism or an aerosol can package.
Apart from being easy to use, these two specific application methods also help in pushing the cleaner deep into the fabric for deep penetration and effective stain removal.
4. Price
Price is always an important factor to consider and even though the cheaper varieties are attractive and pocket-friendly, the best thing to do is to consider your needs first.
Once you come up with all the features you need, then identify the products that meet these criteria and pick the most affordable piece. This selection process should be applied to car carpet stain removers as well.
5. Accessories
Lastly, accessories can basically turn a simple stain remover into one of the best car carpet cleaners because the additional features are always an added plus.
While some may come in packs of two, there are a few car carpet stain removers that include towels and even brushes as part of the set. Such products should be highly considered because they eliminate the need to buy these items separately.
Conclusion
All in all, a car carpet stain remover is only as good as its cleaning capabilities and if it meets your needs.
Cleaners with multipurpose applications are definitely better to buy since they enable you to clean a wide variety of surfaces, but you may also choose the one for upholstery and carpet surfaces only if you want a product solely designed for your car's carpets and seats.
With that in mind, at the end of the car carpet stain remover review above, you should be able to easily pick the best car carpet stain remover that fits all your requirements.