A new car's paint job always has something special about it. However, after some time of improper handling, swirl marks might develop on the surface, hence giving it a less impressive appearance.
Luckily, removing them should not take a lot of effort as you only need to have the best swirl removers.
And if you are on the hunt for one of these highly useful products you are in luck. Here we review some of the best products to remove swirl marks and also explain the important things to consider as you shop.
Editors' Picks: Top Swirl Removers of 2021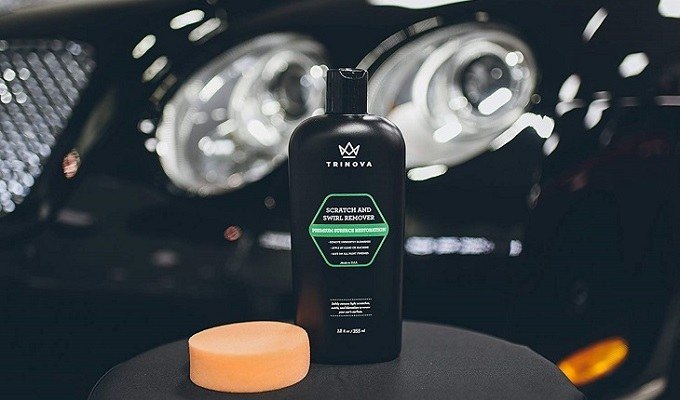 Summary of 7 Best Swirl Removers
IMAGE
PRODUCT
FEATURES

Meguiar's Mirror Glaze Swirl Remover 2.0 – Cleaner/Polish Removes Fine Swirls – M0916, 16 oz

1. Meguiar's M0916 (Best Overall)

Versatile and effective formula

Removes both scratches and swirls

Brilliant deep gloss

Easy application

2. TriNova 2698780063
(Best Value for Money)

Good value for cash

Safe on all paint colors

Applicable both by hand and dual action polisher

Comes with free buffer pad

3. Meguiar's G17216 (Best Brand)

Top brand swirl remover

Micro-abrasive technology

Saves a lot of time

Can be applied either with a polisher or by hand

4. Carfidant CARF-C305 (Best for All Paint Finishes)

Safe on all paint finishes

Easy hand or polisher application

Restores surface gloss and shine

Removes water spots and oxidation

5. Chemical Guys COM_129_16 (Best All-in-One)

All-in-one paint care solution

Works on any color
Removes the surface imperfections

Silicone and wax-free

6. Jax Wax 2698777778 (Best for Black Paint)

Great for black and other dark colored surfaces

Simple one step application

Applicable by hand or buffer

Works for both home and commercial use

7. Meguiar's G17616 (Effortless Swirl Removal)

Removes swirls effortlessly and enhances paint finish

Non-abrasive formula

Clear coat safe

Fast results
1. Meguiar's M0916 - Best Overall
Meguiar's is a well-known brand in the car care industry. They designed the M0916 to be highly effective and versatile enough to work on all glossy paint finishes as well as clear coats, what makes this our best overall option.
The product is a scratch and swirl remover, which means it can be used on fine scratches and swirls, leaving a deep glossy finish, just as the name suggests (mirror glaze).
This is made possible by its cleaner - polish formulation, which is actually an ultra-fine abrasive that is also designed to reduce splattering during application.
The result of this is easier application and wipe down, which basically means that it is very easy to use. It is also safe to apply by hand and can be rubbed off by a DA polisher or a rotary buffer, giving you enough application options to work with.
For larger and deeper scratches the fine abrasive nature of this product means it is not very effective. But, this is not a significant drawback as its primary function is removing swirls, which it is does perfectly.

---
2. TriNova 2698780063 - Best for the Money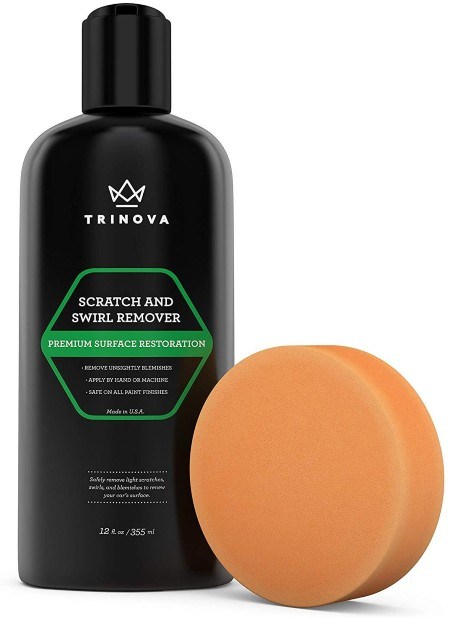 This TriNova remover is made using high-end chemicals that are brilliant at polishing and will give your swirled surface a nice glossy finish. Given its effectiveness, volume and price, this product will give you the best value for money on our list.
The good thing about this product though is that it is a simple solution that can be buffed by hand or with a dual action orbital polisher, eliminating the need for high maintenance polishers for providing the touch-ups.
More importantly, a free buffer pad is included in the set, making it possible to begin working on the scratches straight out of the box.
Also, this is a safe product to use on all paint color and will hence no limit you to using on specific vehicles.
The chemicals in this product are only designed for light scratches, but they will do an amazing job, and it is hard to get any other product in its category that can work on deep scratches.

---
3. Meguiar's G17216 - Best Brand
You will never go wrong with any Meguiar swirl remover as the company has been making them for many decades to know what works best. This particular one is made using an exclusive micro-abrasive technology that is ideal for removing moderate to heavy swirls.
The big advantage of using this technology is that it does not leave fine scratches as it removes the moderate to heavy ones, making this one of the best Meguiar's swirl removers.
Instead, the product cuts so fast between the scratches, eliminating any dragging of the abrasive particles. The result of this is a very polished finish that is very aesthetically pleasing.
During this fast action process, this product removes oxidation, blemishes, water spots, scratches, and other paint defects, which means that it is very versatile in terms of use.
This Ultimate Compound's versatility is extended to its application process because it can be applied by hand or by a dual action polisher, but each has application instructions that must be followed to the letter in order to achieve good results.
Although this swirl remover can sometimes leave a haze on the vehicle's surface, it should be easy to remove with a nice buffing using a microfiber cloth.

---
4. Carfidant CARF-C305 - Best for All Paint Finishes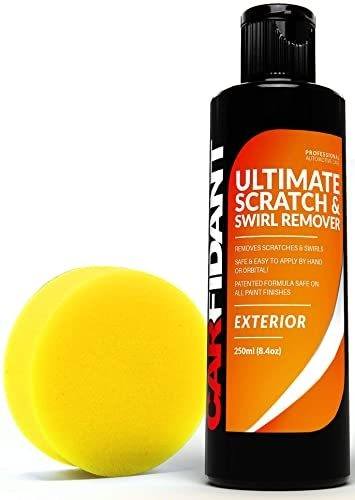 Regardless of the paint finish that you have on your vehicle, you can be confident that Carfidant CARF-C305 will suit you. It has been specially formulated to be safe on all car paints.
This product is formulated with premium quality chemicals that besides being safe on the paint are also highly effective at removing swirls. Also, this formulation is potent for dealing with water marks and oxidation while also removing all other kinds of car surface contaminants.
With this product, you can easily do the application both by hand and using an orbital polisher. You will also love that besides removing scratches and swirls it will also bring back the lost gloss and shine.
The deeper dings do not seem to come out when using this swirl remover bit this should not be a drawback as it is clearly stated that it is not meant for removing deep scratches.

---

Chemical Guys VSS is an all-in-one light scratch and swirl remover that does the cleaning and polishing in one step. This is made possible primarily by its diminishing abrasive technology formulation that is designed to cut fast through the layers.
By doing so, it levels out these marks and removes any water spots and oxidation marks in the process, leaving you with a smooth finish that resembles a wet mirror.
The product does not contain any fillers or waxes and thus, you won't have to be worried about it covering up any defect or ruining your paint.
In terms of use, this product can be used to touch-up on every paint color by hand using dual action or rotary polishers, making it very versatile. The company also has a good orbital polisher kit, the Chemical Guys BUF613, to help you get the best results.
It is also body shop safe and for such a case, it would make economic sense to buy the 48-ounce pack for large-scale car body care.
There is no buffer pad on the pack but this should not be the deal breaker since they are widely available an inexpensive.

---
6. Jax Wax 2698777778 - Best for Black Paint

Jax Wax's 2698777778 is specially designed to work best on black or dark colored surfaces, in which it can remove water spots, swirl marks, and other imperfections. This swirl remover ends up restoring dark paints to their original aesthetically pleasing glossy surface.
Aside from this, the product is very convenient-to-use because you can apply in just one easy step, which will also ensure you save a lot of your precious time.
The reasoning behind this product's design is that in order to reduce the appearance of swirls, you must either polish them or cover them up and that's why it also applies a wax layer after polishing.
You can easily apply this product by hand or use an orbital polisher and with its potent formula and high effectiveness it will be ideal for both home and commercial use.
While it might not deliver the best results when used on lighter colors, this is a safe and effective product for use on almost any color finish.

---
7. Meguiar's G17616 - Effortless Swirl Removal

To polish up the whole car without having to put in a lot of effort, you need Meguiar's G17616 as is specially formulated to remove light swirls easily. While at it, this swirl remover also helps to enhance the color and finish.
The main part of this product's formula is a non-abrasive chemical that removes spider webs, holograms, swirl marks, and other defects, resulting in outstanding results after applying very little effort.
Another thing makes it one of the best swirl removers for colorful cars is that it will deliver results faster than most others out there.
Additionally, it can be used on single stage paints or clear coats and can be applied via a double action polisher or by hand. This makes it versatile in terms of use and flexible in terms of application methods.
When you apply this swirl remover manually the effectiveness seems to dip when compared to using an orbital polisher. But, given that orbiters are cheap and easy to get, this should not be a problem.

How to Buy the Best Swirl Removers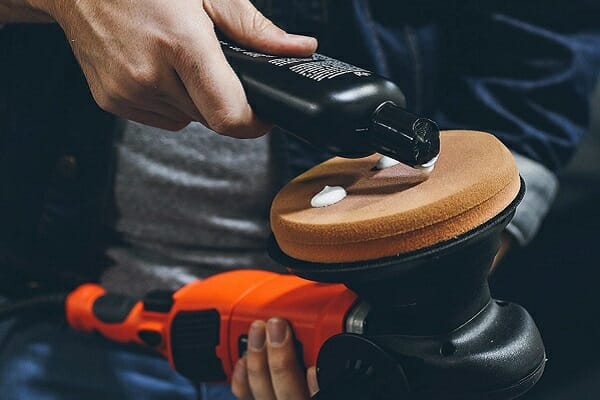 1. Abrasive or Non-Abrasive
Abrasive
The abrasive type consist of a textured formula that levels out the paint around deep scratches, causing them to disappear.
However, you should be really careful with these products because, while they are highly effective, they can easily cause other scratches to appear on your painted surface due to their abrasiveness.
Non-Abrasive
Non-abrasive swirl removers like Meguiar's G17616 are gentler than the abrasive types, which means that you will be required to do more polishing in order to achieve the same results as those of an abrasive product.
The good thing about it though is that it is less likely to cause more scratches, making it safer for your paintwork.
2. Filler/ Wax
Some swirl removers like Jax Wax 2698777778 include fillers and wax in their chemical composition, and this makes them double up as waxers.
Although this might seem like a good idea, such a product is usually designed to cover up some scratches instead of leveling them up. This results in a neat finish but the scratch lines might be exposed once again after a few washes.
However, such products are quite easy to use because after polishing for a few minutes, the filler will have occupied the swirls and the work will be complete.
Therefore, if you prefer a long-term solution, products without fillers are the best ones to buy. However, if you prefer having an easy time buffing your car and don't mind doing it more often, products with fillers and wax will do.
3. Versatility
Swirl remover versatility comes in several ways. First, there are those products that can be applied on surfaces with single stage paints as well as coated surfaces.
Some can be used to remove multiple imperfections such as water spots, oxidation, swirls, and many others. Others can be applied by hand, rotary buffer and dual action polishers.
The more versatile the remover is, the better it is, and thus, you should consider buying the most versatile product.
4. Body Shop Safe
Body shop safe essentially refers to a product that does not contain anything that might interfere with the painting process in a body shop.
Ingredients such as silicone are harmful to fresh paint, which means you should avoid using swirl removers with such chemical components if you work in a body shop.
A body shop safe product like Chemical Guys COM_129_16 makes a good buy as it will work well for almost any environment.
What Causes Swirl Marks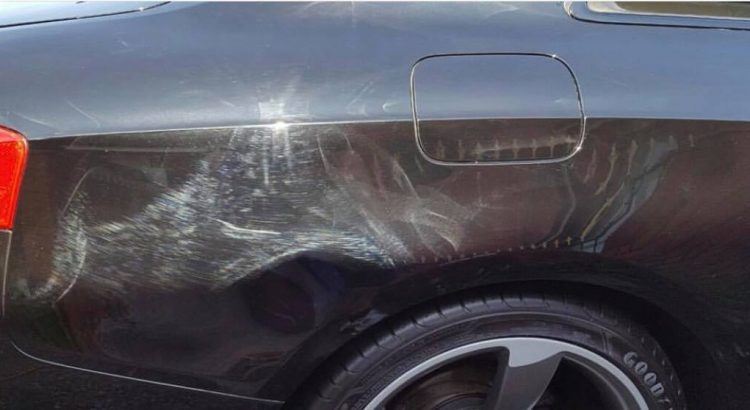 Swirl marks are simply caused by two things: improper cleaning and improper handling of the car's paint job. These are explained in detail below:
1. Improper cleaning
Improper cleaning causes swirl marks in the following ways.
Wiping a dry surface using a dry cloth: If you want to wipe off things such as dirt and bird poop from your car, wet the surface first so that the particles of these elements soften up and don't scratch the paint as you wipe.
Not wetting the car from top to bottom before cleaning: Wetting gets rid of the excess dirt and other particles, and also softens the hardened ones for easy washing.
Leaving your car unwashed for a long time: You should at least wash your car once a week. This will prevent the accumulation of dirt and other particles on the painted surfaces and consequently reduce the chances of causing swirl marks during cleaning.
Washing using rough materials: This is a no-brainer. Rough washing or wiping cloths will obviously leave their marks and thus, they should be avoided.
2. Improper handling
It is always important to handle your car properly. When it comes to the bodywork, avoid parking under direct sunlight for long hours because UV rays might damage the paint and cause it to crack. You should also not neglect any form of maintenance to your car's bodywork.
The best practice is to always park your car in a garage or under a shade and polish it at least once every 3 months so as to maintain that shiny new look.
Read More: How to Remove Swirl Mark by Hand
Conclusion
The swirl remover review above gives our top 10 picks that have diverse features and are meant to suit every person's preferences.
However, from this list, the Meguiar's M0916 is our best overall model because besides its versatile and effective formula it is also more straightforward to use.
But, if you want a product that will ensure you get the best value for your bucks, the TriNova 2698780063 is it, and it will also be safe for use on any paint finish.