Bug stains can be quite a nuisance, and especially so during the warm summer weather. In the warmer months, guts and splatter get baked into the car's surface, leaving an ugly mess. Adding tar stains into this mix only worsens the situation and makes cleaning a big hassle.
However, with the best bug and tar remover, this will not be such a big issue. These products are a powerful solution that can dissolve tar and the bug's guts for easy wiping off, all while leaving the paint job in great shape.
If you are looking for such a remover for your vehicle, here is a review of some top-quality ones.
Top Bug Tar Removers of 2021 by Editors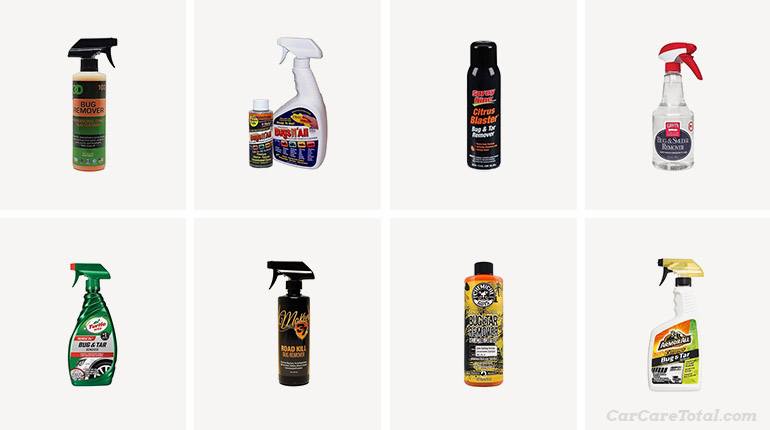 Summary of 10 Best Bug & Tar Removers
IMAGE
PRODUCT
FEATURES

1. ProSol Bugs N All (Best Overall)

Highly concentrated
Safe for wax, decals & paint
Ideal for both interior & exterior use
Non-toxic & biodegradable

2. Turtle Wax T-520A (Best Budget)

Budget-friendly
Removes all kinds of road grime
Leaves a protective coating
Restores deep gloss shine

3. Griot's Garage 10982 (Best Brand)

Premium brand product
Fast-acting in just 30 seconds
Removes rubber scarf marks
Safe for all exterior surfaces

4. Chemical Guys CWS_104_16 (Best with Heavy-Duty Formula)

Heavy-duty formula

More concentrated
Advanced lubricating polymers
Prevents long term paint damage

5. Armor All Extreme 18498 (Best for Tough Soil)

Removes stuck-on soil easily
Streak-free formula
Preserves wax protection

Can work as pre-treatment

6. McKee's 37 MK37-100 (Easiest To Use)

Easy-to-use remover
Works for most exterior surfaces
Safe on paint & glass chrome
Can be added to wash solutions

7. Permatex Spray Nine 15717 (Best with Orange Scent)

Fresh orange scent

Charged with 25% d'limonene
Instant soil dissolve and lift
Contains no petroleum solvents
1. Best Overall: ProSol Bugs N All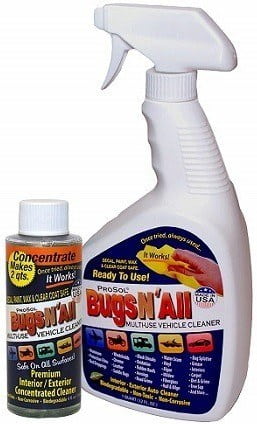 The ProSol Bugs N All is our best overall option as it is a highly concentrated solution for maximum effectiveness. The small 4-ounce container gives you up to 2 quarts (64 ounces) of the cleaning solution, which will be enough for multiple applications.
This cleaning agent works for both interior and exterior vehicle surfaces. And it is a multipurpose cleaner that will be safe to use on a wide variety of surfaces including, leather, plastic, fabric, and wood trim. Better yet, it is safe for use over wax, decals, and all paints.
The cleaner works by turning all these stains into mush in about a minute so that you can wipe them off. But, despite the potency, it is still a non-toxic and biodegradable product that will be safe for both the user and the environment.
On the downside, this product is quite expensive. But, you get a lot of it after dilution, which means it still provides great value for money.

---
2. Best Budget: Turtle Wax T-520A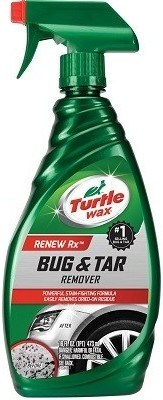 Turtle Wax's T-520Ais a more budget-friendly bug and tar remover, and it will be perfect when you want something effective enough that does not cost much.
The remover adheres firmly to vertical surfaces, and this helps keep the solution in place until it dissolves the whole stain so that you can wipe it off. And it is effective at removing all kinds of road grime.
After cleaning, the remover leaves a protective layer over the paint job so that other bug and tar stains cannot stick, which helps make cleaning much simpler in the future. Better yet, it will help restore the gloss.
On the downside, this product is highly combustible. Therefore, it might be a little bit dangerous to use. However, with proper care, this should not be an issue. Cleaning towels are cheap and easy to get if you do not already have them. Also, there is an option that comes with microfiber towels, but this comes at a slightly higher cost.

---
3. Best Brand: Griot's Garage 10982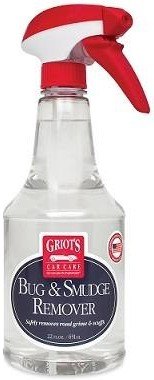 The Griot's Garage 10982 is a top-quality product by one of the most reputable car accessories manufacturers. Hence, if you prefer a product from a premium brand you can trust, this will be a good buy.
This bug and tar remover solution is meant to soften and loosen any stubborn bug, smudge, and other stains such as tar and rubber. This ensures you can wipe them off quickly to restore your car's spotless paint finish.
Due to its superior rubber marks removal capability, this product is a great choice for track days. Additionally, it is safe to use on all exterior surfaces.
When it comes to actual use, the solution can be applied on its own or as a pre-wash, in which it treats the stained area before washing the surface using other chemicals or detergents. Once applied, you only have to wait for 30 seconds, then wipe off the loosened smudge.
However, no towel is included in the pack, and therefore, you need to get your microfiber fabric separately.

---
4. Heavy-duty Formula: Chemical Guys CWS_104_16

Chemical Guys' CWS_104_16 bug-and-tar remover is manufactured as a heavy-duty car wash shampoo for dealing with any car surface contaminant. It is also highly concentrated as just 1 cup is enough to mix with a gallon of water.
This product is very useful for pre-washing to loosen bug splatter, tar, and grime. And it helps prevent long term paint damage. The shampoo is available in 4 different pack sizes, from the smallest 4-ounce bottle to 128-ounce ones.
In addition to all this, the product contains advanced lubricating polymers. The polymers help guide your towel smoothly over the car's paint job to eliminate swirls and prevent scratches. And you can use it on multiple surfaces such as aluminum, glass, plastic, chrome, and even clear coats.
Some users might not like that it requires dilution, as this means extra work for you. However, this should be easy and will not take a lot of time as the manufacturer provides clear instructions on what to do.

---
5. Best for Tough Soil: Armor All Extreme 18498
If you face tough soil stuck on your vehicle after an off-road trip, the Armor All Extreme 18498 will be an effective solution for you. Besides removing tough soil with ease, it can also eliminate other things like bugs and bird droppings.
The formula offers protection for your wax job to ensure you will not have to redo it afterward. Better yet, this product will not leave your vehicle looking dull as it will not remove the shine. What's more, it also does not streak.
Apart from being an effective cleaning solution, this product will work well as a pre-treatment before washing the vehicle as it helps loosen the dirt and grime.
This product seems a little too runny for use on vertical surfaces as it will not adhere well, but for other surfaces, it still does a good job. While it might also not be the most potent for tar removal, it should still remove most of it from the vehicle surface.

---
6. Easiest to Use: McKee's 37 MK37-100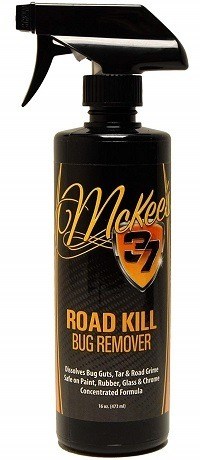 If you are looking for an easy to use bug and tar remover, the MK37 is an excellent option to consider. Its application only requires you to spray it on, then wipe off the smudge with no rinsing being needed afterward. And spraying is hassle-free as it comes in a spray bottle.
The remover uses clear-coat safe surfactants, making it safe to use for plastic trims, glass, and any painted surface. Also, you can add this product to your wash liquid to enhance its cleaning power.
Once applied, this solution breaks down and dissolves bug splatters and other stains such as tar, enabling you to wipe them off before they become permanent stains on your car's paint job.
Apart from being used on its own, you can also add a small portion of the remover to your wash solution, thereby enhancing its cleaning power over the whole vehicle's surface.
Cleaning towels are not part of the pack, but chances are you already have something you can use at home. Also, dissolving the contaminants takes a little longer, requiring 1-2 minutes before wiping, but the results are worth the wait.

---
7. Orange Scent: Permatex Spray Nine 15717

Apart from providing stain removal properties, it wouldn't hurt to leave behind a sweet scent, and this 15717 from Permatex does just that. The solution has a fresh orange scent that will leave the wiped surface smelling fantastic.
For the actual cleaning, this product's formula has 25% d'limonene, a pure, powerful, and very effective solvent that dissolves stubborn stains instantly, while also lifting away soil particles, bug splatter, and tar.
Other features include the handy aerosol container, making the application process hassle-free and penetrating hidden areas because it is released at high pressure.
Though flammable, the solution contains no petroleum solvents in its formulation. This makes it safer to use and better for the environment. Although the 17.5-ounce might not look like much, it is still enough for a few cleaning sessions.

How to Buy the Best Bug & Tar Remover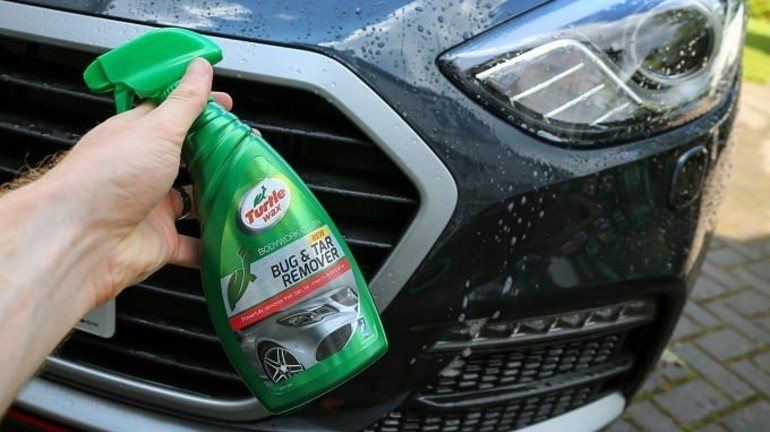 1. Safe for Surface
Surface compatibility is a vital factor to consider, as some removers might contain abrasive formulations or harsh chemicals that might damage painted finishes, especially the clear coat kind of finish.
Before making any purchase, ensure you check whether the product is compatible with the surface you intend to use it on so that the result is a clean, stain-free car without damaging the paintwork.
Alternatively, you can choose to go for something safe to use on several surfaces like the ProSol Bugs N All.
2. Ingredients
For the remover to be effective, it must have the right ingredients for the job. Although all the above products work, some have fast-acting elements, while others take some time to dissolve or loosen up the stains.
Additionally, some work only on a few stain types such as tree sap, bug splatter, and tar, while others cover the whole spectrum of stains. Others have harmful compounds, while others cannot do you any harm.
Ideally, you should buy a tar remover that is non-toxic and biodegradable like the 3D Auto Detailing Products, especially if you have small kids around.
3. Ease of Use
Another essential factor to consider is the ease-of-use. Generally, spray cans and spray-bottle removers are the easiest to use since you only need to spray the solution onto the stained surface, wait for the required time, then wipe off the smudge.
Concentrated solutions that require to be diluted before use will need more prep work, which means they are a little tedious to use. However, the benefit you get with them is that they enable you to cover a wider area as the dilution results in lots of remover.
4. Durability
As you choose a bug & tar remover, you also need to think about the durability because you will want something that also protects the surface to prevent grime accumulation.
Something that leaves a protective layer on the surface like the Turtle Wax's T-520A is preferable. Such products give the vehicle body long-lasting protection to minimize the need to keep cleaning it.
How to Remove Bug & Tar from your Car
The best automotive bug and tar remover can only be effective if used properly. To do this, you must follow the required cleaning instructions, and these can be summarized as follows.
Step 1: First, you need to have the right gear. Apart from the remover, ensure you have a microfiber towel or cloth for wiping off the smudge. A good sponge such as the Viking 845100 will also be very useful for the application as it can hold lots of remover.
Step 2: Apply the remover to the stained area.
Step 3: Let the solution rest at that spot for the required amount of time. Each product usually has the stain removal reaction time specified on its label so check this. It will usually be between 30 seconds and 2 minutes.
Step 4: Once this time is up, use the microfiber cloth or sponge to wipe off the smudge and rub off any stubborn stains.
Step 5: If there are some stains left over, repeat the process above from the application stage until the section is spotless.
Step 6: Rinse with water, then apply a waxing coat if you have any.
Frequently asked questions
Can Bug & Tar Remover Harm my Paint?
A: It depends on the formula or ingredients in the product. Some can be highly potent, which means they can damage paint if left on the surface for too long. However, most high-quality bug & tar removers from leading brands are safe on paint and clear coats.
Is it True that Citrus-based Products Work Well to Remove Bug & Tar Debris from Car Paint?
A: Yes, and they are some of the most effective ones. Citrus-based products use natural citric acid to dissolve tar and the bug guts. What's more, these products are highly effective at removing tree sap.
Can I Use WD-40 to Remove Tar?
A: Yes, lubricants like WD-40 can remove tar from the vehicle's surfaces because, besides being effective at dissolving the tar, they are also safe on the paint.
How long Should I Leave the Bug & Tar Remover on my Car before Washing it Off?
A: This varies from one product to another, and manufacturers will clearly state how much time you need to leave it on the vehicle. Typically, it will be under 10 minutes for most products. But some highly potent and fast-acting ones like the Stoner Car Care 91154 should only be left in the car for a few seconds.
Conclusion
In conclusion, bug and tar removers are essential in maintaining spotless and stainless car body surfaces. And you can be sure there is something that will work for you on our list above.
From our review, the ProSol Bugs N All is our best overall. Its highly concentrated formula provides a simple but effective solution to bug and tar removal, and it is safe for any surface.
But, if you are looking for an option that is more budget-friendly, go with the Turtle Wax's T-520A.