Even though other improvised car drying towels such as old t-shirts might work, they are not ideal and do not look very professional.
Considering that the drying process after cleaning your car is very important, you need to get a high-quality drying towel that is specifically designed to be gentle on your paint job, while also absorbing all the water safely and efficiently on every pass.
That said, there is a wide variety of drying towels in the market that are made of different materials, and if you are looking for one, here is a close up look at the best car drying towels that you can get online.
Editors' Picks for Top Car Drying Towels of 2021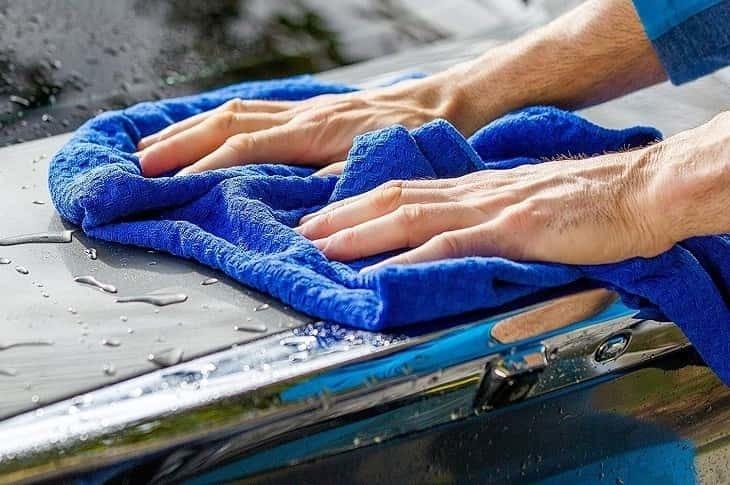 Summary of 7 Best Car Drying Towels
IMAGE
PRODUCT
FEATURES

1. Meguiar's X2000 (Best Overall)

Relatively affordable 1-pack microfiber towel
Waffle weave textured design with 2X absorbency
Quite large in size

2. CleanTools 149

Polyvinyl alcohol car drying towel with a storage tube
Lint-free, mold, mildew and chemical resistant
Sponge pore core
Machine washable

3. Chemical Guys MIC_1995

Large size extra plush microfiber drying towel
Silky banded edges
Scratch, swirl, and lint free
Light grey in color

4. The Rag Company 42040-DRY-JR-2PK

2 pack of AA-grade Korean microfiber towels
Absorbs up to 10 times its weight in liquid
Over 400,000 fibers per square inch

5. Griot's Garage 11117

Large single-piece drying towel
Sewn-in hand pockets
Waffle weave design

6. Viking Car Care 912400

Affordable microfiber waffle weave towel
Very large in size
Micro-bead drying action

7. Carcarez Microfiber Towels

6 towel value pack
High-quality microfiber construction
Antibacterial
Traps in the dirt and debris
1. Meguiar's X2000 - Best Overall

Size: 22 x 30 inches
Material: Microfiber
Meguiar's X2000 drying towel has a unique waffle weave textured design that helps in reducing the drying time because the waffle texture absorbs up to 2 times the water holding capacity of normal towels.
Additionally, the towel is made using microfiber, which is a highly absorbent material, and with its quite large 22 x 30-inch size, the piece dries up a wide area on every pass. This large size also means fewer wring-outs because it takes a big volume of water to fill it up.
Being very soft, the microfiber waffle structure is very gentle to painted surfaces and waxed finishes, and this means your car will be left unscratched, while also having a spot-free and streak-free surface.
The towel also has a high-quality construction that assures you of continuous use and is machine washable for easy maintenance.
Even though you only get a single towel per pack, the pack is quite affordable and therefore, it's well worth the money.

---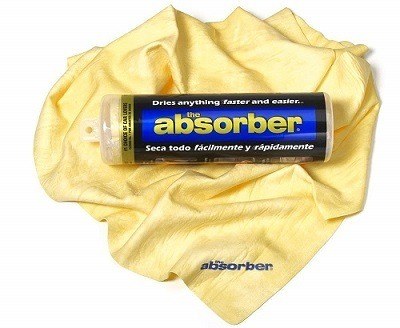 Size: 27 x 17 inches
Material: Poly Vinyl Alcohol
Though quite small, this car drying towel is designed as a portable piece and it actually comes with a storage tube so that you can easily carry it on the go. The towel can be stored while moist or dry inside the tube, meaning that you can get back on the road immediately after use.
Even when stored moist, the towel remains clean because it is designed to be resistant to mold, mildew and other chemicals. Basically, water or any detergents present on its surface will not affect it in any way in the long term.
That said, this piece is made of a unique polyvinyl alcohol material that is lint-free and very smooth, and has a sponge pore core inside that is highly absorbent for quick drying purposes. This material is also machine washable, which simplifies the maintenance process.
Combined, these features make this the top-rated car drying towel in this review, and you also get 6 color options to choose from, which are blue, red, yellow, natural, aqua and purple. However, the towel comes as a single pack but there is a 6-pack option which is very costly.

---
3. Chemical Guys MIC_1995 Microfiber Car Drying Towel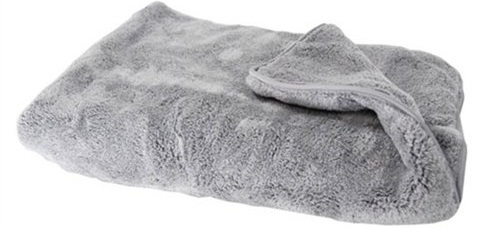 Size: 25 x 36 inches
Material: Microfiber
This MIC_1995 stands out as the best microfiber material towel because it has an extra plush composition of microfiber material plus silky banded edges that makes the whole structure very soft for scratch-free and swirl-free wiping and drying.
The plush microfiber is also lint-free and comes in a light grey color that highlights all the dirt, showing you when its time flip over to the other side so that the scooped dirt does not scratch the paint or wax coating.
Though expensive, the towel is gigantic, measuring 36 x 25 inches, and this makes it suitable even for wiping an entire pickup truck or SUV without any wring-out due to the increased absorbency. It is also machine washable for easy maintenance.

---
4. The Rag Company 42040-DRY-JR-2PK Car Drying Towel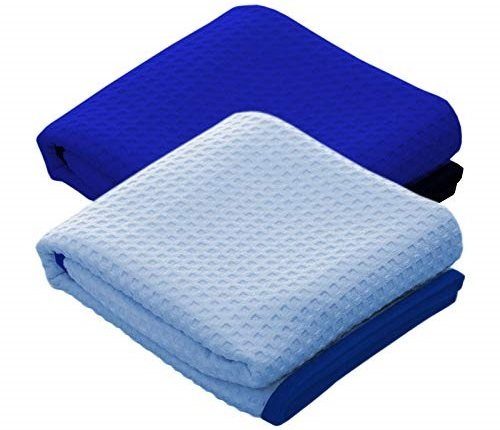 Size: 20 x 40 inches
Material: Microfiber
Buying this car drying towel gives you two towels and though quite costly, the 2 are made of 100% Korean extra plush AA-grade microfiber, which is designed to be very absorbent, holding up to 10 times its weight in the absorbed liquid.
This is made possible by a high density of over 400,000 fibers per square inch, and these are also butter soft for scratch-free and swirl-free performance, making the pair one of the best drying towel for cars.
The towels are also highly durable, with the capability of handling hundreds of washings, and the benefit is that the fibers get softer after each wash.
Other features include having a waffle weave design and coming in two colors, one in navy blue, the other light blue.

---
5. Griot's Garage 11117 Car Drying Towel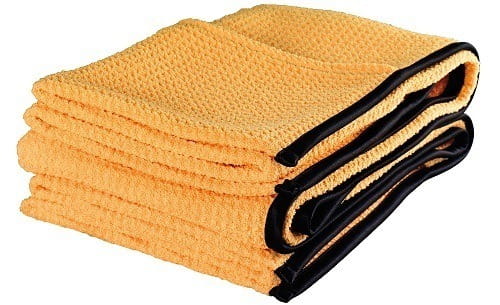 Size: 25 x 35 inches
Material: Microfiber
When dealing with detergents and other slippery car washing chemicals, it might get a bit difficult to get a proper hold of the towel but this 11117 from Griot's Garage is ergonomically designed with hand pockets, which give you the required grip as you clean.
As for the absorption, the towel has a waffle weave design that creates a larger surface area for faster and better water collection.
This design is made using a premium grade microfiber material that is very soft and is actually safer to use than a chamois.
On the downside, the towel comes as a single piece and is very expensive, but it is quite large, measuring 35 x 25 inches in size.

---
6. Viking Car Care 912400 Car Drying Towel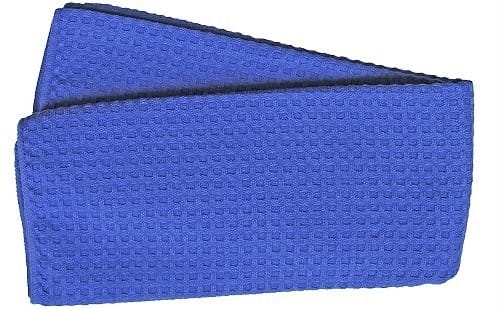 Size: 28 x 36 inches
Material: Microfiber
Viking Car Care's 912400 has affordability as its main advantage and is therefore ideal for you if you are on a tight budget. Despite being this affordable, it is the largest towel by surface area comparison (7sq. ft), and this makes it ideal for drying trucks, SUVs and other large vehicles.
The towel is made using microfiber material that is softer and highly absorbent as compared to cotton and has a waffle weave design that increases the surface area for water absorption. This design actually makes the towel absorb up to 3 times its weight in water.
This soft material gives a micro-bead action that leaves no water spots or streaks and is also reusable while being lint-free throughout its lifespan. For maintenance, you simply have to machine wash the towel after use and that's it.
On the downside, you only get a single piece per pack but it is very affordable and worth the money.

---
7. Carcarez Microfiber Towels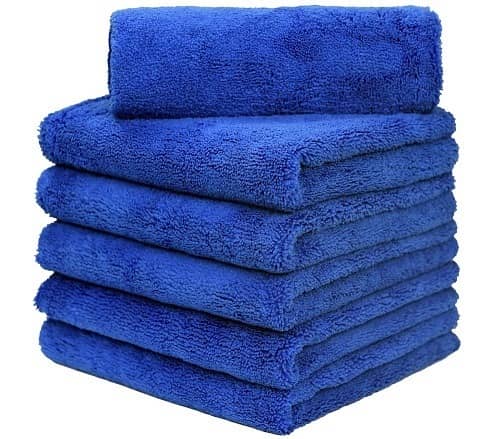 Size: 16 x 24 inches
Material: Microfiber
If you want value for your money, then buy this towel set from Carcarez because it comes as a set of 6 pieces, which makes the cost per towel very affordable. This makes it a good choice for commercial use since you will have a lot of replacements after the one in use wears out.
The towel is made of a top-quality microfiber material that is soft on paint, wax and other surfaces while giving super absorption and locking in the remaining dust and dirt from the car's surface.
Additionally, the material is treated to be antibacterial, which makes it very safe to use, has strong water resistance and feels very comfortable to hold.
Other features include an eco-friendly construction and the availability in 3 color options: red, blue and green. On the downside, each towel in the pack is relatively small, measuring only 24 x 16 inches.

How to Buy the Best Car Drying Towel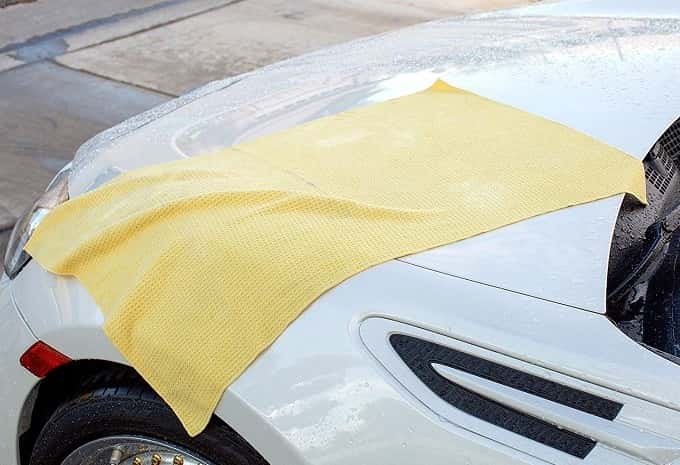 1. Size
One of the most notable differences between these car drying towels is their size. Measured mostly in square inches, larger towels have the benefit of absorbing more water and covering a larger area on every pass, giving you a fast-drying time.
However, they might be a bit bulky to handle but you can fold them up into a more manageable size.
On the other hand, smaller towels are less bulky and easier to handle but might be cumbersome to use when drying a large vehicle because they cover a small surface area on every pass.
This shows that large towels have an advantage over their smaller counterparts, and are therefore better to buy.
2. Material
Microfiber
Most car drying towels are usually made of microfiber material because it is very soft, which makes it very gentle on paint, wax or any coated surface. The material is also very easy to wring out since it compresses easily, making it one of the best for drying towels.
Chamois
Chamois is a type of porous leather that has one major benefit and that is being very durable. It lasts longer than microfiber but, on the downside, might be a little bit too tough for your paint job.
Others
There are other materials that are still good at car-drying such as cotton and polyvinyl alcohol but generally, you should consider a material that is soft, scratch-free, swirl-free and lint-free. Microfiber is usually the best material because it fits all these descriptions.
3. Design
Following up on the material factor, another important thing to check is the towel's design. Some feature a waffle weave design that has a larger surface area for increased water absorption, which can go as high as 10 times the weight of the towel.
Others have plush fibers on the surface that are extremely soft and very gentle on the car's paint job or any other coating.
Generally, all of these designs are good for your car and selection should be done based on personal preference.
4. Ease of Cleaning
After drying your car, the towel needs to be properly cleaned so that it retains its spot free color and proper drying abilities.
While this may be a simple thing to do since it is only a single towel, it would be very convenient if it is machine washable so that there is no hassle when doing the maintenance.
Read More: 12 Best Microfiber Towels
Conclusion
As you can see, car drying towels can be very good for your car if you make the right choice, or destructive to the paint job/coating if not selected properly.
This means that you should pick a high-quality towel because spending about an hour washing your car only to scratch it later when drying won't feel very good.
With that in mind, you should go through the car drying towel review above and pick the best car drying towel that suits your needs.