No one likes a dull looking car or stained bumpers and metal surfaces. And while it is really tiring to maintain aging car parts, with the best chrome polish things should be easier.
Chrome polishes are formulated to bring back the lost shine and luster to the metal, aluminium and chrome surfaces, and protects them from the elements.
These polishes are also generally easy to apply and will provide faster results than traditional polishing agents. To help you find a good chrome polish for your vehicle, here we review some top-rated options and explain the things to consider when shopping.
Top Chrome Polishes of 2021 by Editors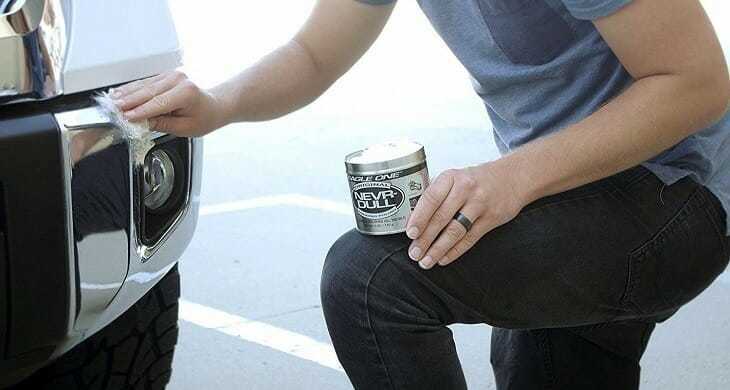 Summary of 7 Best Chrome Polishes
IMAGE
PRODUCT
FEATURES

3M 39527 Chrome & Metal Polish

1. 3M 39527 (Best Overall)

All-metal surface polish
Ideal for trim, wheel and bumpers
Highly effective on rust, corrosion and oxidation
Leaves a showroom-like shine

Chemical Guys SPI_402_16 Heavy Metal Polish

2. Chemical Guys SPI-402-16 (Best Heavy Metal Polish)

Great for heavy metals surfaces
Clean and brightens
Removes light rust and oxidation

Applicable by hand or machine

Mothers 05212 California Gold Chrome Polish

3. Mothers 05212 (Best Budget)

Budget-friendly chrome polish

Advanced polymers
Streak and smear-free
Also works on glass and mirrors

Mothers 05222

4. Mothers 05222 (Easy On/Off)

Easy applications
Mirror-like finish
Effective on fingerprints and smudges
Works on all chrome surfaces

Simichrome 390050

5. Simichrome 390050 (Fast-acting Polishing Paste)

Under 30 seconds polishing
Restores old surfaces

Leaves a protective coat
Non-toxic formula

Blue Magic 400 Mtl Polish Cream

6. Blue Magic 400 (Non-abrasive & Multipurpose)

Non-abrasive and ideal for various uses
Works on all metal surfaces
Removes oxidation and tarnish

Applicable with buffers and polishers

Turtle Wax T-284 Chrome & Metal Polish

7. Turtle Wax T-284 (Efficient & Protective Soft Metals Polish)

Efficient soft metal polish
Leaves a protective coating
Eliminates need for multiple polishes
Effective regardless of pressure used
1. 3M 39527 - Best Overall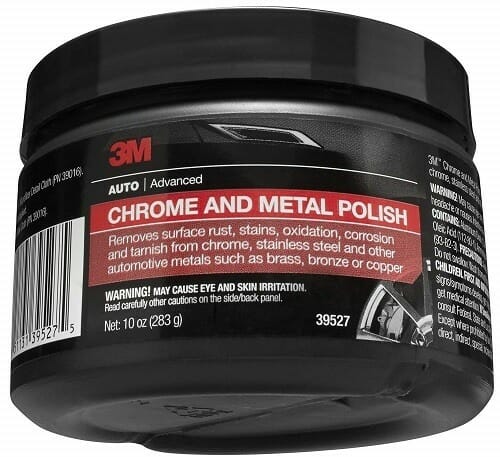 The house of 3M brings you this metal and chrome polish that has been manufactured using high-quality ingredients. It can work for a wide variety of metal types from chrome to stainless steel make it our best overall product.
This polish helps to restore the sparkle and shine of dull metals by removing corrosion, rust, tarnish, oxidation, stains, water spots, etc.
Also, it removes grime and lessens spotting and metal pitting. As it helps restore the sparkle and shine, you will get a brand new car after spending this little amount.
Plus, you can use this polish on bumpers, trims and wheels using a cloth or some polishing tool. As the process is quick, you will get a beautiful car in minutes.
Once you are done with the application, buff the surface with microfiber cloth to bring ultimate shine. If you own a car, this product will definitely polish it at its absolute best.
When you open the container, you will notice that it has quite a large air pocket. But, you can be certain that you will still get the advertised product quantity.

---
2. Chemical Guys SPI-402-16 - Best Heavy Metal Polish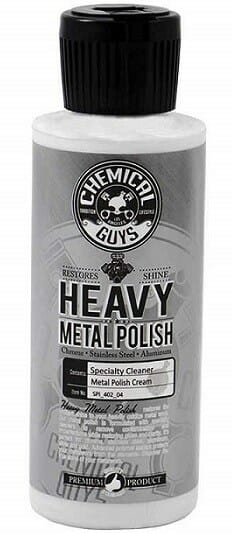 Chemical Guys makes this chrome polish for dealing with heavy metal surfaces, and it restores them to their original state, while also leaving a pleasant shine.
It works excellently on chrome bumpers, aluminium trim and stainless steel exhaust tips. As it is formulated with specialty cleaners, it will remove contamination fast and effortlessly.
Plus, this is one of the best metal polishers for removing light rust stains and any oxidation buildup, whilst maintaining the shine and luster.
And this is also a generally easy to use polish as you only need to apply a little of it using a microfiber cloth. Also, it is machine applicable to suit all kinds of users.
Given that there is only 4 ounces of product in the bottle, this chrome polish seems relatively pricier, but because a little of it goes a long way, you should still be able to get good value for your money.

---
3. Mothers 05212 - Best Budget Chrome Polish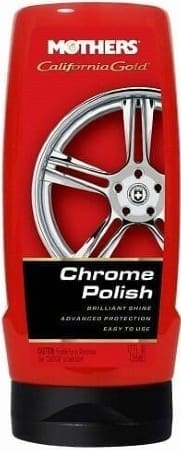 Yet another chrome polish from the brand Mothers, this one is a highly effective polish that comes at quite an affordable price.
It is generally easy to use and formulated from advanced polymers that makes sure to safeguard the surface against rust, corrosion, fingerprints and spotting.
Also, this polish deep cleans and brightens the wheels, trim, chrome bumpers and accessories without ever scratching them.
Moreover, this product will never smear or streak the surface as the base is smooth and soft to apply. And it is even gentle enough for use on glass and mirrors.
If you have very old metal, this chrome polish might not be very effective in restoring it, but it should still be able to leave it with a nice shine.

---
4. Mothers 05222 - Easy On/Off Chrome Polish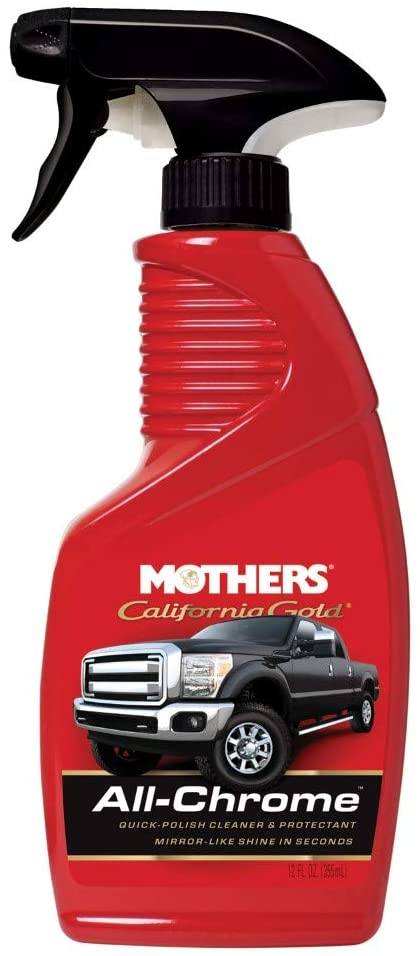 The easy wipe on and off is what makes the Mothers 05222 a special chrome polish. To apply it, you only need to spray, wipe and buff it and you are done, which takes just a few minutes.
Also, this polish leaves a superior finish on the surface and will be highly effective at removing smudges, fingerprints, dust and water spots.
Many users will love that this product has been formulated to work on all chrome surfaces from the soft decorative pieces to the harder ones and also chromed plastics.
The spray that the bottle produces seems a little to forceful and can spatter a lot. However, this is a small issue to fix by simply spraying on the microfiber cloth instead of spraying directly on the surface.

---
5. Simichrome 390050 - Fast-acting Polishing Paste

Simichrome 390050 is a fast-acting chrome polish that will allow you to see the results in as little as under 30 seconds. This means you can have your car looking all new immediately.
Besides polishing and restoring your old chrome surfaces, this product will also help protect them as it will leave behind a protective coating that will help prevent further tarnishing.
The potent formula will provide protection for most uncoated and non-ferrous metal surfaces including gold, silver and aluminum. And this polish will not include any toxic substances that can damage the vehicle surface.
This polishing past is one of the most expensive products on our chrome polish review. However, the results you get will be worth it. Also, there is little product in the tube, but it still covers a wide area.

---
6. Blue Magic 400 - Non-Abrasive & Multipurpose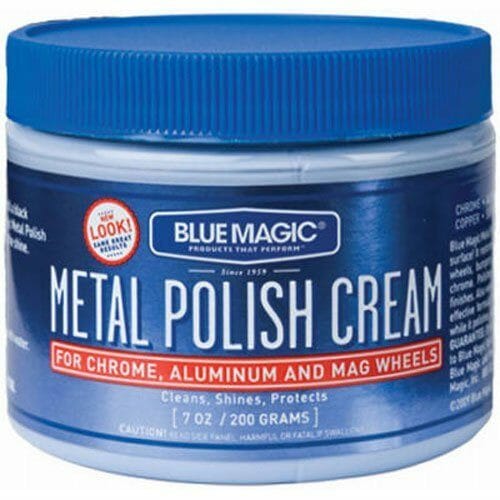 Blue Magic is a non abrasive polish, and so you will never have to worry about ending up with nasty scratches. Also, it is a multipurpose product that beautifully polishes sterling silver, copper, brass, gold, aluminium, plastic, alloy wheels and factory coated products.
As you apply this cream on the desired surface, it will also remove oxidation and tarnish with utmost ease and leave the surface with a nice and long-lasting protective coating.
Plus, you can use it with polishers and buffers if you do not want to put in the effort required when using a microfiber cloth.
The most significant shortcoming with this chrome polisher is that it seems to leave a bluish film on the surface after buffing. However, this should be easy to remove with a little elbow grease.

---
7. Turtle Wax T-284 - Efficient & Protective Soft Metals Polish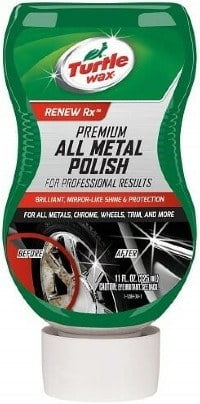 Turtle Wax T-284 is a professionally manufactured polish that helps in restore the shine on soft metals like aluminum and chrome.
The polishing technology removes scratches and oxidation with utmost ease and expertise. You can expect mirror like finish out of this product, and it will also never scratch your vehicle.
Since this chrome polish creates a protective coating on the surface you want to use, it prevents future oxidation.
Plus, no matter the amount of pressure used, it is effective and efficient owing to its accurately engineered polishing agents.
Many users will find the smell a little strange at first but it only takes some getting used to, and when you use the product in an open space you will hardly even notice it.

How to Buy the Best Chrome Polishes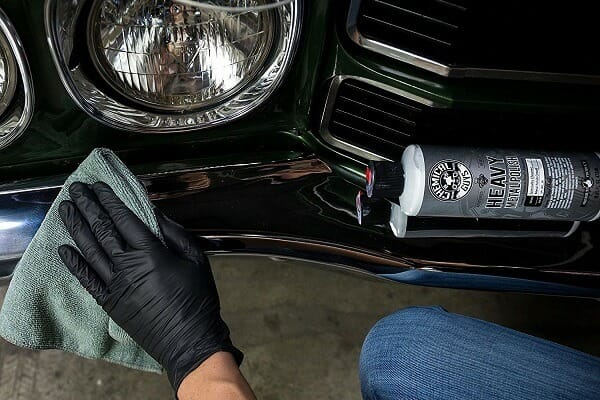 1. Compatibility
A good chrome polish should be ideal for different surfaces like chrome, brass, copper, aluminium, stainless steel, glass and plastic such as the 3M 39527.
But some have been specifically formulated for certain surfaces and might not be ideal for others. Hence, when shopping you need to make sure that whatever you buy is ideal for use on the surface that you intend to polish to avoid disappointments.
2. Types of Chrome Polish
As you try to choose the best chrome polish, it is also important to note that there are different types available, and so you also need to decide the type to buy.
The four main types are wadding, liquid, cream and paste, and each will have its merits and demerits that will make it ideal for different kinds of users.
Wadding
Wadding chrome polishes are the least common of the 4 types. These polishes are just a fiber cloth soaked in liquid polish and to use them you only need to cut off a small and use it to scrub the surface. Wadding works best for simple touch-up works when rust starts setting in.
Liquid
The ease of application of the liquid chrome polish makes it the most popular type. This polish is easy to rub in using a microfiber cloth or spraying on the surface before buffing. However, these polishes are not very potent, and will hence only be ideal for surface level jobs only.
Cream
Cream chime polishes are a little more viscous than the liquid ones. This makes them ideal for deeper cleaning and polishing jobs. Cream polishes are widely used by professionals and will be perfect for jobs that involve removing surface-level rust and restoring extensive fading.
Paste
A paste chrome polish like the Simichrome 390050 works fast and is highly potent, but there is often little product in the tube. Paste can also be hard to apply as it tends to be quite thick. However, it makes up for this by being effective even on the hardest restoration jobs.
3. Protective Coating
Oxidation, rusting and corrosion are some things we all worry about. Hence, a chrome polish that creates a protective coating is more appropriate as it protects against these things.
Besides choosing a polish that will leave the bumper, wheel or rim shiny, it should act as a barrier against things like water as it causes corrosion and rusting, keeps dirt out and protects against UV rays.
4. Ease of Application
No matter which polish you choose, make sure it is easy to apply. Some chrome polishes come with sprayer while others have to be applied by hand or with other polishing tools.
Regardless of the mode of application, you need to make sure that it is easy for you so that you do not end up wasting the entire day on it.
A chrome polish that comes with the necessary application tool and some straightforward instructions will be super easy to apply.
5. Longevity
When buying a chrome polish, you should not forget to check the quantity of product in the bottle. As you will probably need to polish frequently, you need to make sure that there is enough product in the bottle.
Besides having enough product in the bottle, you also need to make sure that the chrome polish you buy has been formulated to provide long-lasting shine and protection.
Conclusion
Chrome polishes provide an easy way to restore your vehicle's lost shine and offer protection from different elements. And choosing the best chrome polish for your vehicle should now be effortless with our recommendations.
From this list, the highly potent and versatile 3M 39527 that works on a wide variety of surface and is super easy to apply is our top overall recommendation.
But, if you prefer to spend as little cash as possible, the more affordable Mothers 05212, should be a perfect pick for you.