Quite often underrated, a tire pressure gauge is a crucial tool to have because it helps you to check if your car tires are over or underinflated.
This has a direct impact on the performance of your car because underinflated tires wear out faster while overinflated ones make the car very bumpy and unstable, and can easily burst as you drive.
However, you need to get a good quality unit so that it gives you accurate measurements and that said, here are the top 10 best tire pressure gauges in the market from which you can choose the most suitable piece that matches your needs.
Editors' Picks for Top Tire Pressure Gauges of 2021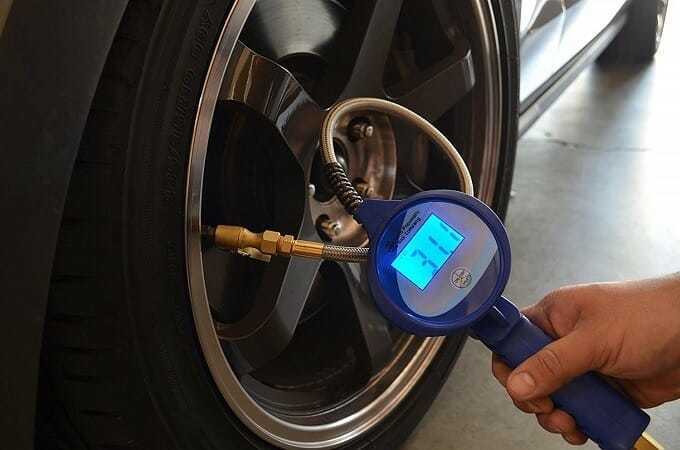 Summary of 10 Best Tire Pressure Gauges
IMAGE
PRODUCT
FEATURES

1. JACO Superior Products 6254509 (With 360° Swivel Chuck)

Analog gauge with a 0-100 PSI range
Large 2-inch glowing dial face
No leak air hose
Performance tested, calibrated and certified accurate

2. Rhino USA Best-75psi-Tire-Pressure-Gauge (With Braided Air Hose)

Analog gauge with a 0-75 PSI range
No leak braided air hose
Large 2-inch dial with a glowing face
360° solid brass swivel chuck with a 45° tip

3. TireTek TT-GH01-QBR2 (Good)

Analog gauge with a 0-60 PSI range
Reinforced rubber hose
Steel chuck with an angled nozzle
Carrying case included

4. JACO Superior Products JSP-003 (Very Durable)

Analog pressure gauge with a 0-60 PSI range
Heavy-duty brass construction
2-inch glow face

5. Astro Pneumatic Tool 3018 (Wide Range)

Digital gauge with a wide 3-175 PSI range
3 display unit options
Two-position lever for inflating and deflating
21-inch stainless steel braided hose

6. Tekton 5941 (With Lighted Nozzle)

Digital gauge with a 0-100 PSI range
Lit nozzle plus backlit LCD display
30-second auto shut-off
4 display units

7. Accutire MS-4021B (Most Accurate)

Digital gauge with an accuracy of 0.05 PSI
5-150 PSI range
Rugged, heavy-duty construction
Automatic shut-off

8. TireTek TXL-PRO (Best Analog Gauge)

Analog gauge with a wide 0-170 PSI range
Reinforced 19-inch rubber hose
Oversized 3-inch dial face

9. Tacklife TG01 (Most Affordable)

Affordable digital gauge with a 0-150 PSI range
4 display units
Backlit LCD screen with LED nozzle lighting
Automatic shut-off

10. AstroAI ATG150 (Twin Pack)

A twin pack of digital gauges
4 display units
A backlit LCD screen and lighted nozzle
1. JACO Superior Products 6254509 - Tire Pressure Gauge with a 360° Swivel Chuck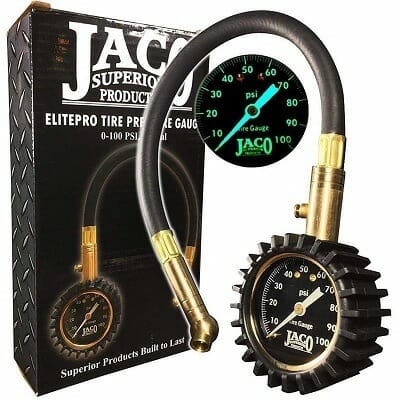 Jaco's 6254509 has a couple of features that make it the top-rated tire pressure gauge in this review. For starters, it has a 360° swivel chuck that makes it very easy to access the wheel's valve from any angle for easy use.
Once hooked up to the tire, the unit's large 2-inch face gives you a scale of 0-100 PSI, with all the numbers and scale glowing up in the dark for easy use at night.
With this range, the gauge is performance tested as well as certified accurate and calibrated to meet ANSI's B40.1 international accuracy standard, meaning it is very reliable.
Other features include a no-leak air hose, rugged steel casing with a shock-resistant gear-style protective guard, pressure hold and reset buttons, air bleeding valve and a 45° extended tip on the swivel chuck for easy use.
On the downside, the unit is analog, meaning that gauge reading might not be as easy or as accurate as in the digital kind, but at least it does not require any batteries to operate.

---
2. Rhino USA Best-75psi-Tire-Pressure-Gauge - Tire Pressure Gauge with a Braided Air Hose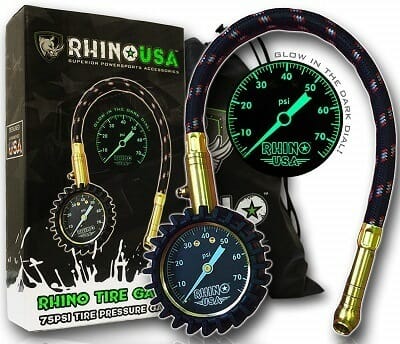 This analog tire pressure gauge stands out due to its no-leak braided air hose, which is quite durable, and it has a 360° solid brass swivel chuck with a 45° tip on one end for accessing the tire's valve with ease.
Although the unit has a relatively small gauge range of 0-75 PSI, the dial face showing this scale is quite large with a 2-inch diameter and glows in the dark for easy reading.
Most of the hardware used is built using solid brass which is then covered in a rugged protective grip cover for durability purposes.
Included in the gauge is a bleed valve that enables you to easily deflate the tires if they are overinflated, as well as pressure lock and reset buttons.
Apart from this 0-75 PSI range gauge, there is a smaller 0-60 PSI range gauge that is much cheaper, though the reduced range is not suitable for large high-pressure tires.

---
3. TireTek TT-GH01-QBR2 - Good Tire Pressure Gauge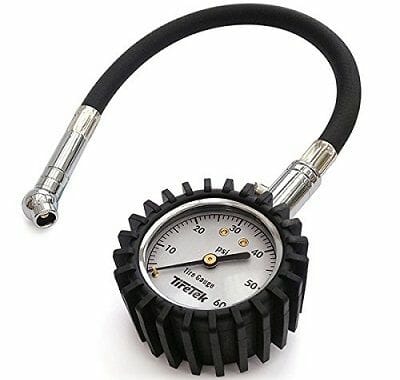 TireTek's tire pressure gauge is quite similar to the ones above because it has an analog dial, but with a shorter 0-60 PSI range. Also included is a tough air hose and though it is not braided, it has a reinforced rubber construction that does not split or fray.
Apart from rubber, this unit is also made up of steel components, which are quite strong. These components include a 360° swivel chuck that has an angled nozzle for easy reach towards the tire valve and a bleed button for tire pressure adjustment.
Other features include a large and easy-to-read 2-inch dial face, a protective outer rubber cover and a free protective carrying case is included for organized storage.
On the downside, apart from having a short 0-60 range, the dial does not glow in the dark, which makes it a little bit difficult to read.

---
4. JACO Superior Products JSP-003 - Durable Tire Pressure Gauge
Durability is heavily incorporated into the JSP-003's construction because it has solid, heavy-duty brass components, which include a thick 2.25-inch brass stem.
No air hose is included in this setup and even though this might be a bit inconveniencing, it means you won't have to deal with split or cut sections that leak incase of accidental punctures.
Instead, the brass stem attaches directly to the tire valve through a 360°swivel chuck, which is angled at the end in order to easily access the valve.
This brass stem is fitted with an air bleeder/ pressure reset button that is designed to help you quickly reduce pressure in overinflated tires.
Other features include a 2-inch glow face dial that is calibrated to meet ANSI's grade B40.1 international accuracy standard and a short 0-60 PSI range with a resolution of 1 PSI.

---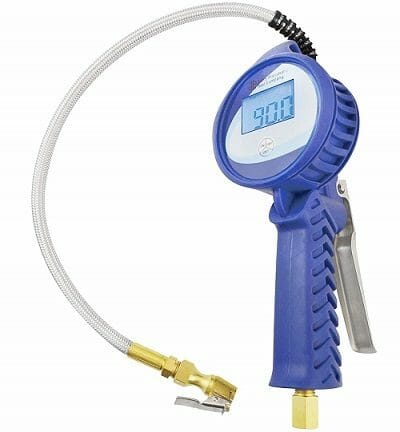 Though quite expensive, Astro's 3018 has a digital scale with a large backlit LCD display that is very easy to read and displays the pressure over a wide 3-175 PSI range.
Additionally, this display can show the pressure reading in PSI, BAR or KG, which lets you use the units you prefer.
Attached to the gauge is a 21-inch long stainless-steel braided hose with a rubber bend guard for durability purposes, and it has a lock-on air chuck on the other end that simplifies its use.
A rubber sleeve is used to cover the entire gauge for protection and durability while also providing some level of comfort when in use because the rubber is soft and grippy.
The unit is also designed to connect to an external compressor and with this, there is a built-in two-position lever that allows you to deflate the tire in the first position or inflate in the second position.
On the downside, two AAA batteries are required to run the digital scale but these are included as part of the package.

---
6. Tekton 5941 - Tire Pressure Gauge with Lighted Nozzle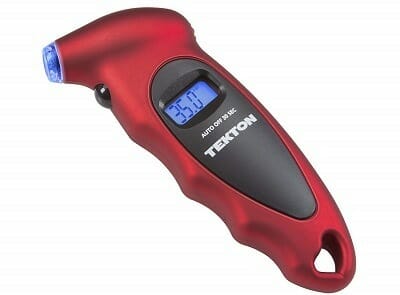 This tire pressure gauge takes visibility to the next level by having a lit nozzle, which illuminates your work area so that you can connect it to the tire valve easily in the dark. Additionally, the 5941 is a digital gauge that has a backlit LCD display, which is easier to use at night.
Another benefit you get with a digital gauge is that it shows the exact pressure reading, unlike the analog kind. It even has a 0.5 resolution, which gives a more precise reading.
On the outside, the gauge has an ergonomic design that is basically a soft, non-slip surface with finger grooves that comfortably align with your palm for easy handling.
Other features include automatic shut off 30 seconds after use for battery conservation and a simple push-button for switching between the 4 display units, which are PSI, BAR, kPa and KG/CM2.
However, the unit does require batteries to run but these are provided for first-time use. After that, you will have to buy them separately.

---
7. Accutire MS-4021B - Most Accurate Tire Pressure Gauge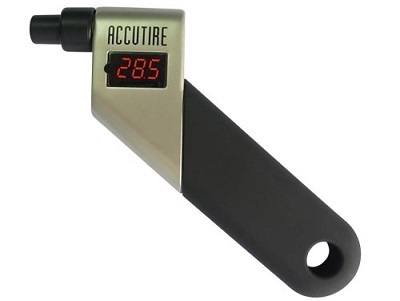 The higher the accuracy level in a tire pressure gauge, the better. Accutire's MS-4021B is equipped to be accurate to within 0.05 PSI, giving readings from 5-150 PSI with 0.5 increments. The result is a very precise measurement that shows the exact tire pressure.
Aside from this, the 4021B has a rugged design with heavy-duty construction that is very durable for long-lasting use.
This design includes a rubber-coated handle that is very grippy and an angled head for easy reaching to the tire valve.
Even though it requires batteries to run, an automatic shut-off feature ensures battery drain is minimized if you leave the gauge on, and an extra battery is included in the pack for replacement.

---
8. TireTek TXL-PRO - Best Analog Tire Pressure Gauge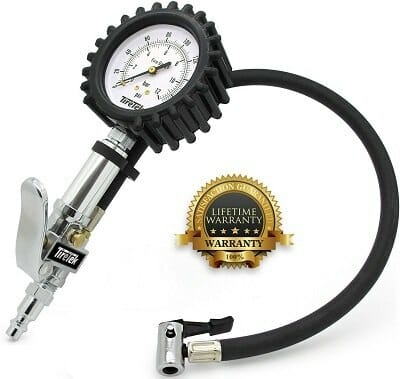 As an analog pressure gauge, this unit stands out from its peers because it has a wide measuring range of 0-170 PSI, making it one of the best analog units because it is suitable for SUVs, cars, ATVs, trucks, bikes, etc.
The gauge is also equipped with a reinforced 19-inch rubber hose that has an easy-to-use secure lock-on chuck, which locks into the tire valve very firmly to avoid pressure losses.
When hooked up, the unit shows the measurement on an oversized 3-inch dial face that is calibrated to conform to ANSI's B40.1 international accuracy standard for accurate measurements.
Other features include a durable steel and brass construction, and a PSI/BAR scale, which allows you to use the units you prefer most. However, this scale is a bit difficult to read in the dark because it does not glow.

---
9. Tacklife TG01 - Most Affordable Tire Pressure Gauge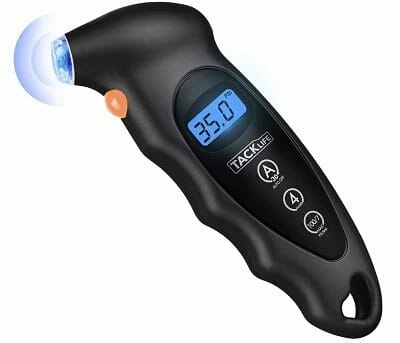 If you are on a tight budget, you can still get a good tire pressure gauge such as this TG01, which is very affordable. Despite this, it is actually a digital piece that has a 0-150 PSI measuring range and the units can be changed to kPa, BAR or KG/CM2.
A backlit LCD screen makes reading easy while an LED light at the nozzle lights up your work area in the dark for easy connection to the tire valve.
The unit has an ergonomic design that is lightweight and has finger grooves with a curved back that fits perfectly and comfortably in the palm.
On the downside, a battery is required to power up the gauge but this is included in the pack and a 30-second auto shut-off feature helps to conserve the battery for extended use.

---
10. AstroAI ATG150 - Twin Pack Tire Pressure Gauge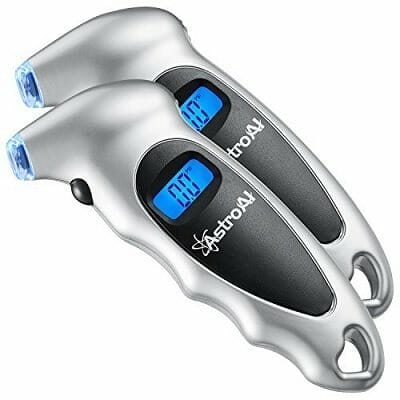 AstroAI's ATG150 comes as a twin pack of pressure gauges, which means you get a value pack of two digital gauges, one for each of your cars.
That said, each piece has wide 0-150 PSI range, with a total of display units (BAR, kPa and KG/CM2). These give you a range of 0-10, 0-1000 and 0-10 respectively.
Other factors incorporated into the design of the gauge include ergonomic finger grooves for comfortable handling, backlit LCD display and lighted nozzle for easy use in the dark and auto shut-off in 30-40 seconds for battery conservation.
However, since it is digital, batteries are required to run the digital scale and measurement system but these are included in the pack as accessories.

Why Should You Use a Tire Pressure Gauge?
It is important to use a tire pressure gauge because it helps you check whether your tires are running at the right or recommended pressure. This, in turn, will make sure that your car has:
1. Better fuel economy
This happens if the tires are underinflated. In this scenario, extra strain is put on the tires and the engine will have to work harder in order to move the wheels and the car forward. The result is a lower mpg which means you spend more at the pump.
2. Better handling
Low tire pressure is not good for driving around tight corners because the rubber will not be tightly pressed on the rim. On the other hand, driving on overinflated tires makes the car very bumpy and this will affect your handling, especially when driving on rough roads.
Other than this, maintaining the right pressure will reduce unnecessary wear and tear, and also improve your car's braking efficiency.
How to Buy the Best Tire Pressure Gauge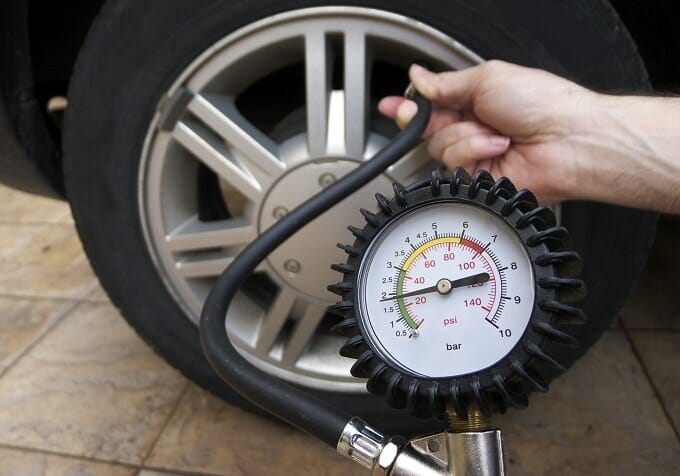 1. Analog or Digital
Analog gauges refer to the old-style gauges that have a clock-like face dial. This type is pocket-size compact, with most having shock-resistant covers for protection and durability. However, they are not as accurate and as easy to use as their digital counterparts.
On the other hand, digital pressure gauges are much easier to read because they display the actual figure on an LCD screen, which is usually backlit for easy reading in the dark.
Some digital gauges also have an automatic shut-off feature that is ideal for conserving battery power in case you leave it on. In comparison, digital gauges are better than analog units, but most are quite expensive.
2. Pressure Range
This is one of the most important things to consider because the pressure gauge must be able to handle your car's tire pressure.
For small cars, bikes and motorbikes, a gauge that goes up to 60 PSI will be enough. However, for trucks, ATVs, SUVs and other large vehicles with large tires, the pressure requirement is usually high, which means you may need 100-150 max PSI for proper use.
Just to be sure though, check the tire's sidewall because the recommended pressure is usually indicated there.
Read More: The Best Tire Pressure Monitoring System
3. Accuracy
Though mostly ignored, a highly accurate tire pressure gauge gives more precise readings, which means you will maintain your tires at the most precise pressure requirement. It is quite difficult to have the accuracy at 100% but the more precise it is, the better.
4. Size and Design
You should highly consider an ergonomically designed gauge that is comfortable and easy to handle, and it should also have a relatively long hose with an easy-to-use chuck. Otherwise, you will have a difficult time doing the pressure checking.
5. Weight and Grip
Apart from having an ergonomic design, the pressure gauge should be grippy enough for non-slip handling and not too heavy for you to carry around.
6. Battery Requirement
Even though digital tire pressure gauges are favorites over their analog counterparts, they are battery-powered and with this, if the batteries happen to run out, then the unit will be useless on the road. You should always ensure you have replacement batteries on standby.
Analog pressure gauges, on the other hand, function without batteries and thus, this shouldn't be a big worry to you.
7. Convenience Features
There are a few convenience features that are ideal to have such as a bleed valve for releasing pressure in overinflated tires when using an analog gauge and a lock-on chuck for quick attachment to the tire valve. Generally, the more the convenience features, the better.
Conclusion
As you can see, a tire pressure gauge is a very important tool to have in your car. By helping you to maintain the right pressure in your tires, this component makes is safer and more economical to drive.
That said, you need the best tire pressure gauge if you are going to get accurate pressure measurements, and with the wide variety available in the market, the review and buying guide above will help you narrow it down to the best piece that suits all your needs.