A shop vac is a more powerful version of a regular vacuum cleaner. It has enhanced features like a high-powered motor, a bigger tank, and better filters.
Most people associate this tool with cleaning up construction and woodworking sites, but it is also a good car cleaner.
With its powerful suction force, this tool can get rid of dirt and debris hid deep in your car's interior crevices. In addition to this, they pick up liquids, leaving the interior sparkling clean.
For this reason, we have compiled a list of 8 best shop vacuums for cars so that you can pick the one that suits your needs. Read through and take your pick!
Top Shop Vacuums for Cars by Editors' Picks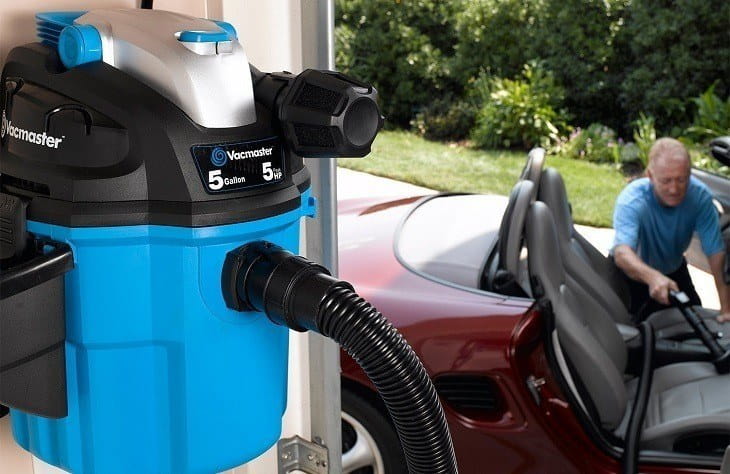 Summary of 8 Best Shop Vacuums for Cars
IMAGE
PRODUCT
FEATURES

1. Vacmaster VWM510 (Best Overall)

Powerful industrial 2-stage motor
Built-in noise diffuser
On/off remote-control switch

2. Armor All AA255 (Best Inexpensive)

Affordable
Compact & lightweight (7 lbs.)
Convertible to a blower

3. DeWalt DCV581H (Best Portable)

Battery-powered
Mains AC option
Washable & reusable HEPA filters

4. Stanley SL18116P (Best Brand)

Well established & trusted brand
Efficient, reliable & dependable
3 built-in functions

5. Vacmaster VBV1210 (With a Detachable Blower)

Powerful detachable blower
Large 12-gallon tank
Fast 106 CFM suction force

6. Shop-Vac 5989300 (Durable)

Tough stainless-steel tank
Top & side carry-handles
Secure latch system

7. VacuMaid GV50PRO (Easy to Maintain)

Mess-free sealed HEPA style bags
Wall mountable

Large 7-gallon tank

8. Craftsman CMXEVBE17595 (Heavy Duty)

Powerful 6.5 peak HP motor
Rear blower port
Oversized drain
1. Best Overall: Vacmaster VWM510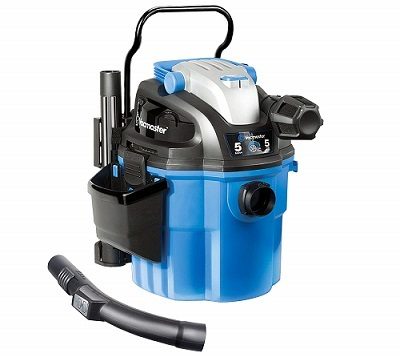 Power: 5 horsepower
Tank Capacity: 5 gallons
Weight: 25.1 pounds
Air Flow: 75 CFM

This product is the best overall and top-rated shop vac for cars because it is powerful, quiet, versatile, and includes multiple accessories.
The unit features a dual-turbo industrial 2-stage motor that delivers a powerful suction force while operating very quietly. A diffuser is built-in to cancel out most of its noise, leaving an emission of only 74 decibels.
A remote on/off switch is included in the pack for convenience and easy use. You also get a 10-foot flex hose for getting to all the corners of your car, an 11-foot standard hose, a 20-foot power cord, two extension wands, and a crevice tool, among many others.
It is easy to switch between wet and dry vacuuming. You only need to attach the cartridge filter for dry vacuuming, then switch to a foam filter for wet vacuuming. Aside from that, you can convert it to a blower, and this makes it very versatile.
However, the cleaner is quite heavy, and there is no fine dust filter in the package. This must be bought separately to pick up fine dust or ash.

---
2. Best Inexpensive: Armor All AA255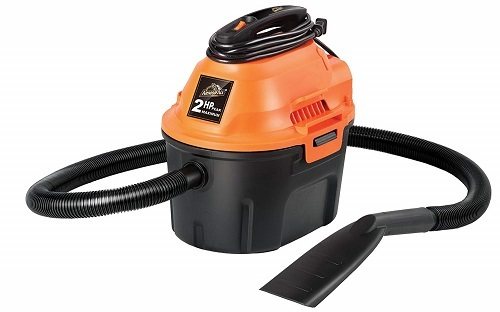 Power: 2 horsepower
Tank Capacity: 2.5 gallons
Weight: 7 pounds
Air Flow: 53 CFM

Affordable and lightweight are just a few words to describe this ArmorAll utility shop vac. The product is suitable for those on a tight budget and features a small 2.5-gallon polypropylene tank that makes it very compact. This helps to lower its weight to only 7 pounds, making it the most lightweight shop vac in our review.
The wet and dry vac unit has a 2.0 peak horsepower motor that can easily be converted into a blower. A built-in noise diffuser ensures that the motor's operation is silenced for efficient and quiet running.
There is a built-in auto shut-off function, which detects when the tank is full. If full, it powers off the motor to prevent overflow and power wastage, making the appliance energy efficient.
As for the accessories, you get a crevice tool, blower nozzle, 2-in-1 utility nozzle, and a reusable cloth filter & foam sleeve for dry & wet vacuuming, respectively.
On the downside, the unit has a short 6-foot hose. However, this is complemented by a 10-foot power cord to extend your reach. The tank is also relatively small but is enough for most jobs.


---
3. Best Portable: DeWalt DCV581H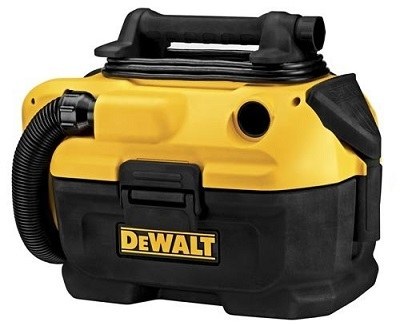 Tank Capacity: 2 gallons
Weight: 10.8 pounds
Air Flow: 31 CFM

If portability is a big concern, then the DCV581H from DeWalt should be on your radar. This is because it can operate using an 18 volt or 20-volt max battery, enabling you to move practically anywhere as you do the cleaning.
You can also hook it up to the mains as it has an AC option. This makes it one of the most flexible & portable shop vacuums for cars.

HEPA rated filter traps are used for dust trapping (with a 99.97% efficiency), while a washable and reusable HEPA rated wet/dry filter makes it a versatile, wet & dry shop vac.
You also get a heavy-duty crush-resistant, fully integrated 5-foot hose, crevice tool, wide-nozzle tool, onboard storage for easy transport, and blower conversion.
However, the battery & charger are not inclusive, which means you have to buy them separately. Also, the tank is relatively small because it has a 2-gallon capacity, but this is enough for most cleaning jobs.


---
4. Best Brand: Stanley SL18116P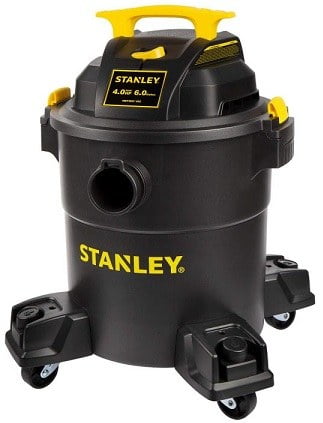 Power: 4 horsepower
Tank Capacity: 6 gallons
Weight: 13.4 pounds
Air Flow: 75 CFM

Stanley is a well-known and trusted brand that has been in existence since 1843. Throughout the years, the company has refined its vacuum cleaners via extensive R & D, which has improved their quality, reliability, efficiency, and dependability. These characteristics are in their wide range of products, which include the SL18116P.
This unit is very versatile because it has three built-in functions: wet vacuuming, dry vacuuming, and blowing. As such, you can use this tool for floor, upholstery, carpet, outdoor, wet, and car cleaning.
The cleaner also features a large 6-gallon tank, which reduces the frequency of emptying it when cleaning. A four peak horsepower motor runs the whole process, delivering a powerful suction force of 75 CFM. This is enough for all the cleaning functions listed above.
Moving this unit is easy. It has four strong caster wheels that glide & maneuver it over your garage floor quickly, while a large handle at the top makes it easy to lift if the ground is not very smooth.
The only issue is that this unit has a short 6-foot hose, but this is complemented by a 10-foot power cord, which gives you a total reach of 16 feet.


---
5. Car Shop Vacuum with a Detachable Blower: Vacmaster VBV1210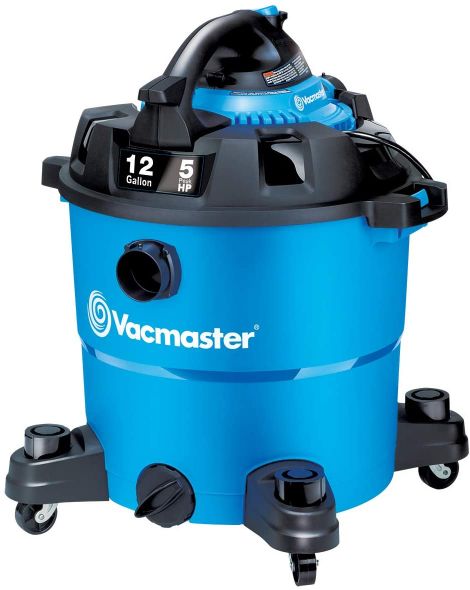 Power: 5 horsepower
Tank Capacity: 12 gallons
Weight: 20.5 pounds

Air Flow: 106 CFM

The VBV1210 is characterized by a detachable blower, which easily comes off the tank at the push of a button. This leaves you with a convenient and powerful hand-held tool that has a blowing speed of 210 MPH.
When fitted back to the tank, the tool converts back to a wet/dry shop vac with a large 12-gallon tank. This enables you to clean a wide surface with minimal emptying interruptions.
The same blower is used to power the vacuum's suction force, whereby it delivers a fast airflow of 106 CFM. This translates to quick suction and faster cleaning.
Polypropylene material is used to build the vacuum's housing for toughness and durability. There is on-board storage for the accessories, which makes it easy to move & organize the pieces.
However, you don't get a fine dust filter or dust bag for collecting ash and other fine particles.


---
6. Durable Shop Vacuum for Cars: Shop-Vac 5989300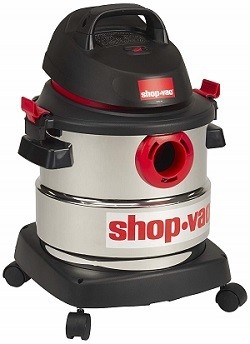 Power: 4.5 horsepower
Tank Capacity: 5 gallons
Weight: 14.75 pounds
Air Flow: 175 CFM

With a tough and durable stainless-steel tank forming a big chunk of its entire structure, this 5989300 from Shop-Vac has a high durability factor. It can easily withstand heavy abuse without failure.
Aside from this, the unit has top & side carry handles for easy portability, while a secure latch system ensures the tank and lid are fused. This prevents any mishaps when moving or operating it.
A rear blower port is built-in for converting the motor into a blower, which is ideal for pushing out dirt from crevices and other hard to reach in your car's interior. Combined, these features make it one of the best professional shop vacuum cleaner.
Multiple attachments are inclusive. These are a crevice tool, floor nozzle, gulper nozzle, cartridge filter, foam sleeve, and a 5 to 8-gallon disposable filter bag. You also get a 7-foot hose, which is relatively short but is complemented by three extension wands.

---
7. Easy-to-Maintain Car Shop Vacuum: VacuMaid GV50PRO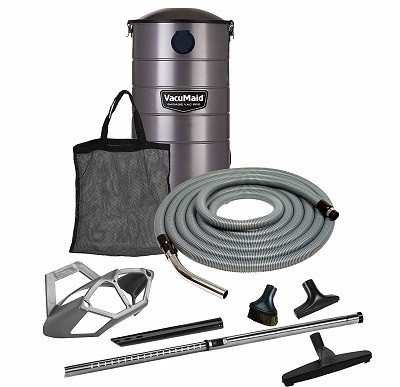 Tank Capacity: 7 gallons
Weight: 31 pounds

VacuMaid's GV50PRO is very easy to maintain because it uses sealed HEPA style bags that do not mess up the tank. These also eliminate the filter-cleaning task for complete mess-free use.
Another benefit of this product is its wall mounting capability, which is easily done using a hanger bracket. This keeps the entire cleaner away from the floor, saving on space while doing away with clutter or untidiness in your garage.
Aside from that, the unit has a big 7-gallon tank that gives you extended use without frequent emptying cycles. This tank is durably-built using galvanized steel, which is powder-coated for corrosion resistance.
Like other shop vacs, this one comes with several attachments, such as a long 50-foot flex hose for extended reach, a wall mounting bracket, hanger, storage caddy, telescopic and curved wands, dusting brush, floor, and upholstery tools.
Cost and weight are the only limiting factors as this unit is expensive and weighs 31 pounds. However, it is worth the price.

---
8. Heavy-duty Shop Vacuum for Cars: Craftsman CMXEVBE17595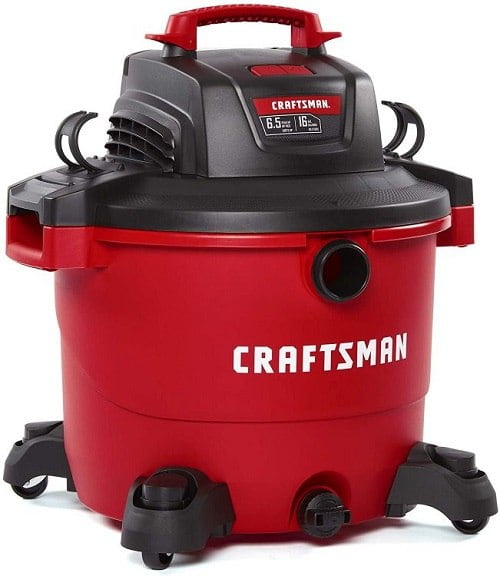 Power: 6.5 horsepower
Tank Capacity: 16 gallons
Weight: 26.6 pounds

With a 6.5 peak horsepower motor, Craftsman's CMXEVBE17595 is designed to give you the extra suction power required for large projects in your shop, job-site, or garage. The unit can be used for wet or dry vacuuming and features a rear blower port for versatility.
An oversized drain is built-in to the tank for quick emptying of liquids. That said, the tank is very big because it has a 16-gallon capacity. This gives you enough room to clean for long periods without emptying the dirt.
A 2.5-inch diameter, 7-foot dual-flex hose is included, and this gives you 180º mobility without kinking. Coupled with two extension wands and a 20-foot power cord, this enables you to get to all the corners of your car.
On the downside, the unit is relatively expensive. However, it includes a standard filter and a dust collection bag for trapping all kinds of debris.


How to Buy the Best Shop Vacuum for Cars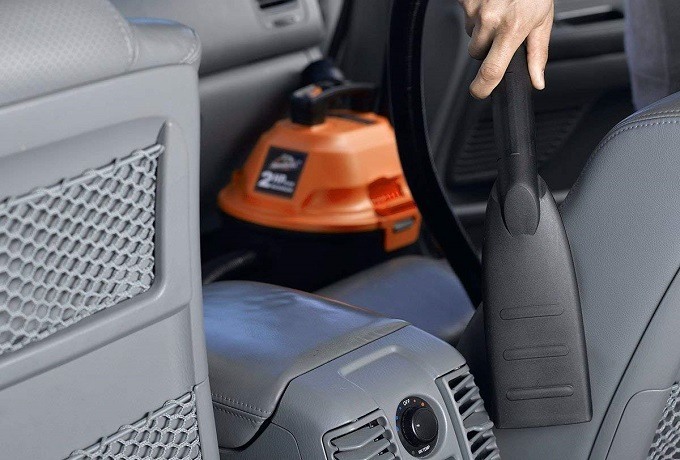 1. Power
A shop vac's power is measured in horsepower for corded units or volts for battery-powered units. This is important to consider because it gives you a measure of its suction power. As such, you should go for the highest horsepower or voltage rating that fits your budget because it will clean faster.
Ideally, 2 to 4 horsepower is enough for home use, but anything above five horsepower is suitable for commercial use.
2. Power Source
How your vacuum is powered affects its portability. If you don't want to worry about recharging, consider corded vacuums. In this case, it is best to have a long power cable, as well as a long flex hose to extend the reach.
However, if you want portability, it would be better to go for a battery-powered tool like DeWalt's DCV581H.
3. Tank Capacity
Generally, large tank shop vacuums are better because they afford you extended use with minimal tank-emptying interruptions. However, the larger the tank, the bulkier, heavier, and more expensive the product.
Cleaners with small tanks are more affordable, compact, lightweight, and highly portable. However, they fill up very quickly and thus, require frequent emptying.
Buying Guide : For commercial use, a large tank (5 gallons or more) is ideal because it accommodates a large quantity of dirt. However, for domestic home use, a small tank (below 5 gallons) cleaner will do.
4. Noise Level
This is a no brainer. The quietest shop vacuum for cars is the best to use because loud noise can be irritating.
The noise level should not exceed 80 dB. Otherwise, it will be annoying, and features to check for include noise diffusers, which help in canceling out the excess noise. This feature is in Vacmaster's VWM510.
5. Attachment
A shop vacs attachments determine its performance and usability. For instance, since cars have soft and hard surfaces, look for multiple brushes, crevice tools, and wide nozzles to clean the vehicle in its entirety.
6. Ease of Use
This usually entails several things, such as portability for easy movement, or long flexible hoses for extended reach to all the corners of your car.
A long power cord also extends the reach for easy use, while disposable dirtbag filters make it more hygienic to dispose of the collected waste. All in all, ensure that the product has all the convenience features that make it easier for you to use.
Conclusion
In summary, Vacmaster's VWM510 is the best overall shop vac because it has the perfect balance between power and quiet running. The unit is also very versatile due to its blower and wet/dry vacuuming functions, while a remote on/off switch makes it easy to use.
However, if you are looking for portability, the battery-powered DCV581H can be used anywhere. You can also connect it to AC power if there is a wall outlet close by.
Check out Armor All's AA255 if you want an affordable shop vac. Apart from this, it is compact and lightweight for easy portability.