Traveling with kids ensures you get to enjoy valuable time with your little ones. But we cannot escape the fact that kids can ruin your elegant car seats. They eat and play in the car, leaving a huge mess behind in the end.
An easy way of keeping the mess in check is to have the best car seat travel tray for them. Most also double up as entertainment units that help keep them busy with a drawing surface and tablet holder. Better still, they include pockets and cup holders for storing kid's stuff when on the road.
Car seat travel trays vary in type, size, material, and design. Our car seat travel tray review aims to help you narrow down your options. And we also provide a buying guide to make shopping even easier.
Editors' Picks: Top Car Seat Travel Trays of 2021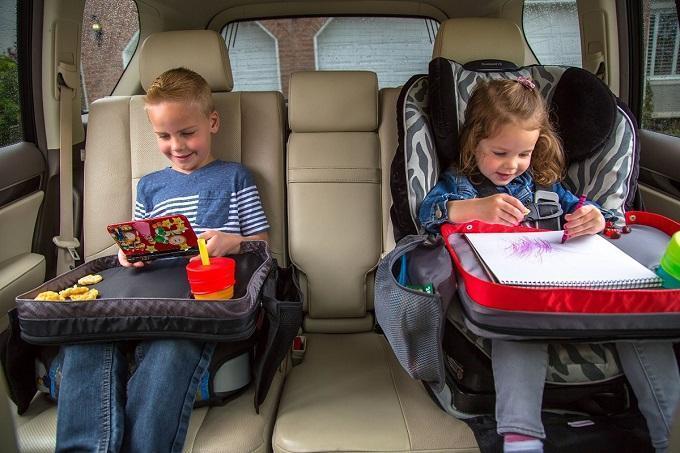 Summary of 7 Best Car Seat Travel Trays
IMAGE
PRODUCT
FEATURES

1. Lusso Gear KTT-18 (Best Overall)

Multiple storage compartments
Dry-erase drawing surface

Detachable tablet viewing stand
Collapsible design for easy storage

2. Kenley Kids Travel Tray (Best for the Money)

Well-built to offer good value for cash
Fully collapsible design
Thoughtfully designed to provide a lot of storage space

3. DMoose Travel Tray (Best Lap Desk)

Comfortable padded base
Adjustable stability strap
Spill-proof & water-resistant finish

4. Beloved Belongings Travel Tray (Most Durable)

Heavy-duty 600D polyester construction
Spill-proof design
Anti-sag walls

5. Babyseater with Dry Erase Top (Best Waterproof)

Waterproof & kid-proof design
Adjustable strap fits kids of all ages
Multiple pockets
Dry-erase play top

6. Coolmum Kids Travel Tray (Highly Versatile)

Versatile & multifunction design
Multiple pockets for generous storage
Waterproof & easy-clean material

7. Kids Bright Toys 8542112311 (Super Stable)

Solid plastic surface
Multiple storage compartments
Shoulder strap & carry bag included
1. Best Overall: Lusso Gear KTT-18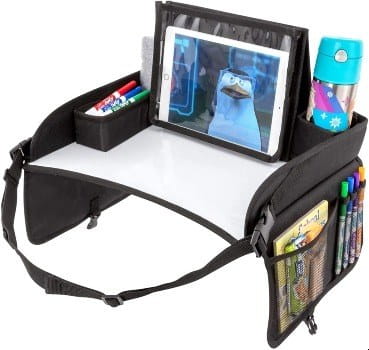 Material: Oxford fabric
Color: Black
The Lusso Gear KTT-18 is our best overall car seat travel tray thanks to the sturdy overall construction, lots of storage compartments, and handy extras. The tray is made from oxford fabric and includes a storage space for everything your kid needs for entertainment when on the road.
One of its other fantastic extras you can be sure your little one will love is the dry-erase board as it provides lots of drawing space. This board doubles up as an eating tray that contains all the mess, so it never gets to the seats.
There are some sturdy side and back walls that ensure your kid gets some nice and private space when on the road. And with the tablet viewing stand, they get to enjoy all their favorite videos without the hand fatigue that comes from holding tablets for extended periods.
With this tray, you can be sure of an easy time with the setup and storage because it includes secure safety straps that wrap easily around the car seat, and it folds flat.
While the 2.5-pound weight might seem a little on the heavier side for some toddlers, kids hardly ever need to handle the tray once you have it in place, so the weight is not a big issue.

---
2. Best for the Money: Kenley Kids Travel Tray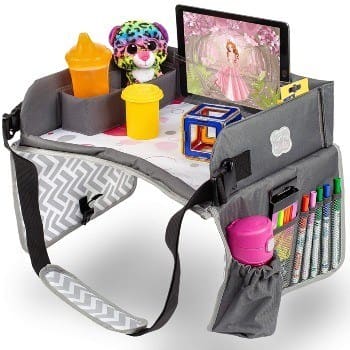 Dimensions: 16.5 x 13.5 x 4 inches
Material: Polyester 600D
Color: Pink/Gray
The Kenley Kids Travel Tray is built to ensure you get more value for your money. This travel tray has some fully reinforced walls, a padded waterproof surface, and a sturdy overall build to ensure it provides great service for many years.
There is plenty of storage space on this car seat travel tray as it includes a couple of cupholders, a tablet pouch, large zippered pockets, and an extra mesh pocket. Hence, you can be sure your little ones get more than enough space to store all their stuff.
The collapsible design makes this travel tray easy to pack for storage or transport. And the manufacturer backs it with a lifetime warranty to give you some assurances it is designed for long service life.
This travel tray can seat a little too high for some kids, but this is an easy issue to fix if you have an adjustable car seat. However, for most kids, the height should be perfect. Another problem is the strong smell when new, but the unpleasant scent should go away with good aeration or cleanup.

---
3. Best Lap Desk: DMoose Travel Tray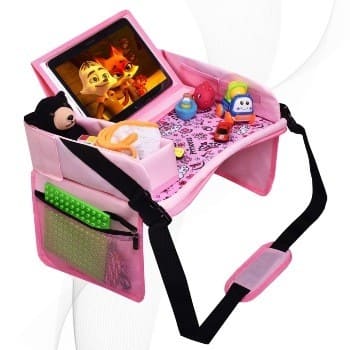 Material: Plastic and neoprene
Color: Pink
The comfortable and well-balanced design with more padding makes the DMoose Travel Tray a fantastic lap travel tray as kids can support it on their laps for many hours with no issues.
Sturdiness is guaranteed by the reinforced walls that ensure your kid can draw and play on the tray without caving in. There is also a nice tablet holder, and the design incorporates several storage compartments, including zippered and mesh ones.
The adjustable stability strap comes in handy when setting up and carrying the tray. Transportation is made even easier by the foldable design that allows you to fold the tray into a super-compact size.
The tablet holder does not seem to have enough space to fit a tablet with a thick, kid-proof case, but this should not be a deal-breaker as you can always remove the case. Another minor shortcoming is that the tray is more challenging for kids to remove, but this is still not a deal-breaker.

---
4. Most Durable: Beloved Belongings Travel Tray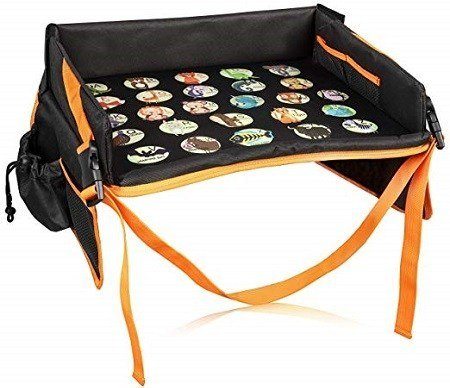 Dimensions: 16 x 14 x 7 inches
Material: 600D polyester
Color: Orange/Black
The Beloved Belongings Seat Tray is a fantastic choice if you are looking for a highly durable model. The tray is constructed from heavy-duty 600D polyester material for long service life.
You will never have to worry about getting anything on your seats as this tray is spill-proof. And because the surface is waterproof, you can clean it up quickly if there is some spill on the tray.
The anti-sag walls are also a fantastic feature. These 3-inch tall walls have a sturdy but still flexible material that allows kids to keep notebooks, art books, and other stuff on the tray without it caving in.
There is enough storage space on the tray, including pen holders, mesh pockets, and a zippered compartment. Better still, the tray comes with a spacious enough tablet holder for entertainment on the go.
This is also a conveniently foldable and portable tray. The easy fold design fits toddler seats, airplane seats, and other chairs.
While the surface does not seem very even, it should still be good enough for kids to do various things on the tray, including drawing and coloring.

---
5. Best Waterproof: Babyseater with Dry Erase Top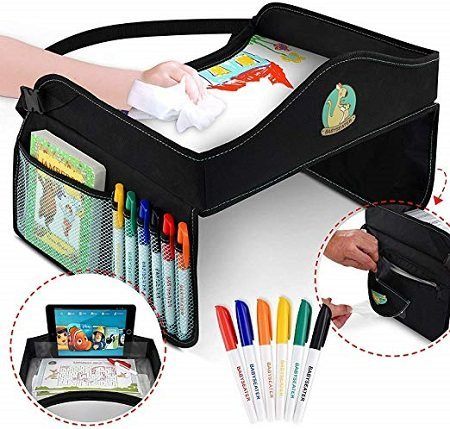 Babyseater with Dry Erase Top is a completely waterproof car seat travel tray that makes it easy to deal with any mess your kids make.
This waterproof surface makes it quick and easy to wipe clean. Better still, it is machine-washable to make cleanups a breeze. Better yet, the package includes some wet wipes for wiping off the mess fast.
Another fantastic element is the inclusion of many storage pockets. There are separate sections on the tray for everything your kid wants to carry. Better yet, there is a dedicated pocket for pens and markers.
Also, the tray includes some raised sides to ensure things never fall off. And when it comes to carrying the tray, the adjustable strap is convenient as it can accommodate kids of all ages.
The product does not have a very sturdy base, and so you might not want to put any liquids on it or weighty items. But for regular kid's stuff, it should hold up well.

---
6. Highly Versatile: Coolmum Kids Travel Tray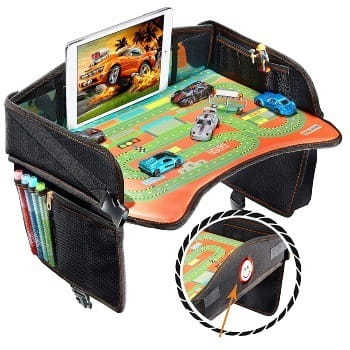 Material: Polyester
Color: Black
Whether you want something to keep your little one busy when on their car seat or pushing them in the stroller, the Coolmum Kids Travel Tray will be perfect. It is a versatile product that you can use for all this and much more.
Besides versatility, the travel tray provides generous storage space. It includes multiple pockets that can accommodate all your kid's travel essentials. What's more, the tray includes some nice cup holders to hold drinks for your little one.
The overall construction is quite sturdy thanks to the tough polyester materials, and there is also a waterproof coating that makes cleanups easier. You can be confident of always getting a snug fit when setting it up, thanks to the large, robust buckle and adjustable strap.
Although the tablet flap seems a little flimsy, it should still be strong enough to hold almost any tablet, provided the Velcro is tight enough. The sides could be sturdier, but they should hold up well if kids do not place something cumbersome on the tray.

---
7. Super Stable: Kids Bright Toys 8542112311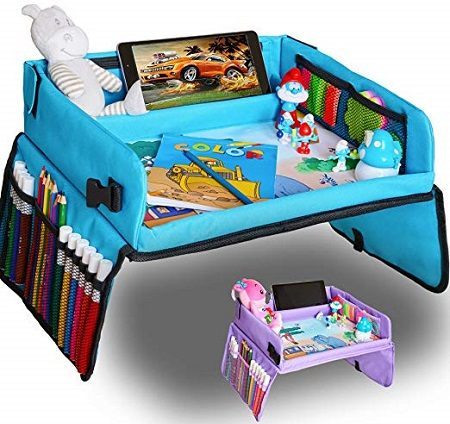 Dimensions: 16.5 x 13 x 4 Inches
Material: 600D polyester and cotton
Color: Blue
The Kids Bright Toys 8542112311 travel toy model has a plastic base that provides maximum stability, and it has Velcro straps to ensure walls stand upright for extra sturdiness.
Also, it provides multiple storage compartments to ensure your kids never have to leave anything behind. Some separate zippered compartments for coloring books, pens, and other stuff make it easy for the little ones to organize their things.
You can fold this tray easily for storage. Still, it includes an adjustable shoulder strap and a nice carry bag for easy transportation. And you can buy with confidence as it comes with a moneyback guarantee if you are not satisfied.
However, there is no cup holder on this tray, which is definitely a drawback. It is also not for toddlers under 3 years. All in all, the tray is still very handy and is hence worth giving a try.

How to Buy the Best Car Seat Travel Tray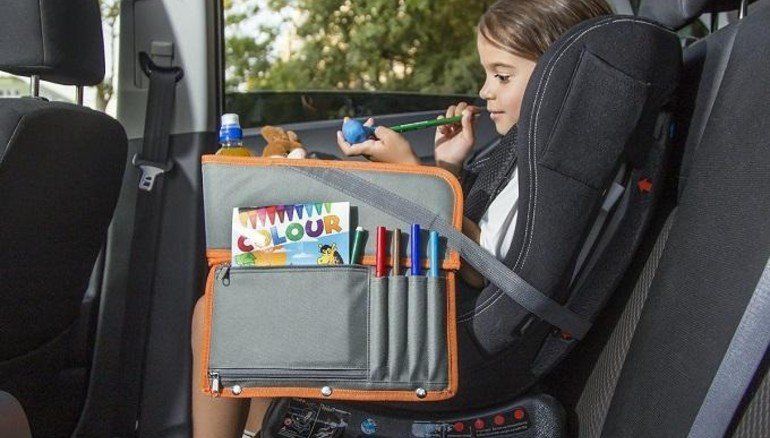 1. Compatibility
There is no standard size for these products, which means when choosing one, you need to make sure it is compatible with the car seat you have. A simple way to do this is by checking the dimensions.
Some car seat travel trays are made specifically for certain car seat types. But, some like the Autozon 3 in 1 will offer universal compatibility. Such models can fit almost any car seat.
2. Car Seat Travel Tray Types
Besides compatibility, you need to choose the type you want to buy or what you think will be most comfortable and ideal for your little one. Here the most common types are lap desk, secured, and hybrid.
Lap Desk: Lap desk car seat travel trays are those that you place over the kid's legs, and they often do not have a mechanism for securing them on the seat. These trays are ideal for older kids and air travel.
Secured: The secured trays are the best choice if you want your kid to remain in one place when in the vehicle. They have a strap that you can use to secure them on the seat or stroller. Secured travel trays are ideal for the younger kids as the little ones do not have to stay still for the tray to remain in place.
Hybrid: With the hybrid trays, you get something more flexible and versatile that acts as both a travel tray and organizer. Most are collapsible to make storage and transport easier. In most instances, the hybrid trays attach to the front seat to give the littles one a safe watching distance.
3. Material
You can get these products in various materials, but polyester, plastic, and nylon-reinforced materials are the most common. However, there are still a few models made from composite materials.
That said, it is crucial to make sure the materials you choose are durable enough to withstand rough handling by kids. The material should also be easy to maintain, especially if you want a car seat travel tray for use by very young kids.
One more thing, irrespective of the material you select, make sure that it is lightweight. Kids don't appreciate heavy products as they are hard to handle for them.
4. Pockets
Pockets are crucial for organizing stuff, so the more you get on a car seat travel tray, the better. Most of these travel trays have zippered pockets, mesh pockets, pen holders, and a tablet pocket or holder. A cup holder is also great to get as it helps hold drinks to prevent messy spills.
5. Ease of Cleaning
Without a doubt, these trays go through immense abuse. Therefore, you need to make sure what you choose gives you an easy time when it comes to cleaning.
Something with a waterproof surface and is machine-washable like the Kids E-Z MOD-7 is preferable as it gives you an easy time.
Conclusion
A car seat travel tray provides one of the best ways to keep kids busy when on the road so that they do not disturb and distract you.
While our list has something for everyone, the Lusso Gear KTT-18 is our top recommendation as besides being well-built, it has a lot to offer, from multiple storage pockets to a dry-erase board.
For those looking for something that offers the best value for money, the Kenley Kids Travel Tray is an ideal choice.