Keeping your vehicle clean helps maintain both an aesthetic appearance and its value by minimizing natural deterioration.
But with the ever prevailing water scarcity in most places, you cannot always be able to spare a few buckets to clean it up. And some jurisdictions do not even allow for this. However, you can still clean up your vehicle fast and effectively with the best waterless car washes.
Waterless car washes are formulated to lift dirt, dust and grime from the vehicle without using any water. They also save a lot of time as you only need to spray and wipe with a cleaning cloth.
These car washes are also more friendly to the environment as they reduce water wastage. And to help you choose a good waterless car wash for your vehicle below, we review 7-top rated options and also provide a detailed buying guide.
Editors' Picks: Top Waterless Car Washes of 2021
Summary of 7 Best Waterless Car Washes
IMAGE
PRODUCT
FEATURES

Aero Cosmetics FBA-WCWK

1. Aero Cosmetics FBA-WCWK (Best Overall)

Lots of product in bottle, 144 oz
Non-sticky and UV protective coating
Works for a variety of materials
Alcohol and ammonia-free

Meguiar's G3626 Waterless Car Wash & Wax

2. Meguiar's G3626 (Best Budget)

Great value for money
Water-spot free formulation
Glossy paint safe
Long-lasting wax barrier

Aero Cosmetics Waterless Wash And Wax

3. Aero Cosmetics 777G (Best Water-Based)

Water-based and biodegradable formulation
Ideal for both dry and wet surfaces
Lots of product in the container

Non-stick and UV protective coating

Adam's Polish Waterless Car Wash

4. Adam's Polish Waterless Car Wash (Best Smelling)

Pleasant tropical scent
Extra-slick lubrication
Streak-free
Safe on all painted surfaces

Chemical Guys WAC_707RU_16 Car Wash & Wax

5. Chemical Guys WAC-707RU-16 (Best Brand)

Top brand car wash
Complete auto detailing system
Scratch and swirl-free finish
Safe for all car colors

DualPolymer Waterless Car Wash

6. DualPolymer 4332944525 (All-Round)

All-round car surface care
Acrylic resin formulation
Repairs minor scratches
Super easy to apply

Mothers 05644 California Gold Waterless Wash & Wax

7. Mothers 05644 (One-Step Wash & Wax)

Cleans and waxes in one-step
Extreme lubrication
Scratch-free finish
Great for any vehicle exterior surface
1. Aero Cosmetics FBA-WCWK - Best Overall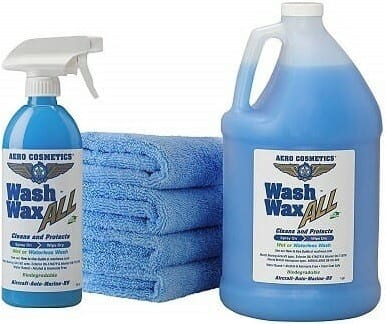 Aero Cosmetics is one of the best waterless car washes out there, and they have been making top quality product like Wash Wax All for over 3 decades now. With a total of 144 fluid ounces that will wash up to 36 cars, this model is our best overall product.
This amazing waterless car wash gently cleans and protects your vehicle, while creating a non-stick UV resistant coating on the surface. And it works great on cars, boats, motorcycles, RV and aircraft.
It is also safe to use on paint and other materials like chrome, aluminum, leather, plastic, glass and many others.
This Aero waterless car wash kit comes ready for immediate use as it also includes a mini bug scrubber and microfiber towels. It is biodegradable and super easy to use.
While the includes scrub brush is quite small, it still does a great job and it should still be good enough for most vehicles. Hence, this takes nothing from the fact that this is still one of the best waterless car wash and wax out there.

---
2. Meguiar's G3626 - Best Budget Waterless Car Wash

Meguiar brings you this waterless car wash and wax at quite an affordable price. And the fact that the bottle has 24 fluid ounces of product ensure you get great value for cash.
Besides removing the dirt and grime, it also creates a glossy hydrophobic layer of wax to protect the vehicle from the elements and other things like dirt and scratches.
Since it is manufactured with water spot free formula, you will not have to worry about dealing with annoying spots after the cleanup.
This waterless car wash is also ideal for multipurpose use as it is safe to use on different materials and surfaces such as chrome, polished metals and plastic trim.
And one bottle also goes a long way as using as one bottle and a good microfiber towel should be able to clean up to 5 normal sized cars.
While this waterless car water might not leave any water spots, it is still not as effective as other in getting rid of water spots are already in your car. But this should not be the deal breaker as it still cleans up the vehicle quite well.

---
3. Aero Cosmetics 777G - Best Water-Based Waterless Car Wash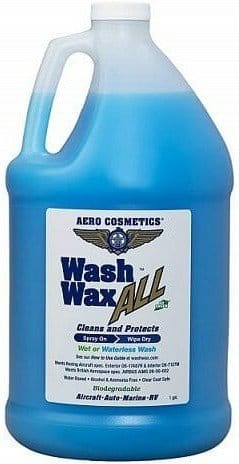 Aero is back with this waterless wash which is made from biodegradable and high quality ingredients. This wash is free of ammonia and alcohol, which makes it safe for both the vehicle and motorist.
You can use this car wash to clean both inside and outside surfaces, while leaving non-sticky UV protection coat.
Also, this wash and wax is easy to use with a simple spray on and wipe dry and you can use it on both wet and dry surfaces.
Although this product can leave minor spots on some vehicle's surfaces, they will hardly be noticeable unless you are very close to the vehicle. Also, the sprayer looks cheap, but you will be surprised at just how long it lasts.

---
4. Adam's Polish Waterless Car Wash - Best Smelling Waterless Car Wash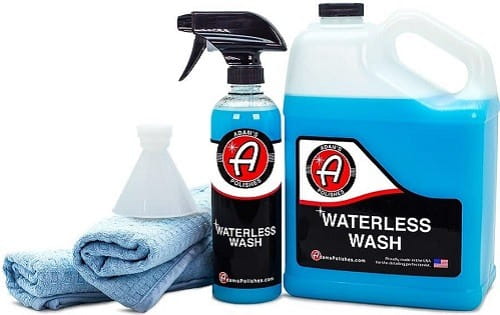 The pleasant tropical scent is what makes the Adam's Polish Waterless Car Wash one of the best car wash without water as it will ensure besides cleaning up the vehicle, this product will also leave it with a pleasant smell.
With the highly lubricated formula, this product will be very easy to apply and is effective in enough at cleaning. Also, it will not leave any streaks on the surface.
You can use this car wash on all painted surfaces as it does not contain any toxic ingredients that can damage the paint.
The image of the product can be a little misleading since the sprayer bottle is not provided. However, you can still apply the wash easily with any other spray bottle.

---
5. Chemical Guys WAC-707RU-16 - Best Waterless Car Wash Brand

Chemical Guys have maintained high standards in manufacturing waterless car wash over the years. And this EcoSmart lives up to their reputation, which makes it a great buy if you want a top brand product.
It is a ready-to-use auto detailing system that will be an all-in-one product for you as it will clean, wax and protect your vehicle.
Also, it has been designed to give you a scratch and swirl-free cleaning experience whilst keeping the shine of your vehicle intact.
Furthermore, this car wash and wax can be used on wheels, windows, and paint. Also, it is safe to use for all car colors and you just need to spray it on the dirty vehicle and wipe with a cleaning cloth to get the job done right.
The 16-fluid ounce will not last over one or a couple of uses depending on your vehicle size. But because this is also an inexpensive product, this should not be a big deal. This product does not seem to provide any UV protection, but that is not what it is made for.

---
6. DualPolymer 4332944525 - All-Round Waterless Car Wash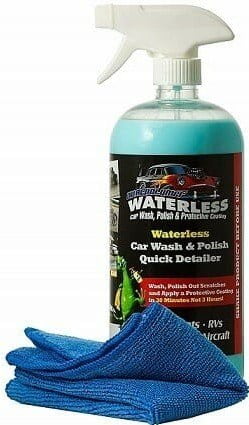 DualPolymer is a popular brand in making waterless car washes. This product is the only one in our review that uses acrylic resin to do its job. The formulation makes it a great all-round product that will do much more besides just cleaning.
With acrylic resin technology, it repairs minor scratches in paint and the fact that it is much better than Carnauba wax, you can expect great results.
Also, you don't need water or wax to clean your car because acrylic resin will protect your vehicle for months and always keep it shining and look new.
Furthermore, it is also super easy to use and only takes less than half the time you would take to clean and wax with other products. And you can use it for other things like boats, airplanes, RVs, motorcycles and motor homes.
While the spray bottle is not the best quality, it still works well enough and should at least last long enough for you to finish the product.

---
7. Mothers 05644 - One-Step Wash and Wax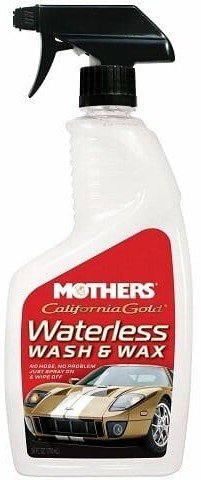 Mothers 05644 is an inexpensive waterless car wash that washes and waxes your vehicle in one easy step and with no water.
Its special formulation makes this one of the best waterless car wash for the money as it has been designed to trap all the dirt and grime on the vehicle's surface to leave you with a spotless and shiny surface. And it will work for all exterior vehicle surfaces.
This product will also not scratch the surface like others out there, and the results are long-lasting to ensure you do not need to clean your vehicle frequently.
Some users complain that this product leaves streaks on their car, but this is often because they do not wipe it correctly and adequately. Also, the weird smell only takes some getting used to.

How to Buy the Best Waterless Car Wash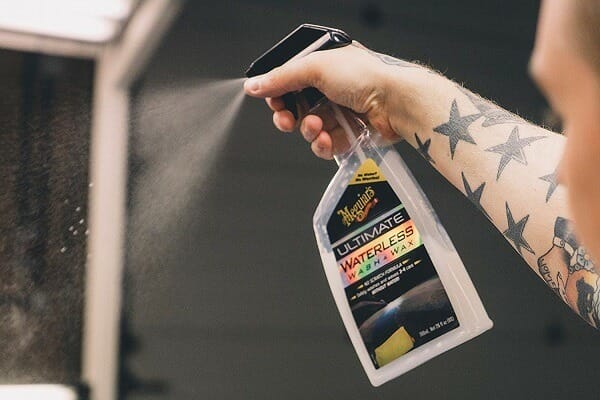 1. Brand
The brand always matters a lot when buying any product for use on your vehicle because while many companies make things like waterless car washes not all are known to make good quality ones.
Buying from a reputable brand ensures that you end up with a non-toxic product formulated from safe ingredients for you and the vehicle and are still effective enough.
These top brands are also known to stand by their products with good warranties and customer service. And some of these top brands that you can trust to have good products include Chemical Guys, Meguiar's and Aero Cosmetics.
2. Environment-Friendliness
As a responsible vehicle owner, you should never overlook the implications that the waterless car wash will have on the environment.
While these products might save a lot of water, what you buy might still not be good for the environment if it contains toxic or harsh ingredients that are not biodegradable.
And so to ensure that what you use does not harm the environment, you need to make sure that it has natural and biodegradable ingredients that are sourced sustainably like the Aero Cosmetics 777G.
3. Ease of Use and Safety
Since not everyone is an expert at car cleaning, the waterless car wash kit you choose should require the least efforts to use.
The easiest to use are those that require simple spray and wipe and with no complicated prior mixing of different ingredients.
When it comes to safety, it should not contain any harsh chemicals, toxic substances or any bleaching agents that can irritate your skin or even cause other more serious problems.
Frequently asked questions
Does Waterless Car Wash Really Work?
A: Yes, waterless car wash will be an effective way to remove dirt and dust from your vehicle and leave it with a nice shine. If you get a good one, it can also provide excellent UV protection.
Does Waterless Car Wash Scratch the Paint?
A: No, most types will not contain any abrasive compound, and will hence not scratch the paint. But this also depends on the particular product you buy as there are still some standard ones that can scratch paint.
Read More: The Best Scratch Remover
Can I Use Waterless Car Wash on All Surfaces?
A: Typically, most waterless car wash will be safe on different surfaces. However, before you use them, you need to read the directions on the kinds of surface the particular product is meant to clean.
Conclusion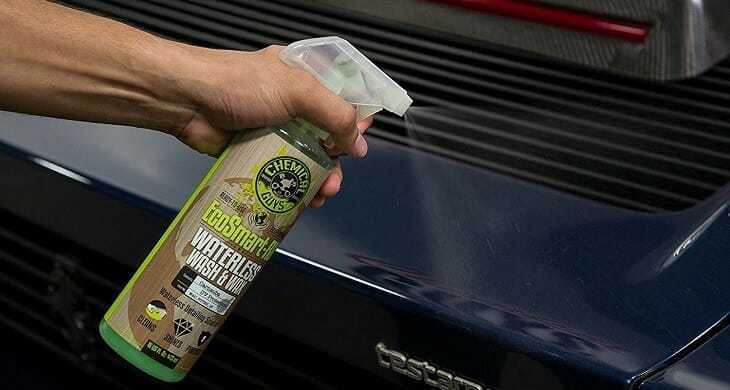 Waterless car washes provide a simple, fast and environment-friendly method of keeping your vehicle clean. But, like any other vehicle maintenance product, you need to choose a good one to get the best service.
However, choosing the best waterless car washes now only requires you to pick one from our list above. That said, the Aero Cosmetics FBA-WCWK is our best overall option as there are lots of products in the container and it is a non-sticky with many benefits.
But, for those shopping on a tight budget, the Meguiar's G3626 will give you the best value for your money.