Nothing is more annoying than sitting in a vehicle with the dashboard coated with grime or dust. Besides, being unappealing, a dirty dashboard is a haven for germs and bugs that can make you sick.
But, to take care of this problem, you need the best dashboard cleaner as not just any cleaning agent will help you get that spotless dashboard you desire.
Dashboard cleaners are a specially formulated cleaning agent for a car's interior, and they are known to produce impressive results without leaving a greasy residue behind.
This piece is all about helping you get the right dashboard cleaner for your vehicle. And we do this by reviewing 7 top-rated dashboard cleaners, and by highlighting the vital things to watch out for when shopping.
Editors' Picks for Top Car Dashboard Cleaners of 2021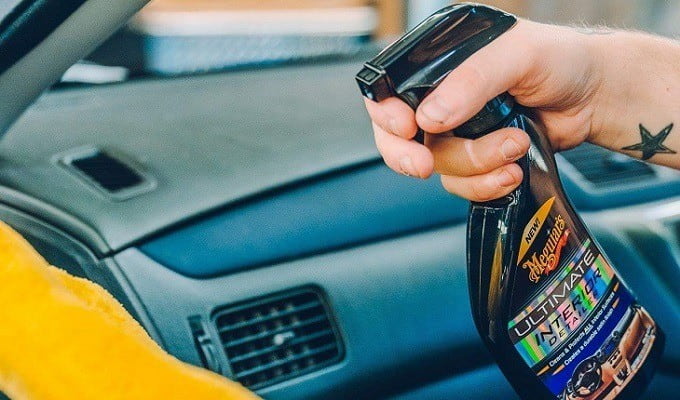 7 Best Dashboard Cleaners – Review
IMAGE
PRODUCT
FEATURES

1. CarGuys 2698781662 (Best Overall)

Versatile for use on various car surfaces

Does not have any harsh chemicals

Will not leave any residue behind

Mild and pleasant scent

2. Chemical Guys SPI-663-16 (Best Budget)

More budget friendly

High lubricity formula

Ideal for different surfaces

Convenient spray bottle

3. Meguiar's G13616 (Best Brand)

High-quality top brand product

Sub blocking agents

Deeper cleaning formula
Convenient trigger bottle

4. TriNova 33534 (Best for Variety Surfaces)

Effective multi-surface cleaning

UV rays protection

Anti-static technology

No streak marks

5. Nextzett 92470515 (Best for Coated Leather)

Great for cleaning finished leather
Sun-blocking agents
Silicone-free formula

Pleasant citrus scent

6. Meguiar's G16216 (Simple One-step Cleaning)

Cleans in one step

Durable, non-greasy finish

Safe for all interior surfaces

Superior UV protection

7. KevianClean KC-24-ID (Lots of Product for Long-Term Use)

More product in the bottle

Safe, non-toxic formula

Maximum UV protection

Natural, low gloss finish
1. CarGuys 2698781662 – Best Overall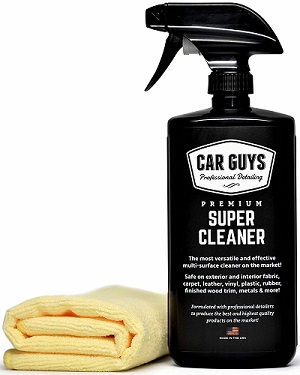 Whether you want to clean your dashboard and other parts of the interior or a few exterior plastics, the Super Cleaner by CarGuys will be very useful. This versatility is what makes it our best overall product.
It has been formulated to clean almost all kinds of surfaces from carpets and upholstery to vinyl, plastic, and canvas which means it will be a highly useful cleaning agent to have in your car.
This top-rated dashboard cleaner does not leave any residue on the dashboard, and it will also not be glossy. And it does not contain any harsh chemicals that may harm you or your vehicle.
The scent is mild but still quite appealing and it will keep your vehicle smelling nice many hours after cleaning. Also, it will come in a ready-to-use bottle and with a free cleaning towel to make it ready for immediate use.
When dealing with tough stains this dashboard cleaner might not be the most effective but with a little patience and a little more effort you can steal deal with almost any stain.

---
2. Chemical Guys SPI-663-16 – Best Budget Dashboard Cleaner

Chemical Guys' InnerClean is the cheapest 16-ounce cleaner on our review, and so you not only get a high-quality product but also save some cash.
This quick and easy to apply dashboard cleaner will work on all surfaces, and it is a quick detail spray that will not only clean but also condition and protect the interior.
You can also use this cleaner on your LCD and navigation screens and on other things like the seats and steering wheel.
The advanced UV protection that it will provide will help prevent cracking and fading. Also, the formulation helps to restore the original factory appearance and the advanced anti-static technology helps to repel dust and dirt to keep the interior clean for longer.
While the scent is very pleasant, some users might find it a little too strong, but the good news is that it should fade within a relatively short time. Although it can stain some lightly colored surfaces, it is also easy to remove.

---
3. Meguiar's G13616 – Best Dashboard Cleaner Brand

Meguiar's is one of the most reputable car cleaner and other accessories manufacturer and this has been so for many decades now. Their G13616 has been formulated to safely clean all interior surfaces, and it contains sun blocking agents to help protect the surface from fading and cracking.
The improved deeper cleaning formula will work on a variety of interior surfaces such as vinyl, leather, plastics, and rubber. And you can even use it to clean your LCD and navigation screens.
This interior cleaner is ideal for fast touch-ups, and it uses a convenient trigger designed to not leave behind a greasy appearance on your dashboard.
With the clean and pleasant scent, this dashboard cleaner is great to work with and will also leave a dark and rich finish that makes your dashboard look all new.
If you prefer a dashboard cleaner that provides a super glossy finish this might not be it, but for regular cleanup jobs and for protecting your dashboard, this is perfect.

---
4. TriNova 33534 – Best Cleaner for Variety Surfaces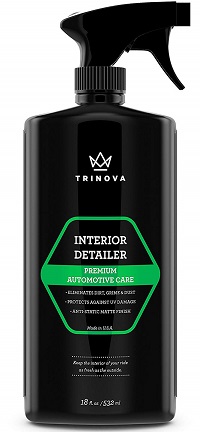 The quick cleaning action that is effective on a wide variety of surfaces is what gives the Interior Quick Detailer an edge over many others. You can use it to clean a variety of surfaces such as vinyl, plastic, leather, and rubber which means that it will be useful for almost any vehicle.
With this dashboard cleaner, cleaning is all about spraying and then wiping to get rid of the dirt.
Also, it is designed to offer protection from UV rays which can cause cracking and fading, and so by using this dashboard cleaner, you will be extending the life of the dashboard significantly.
Because this cleaner also uses the anti-static technology, it will repel dust and residue buildup to ensure that your dashboard remains clean for longer.
Although the scent does not last long enough, it is quite pleasant and it will make you look forward to using the dashboard cleaner.

---
5. Nextzett 92470515 – Best Coated Leather Dashboard Cleaner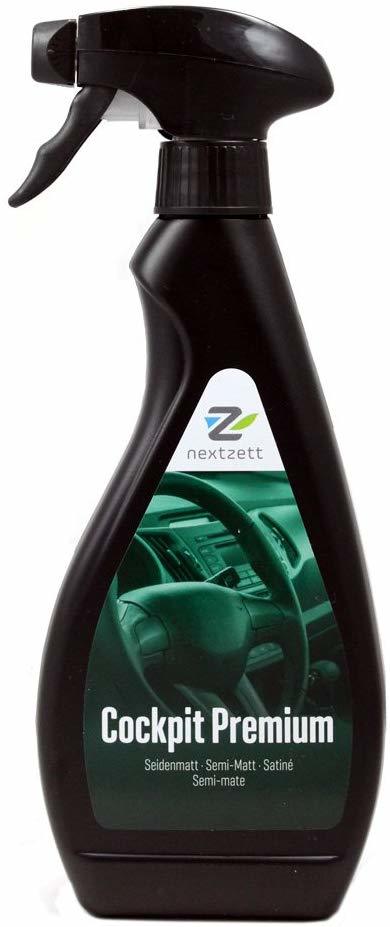 If like many modern vehicles your has many interior surfaces with a coated leather finish, the Nextzett 92470515 is the perfect product for you as it has been formulated to be highly effective on this material.
However, it will clean other surfaces like colored plastic trim effectively. What's more? It will also leave an anti-static and shine-free finish that last a long time.
For protection from the sun, this product has special sub-blocking agents that provide long term protection.
Also, this is a safe product to use on your vehicle as the formulation does not include any silicone. And to crown all this up, it leaves the vehicle with a pleasant citrus scent.
If you decide to use this dashboard cleaner on your radio screen, it will still be effective, but it seems to leave a little haze. However, a microfiber cloth should be able to buff it out easily.

---
6. Meguiar's G16216 – Simple One-Step Cleaning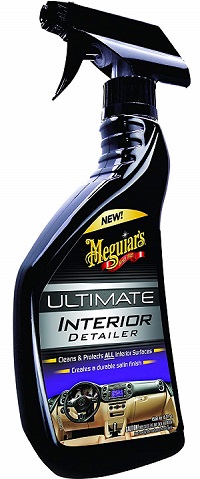 Cleaning your vehicle's interior surface should not be a tedious process because you can do it in one easy step using Merguiar's G16216. All you need to do is spray it and wipe.
With this interior cleaner, you will always get a durable and non-greasy finish that will leave your dashboard and other interior surfaces looking all new.
The dashboard cleaner is safe on all interior surfaces, and so besides the dashboard, it will also be handy for cleaning steering wheels, door panels and much more.
Also, you will get superior UV protection when using this product to ensure you never have to worry about fading and cracking.
The odor that this dashboard produces is not very pleasant, but it will only takes some getting used to.

---
7. KevianClean KC-24-ID – Lots of Product for Long-Term Use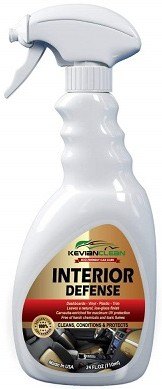 Quantity is one of the key factors to consider when choosing the best car dashboard cleaner. The fact that this one comes in a 24-ounce bottle means you will have plenty of product for several uses.
Also, the product does not contain any harsh chemicals, and it is non-toxic to make it safe for both the vehicle and your hands.
The maximum UV protection that it will provide also makes it one of the best dashboard cleaner protectants out there. It means the cleaner will prevent fading and cracking for a long time.
Like most other dashboard cleaners on our list, it is also designed for use on various surfaces. Whether you want to clean vinyl upholstery, plastic or leather, this will be a perfect pick.
When you use this cleaner on your vehicle, you will get a natural and low gloss finish, and you have nothing to lose when buying it as it comes with a 60-day money back guarantee.
The scent that this dashboard cleaner leaves is not the most pleasant but this should not a huge concern as it still does a good job when it comes to cleaning.

How to Buy the Best Dashboard Cleaners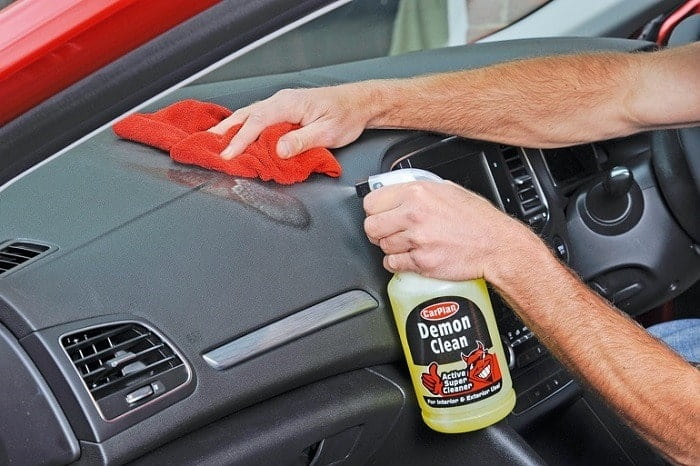 To make sure that you make the right dashboard cleaner pick, you should always watch out for the following things.
1. Surface
One of the first factors that you need to consider when choosing a dashboard cleaner is the kind of surface that it can clean.
Remember that different vehicles will feature different dashboard surfaces, and some will also have some aftermarket dashboard enhancements that use fabrics and other materials.
And so it is important to make sure that the dashboard cleaner that you choose is ideal for use on your particular dashboard surface. For example, the Nextzett 92470515 does an amazing job for finished leather surfaces, while the Sonax 263241is more appropriate for plastic.
That said, the best car interior cleaners are those formulated to clean multiple surfaces or at least the most common ones such as upholstery, fabric, leather, plastic, and canvas.
2. Ingredients
It is important to make sure that the ingredients used to make the dashboard cleaner are safe for you, your vehicle's interior and also the environment.
A good dashboard cleaner should not contain harsh chemicals like ammonia and gasoline as they can be damaging to your car's interior and also detrimental to your health.
Also, make sure that the ingredients are Eco-friendly, and the manufacturer uses an environmentally-friendly manufacturing process.
3. Ease of Use
While it is important to keep your vehicle's dashboard clean, you do not want to spend the entire day or many hours doing it.
Hence, it is important to make sure that the product you choose is easy to use. An easy to use dashboard cleaner is one that only requires a simple spray in and wiping like the one-step Meguiar's G16216 dashboard cleaner.
Avoid the dashboard cleaners that require multiple buffing steps as they will take more effort and time to use.
4. UV Protection
The sun is one of the biggest threats to the integrity and appearance of your dashboard and other surfaces in the vehicle. Hence, it is important to make sure that the dashboard cleaner you buy can provide enough protection.
Look for a product that has been formulated to offer protection from Harmful UV rays like KevianClean KC-24-ID. With this product, you will get long-term care and protection for your delicate vehicle interior surfaces.
5. Cleaning Ability
Even if the dashboard cleaner is made from the most Eco-friendly ingredients and offers the best value, it will still not be of any use to you if it does not clean well.
Before you settle on any brand or product, make sure that it suits your cleaning needs. For some people, this can mean providing extra debris protection while for others a product that provides a non-greasy and streak-free surface is the best.
How to Clean the Dashboard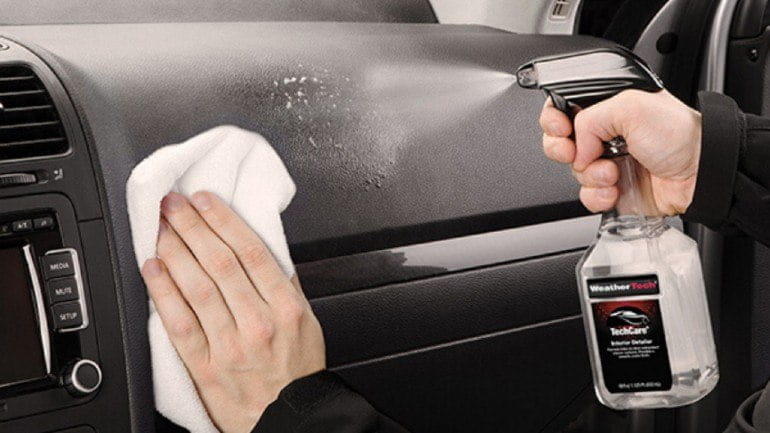 Now that you have an idea of what to look for when shopping for a dashboard cleaner, the next and probably most important thing is to know how to use it to clean the dashboard.
Besides having the best car interior cleaner, you will also need a few other things such as soft brush and a microfiber cloth.
A soft brush is easy to get but for the microfiber cloth, you should go for something high-quality like the AmazonBasics Microfiber Cleaning Cloth for the best results.
Once you have everything you need, you can clean your dashboard in the following easy steps.
Step 1: Dust the Dashboard
Start by adding a mild soap into a small bowl filled with regular tap water. Dampen the microfiber cloth and then use it to wipe down the dashboard to get rid of loose dirt and dust.
But, make sure that you wring out the cloth so that water will not be dipping all over. Also, make sure to rinse the cloth and repeat the process until the surface is clean.
Step 2: Apply Dashboard Cleaner
Once your dashboard is clean and dry, you can now take out the dashboard cleaner. Pick another microfiber cloth and apply the dashboard cleaner to it.
Use the microfiber cloth with the dashboard cleaner to clean the entire dashboard. A good cleaner it should be able to remove grime build-up from all parts of the dashboard including crevices.
Step 3: Work on Harder to Reach Places
There will always be some hard to reach places given the design of most dashboards. Hence, after wiping with the microfiber cloth, you should take your soft dash brush and use it to clean these places which can include knobs, buttons, and vents.
Step 4: Protect and Shine
The last step is to add a protectant and shine to your dashboard to create an appealing finish. However, make sure that you do not overdo the shinning as it can create a distracting reflection that can be dangerous when driving.
Conclusion
With our review for recommendations, shopping should be faster and less tedious as there is something for all kinds of users and for any vehicle interior and exterior surface.
However, the CarGuys 2698781662 comes out on top as our best overall product as it is a reliable and versatile product that can be used on all surface, and it does not have any harsh chemicals
But, if you prefer something that will be more friendly on your pocket while still doing a good job when cleaning, the Chemical Guys SPI-663-16 is our recommendation.