If you do not want to suffer the frustration and inconvenience of having no power on your recreational vehicle, it is vital to make sure you have the best RV battery.
RV batteries have a higher output capacity, provide more recharge cycles, and are also more rugged than regular car batteries.
Besides the basic functionalities such as starting the vehicle, these batteries power various electronics and appliances in the motorhome. What's more, they can also store solar and wind energy if you have the system in your RV.
A good RV battery gives you the peace of mind that comes with knowing you will not run out of power when off-grid. Here we review some top-rated RV battery models and provide a buying guide to help you find that perfect one for your motor home.
Editors' Picks: Top Rv Batteries of 2021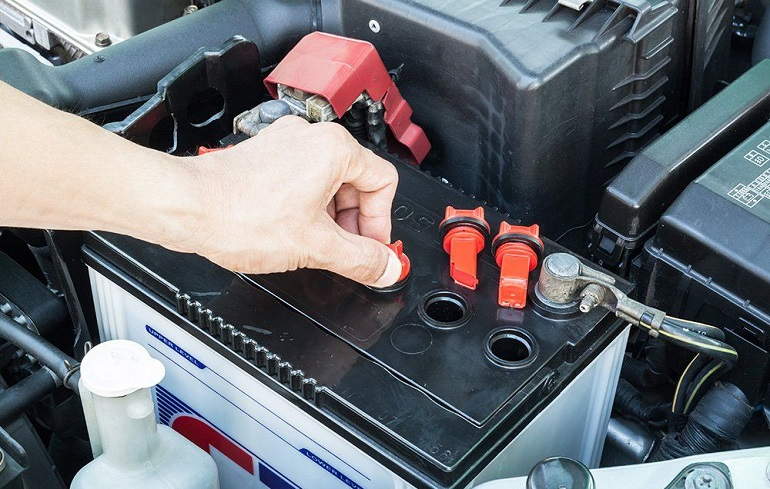 Summary of 7 Best RV Batteries
IMAGE
PRODUCT
FEATURES

1. Optima Batteries OPT8016-103 (Best Overall)

Versatile, dual-purpose battery
Mountable in any position
120-minute reserve capacity
Durable stainless steel stud post

2. Battle Born BB10012 (Best for the Money)

Great value for a 100Ah battery
Built-in BMS (battery management system)
Flexible & long-lasting lithium-ion technology

3. Renogy RNG-BATT-LFP-12-100 (Best Lithium)

Safe & long-lasting lithium iron phosphate cells
Integrated BMS
Fully-sealed, waterproof housing
Low self-discharge

4. WindyNation BattaMax (Best AGM)

Heavy-duty AGM battery
Versatile for various uses
Extremely low discharge rate

5. Renogy RNG-BATT-AGM12-100 (Lowest Self-Discharge)

Under 3% monthly self-discharge
Maintenance-free design
Wide operating temperature

6. ExpertPower EP12100 (Longest-Lasting)

Lasts up to 7,000 recharge cycles
Built-in BMS offers complete protection
High energy density

7. Vmaxtanks VMAXSLR125 (Fast Recharge)

Super-fast recharge rates
Higher 125Ah capacity
Offers 8 to 10-year service life
Military-grade plates
1. Best Overall: Optima Batteries OPT8016-103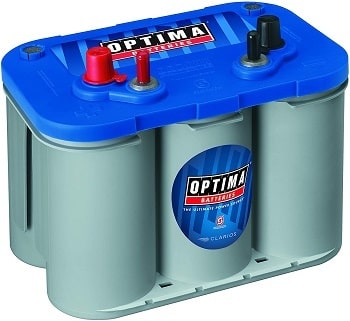 Type: Deep Cycle
Capacity: 55Ah
Voltage: 12V
The Optima Batteries OPT8016-103 takes our top overall spot as it is multifunctional, provides optimal starting power, and allows for mounting in almost any position on your RV.
This top-quality battery works well for both starting RVs and deep cycle for those that need a more reliable power source for their motor home. And besides providing adequate starting power, it guarantees sure-starting in any weather.
With the unique SpiralCell design, this battery provides a clean power source, making it safe for all RV users. Better yet, the battery has a high enough reserve capacity of up to 120 minutes, which is perfect for its size and price.
Overall, this is a well-built RV battery that will give you many years of excellent service thanks to the sturdy stainless steel stud posts and superior vibration resistance.
Although the capacity seems to be relatively lower than other models on our list, you will be amazed at just how much power you get from this 55Ah battery.

---
2. Best for the Money: Battle Born BB10012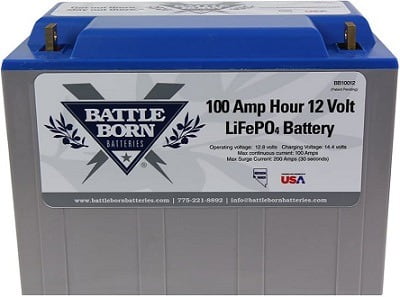 Type: Lithium Iron
Capacity: 100Ah
Voltage: 12V
Recharge Cycles: 3,000 to 5,000
For a 100Ah lithium iron battery, the Battle Born BB10012 offers excellent value for money as you would need to spend way much more to get anything with better features and functionalities.
The lithium iron technology ensures you get exceptional longevity from this battery and unlimited mounting options as it still holds charge regardless of how and where you place it.
Also, the 12V lithium battery has a built-in battery management system that ensures you get maximum protection from typical battery failure causes like temperature volatility.
Battle Born BB10012 is a 100% safe battery made from safe, non-toxic material, and it weighs just 13 pounds making it exceptionally lightweight. Better yet, it is versatile enough for other uses besides RV, such as on golf carts and off-grid applications.
There is no carry handle on this battery. However, this should not be a deal-breaker as the lightweight design means it is still easy to handle. Some users might not like that it is not wholly maintenance-free. But, you will hardly find a battery that is entirely maintenance-free no matter how much you spend.

---
3. Best Lithium: Renogy RNG-BATT-LFP-12-100
Type: Lithium Iron
Capacity: 100Ah
Voltage: 12V
Recharge Cycles: 2,000
If you are on the hunt for the best lithium RV battery, the Renogy RNG-BATT-LFP-12-100 should serve you well. The battery uses some extremely safe and long-lasting lithium iron phosphate cells to deliver exceptional service.
Another element that makes this a fantastic battery option is its sturdier overall construction with a fully sealed and waterproof housing. This construction reduces the operation and maintenance costs considerably.
There is also an integrated battery management system to help you deal with common battery issues like over-charging, over-current, and short-circuiting. What's more, the battery has a super low self-discharge rate of just 3%.
While this battery is one of our list's priciest options, the price tag still seems quite fair for a top-quality lithium battery. One cannot connect the battery in series, but this is just a little restrictive and is not a big concern for most RV owners.

---
4. Best for RV: WindyNation BattaMax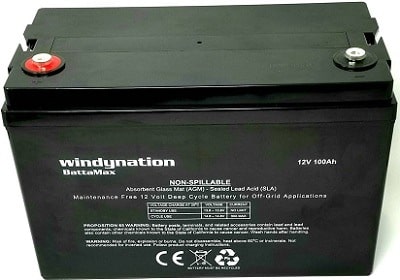 Type: AGM
Capacity: 100Ah
Voltage: 12V
WindyNation BattaMax is a heavy-duty AGM battery that comes with some top-quality plates to ensure it can handle multiple discharges. The battery is non-spillable, and so unlike traditional lead-acid batteries, you never have to worry about messy spills.
This 100Ah capacity battery is ideal for various applications besides use on your RV as it is a very reliable off-grid power source that can also work for marine or solar systems. By using 99.95% pure virgin lead, the battery ensures low discharge and high power storage.
RV owners love that the battery recharges quite fast to minimize downtimes. Better still, it comes with some nice extras such as terminal protectors and a battery strap.
At 66 pounds, the battery is quite heavy, and this is more so when you compare it to the lightweight lithium types. However, the weight should not be a big issue as you hardly ever have to move the battery once mounted.

---
5. Lowest Self-Discharge: Renogy RNG-BATT-AGM12-100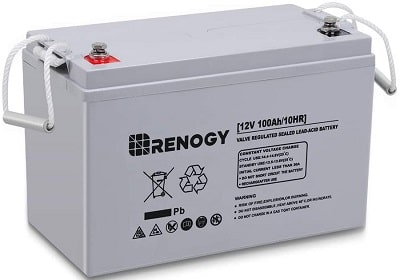 Type: AGM
Capacity: 100Ah
Voltage: 12V
For those that have to leave their travel trailers in parking for extended periods, the impressive discharge performance of the Renogy RNG-BATT-AGM12-100 makes it a fantastic choice. With the quinary alloy plates and specially treated plate grids that minimize internal resistance, this battery provides a monthly discharge rate of under 3%.
Renogy RNG-BATT-AGM12-100 also ensures you never have to worry about frequent battery maintenance. It has a fully-sealed and completely leak-proof design that ensures no water loss, therefore, minimizing maintenance.
This battery works well on a wide variety of temperatures, contributing to excellent discharge performance. Besides being relatively compact for an AGM battery, some nice carry straps come for easy handling.
The housing quality is not the best as it seems more fragile, but provided you do not subject the battery to extreme abuse or too much exposure to direct sunlight, it should still hold up well.

---
6. Longest-Lasting: ExpertPower EP12100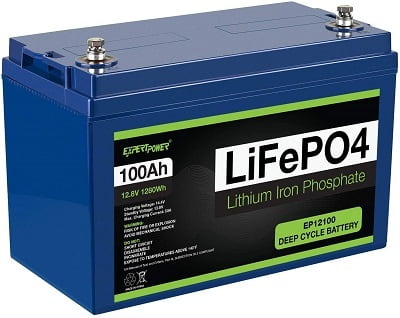 Type: Lithium Iron
Capacity: 100Ah
Voltage: 12V
Recharge Cycles: 2,500 to 7,000
With recharge cycles of between 2,500 and 7,000 and a 10-year lifetime, the ExpertPower EP12100 is the perfect RV battery for you if you want something long-lasting that you can be sure of using many years to come.
The high energy density makes this one of the best travel trailer batteries out there, as it means this unit can store much more energy to allow you to go off-grid with no issues.
Because the lithium battery has built-in BMS, it offers protection from common battery issues like overloading, overheating, and deep-discharging. Additionally, at 22 pounds, this is a conveniently lightweight battery. And it is made with more eco-friendly, non-toxic materials.
The low-temperature charge cut-off seems to be the only significant issue with this battery, but once you get used to how it charges and discharges, this should not be a big issue for you.

---
7. Fast Recharge: Vmaxtanks VMAXSLR125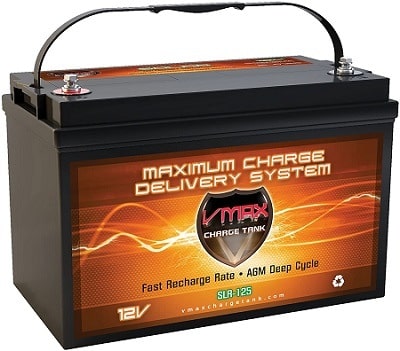 Type: AGM
Capacity: 125Ah
Voltage: 12V
The super-fast recharge rate is what makes the Vmaxtanks VMAXSLR125 a fantastic battery option for your RV. With the fast recharge, you can be sure of minimal downtime if you have to stop and recharge the battery.
Additionally, it will be a long time before you need to buy another battery as this one lasts up to 10 years. Better still, it has a relatively higher capacity rating of 125 Ah to ensure you get more power.
The military-grade custom plates are also an excellent addition as they provide a long service life. And the battery offers 99% recombination with no dangerous fumes or gases emission.
The terminals on this AGM battery look cheap, but they still hold up well. With proper care, the terminals should last as long as the battery. Despite being a little bulky, the battery should fit most motorhomes well.

How to Buy the Best RV Batteries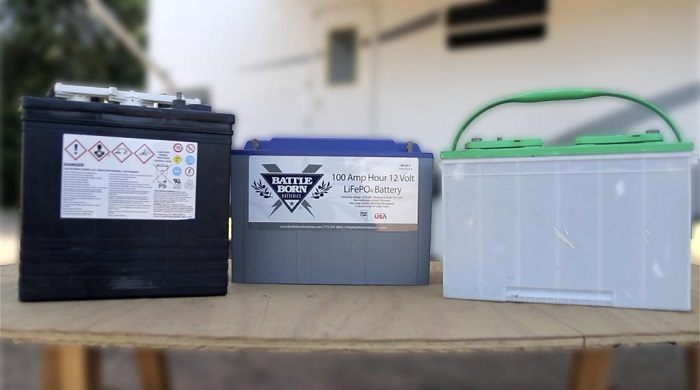 1. Types of RV Battery
The first decision you need to make when shopping for the best travel trailer battery is the type to buy. In most instances, you need to choose between lithium iron, deep cycle, and lead-acid batteries.
Lithium Iron (LiFePO4)
Lithium iron batteries are a relatively new entrant in the market, but they are slowly getting more popular with motorhome owners. What makes them a fantastic choice is that they offer maintenance-free use, unlike the traditional lead-acid batteries.
With the lithium iron batteries, you get a higher power output and storage capacity. Better still, they come in a more compact size to deliver enough power without having to use up too much of your precious RV space.
These batteries have a longer service life than other types, and if you have a good one like the Battle Born BB10012, you also get faster charging times. When you need more power or plan to go off-grid for long periods, lithium iron batteries are your best option.
The lithium iron battery's downside is the price tag, as they are the most expensive option in the market.
Deep Cycle
Deep cycle batteries are what many RVs come with from the factory, and they are available in AGM, wet, and gel types.
AGM
AGM or absorbed glass mat is the most common deep cycle battery type. The batteries use a fiberglass mat to absorb the sulfuric acid, handle cold temperature well, and offer a relatively long service life than other deep cycle types.
With AGM, you also get a maintenance-free RV battery that is hence more convenient to own, but all these benefits come at a cost as these batteries tend to be more expensive. AGM is the right choice for those that do not have a lot of time to work on their RVs.
Read More: The Best AGM Car Batteries
Wet
Wet or flooded cell batteries are the kinds that require periodic filling with distilled water to ensure there is no mineral build-up. These batteries also require frequent charging and discharging when using them in hot weather.
The wet battery cells are ideal when shopping for something more affordable that still provides a decent power output. You should buy these batteries if you do not have a lot of stuff to power in your RV.
Gel
The gel batteries have a jelled electrolyte meant to ensure no spilling if you accidentally tip over the battery. Unlike the flooded batteries, these do not require frequent maintenance.
Because these batteries can be placed on any side and still hold the charge, they are ideal when you have limited space in the RV and want something you can squeeze into a narrow area.
Lead-acid
Lead-acid batteries are the cheapest of all the options available. They are a more traditional battery type that requires topping up with distilled water every few months.
Most can be charged and discharged several times, but typical ones do not have a very long service life. Hence lead-acid batteries are best used as a temporary solution as you plan to buy a better battery type.
2. Capacity
An RV battery's capacity is measured in ampere-hours (Ah), and it indicates the amount of current the battery delivers over a specified period.
Batteries with a high capacity are always the best as they store and deliver power over a more extended period. However, the higher the capacity, the larger the battery, so you need to make sure you have the space to accommodate what you choose.
Computing your daily RV energy requirements is the best way to ensure you choose the ideal capacity. Most RV batteries give you 20 to 100 Ah but, some like Vmaxtanks VMAXSLR125 provide up to 125 Ah.
3. Voltage
You also need to keep the voltage in mind when shopping for the best RV battery. Voltage is what makes the charges move in a wire and other electrical conductors.
Typical RV batteries often have a 12-volt rating, but there are also 6-volt options. Therefore, it is up to you to decide which between the two works best for you. Also, each has its merits and demerits.
The 6-volt batteries operate in a series of connections to create the 12-volt system that the RV needs. These batteries offer better recharge and discharge capacity, high Ah rating, minimal maintenance, and longer service life. But, they tend to be more expensive than the 12-volt ones.
With the 12-volt battery, you get more consistent power, affordability, and wide availability. But, on the downside, these batteries have a relatively lower Ah rating than the 6-volt batteries.
4. Charging Manner
Before buying any RV battery, it is essential to consider how you intend to be charging it as different batteries work well with varying charging methods.
The three most common charging methods are using a generator, solar, and shore power. You can use one or a combination of the three. If you plan to use all the charging options, you need to have a charge controller.
If you use the RV in areas that get a lot of sunlight or mostly use it in the summer months, solar is a perfect choice. However, if you are looking for a faster and more reliable charging manner, generator and shore are preferable.
Read More: The Best RV Solar Kit
5. Discharge Depth
Discharge depth is expressed in percentage, and it indicates the fraction of the battery's capacity that is depleted when it is fully charged.
A deeper discharge cycle means that the battery has a shorter life cycle and does not last very long. Something with an 80% depth of discharge like the Odyssey 65-PC1750T or something closer to this is often good enough.
6. Shock and Vibration Resistance
No matter where you will be driving the motorhome, the battery is likely to be subjected to shock and vibrations. Hence, when choosing one, it is crucial to ensure it offers enough resistance to both.
Something with sturdy housing can withstand the harshest driving conditions. A durable design makes it possible to get a more secure mount, ensuring the battery is less susceptible to shock and vibrations.
FAQs
Can I Use a Car Battery for RV?
A: While it is possible to have a car battery in your RV, it does not work very well. Car batteries provide larger amounts of current over a short period, while RV batteries give you a steady current over a long period and can discharge and recharge several times, which is just what the motorhome needs.
Do I Need Two Batteries for My RV?
A: Yes, most will have two battery systems, which are, in most instances, the 12-volt DC system and the 120-volt AC system. Another 12-volt battery system runs the essential automotive functions and starts the motorhome's engine. In total, most RVs have at least four batteries to power the different systems.
How do I Install an RV Battery?
A: You first need to switch off the vehicle. Also, remember to power down all electronics, appliances, and lights. Once this is done, remove the terminals from the old battery and remember to check and note the polarities.
Next, inspect the hardware and carrier to ensure there is no corrosion, and if everything is okay, you can attach the new battery, but make sure you clean the terminals first.
How Long Do RV Batteries Last?
A: Like any other battery, an RV battery's service life depends on factors like the overall build quality and usage. When used in moderation, you should get at least a few days of use before you have to recharge.
Why is My RV Battery Draining So Fast?
A: Fast battery drains often happen when you are not connected to the shore power or generator. Different things can cause this problem ranging from loose or improper connections to faulty RV appliances. Sometimes a fast battery drain can be a result of the batteries not getting proper charge.
How Often Should I Charge the Batteries on My RV?
A: If you use your RV often, you need to charge the batteries more often to ensure they do not deplete, as this comes with a myriad of issues. However, when keeping the RV in the garage for extended periods, charging the batteries at least 8 hours every month should be enough to top them up.
Conclusion
If you are on the market for a new battery for your RV, all you need to do now is pick one from the top-quality options on our list.
To make it even easier to choose the best RV battery from our list, the Optima Batteries OPT8016-103 is our best overall option. This battery is a multifunctional model that has a lot to offer, including more flexible mounting options.
But, if you want to be sure you are getting the best value for your money, go for the Battle Born BB10012.