Many modern Jeep Wranglers will come with some decent factory halogen lights, but they still do not offer enough illumination for off and on-road driving in many instances. Hence, it is always a good idea to invest in the best halo lights for Jeep Wrangler.
Halo lights use LED bulbs to deliver a higher lumen output than most factory Jeep lights and the perfect color temperature to ensure you maintain maximum visibility when driving on dark roads. Also, these lights run cooler and will have a longer lifespan when compared to other types.
However, all aftermarket halo lights are not the same. This piece reviews some top-quality halo light models and explains what to consider as you shop.
Editors' Picks for Top Halo Lights for Jeep Wrangler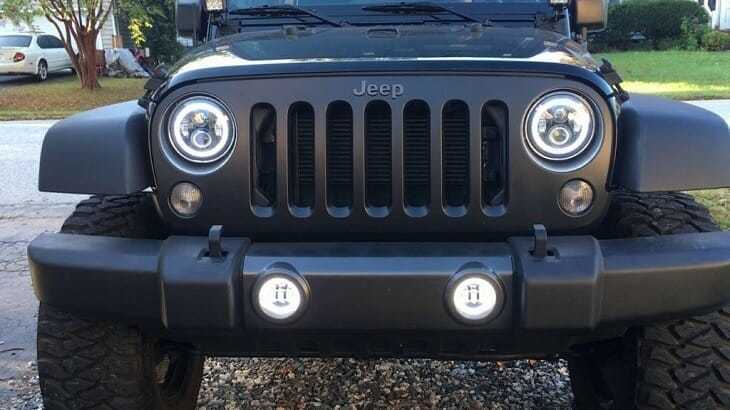 Summary of 7 Best Halo Lights for Jeep Wrangler
IMAGE
PRODUCT
FEATURES

1. Xprite HL-JEEP-R7IN-80W-B (Best Overall)

Ultra-bright - 9,600 lumens
High-quality construction
4 light modes
Easy to install

2. Sunpie 8700-2 (Best Inexpensive)

Most affordable
Universal design for broad compatibility
Built-in cooling system

3. JW Speaker 8700 J2 (Best for the Money)

Great value for cash
Dual burn technology
Plug & play installation

4. Gxenogo GX881WY1 (Best LED)

100% advanced LED chips
4 operating modes
Built-in anti-flicker
Solid overall construction

5.Sunpie J00R-G (Best for Foggy Condition)

Very ideal for driving in foggy conditions
Ready to install
Remote control included
Complete with everything you need

6. LX-Light LX-RHLFL746 (Easiest to Install)

Easy plug & play installation
High-performance CREE led lamps
Patented breathing
Built-in anti-flicker harness

7. Sunpie J002 (Classic Design)

High-performing classic LED lights
4-inch fog lights included
Built-in LED Canbus
6,000K natural color temperature
1. Best Overall: Xprite HL-JEEP-R7IN-80W-B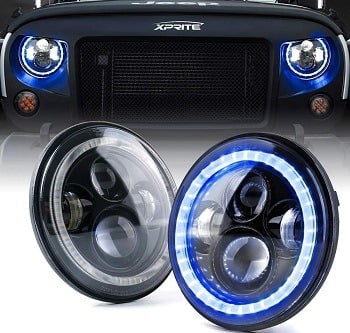 Lumen: 9,600
Lifespan: 50,000 hours
The Xprite HL-JEEP-R7IN-80W-B takes our top overall spot as it is a super-bright halo light option that will give you an amazing 9,600 lumens of light. What's more, the light has a 6,000K color temperature to make it even better for driving in the darkest environments.
With these lights, you are not restricted to just one light output as it has four different modes that will make it ideal for use in various environments, and most times of the day.
Overall these are more durable LED lights with die-cast aluminum housing and some sturdy polycarbonate lens. The lights also have a ribbed design that will ensure more efficient cooling. Better still, they are resistant to water, rust and shock.
When it comes to installation, they are plug and play lights that will only take a few minutes to install without any special skills or tools required.
The diagram meant to guide you during installation does not seem useful. Nevertheless, these are super easy lights to install. While the blue light is illegal in some places, you still have three other modes you can use with no issues.

---
2. Best Inexpensive: Sunpie 8700-2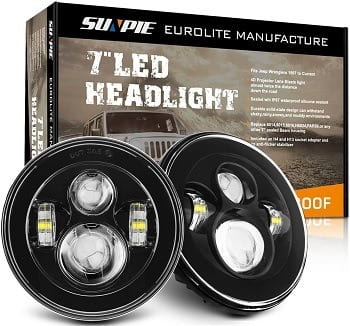 Lumen: 4,500
Lifespan: 50,000 hours
Sunpie 8700-2 is an inexpensive halo light that will be ideal for Jeep Wrangler owners looking for a more cost-effective way of upgrading stock lights.
Besides being the cheapest on our halo light for Jeep Wrangler review, this is a universal 7-inch headlight that will fit a wide variety of Jeep models and many other vehicles.
Because this light includes both an internal fan and an integrated cooling system, it will help ensure your lights run much cooler. Installation is also more effortless as this is a plug and play LED light.
There are only two modes on this light that can be inconvenient for some motorists, but this should not be a deal-breaker for a budget model. And even with the lacking instructions, you should not have any issues with the installation.

---
3. Best for the Money: JW Speaker 8700 J2
For the quality of light that you get and overall construction quality, the JW Speaker 8700 J2 provides excellent cash value, making it an excellent choice for any Jeep Wrangler owner.
The fantastic light quality stems from dual burn technology that ensures drivers get a powerful punch of light and widespread visibility.
With these top-rated halo lights for Jeep Wrangler, the light that you get is also stable, no matter the driving condition. Hence, you will not need to use an anti-flicker harness. And with the plug and play installation, you will have an easy time setting up the lights with no complicated wiring required.
There are no mount rings in the package like what you get with other halo lights, but you will not need them since you can use the factory rings on the Jeep Wrangler. While they are much heavier than stock ones, this is not a big deal.

---
4. Best LED: Gxenogo GX881WY1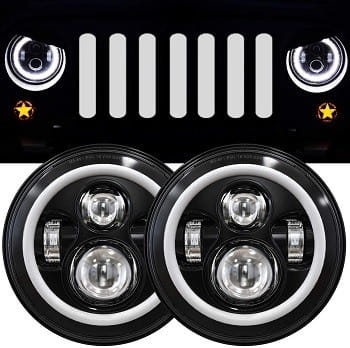 Lumen: 4,800
Lifespan: 50,000 hours
The Gxenogo GX881WY1 is one of the best LED halo lights for Jeep Wranglers out there, thanks to the 100% advanced LED Cree chips that will be brighter and more durable than stock lights.
When it comes to the actual operation, these 4,800-lumen output lights will include four modes to make them ideal for various driving situations.
For the construction, these light feature a die-cast aluminum housing, polycarbonate lens with an anti-scratch surface, and also come in a ribbed design that ensures more efficient cooling. These lights have a built-in anti-flicker harness so that you will not need extra brackets during installation. Better yet, all the adapters you need are provided.
The Y-adapter would be better if it were a couple of inches longer, but the length still seems quite okay once you have everything in place.

---
5. Best for Foggy Condition: Sunpie J00R-G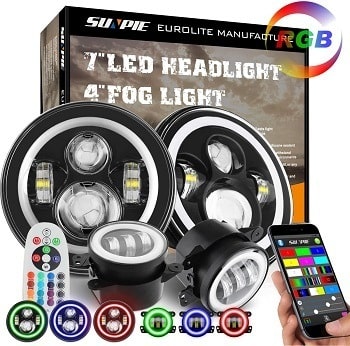 Lumen: 3,600
Lifespan: 50,000 hours
If you drive in foggy conditions a lot, the Sunpie J00R-G is the perfect halo lights option for you. This option includes 7-inch LED headlights, and some 4-inch fog lights that ensure driving in inclement weather is safer for you.
The headlights have a decent output of 3,600 lumens that should be good enough for most driving conditions, and they will last up to an incredible 50,000 hours. You will also get a remote control for the operation and can even adjust the lights straight from your phone.
These are also well-built lights with a sturdy aluminum housing and clear fade-free lens. When you buy them, the package includes everything you need for quick and straightforward installation.
While this light does not have a built-in anti-flicker, the company sells a separate anti-flicker harness that can be very handy if you meet any flicker. Also, the instructions are not the best, but many motorists hardly need them.

---
6. Easiest to Install: LX-Light LX-RHLFL746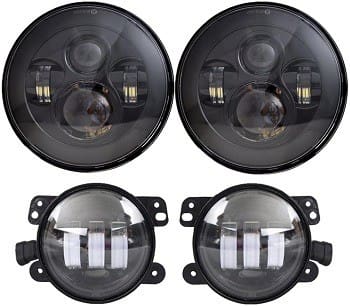 Lumen: 4,500
Lifespan: 50,000 hours
The motorists who always prefer some DIY installations, LX-Light LX-RHLFL746 is a fantastic halo light choice as the lights are easy to install. These plug and play lights will take only a few minutes to install, without the need for any special tools or complicated wiring.
They have some high-performing Cree LED lamps that will outlast regular ones. With the durable aluminum housing with an IP67 rating, these lights are designed to deliver a long service life and withstand the elements.
Since these lights also have a built-in anti-flicker harness, you will never have to worry about flickering. One more thing motorists love is that they are more effective at keeping out moisture and condensation thanks to the patented breathing.
Because the LEDs do not produce a lot of heat, snow and ice can accumulate in winter, but they will work well with no issue for all other seasons.

---
7. Classic Design: Sunpie J002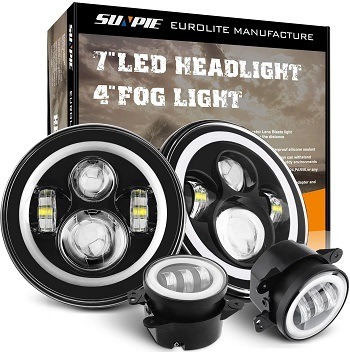 Lumen: 4,500
Lifespan: 50,000 hours
Sunpie J002 is the perfect option for any Jeep Wrangler looking for a more classic LED halo light. The lights use some long-lasting LED Cree and a treated lens that will not fade for the lights' lifetime.
The lights will deliver up to 4,500 lumens and have a lifespan of up to 50,000 hours. When using them, you can be sure of getting the perfect beam every time, as there is a built-in Canbus that works with the vehicle's CPU to keep the light consistently excellent.
With a 6,000K color temperature, these lights ensure you get a more natural daylight color. And besides the headlights, you will also get 4-inch fog lights that provide an easy time driving in foggy weather.
You may need an extra adapter for the fog lights, but this should not be a problem as it will not cost much and is also easy to get online or at your local store.

How to Buy the Best Halo Lights for Jeep Wrangler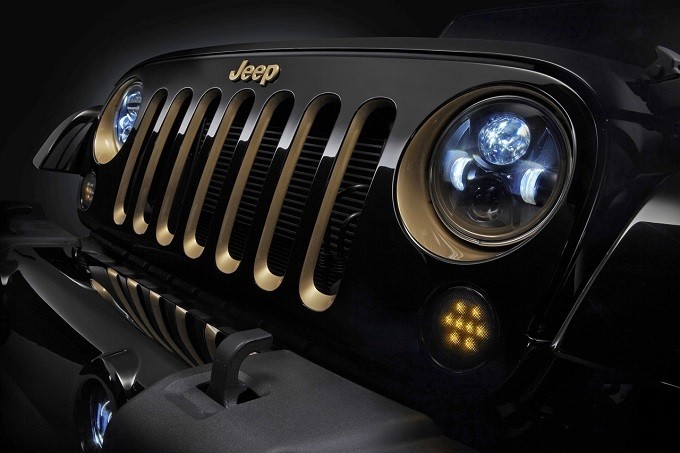 1. CCFL or LED
One of the first decisions you need to make is whether to go for the CCFL (cold cathode fluorescent lamp) or LED halo lights.
CCFL
CCFL is the older of the two halo light types, and it is famous for delivering a smooth glow that is highly desirable. Each of the rings on this halo light includes a high-quality fluorescent tube that gives you a service life of up to 50,000 hours.
These halo lights are cheaper than the LED types, and given that they have been around much longer, you can get them for almost any vehicle on the road today. However, CCFL will not be as bright as LED halo lights.
LED
LED is the modern halo light of the two and is now the standard replacement for factory CCFL halo lights. What makes it such a fantastic option is that it is ultra-bright, making it ideal for use in both dark and light environments.
Each ring on an LED halo light will consist of a ground of individual LED lights, making it possible to have a color-changing light. These lights will also last a little longer than the CCFL, as some models give you up to 60,000 hours of service life.
But, the individual design, LED halo lights are not as fluid as the CCFL types. Also, they are a little pricier.
Buying Advice: Whether you choose CCFL or LED halo lights, you can be confident of getting at least 50,000 hours of service life. However, LED is always the way to go when you want something super bright, while CCFL will suit those looking for an affordable option and a more fluid light.
2. SAE/DOT/ECE Certification
For those that drive their Jeep Wrangler in the US, it is vital to make sure the halo lights you choose have SAE/DOT certification. If you are in Europe, you need an ECE certified light.
Besides making the light legal to use on the roads you drive in, these certifications are also an excellent way to ensure that you get a high-quality halo light and not one of the many substandard knockoffs.
To check whether the light has these certifications, you should look for markings printed on the light's top section.
3. Off-road or On-road
Besides being bright enough and with all the necessary certification, your halo lights also need to be ideal for your driving conditions. If you drive off-road a lot, you need a light that illuminates the darker roads well and withstands the bumpier conditions.
Lights with cheap lens materials will not withstand bumpy conditions as they are more likely to shutter. For on-road driving where the driving conditions are smoother, you will still need to make sure the materials are tough enough, but you should not be very concerned.
The good news is some halo lights like the JW Speaker 8700 J2 will be suitable for both on and off-road driving.
4. Climate
Apart from your typical road conditions, you also need to think about the climate when choosing the best LED halo light for Jeep Wrangler. What works for cold temperatures might not be very ideal for hot weather. Hence, the need to match your light to your specific situation.
If you live in high altitudes where the weather tends to get quite cold, fogging will often occur quite a lot, so you need to have fog halo headlights. Besides moisture, you also need to think about other things like pollen and UV rays, and if they are an issue in your area, you need to choose a light that can withstand them.
Something with a waterproof, shockproof, and dustproof construction like the Aukmak 2076 should work well for almost any climate condition.
Read More: The Best Fog Lights
Conclusion
Your Jeep Wrangler deserves proper lighting to ensure that you maintain excellent visibility for safe driving. With the best halo lights for Jeep Wrangler, that is just what you get.
What's more, our review provides excellent recommendations to suit different preferences. However, the Xprite HL-JEEP-R7IN-80W-B takes our top overall spot as it offers higher light output, durable construction, and many other fantastic features such as multiple operation modes.
However, the JW Speaker 8700 J2 will give you the best value for money as the quality and performance are exceptional. At the same time, the Sunpie 8700-2 is our recommendation for those looking for something inexpensive.