The beauty of the Jeep Wrangler lies in the ability to take off its top and cruise in total freedom. Jeep soft tops are easy to remove or install, but they eventually wear or tear, forcing you to get a new one.
Jeep factory tops usually have a higher quality than most aftermarket solutions, but if you want some level of customization, then you'll want to look around for a while before making your choice.
This Jeep soft tops review focuses on making your buying process easier by providing you with a list of the top offers in the market, as well as a buying guide to help you make the right choice.
Editors' Picks: Top Jeep Soft Tops of 2021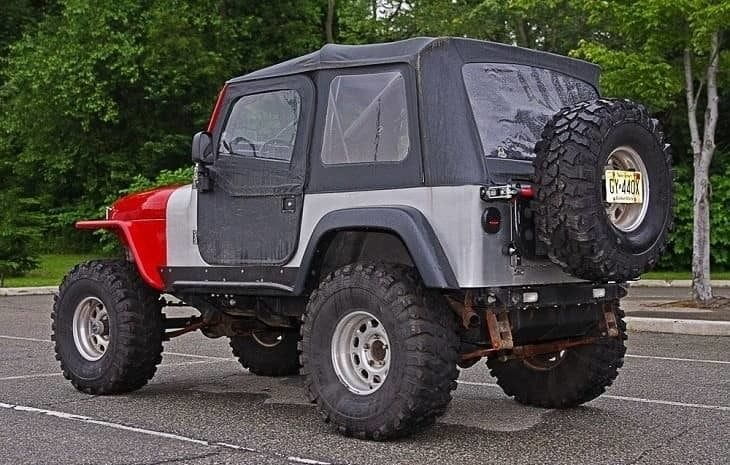 Summary of 7 Best Jeep Soft Tops
IMAGE
PRODUCT
FEATURES

1. Bestop 56820 (Best Overall)

Modern soft top style
Features a fold-back sunroof
Bestop backs it with a 2-year warranty

2. Pavement Ends 51197-35

Features a vinyl-coated polyester material
Windows are 31% tinted
Available in black denim, diamond, dark tan, & spice

3. Rampage 99835

Made using fade-resistant marine material
Comes with tinted windows
Backed by a 1-year warranty

4. Pavement Ends 51148

Jeep soft top with fade-resistant material
The package includes the top and windows
Backed by a 1-year manufacturer warranty

5. Sierra Offroad

Designed for 2003 to 2006 TJ Wranglers
Made using heavy-duty & marine grade material
Also features heavy-duty zippers

6. Bestop 54823-17

Jeep soft top made using Twill material
Features 40-mm thick vinyl windows
Comes with a lifetime warranty

7. Smittybilt 9970235

Jeep soft top fits perfectly over the original framework
Heat-sealed seams prevent leaking
The lowest cost soft top in this review
1. Bestop 56820 - Best Overall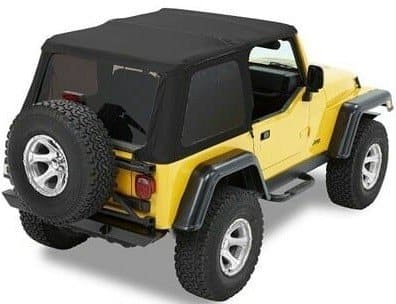 Fits: 1997 to 2006 Wrangler
Material: Sailcloth fabric
Weight: 42 pounds
The Bestop 56820 offers you a reliable and modern soft top for your Jeep Wrangler, which includes many valuable features like a sunroof and tinted windows.
The windows are only 18% degrees tinted but they are replaceable, so you can either use this complete top or just remove the side and rear windows for a safari bikini style.
You also get factory-style door surrounds, top arch bars, and high-quality steel and 28-oz multi-ply fabric for this Black Diamond version. If you choose the Black Twill version, then you get the soft top made with Twill fabric.
One issue with this offer, however, is its price, because there are cheaper options out there. But, if you want the best soft top for jeep wranglers, then price shouldn't pose much of a problem.

---
2. Pavement Ends 51197-35 Jeep Soft Top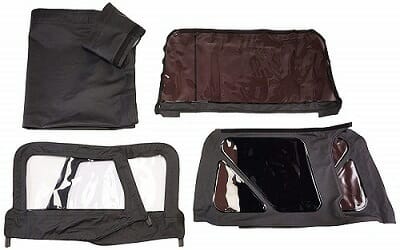 Fits: 1997 to 2006 Wranglers
Material: Vinyl-coated polyester
Weight: 20 pounds
Pavement Ends is a Bestop brand, the maker of the previous soft top in this review. So, this offer also comes from a top brand and is one of the top-rated jeep soft tops in the market.
It features a vinyl-coated polyester, which is both ultra-violet rays and mildew resistant, making it ideal for use in different weathers.
The side and rear windows are 31% tinted and the package also includes the top fabric and upper door skins where applicable. What it lacks, however, is installation hardware, so you'll have to depend on your factory hardware.
Vinyl-coated polyester is not the most durable material for making Jeep tops, but as well as its weather-resistant benefits, it also makes this offer more affordable. You can get this top in black diamond, black denim, dark tan, and spice.

---
3. Rampage 99835 Soft Top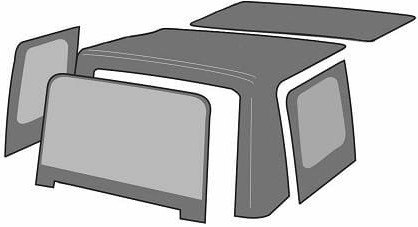 Fits: JK Unlimited
Weight: 7 pounds
While the previous two soft top offers have offered different exciting features, they also come at a price. So if you want something more affordable, then take a closer look at this offer.
It's designed specifically for the JK Unlimited Wranglers from 2007 to 2010, so this precludes lots of people from this offer.
If it fits your Jeep though, then you can profit from its low price, tinted windows, waterproofing design, and completely zipping-out side and rear windows.
Besides, the material is fade-resistant and lightweight, so it makes storage easier for you. Rampage Products backs it with a 1-year warranty.

---
4. Pavement Ends 51148 Black Diamond Replacement Soft Top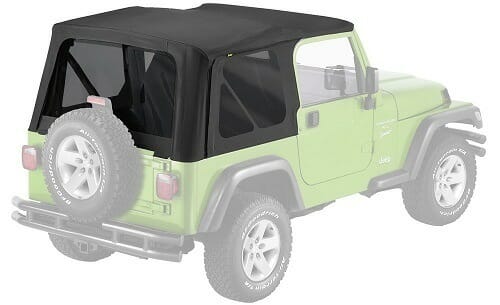 Fits: 1997 to 2006 TJ Wranglers
Material: Polymer cloth
Available in three factory-matched colors, the Replay replacement top from Pavement Ends is a high-quality and one of the best Jeep soft top replacements for your 1997 to 2006 Jeep Wrangler.
It's made using weatherproof fabric and held together using an industrial-strength thread. The package includes the top, the side, and the rear windows with a 31% tint.
The downsides here include a lack of hardware in the package, which means that you'll need your factory hardware for the installation. It also doesn't fit unlimited models.
It's backed, however, by a 1-year manufacturer warranty and the material is both UV and mildew resistant, with heavy-duty plastic-teeth zippers.

---
5. Sierra Offroad Soft Top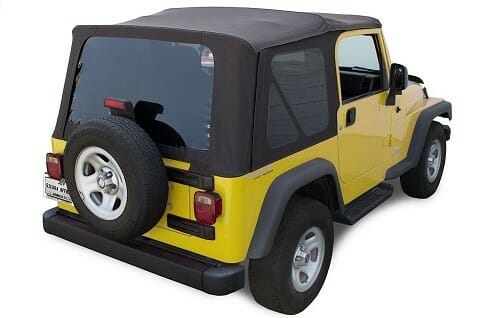 Fits: 2003 to 2006 TJ Wranglers
Material: 2-ply composite
Weight: 17 pounds
If you are on a budget, then this offer from Sierra Offroad might do you good because it's very well priced. As one of the cheapest offers in this review, it's made from 2-ply composite, making it tough and durable.
You can get it in any of three colors, including Black Diamond, Khaki Diamond, and Saddle Sailcloth. The package includes the top cover, plus over-sized and DOT approved windows, all complete with company-spec door seals, threading, and Velcro.
This Jeep soft top is a perfect replacement for TJ Wranglers from 2003 to 2006, but it doesn't fit the unlimited versions. It comes with a 3-year warranty, however, and features self-correcting zippers and heat-sealed seams.

---
6. Bestop 54823 Supertop NX Triple Layer Twill Jeep Soft Top for 4-doors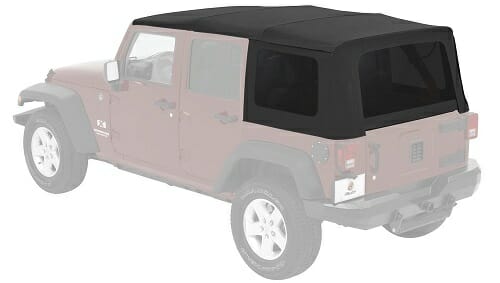 Fits: 2007 to 2018 4-door
Material: Twill & vinyl
Weight: 67 pounds
Now comes a Jeep Wrangler Unlimited soft top review for those who need a top-quality offer for their 4-door or long-wheelbase Jeeps.
This Bestop's Supertop NX comes with the best of features, including being made from a triple-layer Twill fabric, 40-mm thick vinyl windows that are also tinted, and a limited lifetime warranty on the package.
What's not so impressive, however, is the price. This soft top offer is the costliest on this list and it's also the heaviest.
It comes with a fold-back Sunrider sunroof anyway, an adjustable bow system to keep the fabric taut, and can even fold behind the rear seat completely for a convertible look and feel.

---
7. Smittybilt 9970235 Jeep Soft Top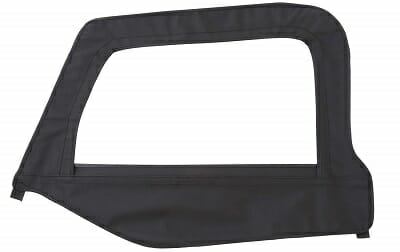 Fits: Wrangler TJ, YJ, and JK
Material: Vinyl-coated fabric
Weight: 23 pounds
If you're on a budget, then this offer might be the best Jeep soft top for you. It's made from vinyl-coated fabric and features heat-sealed seams to prevent leaking.
Smittybilt also includes self-correcting zippers to make it run smoother and last longer. The top fits perfectly on top of the Jeep's original factory framework and it also features tinted rear windows.
You should not that vinyl-coated fabrics are not the most durable of Jeep soft tops, and that this offer doesn't include a sunroof.
Still, it's a great deal for its price, it fits a range of Jeep Wranglers, and it's backed by a 1-year manufacturer warranty.

Jeep Hard Top vs. Soft Top
Many prospective Jeep owners often find themselves torn between getting a hardtop and a soft-top Jeep. This is understandable because each type comes with its advantages and disadvantages, so it's left for you to decide what better fits into your lifestyle.
1. Soft Tops
The major advantage of soft tops is that they are easy to put on and remove. They are also more portable and versatile, providing you all the freedom you can ever want from a Jeep Wrangler.
For their cons, soft tops will tear or break down faster than hardtops. They also offer less physical protection and sound-proofing than hardtops.
2. Hard Tops
If it's protection or a quieter ride that you want, then a hard top could offer you the solution. Jeep Wrangler hard tops are sturdier than soft tops, so you're guaranteed that they'll also last longer.
Hardtops also offer you better protection from rains, heavy winds, and dust, in addition to offering a quieter ride than is possible with soft tops.
Where hardtops have their issues, however, is when it comes to removal or installation, because you'll need someone else to help you. You'll also need more storage space for it.
How to Buy the Best Jeep Soft Tops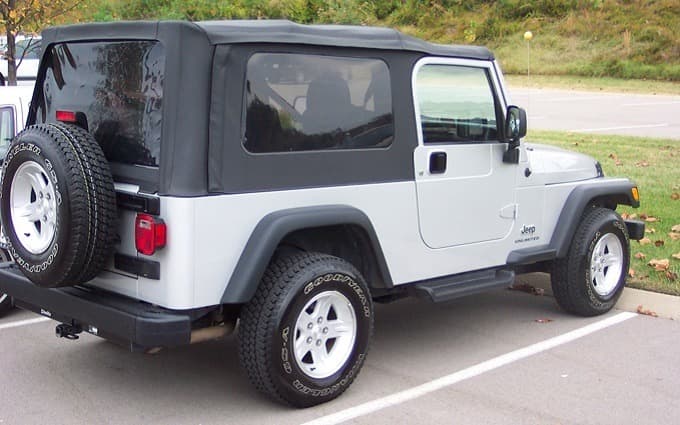 When deciding on the best jeep soft top for your Wrangler, there are different things that you'll need to consider, if you want to buy the perfect top that properly meets your needs.
Different manufacturers offer a range of Jeep soft tops, and each comes with slightly different features or advantages. The most important of these factors are as follows.
1. Compatibility
Jeep Wranglers have gotten built since 1986, with many models replacing older ones over the years. So, as you can understand, there are slight differences between all the different models.
Your first step, therefore, is to know your Wrangler's model, so you can check potential buys with it. You can either enter it into shopping sites to automatically tell you if a top is a match for your vehicle or not or simply read the manufacturer's description or fitting recommendation.
2. Framed vs Frameless
This is another important consideration because it matters a lot. A framed soft top usually comes with a metal skeleton, which is most often aluminum. This skeleton provides a rigid structure for the fabric, but it also takes up more space.
Frameless soft tops lack such a sturdy base and instead use a series of rails to support the fabric. This lack of rigidity makes frameless tops more flexible and better for stacking cargo. On the downside, however, they are less stable than framed tops.
3. Material Quality
Being made from fabric opens up several weak points for Jeep soft tops and this includes their inevitable breakdown or tearing down the line.
Sailcloth and twill are the two most popular materials used in making soft tops for the Jeep Wrangler. Between the two fabrics, however, twill is the better option.
It's important that you get a top with as high-quality material as possible, so it can last longer. Keep in mind, however, that higher quality materials are more expensive, so you need to find your balance here between quality and price.
4. Your Driving Conditions
The climate in your area is also worth considering because soft tops are horrible in winter. In such a case, you'll have to alternate between a soft top in summer and a hardtop in winter.
If you live in a hot climate, however, then you can easily leave your soft top on year-round. This is a personal decision, so, the planning here is all yours to make.
5. Installation Ease
While most tops will offer a certain level of ease and convenience, keep an eye out for extra features that make a particular soft top more useful or easier to install and remove than the others.
You need to consider how hard it is to install or remove, how long it takes, and whether you need help or not. Keep in mind that this ease of use is most important if you use your Wrangler or change the top very often.
Another nice feature with Jeep soft tops is their design flexibility and the extra features that can come with it. You need to ask yourself if you want any of those extras, such as sunroofs, removable windows, and powered retracting tops.
7. Maintenance
You should also consider how easy it is to clean and keep up the soft top that you're about to buy. Does it need special care or not?
Conclusion
We have reached the end of this Jeep soft tops review and you've seen the different offers out there, including premium versions with high prices and the cheaper offers for budget shoppers.
No single Jeep soft top here is the best, so it's left for you to choose a top that meets your needs, fits your Wrangler, and is within your budget.
Sources
Jeep Wrangler Hard Top vs Soft Top - CJ Off-road
Jeep Soft Top and Hard Top: Pros and Cons - Morris 4x4 Center