When it is about giving some kind of transformation to the car's interior, one of the simplest solutions that come to mind is adding some cool LED lights.
But as cool and fancy as these lights might be they are not all made the same, and so you need to choose the best LED light strips from then many options available.
LED light strips will differ in everything from the color patterns and brightness to the features and customization.
However, to make it easier for you to choose the right ones for your vehicle, below we review 7 top rated LED light strips and also explain what to consider when shopping.
Top Led Light Strips of 2021 by Editors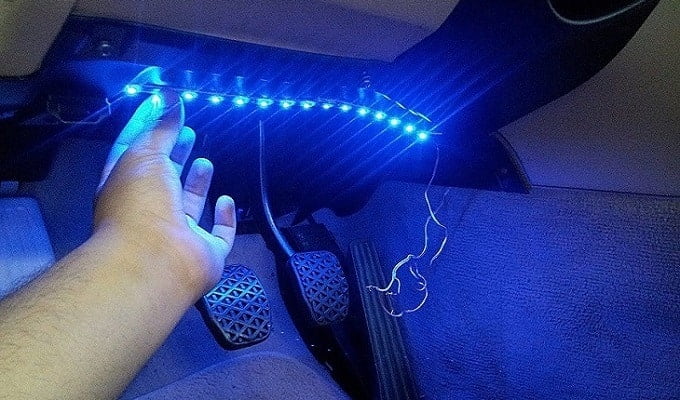 Summary of 7 Best LED Light Strips
IMAGE
PRODUCT
FEATURES

1. Lighting Ever 4100057-DW (Best Overall)

Highly affordable
Cutable and linkable
Safe and easy installation
Great strip length

2. OPT7 5841760502 (Best Smart)

Fast and easy installation
Numerous smart features
Convenient remote access
Flexible and highly durable

3. LEDGlow LU-MC-ADV-M-BC_12pc (Best Multicolor)

Convenient smartphone control
Waterproof control box
Bluetooth connectivity
Easy installation

4. Minger LED Light Strip (Best Waterproof)

Easy installation and use
Completely waterproof
Multicolored options
Handy LED IR remote control

5. SurLight SL-CLSL-18 (Best for Car Interior)

Simple and quick installation
Flexible and both UV and water resistant
Fun Sound activated function
Variety of colors

6. Tingkam USFBA-GS5F30WF2K (Cuttable & Linkable)

Cuttable and linkable
Completely waterproof
Slim, compact and flexible
High-quality remote control

7. WenTop LED Light Strip (Inexpensive for Multipurpose Use)

Highly affordable
Ideal for multipurpose use
Cuttable and linkable
Easy installation
1. Lighting Ever 4100057-DW - Best Overall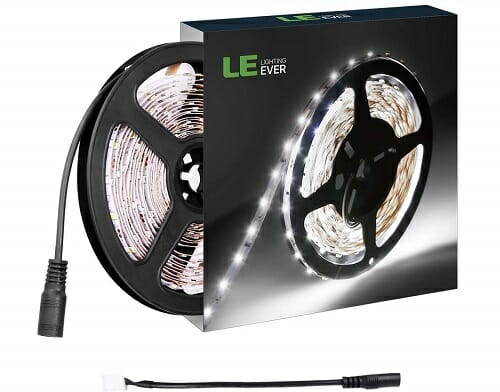 Power: 12 V
Number of Colour: 1
Length: 196.8 inches
We will kick start our led light strip review with this amazing product from Lighting Ever. It is a simple product with no fancy features but yet many people happen to like it.
This product is available in single color option that can create a more pleasant car interior. You will find it in a massive length of 196.8 inches with 300 LEDs which means that the car can be sufficiently illuminated.
Furthermore, this can be cut and shaped in any way you like thanks to the connectable feature.
Also, the installation is pretty simple too as it has double-sided tape. Plus, the strip can be mounted on any surface wherever you see fit.
If you are concerned about kids accidentally touching it then don't be because the lights work on power of just 12 V which makes it completely safe. And this is also a more affordable LED light strip.
This LED light strip is not completely waterproof but unless you plan to use it outdoors this should not be a big concern.

---
2. OPT7 5841760502 - Best Smart LED Light Strip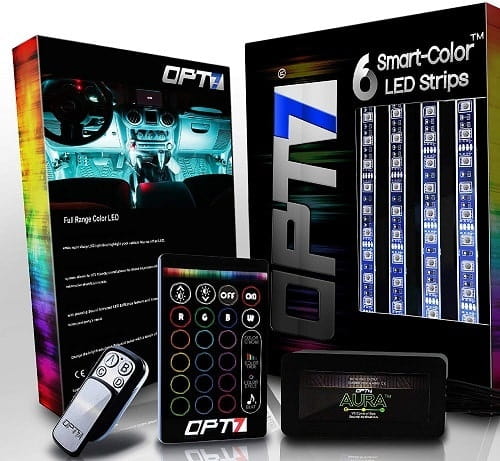 Power: 12 V
Number of Colour: 3
Length: 12 inches
OPT7 is a brand of choice and people admire it for the high quality of products that it manufactures. This top-rated led light strip shows why many vehicle owners trust them.
First thing that will surely impress you is that the installation is extremely simple. You don't have to be a professional to install this strip. Even the setup is convenient with the true plug and play feature.
Furthermore, there is a feature of pro-installation that offer vivid functionality and the fuse adapters are required to be plugged-in the fuse box for the lights to get directly synchronized with the car's system.
With this, every time you open your car doors, the lights will illuminate. Then there is SoundSync technology that is quite impressive itself. With this feature, the lights dance as the beats in your music system plays. Its quite cool actually.
So, the wireless functionality, mode, color, and brightness adjustment, and all these features makes this auto led light strip a perfect choice to make.
When compared to others on our list, this light strip is relatively shorter and it is also our second priciest option. However, it makes up for these minor drawbacks with its many other smart features.

---
3. LEDGlow LU-MC-ADV-M-BC_12pc - Best Multicolor LED Light Strips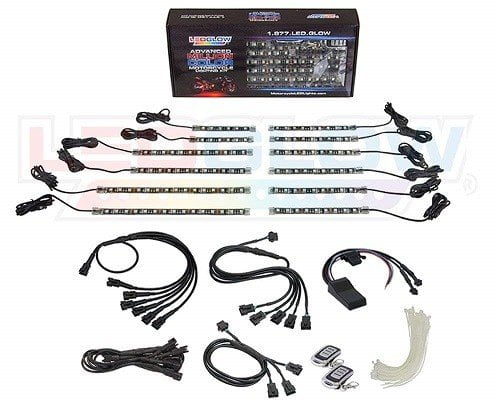 Power: 12 V
Number of Colour: 7
Length: 54 inches
As its name suggest, this is a multi-color light, all set to illuminate the car interiors and will also be perfect for use on a motorcycle.
The strip contains 24 ultra-bright, wide angled SMD LEDs. Since this product is available in 4 individual strips of 9 inches each, it creates a total length of 54 inches and total number of LEDs will be 72. If you ask us, this product can create a lot of light in your car.
As far as the colors are concerned, there are blues, reds, purples, teals, whites, and yellows. Now, let's begin the most interesting part which is different modes.
This strip will include 1 sound activation mode that reacts to the beats and music in your car. Then there are 4 fading modes and 3 strobing modes.
Other than all these, there is an Auto illumination bypass mode as well that works as soon as the door of the car is opened. Also, this mode helps in illuminating the lights when engine is started or the headlights are turned on.
The fit is universal and the installation process is mentioned in the technical support manual, if you want to do the installation yourself.
The sound mode is mot as efficient as some users would expect but is still good enough. And although this is the priciest option on our LED light strips review, it is worth every buck spent on it.
Sound mode is not as efficient

---
4. Minger LED Light Strip - Best Waterproof LED Light Strips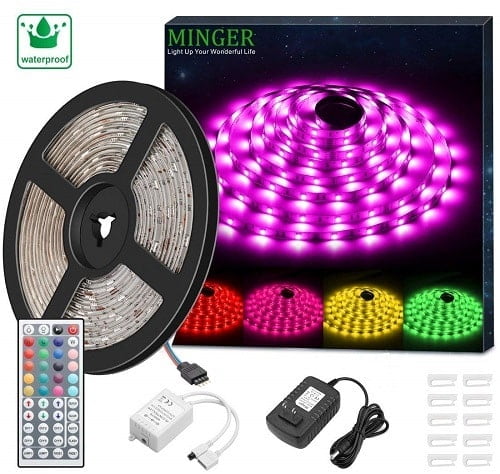 Power: 12 V
Number of Colour: 7
Length: 11.8 inches
Minger makes this LED light strip to provide a feature-rich product at a gret price tag and many car owners wil love it.
For those looking for best led light strip for car interior, you can also consider buying this model. To begin with, the installation is super simple. The strip has adhesive tape back which means that you just have to un-chip the tape back and install it wherever you want.
Furthermore, this comes with a cigarette lighter plug with a switch and indicator light. Plus, there is a built-in fuse to operate the strip.
This one is a complete set of smart led lights that can work with a mobile application as well. With this, you can control the lights through music, and change the brightness and color conveniently.
Well, the music sync is quite amazing as the lights will adapt to the sound of the car and colors will change with the changing music.
There are 16 million colors and different tones are available for selection. And one more thing, this product is safe for children. Also, if you are looking for waterproof led light strip for car then this is it, your search ends here.
Some users might find the size a bit small but for most vehicles it still provides more than enough coverage.

---
5. Surlight SL-CLSL-18 - Best Car Interior LED Light Strip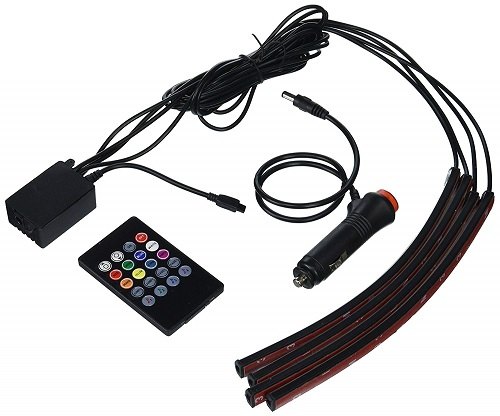 Power: 12 V
Number of Colour: 8
Length: 59 inches
This Surlight led light stripset is available in 4 individual strips with 48 LEDs in total. It comes with a wireless remote that helps you in changing colors of the strip and adjust brightness as well.
Secondly, there is a sound-activation feature that makes the rides even more joyous because the lights automatically changes when the rhythm on the music change. This may change with your own voice as well.
Furthermore, this one is flexible and you can use it in any style in the car. Because of the ultra-thinness, you can install it just about anywhere and this will not be visible evidently. Plus, the installation process is super simple as it can be attached anywhere in the car.
There is so much to this product that you will seriously admire. However, the use of remote should be very straightaway which can be a knock-out for many buyers. Otherwise, it's an amazing product to buy.

---
6. Tingkam USFBA-GS5F30WF2K - Cuttable and Linkable LED Light Strip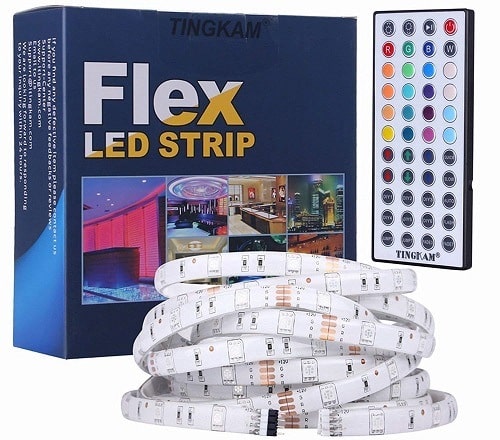 Power: 12 V
Length: 196.85 inches
So, as the name suggest, this light from Tingkam is a completely waterproof model. Because of the fact that not many lights are waterproof, you will seriously admire this feature here.
Well, one thing to say here is that it is quite massive. The length of this strip is 196.85 inches and this is a good thing as there is enough for a wide coverage.
This strip works on 12 V power and is available with a 44 key remote controller. There is a manual that comes along which contain all the necessary information on installation.
This strip is designed to be both cuttable and linkable. This means, that there is a cut mark after every 3 strips from where you can safely cut and use the lights as you like.
In case you cut this LED strip wrong you can easily damage the entire strip but this is hardly a shortcoming as it only means you need extra precaution when handling it.

---
7. WenTop LED Light Strip - Inexpensive Multipurpose LED Light Strips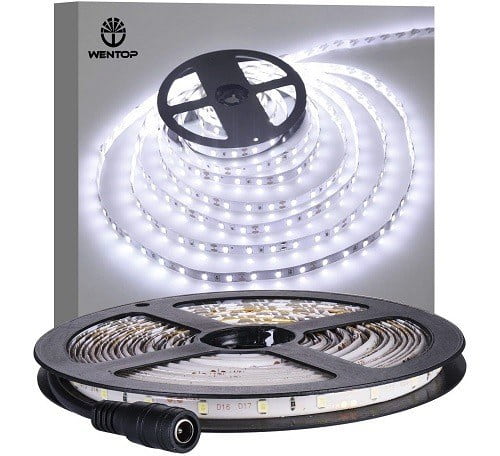 Power: 12 V
Number of Colour: 1
Length: 196.85 inches
To be honest, the Wentop light strip is quite similar with the former model discussed. It is also waterproof but one should not damp it inside water as it can only handle splashes.
The length is also huge but this model too gives the liberty to cut from the given mark, which is after every three strips for a custom fit. But, you have to be careful with the cutting.
This one is available in single daylight color which makes it quite impressive. As far as installation is concerned it is quite straightforward as you get an adhesive backing.
Other pros are that this is safe for children and uses only requires 12 V of power for usage. Then, there is 12-month warranty and 30-days money back guarantee which will secure your purchase.
Although this inexpensive LED light strip does not come with a power supply, you can easily and cheaply buy it separately and hence this should not be the deal breaker
Does not include power supply

How to Buy the Best LED Light Strips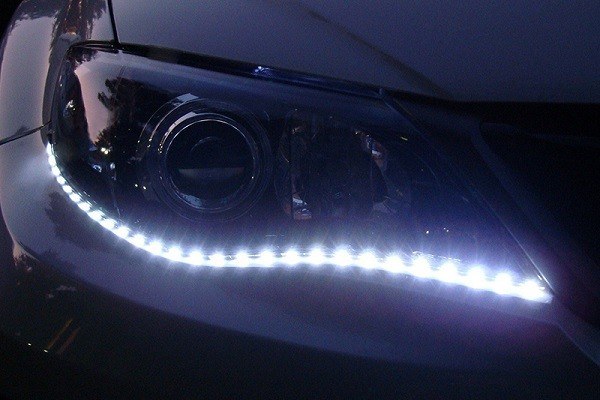 LED light strip is one of the most preferred way to giving the car's interior and headlights a face lift. But this is only true if you choose good LED light strips which should not be hard if you watch out for the following things.
1. Where to Install
First you need to determine the place where the lights will be installed because different strips are designed to work best for different parts of the vehicle.
Every area has different strip length requirement. For example, you cannot install a roll of 100+ inches long light below the seat of your car because for this you will require smaller lights.
That is why, before hitting the "buy" button, we highly recommend you first determine where the lights will be installed.
2. Power Consumption
Well, most modern smart LED lights are power efficient. As far as our recommendations are concerned, all these products operate on just 12 Volts, which is quite minimal for most vehicles.
If the lights consume more power, it will directly affect the car battery by draining it faster and also reducing its overall lifespan.
Make sure that power consumption is low or at least within acceptable parameters and that your vehicle's battery is able to supply it comfortably.
3. Colour
You will be surprised by the kind of hues these light strips can produce these days. But other than just providing one color, there are also various styles available in these lights.
There are subtle, and bouncy lights that your kids may enjoy on the road. But, the allure of the hues can be best experienced at night time.
If you want to impress someone or take them out on a long romantic ride then multi-colored led light strips are an impeccable choice.
4. Weatherproof
Your LED light strips need to be weatherproof whether you will be installing then inside or outside the car because at some point they might end up having to withstand different elements.
Excessive heat or cold weather should not have any affect on the led lights. In the same context, the lights must also be waterproof and not cause any damage if they accidentally get a splash of water on them.
5. Length
Now, this feature is quite important. When you don't focus on the length of the product, you mostly end up with something either too long or too small for your needs.
That is why, you should be particular about the length that you are picking by matching it to your specific needs.
Conclusion
LED light strips provides a simple, cost-effective and trendy way of spicing up your vehicle's appearance but like any other vehicle accessory, choosing the best ones is the only way to ensure they serve you well.
Choosing the best led light strips should however not be hard as you only need to match them to your particular needs or situation. And the choice also becomes easier if you consider the factors highlighted in our buying guide above.
Also, shopping for the light strips should also not be a tedious process as our top 9 LED light strips provides some amazing recommendations to help you narrow down your options.