Any Jeep Wrangler owner knows the importance or value that this car has when it comes to off-road performance. However, to fully accomplish its off-road capabilities, you need to fit your Wrangler with the most ideal tires that suit your driving conditions.
That said, this review covers 10 best tires for Jeep Wranglers, from which you can have your pick.
Top Tires for Jeep Wranglers by Editors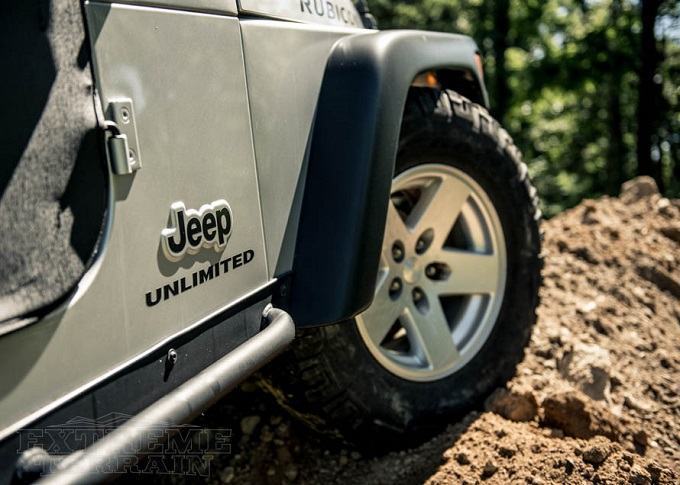 Understand Your Tires
The good thing with tire markings is that they are standardized in most regions around the world and therefore, the markings you see stand for the following.
Type
Width
Sidewall aspect ratio
Internal construction
Rim diameter
Load index
Speed rating
For instance, with a tire marked LT285/70R17 121Q, this means:
Type
LT means it is a light truck tire. Other markings such as P indicates a passenger car tire, ST is for special trailers and T is for a temporary or spare tire, which is the one found in the trunk.
Width
This tire's width is written as 285, which means it measures 285mm from sidewall to sidewall.
Sidewall aspect ratio
The next number is the aspect ratio, which is a percentage that indicates the ratio of the tire's height to its width. In this case, 70 is the ratio, and this means the tire's sidewall height is 70% of 285mm, which is 199.5mm.
Internal construction
This is a radial tire because it is indicated as R on this marking. Radial tires are built with fabric cords placed at a 90˚ angle to the centerline. This type is generally considered the best as compared to the rest because of its strength and durability and is very common nowadays.
Other markings include D stands for Diagonal, which implies a bias-ply construction where the fabric cords layers run diagonally at 30-45˚ angles from the tread's centerline while B indicates a Belted Bias internal construction, which combines a diagonal ply with fiberglass belts.
Rim Diameter
The tire's internal diameter is indicated by 17, which means a 17-inch rim diameter.
Load Index
Load index basically rates the tire's carrying capacity and, in this case, it is 121. This implies the tire can carry up to 3197 pounds in weight.
Speed Rating
Lastly, the tire's speed rating is Q, which means it can handle rolling stress at speeds of up to 99 mph. You should not exceed this.
7 Best Tires for Jeep Wranglers – Review
IMAGE
PRODUCT
FEATURES

1. Goodyear 312052027 (Best Overall)

Self-cleaning shoulder blocks
High angle center tread blocks with zigzag microgrooves
Sidewall rim protectors
Treadwear indicator

2. Hankook 1008678

Wraparound tread improves puncture resistance
Tiered side grooves improve cornering
7-8% wider footprint enhances grip and traction
Deep 2-step sipes grip better on wet surfaces

3. Bridgestone 55106

Affordable
Rounded casing profile provides a comfortable ride
Shallow tread depth reduces road noise
Notches in grooves provide better grip on snow

4. Goodyear 748535189

DuPont Kevlar reinforcement
Durawall technology gives better damage resistance
Traction ridges enhance grip on all terrains
Rim protector guards the rim against curb collisions

5. Toyo Tires 352790

Open tread block design
Polygonal blocks and zigzag sipes enhance traction
Tie bars stabilize tread blocks
Stone ejectors prevent stone drilling

6. BFGoodrich 86927

DiggerLugz enhances traction in mud, dirt, and rocks
High-void tread design with interlocking treads
TriGard 3-ply construction
Computer-optimized tread patterns

7. Goodyear 773017415

Noise-canceling design
Water evacuating grooves eliminate hydroplaning
Angled treads give better traction
Quite affordable
1. Goodyear 312052027 – Best Overall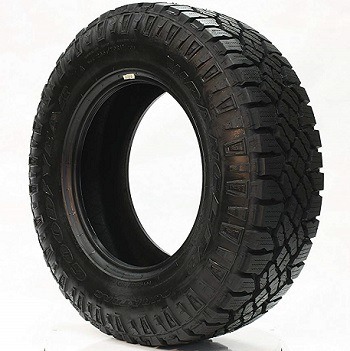 Self-cleaning is a very important factor in tires because it helps to maintain grip and an aggressive biting edge since the entire tread surface area is left clear to grab onto the road.
Goodyear's 312052027 is designed to have self-cleaning shoulder blocks, which assist in eliminating any dirt, mud or gravel that might be stuck in between.
On top of this, the tire has high angle center tread blocks that are designed to enhance traction while also reducing road noise. This results in a smooth ride that is especially comfortable when driving for long distances.
These tread blocks are actually part of a Tractive Groove Technology, which also includes zigzag microgrooves for better traction in deep mud and snow.
Other features include sidewall rim protectors for additional durability and tread wear indicators to show you when the tire is worn out. However, the tire has a relatively low-speed rating (Q), which limits your top speed to 99 mph.

---
2. Hankook 1008678 Tire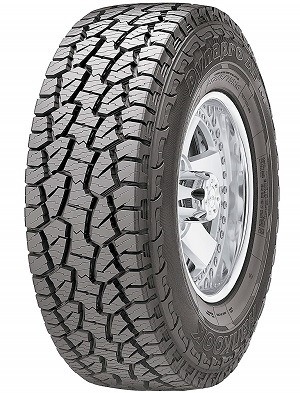 This tire has an enhanced durability factor because of its wraparound tread, which improves its puncture resistance while also giving it a rugged look for off-road use.
Tiered side grooves are also included and these help in improving the cornering so as to make it more predictable in off-road conditions.
Additionally, the tire has a 7-8% wider footprint than other tires in its category, and this has a positive impact on the grip because of the increased surface area for contacting the ground.
More features include deep 2-step sipes, which extend the tire's tread life while also improving performance on wet roads, and a unique tread and sidewall design that improves your Wrangler's looks. However, you only get a single tire with no rim attached.

---
3. Bridgestone 55106 Tire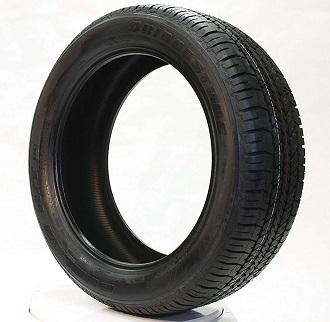 If you are on a tight budget, Bridgestone's 55106 is an affordable tire that is suitable to use in your Wrangler and despite this, it does have some pretty good features.
For starters, the tire has a rounded casing profile that provides a smoother ride. This is further enhanced by its relatively shallow 11 thirty_seconds_inches tread depth, which reduces road noise for more comfort.
These treads have notches in their grooves, which grip better on snow so as to improve on traction, and this makes it usable in all seasons.
Other features include a speed rating of T, which is quite high because it limits your top speed to 118 mph, and a treadwear indicator that shows you when you need to replace the tire. However, the tire's shallow tread depth limits its off-road capabilities.

---
4. Goodyear 748535189 Tire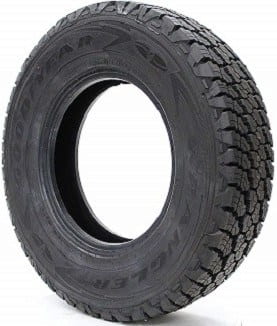 Goodyear's 748535189 is quite unique because it is reinforced with DuPont Kevlar, which assists in dampening road noise so as to leave you with a very quiet ride.
Additionally, this reinforcement helps to improve puncture, abrasion and cut resistance. This is further enhanced using Durawall technology for better resistance and improved durability overall.
More features include traction ridges for enhancing grip on all terrains, an open tread pattern that gives better traction off-road, a rim protector to guard the rim against damages if you hit the curb and a treadwear indicator for showing you if its time to do a replacement.
On the downside, the tire comes as a single piece and with no rim attached.

---
5. Toyo Tires 352790 Tire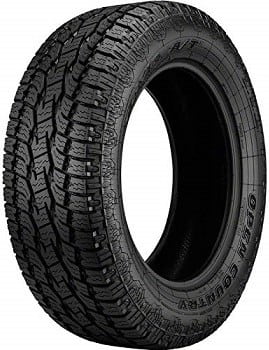 Toyo Tires' 352790 is an all-season tire and with this, it is well equipped for the job, featuring an open tread block design that gives good performance on dirt, mud, and snow while also making the ride much quieter.
This all-season performance is further enhanced using polygonal blocks and zigzag sipes, which enhance traction on any kind of surface.
Tie bars are included between tread blocks for stabilization and these reduce irregular wear, give better braking and help in reducing road noise.
Other features include deep tread grooves, which bite better on muddy and snowy surfaces, and these are fitted with stone ejecting blocks to prevent stone drilling, making the tire more durable.
Also, a strong and aggressive sidewall design enhances the strength of the tire, while also giving it bruise resistance for durability enhancement. On the downside, you only get a single tire per set without a rim.

---
6. BFGoodrich 86927 Tire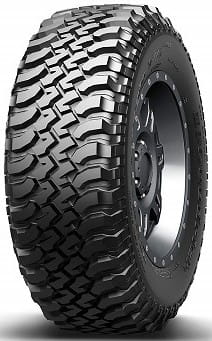 Though very costly, BFGoodrich's 86927 is the ultimate all-terrain tire for your Wrangler because it will take you off-road and bring you back in one piece.
The tire is equipped with DiggerLugz, which is basically a combination of shoulder void bars and upper sidewall traction bars. These help to increase traction in deep mud, dirt, and rocks.
Additionally, the unit has a high-void tread design with a large footprint plus interlocking tread elements, which are made using an advanced rubber compound that is firm and very durable for wear resistance.
More features include a rim protector for guarding the rim if you hit the curb, a treadwear indicator, deep 19mm grooves and a TriGard 3-ply construction that enhances puncture and bruise resistance.
On the downside, the deep grooves make this tire noisy on the road, but its computer-optimized tread design helps in reducing this.

---
7. Goodyear 773017415 Tire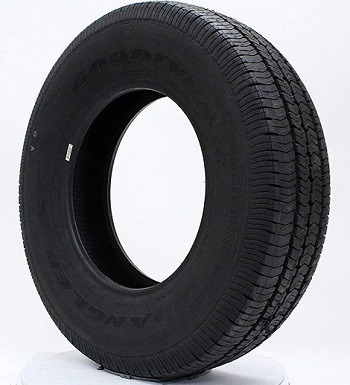 Coming from one of the best tire brands in the market, this 773017415 features an innovative noise-canceling design, which reduces road noise for better comfort and a quieter ride.
Additionally, it has a shallow tread depth of 10 thirty_seconds_inches, which also greatly contributes towards reducing road-noise, and this makes it one of the best tires for Jeep Wrangler daily drivers on city roads and highways.
The tire also has water evacuating grooves that get rid of hydroplaning so as to maximize on the grip. Other features include angled treads for better traction on uneven or loose terrain and a treadwear indicator for showing you when the tire is worn out.
However, the unit's shallow treads make it less capable off-road, which limits its use. On the bright side, it is relatively affordable and therefore, the purchase makes sense for on-road and light off-road use.

How to Buy the Best Tires for Jeep Wrangler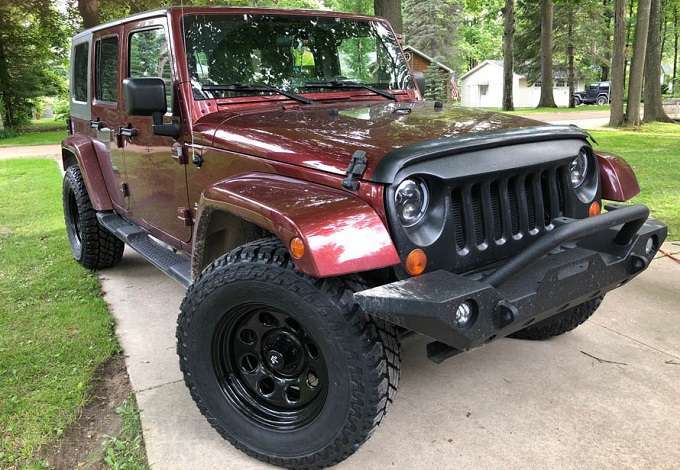 1. Types of Jeep Wrangler Tire
When selecting the type of tire, you should consider your driving conditions. The different types include:
All-Terrain Tire
Most Jeep Wranglers are fitted with all-terrain tires straight from the factory and these tires are designed to do well on tarmac and light off-road situations.
While their main disadvantage is not being very capable of tough off-road use, these tires give better fuel economy, wear slowly and do not produce a lot of road noise.
Winter Tire
The name says it all. Winter tires are meant for driving on thick snow without getting stuck. Studded winter tires are the best option for extremely thick snow.
Sand Tire
Places known to have lots of sand are the desert and the beach. If you want to drive your Jeep around these areas, then you need sand tires.
Sand tires are usually wider so as to cover a large patch of sand to avoid sinking. For the best driving experience, you need to air them down a bit and don't slow your Jeep to a complete stop. The major issue with sand tires is that they give poor fuel economy.
Mud Tire
Mud tires are the ultimate kings of off-road use. They are characterized by large and chunky tread blocks that bite into muddy and mushy surfaces to provide good grip.
These tires also have large gaps in between the tread blocks, which are particularly useful for self-cleaning by releasing the mud and debris caught in between with ease, thereby maintaining consistent grip. However, these large treads will be very noisy as the tire rolls on the road.
Rock Crawling Tire
If you want to test your Wrangler on rocky ground, fit in rock crawling tires. These tires should be flexible so as to curve around the rocks (you can air them down for this) and should have large side lugs to reduce chances of being stuck on rocky grooves.
You should go for the largest size that can fit in your car as this will give you enough ground clearance to keep rocks from scratching the underbelly.
2. Size
The size factor is really important to consider for compatibility purposes. That said, you need to check the rim diameter size, which is indicated on the markings found on the tire's sidewall.
As explained above, the number marked shows the diameter in inches and you should get a size that matches the rim you have.
Another thing to consider is the tire's sidewall aspect ratio, which effectively shows the sidewall's height. If the tire is too big, then it might not fit in the wheel well and therefore, you must find one with a fitting sidewall height.
3. Tread
Treads form the primary contact between the tire and the surface below. Since they provide the biting edges, their depth, pattern, and strength determine the tire's capabilities.
For off-road, mud tires, ensure the treads are deep and have an aggressive pattern that will grip firmly to any slippery surface. For all-season tires, ensure that circumferential grooves are carved in so as to prevent hydroplaning.
4. Load and Speed Rating
On the tire's marking, the load and speed ratings are usually the last two and are indicated as a number and letter respectively.
The load rating shows the maximum carrying capacity that the tire can handle and these values mean the following:
| Load Index | Pounds |
| --- | --- |
| 80 | 992 |
| 81 | 1019 |
| 82 | 1047 |
| 83 | 1074 |
| 84 | 1102 |
| 85 | 1135 |
| 86 | 1168 |
| 87 | 1201 |
| 88 | 1235 |
| 89 | 1279 |
| 90 | 1323 |
| 91 | 1356 |
| 92 | 1389 |
| 93 | 1433 |
| 94 | 1477 |
| 95 | 1521 |
| 96 | 1565 |
| 97 | 1609 |
| 98 | 1653 |
| 99 | 1709 |
| 100 | 1764 |
| 101 | 1819 |
| 102 | 1874 |
| 103 | 1929 |
| 104 | 1984 |
| 105 | 2039 |
| 106 | 2094 |
| 107 | 2149 |
| 108 | 2205 |
| 109 | 2271 |
| 110 | 2337 |
| 111 | 2403 |
| 112 | 2469 |
| 113 | 2535 |
| 114 | 2601 |
| 115 | 2679 |
| 116 | 2756 |
| 117 | 2833 |
| 118 | 2910 |
| 119 | 2998 |
| 120 | 3086 |
On the other hand, a tire's speed rating indicates the maximum rolling speed that it can handle, and this speed should not be exceeded. These values imply the following:
| Speed Rating | Maximum Speed (mph) | Maximum Speed (kph) |
| --- | --- | --- |
| L | 75 | 120 |
| M | 81 | 130 |
| N | 87 | 140 |
| P | 93 | 150 |
| Q | 99 | 160 |
| R | 106 | 170 |
| S | 112 | 180 |
| T | 118 | 190 |
| U | 124 | 200 |
| H | 130 | 210 |
| V | 149 | 240 |
A tire with the highest load index and speed rating is the best because it allows you to carry weighty loads at high speeds. In actual sense, high ratings mean that the tire is well built and very durable.
5. Ease of Handling
For stability and ease of handling, the best tire is the wide one because it covers a larger surface on the ground. This means more grip and thus, better handling.
When to Change Tire for Jeep Wrangler
As long as there are some treads left on your Wrangler's tires you are good to go, right? Wrong. There are some things that you need to check so as to determine if a replacement is due. These are:
1. Distance
Most tires are usually backed by a treadwear warranty, which is given in miles. This distance should act as a guide because manufacturers are smart enough to only cover the tire for the distance that they are sure it can cover before being worn out.
2. Treadwear Indicator
The other thing that you can check and probably the easiest method is by looking at the tread wear indicator. These are usually many and distributed throughout the main tread grooves. If the treads sit flush with these indicators, then you need to change the tire as soon as possible.
3. Structural Damages
Due to the immense pressure that tires face especially off-road, rocks, tree branches and the like might cause damage to the tire's structure. Even extreme heat may cause such damage and if you spot any structural damage, it is time to change the tire.
Conclusion
Car tires are an integral part of its overall performance. For a Jeep Wrangler, selecting the best tires is crucial, especially considering the car's expected high performance in different driving conditions, be it on or off-road.
Bearing in mind that there are a lot of options to choose from in the market, the review above will help you narrow it down to the best tires for your Jeep Wrangler that suit your driving conditions.
Sources
Choosing Tires for Your Jeep - Teraflex
Choosing the Best Jeep Wrangler Tires for On-road and Off-road - Extreme Terrain