Solar battery chargers for cars make it easy to keep your car batteries topped off and prevent a complete drain that can come from different applications using the battery.
Asides from the long-term battery drain of car clocks and alarm systems when you don't start the engine in a while, smartphones and other devices can also quickly drain your car's battery, in which case, a solar battery charger becomes a lifesaver.
In this solar battery charger for cars review, you get a list of the top offers in the market, plus a buying guide to help you make sense of it all and make the right choice.
Editors' Picks: Top Solar Battery Chargers for Cars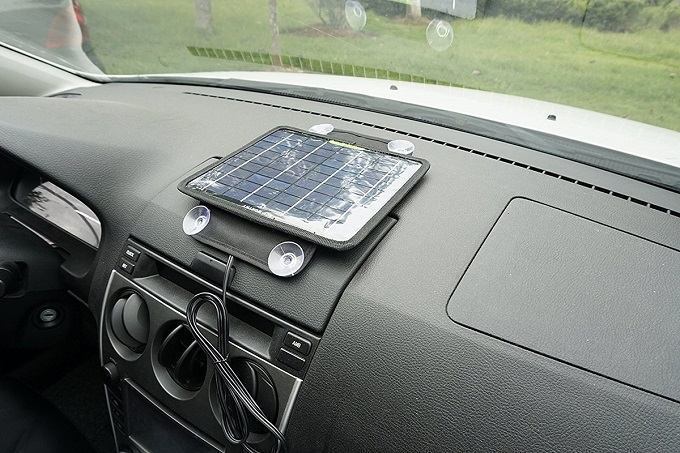 Summary of 5 Best Solar Battery Chargers for Cars
IMAGE
PRODUCT
FEATURES

1. Sunway C3W001 (Best Overall)

3-Watt crystalline solar battery charger
The package includes battery clips and a lighter plug
Backed by a 1-year manufacturer warranty
One of the best solar battery chargers for cars and marine use

2. Suaoki 18 Watts

18-Watt solar charger for a variety of vehicles
Charges your batteries faster than smaller systems
Package includes crocodile clips and lighter plug

3. Suner Power 2.4W

Compact solar battery charger with amorphous cells
Compact design with suction cups for flexible installation
Available in 2.4 Watts, 6 Watts, and 8 Watts models

4. Eco-Worthy Kit

Lightweight and weatherproof solar battery charger
Includes a blocking diode to prevent leaks
Available from 10 Watts to 200 Watts systems

5. BLSolar 2.5W

High-quality solar charger construction
Available in 2.5-Watt and 5-Watt versions
The package includes alligator clips and lighter plug
1. Sunway C3W001 - Best Overall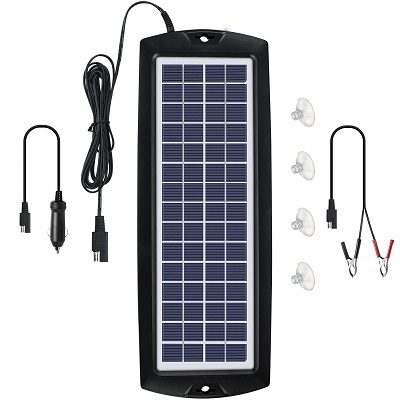 Power: 3.8 Watts
Size: 14 x 5 inches
Weight: 1.7 pounds
Sunway Solar offers you this well-made and popular solar battery charger with a compact design that makes it easy to fit into many uses, including cars, RVs, ATVs, and even farm equipment.
It measures just 14 inches in length and is 5 inches across, plus it's made from crystalline silicon, allowing it to produce up to 3.8 Watts of power at 12 Volts.
The package includes suction cups that you can use in attaching it either on your vehicle's windshield or on the dash. There is also an 8-feet long cable that's attached to the charger, plus alligator clips and a cigarette lighter plug that you can attach as you see fit.
It does have its issues too, and this includes being splash-resistant but not waterproof and not being ideal for batteries that have a smaller than 20Ah capacity. Asides from that, it's a great buy at a great price, making it one of the top-rated solar battery chargers for cars.

---
2. Suaoki 18 Watts Solar Charger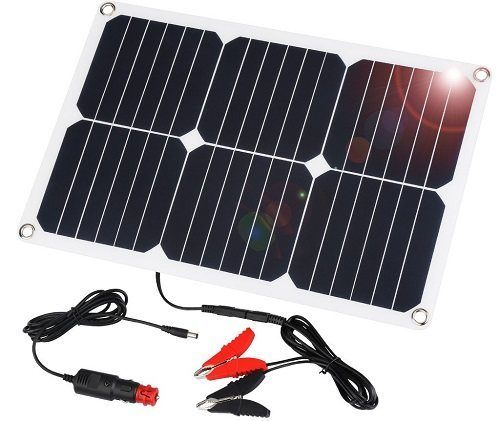 Power: 18 Watts
Size: 16.5 x 11 x 0.1 inches
Weight: 12.2 ounces
For more power delivery to either charge your batteries faster or keep up other devices, you'll need a solar charger with a higher output level like this Suaoki 18-Watt system.
Made using 22.5% high-efficiency chips, this charger works faster than most other smaller offers, producing more power at a faster rate, and with the included accessories, you can either clip the battery directly or use the cigarette lighter port.
Given its high voltage output, however, this isn't a charger that you'll want to leave on for long-term topping up of your car battery because it will damage the battery unless you add a charge controller to the system.
You'll also see that this panel is larger than the previous compact panel, so it's not ideal for car dashes or windshield. It's perfect for permanent RV and marine rooftop installations though, and you can combine them for some serious solar power.

---
3. Suner Power 2.4W Solar Battery Charger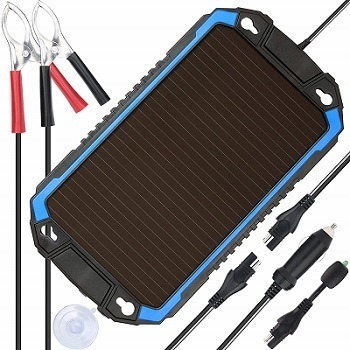 Power: 2.4, 6, and 8 Watts
Size: 12 x 8 x 0.7 inches
Weight: 2.89 inches
For those looking for the best 12V solar battery charger for cars, this offer from Suner Power offers a lot in its compact package. It's available in 2.4-Watt, 6-Watt, and 8-Watt models.
Being made using amorphous solar cells means the charger produces more power than average solar panels in bad weather like cloudy or rainy days.
Asides from that, the package includes alligator clips, a cigarette lighter plug, and bare wires that give you more flexibility in installing and using the charger. It also includes a blocking diode to prevent reverse discharges.
For the more power they produce, the amorphous cells also make this solar battery charger costlier than comparable offers, but if you live in an area with limited sunshine, then it might just be exactly what you need.

---
4. Eco-Worthy Solar Battery Charger Kit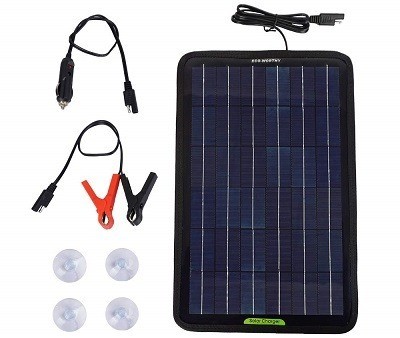 Power: 10, 20, 100 and 200 Watts
Size: 15.3 x 9.6 x 1.4 inches
Weight: 1.46 pounds
The Eco-Worthy kit is one of the best solar panel car battery chargers for those on a budget, designed to provide affordable solar power from 10 Watts to 20 Watts, 100 Watts, and even 200 Watts.
This 10-Watt model is perfect for trickle charging your car battery and it comes in a flexible and weather-protective casing with suction cups for easy and flexible installation anywhere inside your vehicle.
It also includes alligator clips for direct battery connection and a cigarette lighter plug as well. The larger panels, however, come with MC4 male/female connectors.
For downsides, the weather-protected cover can't protect the cells from physical abuse and the included cable is only 5-feet long, which is shorter than most other packages in this review. It's offered at a good price though, so there isn't much to complain about.

---
5. BLSolar 2.5W Solar Battery Charger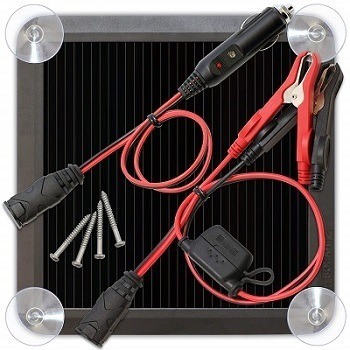 Power: 2.5 Watts & 5 Watts
Size: 9.2 x 9.2 x 0.6 inches
Weight: 1.8 pounds
As one of the best solar automotive battery chargers when it comes to building quality, this offer from BLSolar features a well-constructed and rigid body that additionally looks great.
It also comes with many accessories, including alligator clips for batteries, a male cigarette lighter plug for convenient charging, suction cups for easy mounting, and even installation screws.
The cells are amorphous, so this means that it'll always make the most of available light and produce more power, even in cloudy or rainy weather.
No doubt, this charger is costlier than others in this review, especially when you compare power outputs. When you compare build quality, however, you'll find that few offers are as well made as this one, so it's probably worth the higher price-tag.

How to Buy the Best Solar Battery Charger for Cars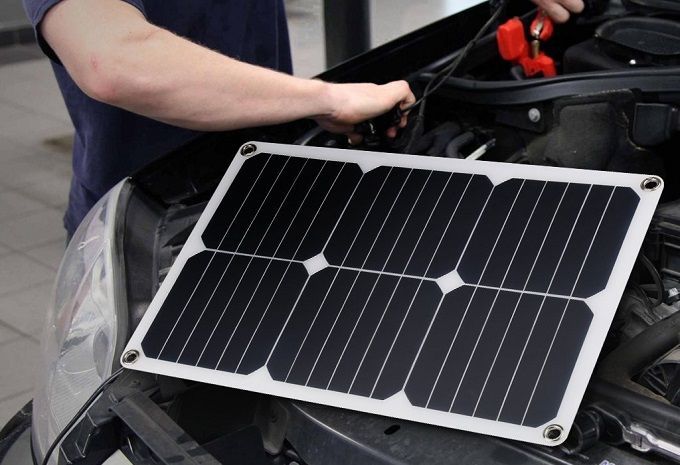 Solar technology is relatively new, so some of its concepts and terminology might sound alien to the average driver. This makes it necessary to have a buying guide that lets you know what all these terms mean, so you can choose the best solar battery charger for your cars.
Following are the most important aspects of a solar battery charging system and what they all mean.
1. Power
Power refers to how much electricity a solar battery charger can produce and this is important because it lets you know what you can get from the system and as a result, its overall worth as well.
Power is usually given in Watts, which is the product of Voltage (Volts) x Current (Amps). So two solar chargers might both offer 12 Volts, but if one offers 30 Watts and the other offers 15 Watts, you should know that the 30-Watt charger has more value to offer.
2. Size
You'll get solar battery chargers for cars in different sizes and weights, based on how much power they can offer. This means that you should first consider how much power you need, so you can find a matching charger.
If you need a small charger between 1 to 10 Watts, then you don't need to worry much about space because they're usually small enough for most cars.
For larger systems, then you'll need to do some calculations to know what will fit in and what won't. Keep in mind that a 10-Watt solar panel will measure about 15x10 inches or less.
3. Efficiency
This is another word that gets thrown around a lot when it comes to solar systems. It simply refers to how much electric power the solar cells can generate from the sunlight that they get and it's measured in percentage.
Just keep an eye out for efficiencies above 20% and you're okay. The most efficient solar cells today have about a 40% efficiency but you may not like their prices.
4. Reverse Charge Blocker Diode
A diode allows an electric current to flow in only one direction and blocks the flow when it tries to go the other way. This feature is useful in many ways in electronics, including in charging batteries.
With a reverse charge blocker diode, your batteries won't release its charge once the sun goes down and the solar cells stop producing electricity. So keep an eye out for this feature to protect your battery's charge, as some cheap solar makers often skip it to save costs.
5. Connectors & Installation
You want a system that's as flexible as possible and this includes a range of connectors and attachment methods of the panel such as suction cups to either the windshield, dash, or anywhere else.
Most packages will feature 12-V alligator clips to attach directly to the battery, but you may also want a cigarette lighter plug and to make sure the cables are long enough to offer you more flexibility.
6. Price & Warranty
Different charger packages come at different prices and warranty periods, so you need to find your balance between price, production quality, and warranty. Generally, a minimum warranty period of 1 year is okay.
Conclusion
We've come to the end of this solar battery chargers for cars review and you've witnessed the exciting and impressive products out there, including the compact and heavy-duty offers.
Your final choice, however, remains yours alone to make because it's only you that knows what you need and what will also fit into your lifestyle.