If you are a handyman or a repairman, you need to have socket sets. But even with the need to have socket sets, you will need to choose the very best socket set for car maintenance there is in the market. With so many brands and types to choose from, making this choice can be a tad too difficult.
To make the best choice, we have taken it upon ourselves to provide you with the buying guide and best socket sets on the market. But even as you read this guide, bear in mind that the choice largely hinges on your specific needs and preference.
Editor's Recommendation: Top Socket Sets of 2023
Top 10 Best Socket Sets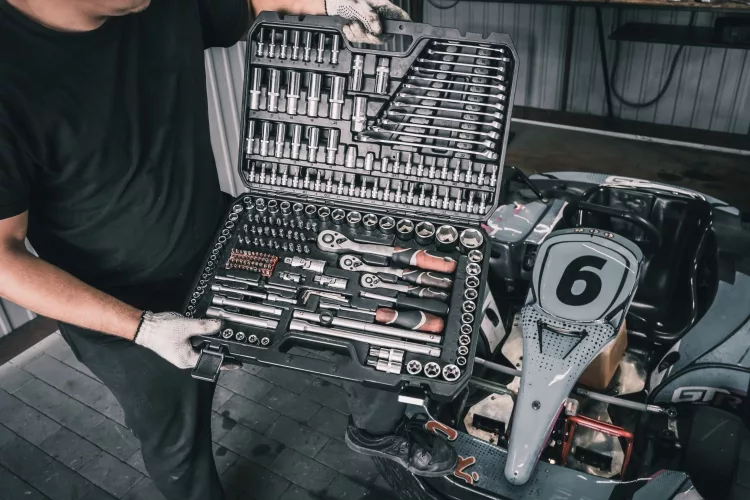 1. Neiko 10083A Socket Set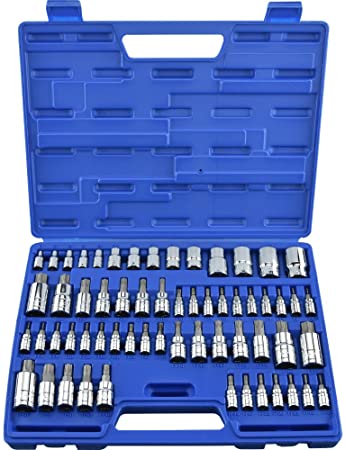 This is one of the top-rated socket set there is today on the market. Those who have used it in the past have nothing but praises for it. The Neiko 10083A Master Torx Bit Socket features make it stand out from the crowd without even trying.
For starters, the set includes torx star bit sockets ranging from T6 to T70, tamper proof torx bit sockets that range from TT6 to TT70, torx plus bits ranging from T8 to TP60 and external torx socket ranging from E4 to E24.
All the socket items have been made from chrome vanadium steel alloy. This material provides the pieces with great strength and durability. With great strength comes increased torque strength as well. Add to this the fact that the bits are resistant to corrosion, and you have a perfect set in your hands.
The bits are precise and accurate. With the increased precision comes an improved accuracy and smoothness while working on the fasteners. This protects both the fasteners and the bits from getting damaged as you work your magic.
The socket items come in a plastic box. The box is sturdy and has compartments which ensure that the items are well organized in the box.

---
2. Stanley 89-339 Socket Set

This Stanley 89-339 has been designed to meet the specifications of professional mechanics and car owners who take their car maintenance seriously. We probably should start by stating that the tools included in this socket set come with a limited warranty. As such, in the event any is defective, you can get it fixed or even get a replacement.
The tools included in this socket set are forged from a high-grade steel and are polished with a chrome finishing. The steel makes the tools hardy and durable able to withstand constant bashing, falling and hitting while in the workplace. The chrome finishing prevents the tools from corroding or rusting.
The sockets feature a max-Drive design and a unique design (the radius corner design), giving it about 15% more torque that comes in handy when tightening and loosening fasteners. The rounded corners of the sockets also work to increase the life expectancy of the fasteners as contact is reduced by about 5%.
Last but not least, the Stanley 89-339 socket set is designed to meet the ANSI product specifications. As a matter of fact, the product goes over and beyond the set guidelines and expectations.

---
3. Neiko 10073A Socket Set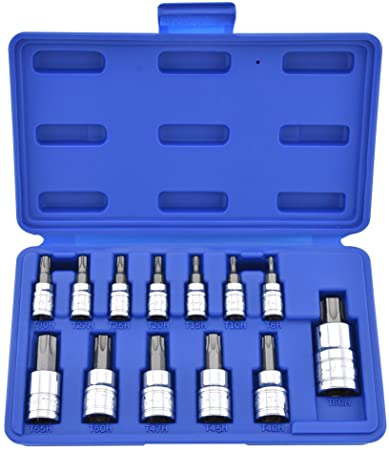 This is yet another one of a kind product from a Neiko a world class manufacturer of socket sets. Like many products from this manufacturer, the Neiko 10073A does not disappoint in the very least.
The Neiko 10073A has been designed to be durable, high in torque strength, precise and functional in many ways than one.
For durability, the socket set is constructed from a high-quality alloy of steel and chrome vanadium. The material also makes the tools in the set resistant to corrosion.
In addition to this, the alloy used provides the set as a whole with high torque strength which comes in handy when loosening large fasteners, and when they are holding on too tight probably because they have been frozen into place or they are rusted.
As for precision, the bits are created by machines which pay extra attention to the dimensions provided. The result is accurate tool sizes with smooth edges which help to protect both the fasteners and the bits from getting damaged while working to fasten/loosen them.
All the tools are housed in a sturdy ABS plastic case. The case provided protection and security for the contents of the set. In addition to this, the case features compartments for every tool which makes finding the exact too you want to use a breeze as well as provides for neatness.

---
4. Lisle LI70500 Socket Set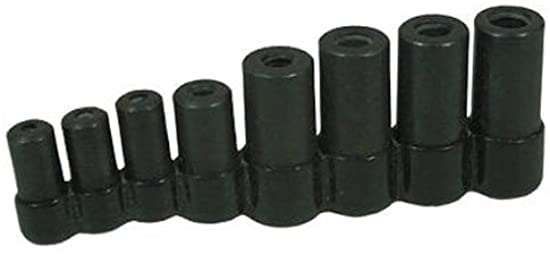 For use in areas that have limited space, spaces in which T-handles cannot fit, this is the best socket set there is. The Lisle LI70500 might be basic and direct to the point, but do not confuse this for weakness. If anything, it can prove to be a beast when the need arises.
The Lisle LI70500 is highly functional and does not need any introduction to professionals who know their socket sets.
The Lisle LI70500 is a tap socket set that is highly durable. It is designed in the U.S and as such is of high quality than most products in the market today.
That said, the set comes with a total of 8 sockets all of which fit all fractional M.C.T.I standard taps. The sockets are contained in a vinyl holder for an organized look. Each socket is available individually.

---
5. Neiko 10075A Hex Bit Socket Set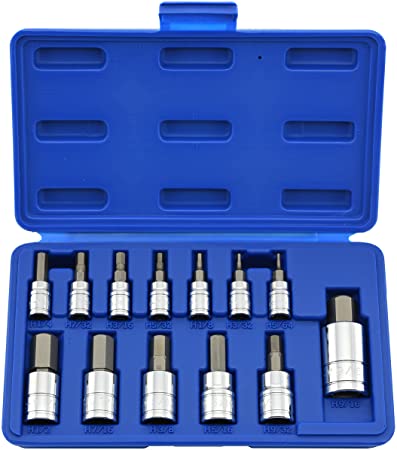 This is one of the best hex socket sets there is on the market. The Neiko 10075A is similar to the Neiko 10073A, only that this is a hex socket set. It is also very important to note that this is an SAE socket set. As such, the Neiko 10075A is perfect for older vehicles for the most part.
The Neiko 10075A is designed and constructed from an S2 alloy steel that has superior qualities (including hardness and longevity) than most alloys. The alloy steel provides for greater strength which in turn gives it superior torque for improved turning power. The fact that the tools feature a chrome finish makes them resistant to corrosion.
The tools are organized in a plastic case that is sturdy enough to provide them with security ad protection and make them easy to carry around when the need arises. The bits are highly accurate in terms of their size which helps to protect them from damage.
The bits can be used with 1/4 inch, 3/8 inch and 1/2 inch drives. This provides greater convenience.

---
6. Stanley STMT71652 123-Piece Socket Set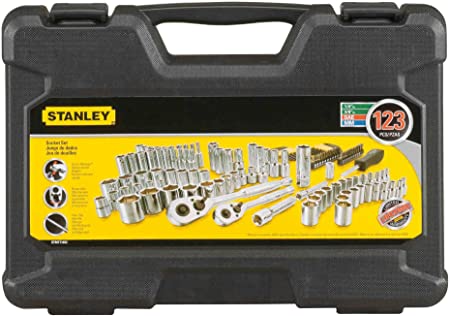 The Stanley STMT71652 has been designed for both amateurs and professional mechanics. Whether you have repairs around your house or workshop, the Stanley STMT71652 has everything all you need.
The socket set comes with some of the most common tools that you will need in any project that you have at hand. The tools are made from high quality steel and are polished with either nickel or black chrome.
The ratchet handles on the other hand have been well designed and have flexible reverse switch mechanism that have the ability to be operated by a thumb. The sockets and the extensions remain in place courtesy of a locking mechanism that can be released by a quick release mechanism.
The socket comes with a max drive design that features an exclusive radius corner design, which increases the torque by a whopping 15% and makes it easier to tighten the knobs around corners.
All the tools meet the ANSI specifications and even surpass them.

---
7. GearWrench 80300 Socket Set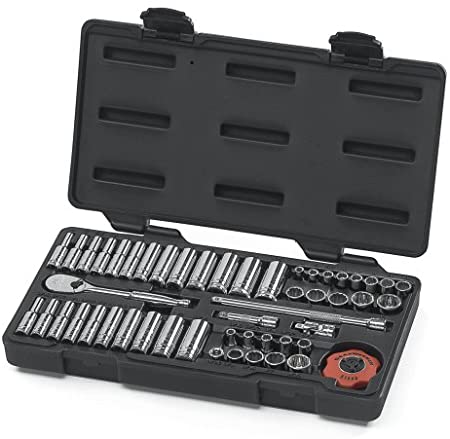 Ever since its inception back in the early 1990s, the GearWrench has proven to be one of a kind by providing quality products only. Over the years, GearWrench socket sets have grown to be a necessity of many professional and amateur mechanics as well as handy men. That said, the company features a host of products on the market. One of the best socket set for mechanic they have is the GearWrench 80300.
A unique tool that tis socket contains is an 84-tooth ratchet. The GearWrench 80300 features an 84-tooth ratchet which succeeded the 60-tooth ratchet. The new 84-tooth ratchet provides greater strength and even greater access.
The ratchet features a fine-tooth gear which helps to reduce the return swing arc to 4.3 degrees from 6 degrees thereby providing even better access.
The ratchet in this set is longer than most, has a low-profile design and has a chrome finishing that helps prevent corrosion and makes it cleaning a breeze.
The sockets are 6 point which gives them a better grip and leverage when fastening and loosening the fasteners and bolts. The sockets also feature serration depth which is as deep as the fastener.

---
8. Astro 7412 Socket Set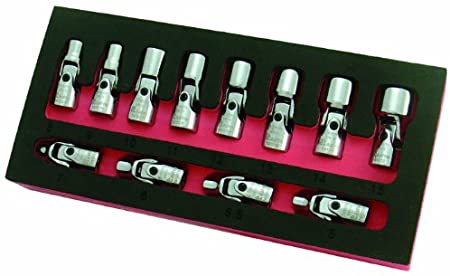 This socket is very different from the others reviewed above. How you might ask? Well the Astro 7412 features flexible sockets which come in handy when you are working in tight spaces. These come in varying measurements to suit your needs.
The Astro 7412 also features a surface drive technology grip fastener which provides for more torque during transmission. This socket set is a metric set and weighs 2 pounds in total. The hex sockets are 6 point which mean they have greater grip hence more efficient.
Last but not least, the Astro 7412 features a 1/4 inch drive.

---
9. Sunex 3342 Socket Set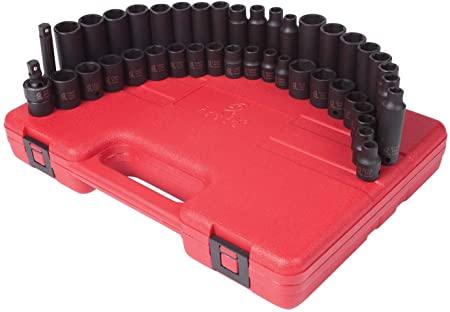 Sunex tools are designed to provide great user experience. They provide state of the art designs and developments. The impact sockets they make available are perfect to handle any task at hand.
The Sunex 3342 being a product from the Sunex company is made from Chromium-Molybdenum alloy steel this alloy ensures that the tools have longevity and are strong. But as if that is not enough, the company backs up this quality and durability with a lifetime warranty. The Chromium-Molybdenum is hardier that chrome-vanadium.
The Sunex 3342 is designed with both shallow and deep sockets as well as universal sockets. All these provide you with an increased convenience to handle all tasks that one may have at hand.
The Sunex 3342 is built for increased power. The radius corners of the sockets are built to reduce wear of both fasteners and sockets as they increase the torque.

---
10. Tekton 2902 Socket Set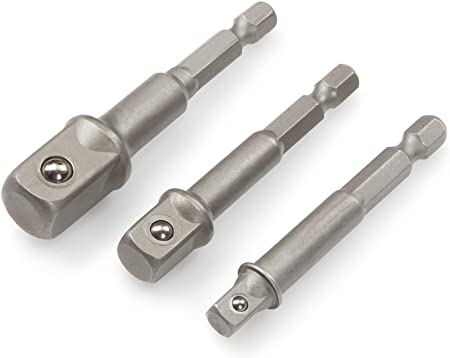 The Tekton 2902 Power Driver adapters have high strength courtesy of the sandblasted Chrome vanadium steel construction. For worry free use, the sockets feature spring loaded ball bearing to securely lock onto the sockets.
Tekton as a manufacturing company is dedicated to seeing you spend more time on your project rather than reach out to the for minor product fixes. As such, they are dedicated to providing quality products that exceed the expectations.
However, this does not mean that Tekton support is not open to help, they are, but they would rather they not give you a reason to need their support.
The set measures an impressive 4 ounces which makes it easily portable.

What to Look for When Buying a Socket Set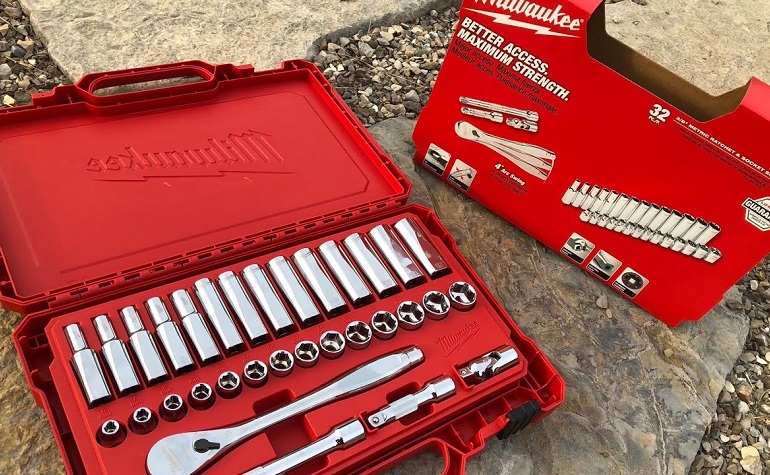 1. Socket Set Types
Socket sets come in three different socket sets namely; SAE, Metric and Witworth. Each type features its own pros and cons.
SAE and Metric
SAE and metric socket sets are different by virtue of the measurement types that they use. SAE socket are the standard sized sockets that use inches for measurements and are mostly used on older domestic vehicles. The modern vehicles, both domestic and imported use metric socket since, they use millimeters for their measurement.
Choosing between SAE and metric socket sets will be directed by the type of vehicle you will be working on. If you run a garage, it is best you have both of these to cater to your diverse clients.
Witworth
These sockets set types are exclusively used on British made vehicles. The size is measured in inches and tends to reflect the size of the bolt shaft or the inner diameter of nuts.
As such, always remember that a 5/8 inch Witworth socket will be much larger than an SAE socket of the same measurement. If you have a British vehicle such as a jaguar or an MG, you should get a Witworth socket.
2. Drive Size
With both SAE and Metric sockets, you will have different options in terms of sizes. There are 1/4 inch, 3/8 inch and 1/2 inch sockets. Each of the above require varying ratchets and accessories as well.
When working with smaller sockets, you will need to have smaller drives while when you are working with larger sockets, you will need to have larger sized drives.
In the event that your socket set is only limit to a specific drive size, you should choose 3.8-inch drives as these will cover most of the sockets you have.
Small sockets are best for tiny spaces and small bolts and nuts while large sockets are best when working with large fasteners and provide for more torque.
3. Points
By point in this piece, we refer to the socket ends that slide onto the bolt or head. Socket points are generally divided into two, 6 pointed ends and 12 pointed ends. They both get the work done but are best used in different situations.
A 12-pointed star will provide you with convenience and is best when working on a simple project. A 6-pointed star however will provide you with the required torque as the ends will sit right on the ends of a bolt giving a better grip for either tightening or loosening. There is less slipping than when working with 12 pointed stars.
Buy on Walmart
Amazon Basics Mechanic Socket Tool Kit Set With Case - Set of 123 - Walmart Link
NEIKO 02471A 3/8 Standard and Deep Drive Impact Socket Set | 67 Pieces | SAE 5/16 to 3/4 - Walmart Link
KBOISHA 3/8" Drive Impact Socket Set,49-Piece 6 Point Socket Set Standard SAE and Metric - Walmart Link
MECHMAX Mechanic Socket Tool Set 3/8 in and 1/4 in Drive SAE & Metric Size, 121 Piece - Walmart Link
DEWALT Mechanics Tools Kit and Socket Set, 108-Piece (DWMT73801) - Walmart Link
40 Pieces - EPAuto 1/4-Inch & 3/8-Inch Drive Socket Set with 72 Tooth Reversible Ratchet - Walmart Link
DEWALT Mechanics Tool Set, 84-Piece (DWMT81531) - Walmart Link
Buy on eBay
Amazon Basics Mechanic Socket Tool Kit Set With Case - Set of 123 - eBay Link
NEIKO 02471A 3/8 Standard and Deep Drive Impact Socket Set | 67 Pieces | SAE 5/16 to 3/4 - eBay Link
KBOISHA 3/8" Drive Impact Socket Set,49-Piece 6 Point Socket Set Standard SAE and Metric - eBay Link
MECHMAX Mechanic Socket Tool Set 3/8 in and 1/4 in Drive SAE & Metric Size, 121 Piece - eBay Link
DEWALT Mechanics Tools Kit and Socket Set, 108-Piece (DWMT73801) - eBay Link
40 Pieces - EPAuto 1/4-Inch & 3/8-Inch Drive Socket Set with 72 Tooth Reversible Ratchet - eBay Link
DEWALT Mechanics Tool Set, 84-Piece (DWMT81531) - eBay Link