In most off-road terrains, you will encounter muddy conditions and these are usually very sticky because the soft ground might be deep. For this reason, you need proper tires to help propel you out of such situations and mud tires are the best for this.
Mud tires are fitted with deep and specially shaped treads that bite better onto slippery surfaces so as to give better grip. If you need such, here are the best mud tires to consider buying.
Top Mud Tires of 2021 by Editors' Picks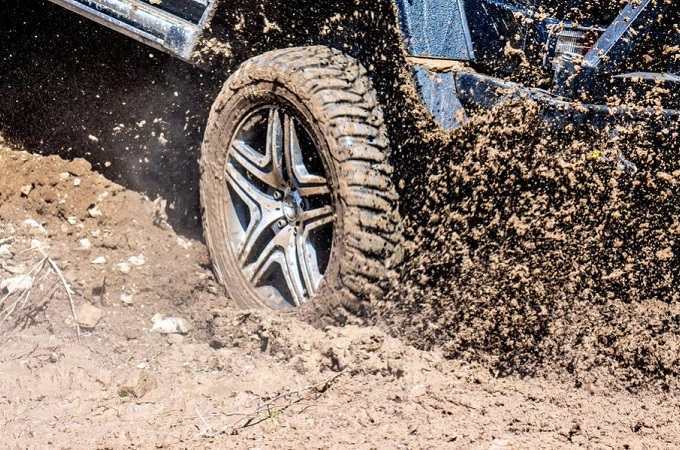 Understand Your Tires
As you buy a mud tire for your car, you will notice markings on the sidewall and these are not decorative. They contain information about the tire's:
Type
Width
Aspect ratio
Construction type
Rim diameter
Load index
Speed rating
If you consider a tire marked P235/75R15 105S, this implies the following.
Type
P indicates this is a passenger car tire. A tire marked LT means it is for a light truck, ST is for special trailers and T is for a temporary tire, which is the one found in the trunk.
Width
This tire's width is 235, which means it measures 235mm from sidewall to sidewall.
Aspect ratio
Aspect ratio indicates the ratio of the tire's height to its width. In this case, it is given as 75, which means the tire's height is 75% of 235mm, giving you 176.25mm.
Type of construction
For the construction, R implies this is a radial tire, and this type is built with fabric cords placed at a 90˚ angle to the centerline. Radial tires are generally considered as the best type as compared to the rest because of their strength, durability, and better traction.
D stands for Diagonal, which means the tire has a bias-ply construction. In this, the fabric cords layers run diagonally at 30-45˚ angles from the tread's centerline.
Belted Bias is indicated as B and this combines diagonal ply construction with fiberglass belts placed under the treads for enhanced traction.
Rim Diameter
The tire's rim diameter is indicated by 15 (inches).
Load Index
The load index and speed rating form the last section of the marking. In this case, 105S is the marking and 105 implies the tire can carry up to 2039 pounds in weight.
Speed Rating
Lastly, the tire's speed rating is indicated as S, which means the tire can handle rolling stress up to 112 mph, and you should not exceed this.
Summary of 7 Best Mud Tires
IMAGE
PRODUCT
FEATURES

1. Goodyear 795698918 (Best Overall)

Affordable
Aggressive tread design in large tread blocks
Innovative anti-hydroplane technology
Heavy-duty reinforced rubber construction

2. Mastercraft 90000020202

Circumferential grooves prevent hydroplaning
Optimized tread design
Side-biting design for better grip
Wide self-cleaning grooves

3. Milestar 22228003

High void tread design with self-cleaning treads
Staggered off-center tread blocks
Stone ejectors prevent stone drilling
Sturdy 3-ply sidewall construction

4. Goodyear 312007027

Tractive Groove technology
Self-cleaning shoulder blocks
Built-in rim protector
Highly angled center blocks reduce road noise

5. BFGoodrich 37047

Linear flex zones
Super tough puncture-resistant sidewall
3-ply construction
90,000 km treadwear warranty

6. General Tire 15483090000

Highly-engineered acoustics reduce road noise
5-row tread pattern
Self-cleaning tread design
Treadwear indicator

7. Accelera 1200031850

Self-cleaning tread blocks
Stone ejectors prevent stone drilling
Durable staggered edge tread blocks
6-ply construction
1. Goodyear 795698918 - Best Overall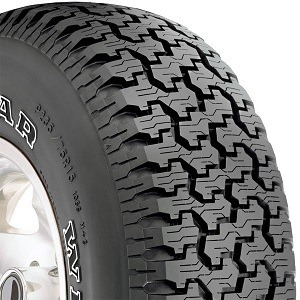 Goodyear's 795698918 has affordability as its main advantage and with this, you get an aggressive tread design that is ideal for tackling muddy conditions. These treads are arranged in large tread blocks that enhance handling and control in a wide variety of sticky situations.
The tire also an innovative anti-hydroplane technology, which ensures that no water builds up under the treads. This results in a firm grip and prevents slipping.
Other features include a durable, heavy-duty reinforced rubber construction, which is resistant to punctures and damages from the harsh off-road environment, and the ability to run flat when punctured. On the downside, the tire comes as a single piece with no rim attached.

---
2. Mastercraft 90000020202 Tire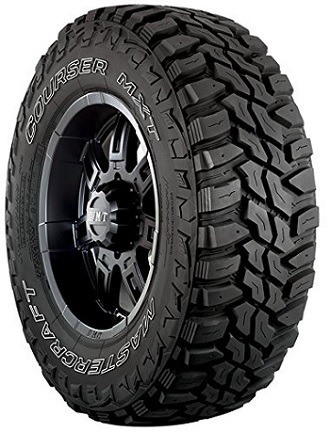 This mud tire is quite expensive but it has the features to show for it. For starters, it has circumferential grooves for channeling water away from the treads, and this results in better grip because maximum contact is maintained between the rubber and the surface below.
The tire also has an optimized tread design pattern that enhances traction in muddy, snowy and other slippery conditions. This makes it one of the best mud-and-snow tires because you get very responsive handling in all these conditions.
An aggressive and deep side-biting design adds onto the tire's strong traction while scallops provide a scooping effect on mud for better propulsion.
Other features include wide grooves that self-clean so as not to lose grip, durable abrasion-resistant construction and siping for enhanced traction on wet surfaces.

---
3. Milestar 22228003 Tire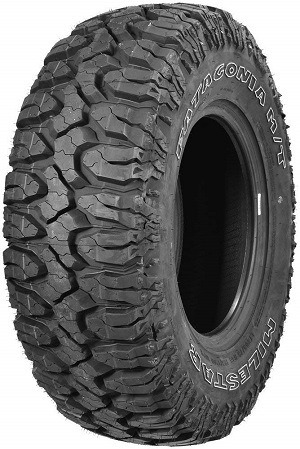 Milestar's 22228003 is characterized by a high void tread design that increases traction on muddy surfaces because it is engineered to have aggressive biting edges.
Additionally, these edges are self-cleaning, which means they maintain a firm grip because the aggressiveness is maintained.
Another important performance feature is the off-center, staggered tread block design, which enhances traction off-road while also improving on-road handling.
Other features include a sturdy 3-ply sidewall construction that is protective against punctures and other damages while stone ejectors help to prevent stone drilling for longevity and durability.
However, the tire has a relatively low Q speed rating, which limits the top speed to 99 mph. This is still quite high though, especially considering the muddy off-road terrain use.

---
4. Goodyear 312007027 Tire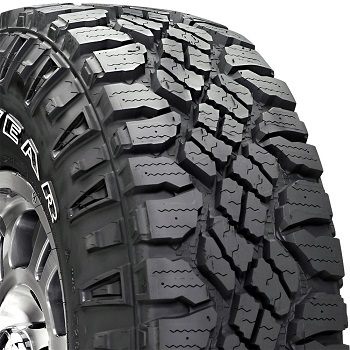 With Tractive Groove technology, Goodyear's 312007027 is made up of highly angled center tread blocks, which combine forces with zigzag microgrooves to give you better traction in snow and deep mud.
This gripping capability is further enhanced using multiple biting edges while the self-cleaning shoulder blocks ensure the treads remain free of mud and debris so as to maintain consistent traction.
The tire also features a rim protector that keeps the rim from deforming in case you hit the curb. Other features include reduced road noise due to the highly angled center blocks and a treadwear indicator for showing you the level of tread wear over time.
On the downside, the tire has a relatively low Q speed rating, limiting its top speed to 99 mph, and it comes without a rim attached.

---
5. BFGoodrich 37047 Tire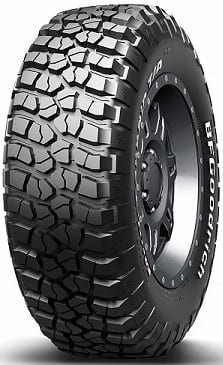 As you drive along muddy roads, you never get to know what lies underneath the surface. BFGoodrich's 37047 is built to have linear flex zones, which allow the tire to bend and conform to any obstacle underneath the mud in aired-down driving, which helps in providing more grip.
Despite this, the unit is designed to produce less road-noise, which means you get better manners on-road and good performance off-road.
More features include a super-tough sidewall compound that is puncture-resistant, and this is further enhanced using a 3-ply construction, which resists cuts and bruises for improved durability.
You also get a 90,000 km treadwear warranty (roughly 55,920 miles) and raised white letter markings. However, no rim is included with the single tire.

---
6. General Tire 1548309000 Tire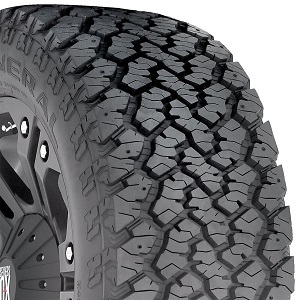 Tires with a shallow tread depth are the quietest on road and this one has a shallow 10 thirty_seconds_inches depth, which makes it very silent. This is enhanced by a highly-engineered acoustics design and combined, these result in a quiet, comfortable ride.
For off-road, muddy surfaces, the tire is equipped with a 5-row tread pattern, which provides multiple traction edges for superb grip in all weather conditions. It actually meets the severe snow service requirements of the RAC and RMA, making it ideal for snow and mud.
Other features include an aggressive self-cleaning tread pattern and a treadwear indicator for showing you when its time to do a replacement. On the downside, the shallow tread depth makes this tire inferior on off-road conditions as compared to the ones with deeper treads.

---
7. Accelera 1200031850 Tire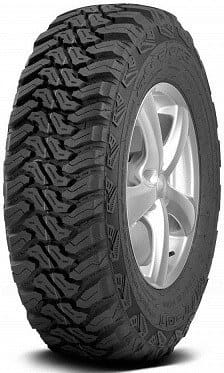 Accelera's 1200031850 is quite affordable and it is designed to have self-cleaning staggered edge tread blocks, which maintain a clean and grippy footprint for good traction in mud and snow.
These treads form a deep-groove design, which improves the tire's off-road performance, especially on loose, soft and uneven terrain, while also improving on steering responsiveness and stability.
Other features include stone ejectors on the tread blocks, which prevent stone drilling, staggered edge tread blocks that are highly durable and wear evenly, a 35,000-mile treadwear warranty and strong 6-ply construction that is very durable.
On the downside, you only get a single tire per set and with no rim attached.

How to Buy the Best Mud Tire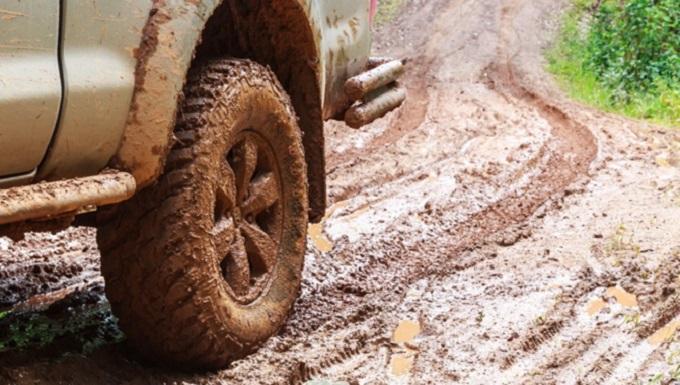 For you to have an easy time driving in muddy conditions, you must buy the ideal off-road tires. In order to pick the best one, these are the factors to consider.
1. Purpose
The first thing that you need to consider is your driving conditions. Even though these tires are meant for off-road, muddy use, they have some slight differences in their design and construction.
If your driving conditions are very muddy, rocky or full of soft, sinking soil, then you need very grippy tires, which are characterized by aggressive tread patterns that are deep and are made using advanced compounds for wear resistance.
However, if you spend most of the time driving on road and a few times on light muddy surfaces, then you'll be better off buying a mud tire with shallower treads for reduced road-noise, but is still capable of tackling light muddy surfaces.
2. Budget
It is not always wise to overspend in getting the most expensive tire because it might not meet the requirements you want. Even though most of the costly units have a high-quality build, the important things to consider are your requirements.
After you narrow it down to the tires that meet your needs, pick the one that you are most comfortable with in terms of price.
3. Types of Mud Tire
Mud Terrain
Pure mud tires are the best for muddy terrain because they are specifically designed for that job. The rubber used in their construction plus the tread design is not usually ideal for road use and in some states, it is illegal to use mud tires on tarmac.
Additionally, such tires are also not good on snow because the rubber used gets stiff in low temperatures, which then negatively affects handling by losing braking and cornering effectiveness.
Hybrid Mud/Terrain
These are basically all-terrain tires and they should be the go-to option if you want muddy tires that you can use on the road.
They might not be as tough as pure mud tires when you go off-road because of their shallower tread depth and probably less aggressive design, but they afford you the versatility of street driving in a comfortable and less noisy way.
Hybrid Mud/Snow
Lastly, hybrid mud and snow tires (usually indicated as M + S or M&S on the side) provide the link between these two very common and very sticky terrains.
Though they are a compromise between the pure mud tires and pure winter tires, they are still useful in light snow conditions, though in extreme cold, the rubber might get stiff, thereby worsening the car's handling capabilities.
These tires are ideal if you live in areas where winter season is not too cold and the roads are not that bad during the rainy season.
4. Lugs and Void Area
For mud tires, you need to ensure that the lugs and voids are good enough for the job. Ideally, the lugs should be deep enough for enhancing traction while the voids should be wide enough to prevent mud, rocks, and debris from sticking.
They should allow water to flow through easily instead and this way, the tire will maintain an aggressive bite that will be very effective at providing the required traction to get you out of sticky, muddy roads.
5. Tread Pattern
Going hand-in-hand with the lug and void area factor, the more aggressive the tread pattern, the better the tire when it comes to extremely muddy situations.
Additionally, aggressive tread patterns can handle heavier loads while the thicker ones are more resistant to puncturing and other kinds of damages.
Generally, mud tires have thicknesses that range from 3 - 10-ply, with the thickest being 10 and the thicker the better.
Another thing to check about the treads is that they should be made of a stiff rubber compound for wear resistance so that they last longer.
6. Side Walls
Since off-road driving pushes tires to the extremes, this immense pressure means that the best off-road tires should have thick sidewalls for puncture resistance and also for holding the tire in place without bending so long as there is pressure inside.
This thickness is also measured in ply and the greater the number (usually 10), the better.
Conclusion
As you can see, getting the most ideal mud tire can be very challenging if you don't know what to look for. This is because there are pure mud tires and hybrids, all of which are suitable for different kinds of terrains.
That said, having gone through the review and buying guide above, you will be in a better position to pick the best mud tire that is suitable for your car and your driving conditions.