All-terrain tires have the benefit of being usable in both on-road and off-road situations, and if you want to explore the beaten paths with tough terrains, these tires will come in handy to prevent you from getting stuck.
However, you need to fit in a good-quality set to your car so as to get the best performance, and these are the best all-terrain tires to consider.
Editors' Picks: Top All Terrain Tires of 2021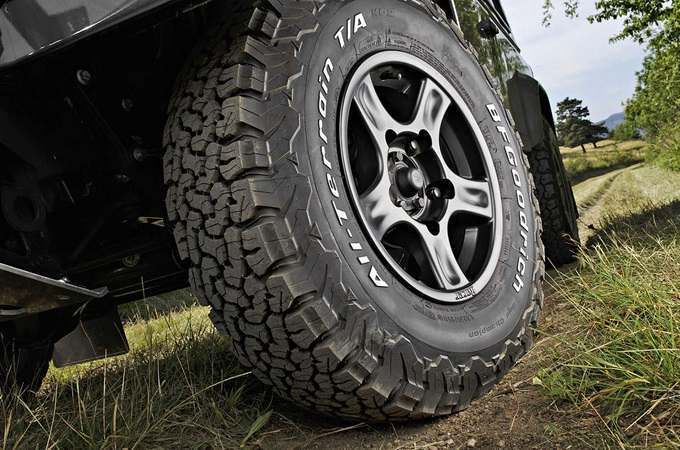 Understand Your All Terrain Tires
The numbers and letters marked on a tire's sidewall are not there for show. They actually contain a lot of information about the tire, and this includes:
Type of tire
Width
Aspect ratio
Type of construction
Rim diameter
Load index
Speed rating
For instance, if you see a tire marked P235/75R15 105S, here's what it means.
Type of Tire
P means the tire is for a passenger car. Other markings you may get are LT, ST or T. LT indicates a light truck tire, ST is for special trailers and T is for a temporary or spare tire, which is usually found in the trunk.
Width
The second section, which is 235, means the width of the tire is 235mm at the widest point when fully inflated (sidewall to sidewall).
Aspect ratio
After the width, there is a forward slash and after it, the number 75. This indicates the aspect ratio, which is a ratio of the tire's height to its width. In this case, the tire's height is 75% of 235mm, giving you 176.25mm.
Type of construction
Next is R and this means a Radial construction. Radial tires are built with fabric cords placed at a 90˚ angle to the centerline. This type is superior to the rest because of its strength, ride comfort, better fuel economy, durability, and better traction.
If you find D, it means Diagonal. This implies the tire has a bias-ply construction where the cord layers inside run diagonally at 30-45˚ angles from the tread centerline.
The other common marking is B and this stands for Belted Bias. This construction combines the diagonal ply construction with fiberglass belts placed under the treads for better traction.
Rim Diameter
The tire's rim diameter is indicated by 15, meaning that the unit has a 15-inch internal diameter (where the rim sits on the tire).
Load Index
The load index and speed rating values are usually separated from the rest. In this case, the load index is 105 and this means the tire can carry up to 2039 pounds in weight.
Speed Rating
Lastly, a tire's speed rating shows its ability to withstand stress at particular speeds. For instance, with an S speed rating, the tire can handle speeds of up to 112 mph. You should not exceed this limit with such tires in your car.
Summary of 7 Best All Terrain Tires
IMAGE
PRODUCT
FEATURES

1. Goodyear 795698918 (Best Overall)

Affordable
Large tread blocks
Anti-hydroplane technology
Radial construction with a reinforced rubber compound

2. Falken Wildpeak AT3W

Heat diffuser technology
Aggressive upper sidewalls with offset shoulder blocks
3D canyon sipe technology
Rugged and rigid treads

3. BFGoodrich All-Terrain T/A KO2 Radial Tire

Split and bruise resistant sidewalls
Advanced deflection design for protruding objects
Interlocking tread design
3D active sipe technology improves grip

4. Yokohama Geolandar A/T G015 All-Terrain Radial Tire

Triple 3D sipes
Wear-resistant enduro-compound treads
Edgetec and circumferential grooves
Full nylon cover over the tread area

5. General Tire 15463680000

Highly engineered acoustic design
5-row tread pattern with multiple traction edges
Self-cleaning tread pattern design

6. Hankook 1008718

Deep 2-step sipes
Scallop and tiered grooves
7-8% wider for better grip and acceleration
Wraparound tread for puncture resistance

7. Cooper Tire 90000032686

Sturdy radial construction
Adaptive traction technology
Durable and rugged tread construction
1. Goodyear 795698918 - Best Overall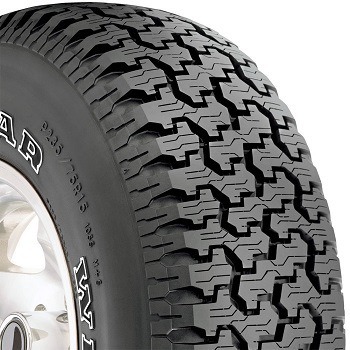 Goodyear's 795698918 gives you an affordable solution to installing all-terrain tires in your car and despite this, the unit is well built, featuring a heavy-duty, rugged design with large tread blocks that give you better handling and control in a wide variety of off-road conditions.
The tire also features anti-hydroplane technology, which sheds water away from the treads so that the rubber can grip the surface below much better.
Other features include a durable and reinforced rubber compound construction that is more resistant to damages and an economical tread design that is suited for pickup trucks. However, you only get a single tire per set without a rim.

---
2. Falken Wildpeak AT3W Tire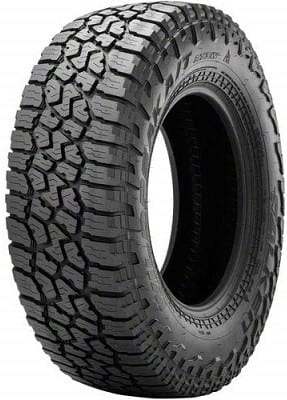 Falken actually manufactures a wide range of all-terrain tires, and these include the 265/70R17 115T, 275/60R20 115T, 235/75R15 109T, 285/70R17 117T, 275/65R18 116T, and 265/70R16 112T.
Though differently sized, all these varieties feature a heat diffuser technology that dissipates heat on the lower sidewalls so as to protect the tire's internal components and also ensures vehicle stability when carrying heavy loads or towing.
The upper sidewall has an aggressive design with offset shoulder blocks that protect against puncturing from sharp rocks and also enhances off-road traction at low tire pressures.
As for the treads, they are built to be rugged with ramps and step-down features for rigidity, which results in better handling and stability. This also has the benefit of preventing stones from being stuck in between the grooves.
Other features include a 3D canyon sipe technology that interlocks the shoulders for improved durability and better handling. However, each of the tire varieties above comes as a single piece and with no rim attached.

---
3. BFGoodrich T/A KO2 All-Terrain Tire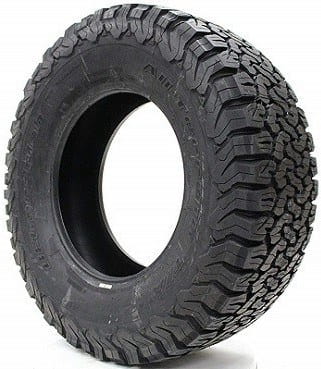 This brand also has a few all-terrain tires in their lineup, and these include the LT285/75R16 126R and LT265/75R16 123R. Both options feature CoreGard technology, which basically means their sidewalls are made of tough rubber that is split and bruise resistant.
The tires also have thicker shoulders that extend into the sidewalls so as to offer better protection, while an advanced computer-predicted deflection design deflects protruding objects from splitting or snagging the sidewall.
A specially formulated rubber is used to build the treads, which optimizes them to minimize wear and tear while also optimizing the tire's grip on gravel surfaces.
These treads are arranged in an interlocking design that wears evenly, prevents stone retention and provides extra tread cleanout so as to prevent stone drilling.
Other features include upper sidewall traction bars that provide better mud, snow and rock traction, serrated shoulders that give better grip when maneuvering through deep snow or soft soil and 3D active sipe technology for better grip.
However, the tires have a relatively low R speed rating and do not come with a rim attached.

---
4. Yokohama Geolandar A/T G015 All-Terrain Tire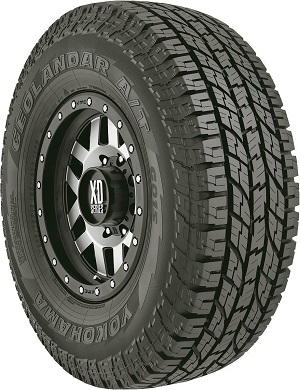 Yokohama is a well-known brand in the tire industry and considering the features in their tire line up, it's easy to see why.
For starters, these tires have triple 3D sipes, which help to maintain block stiffness for longer and even wear. This sipe design also changes shape as the treads wear off, and this helps to retain biting edges for better all-season traction.
The tire's treads are made using an enduro compound that consists of special polymers, which are cut, chip and wear-resistant for better durability.
Off-road performance is enhanced using edgetec grooves that provide better traction in the snow while circumferential grooves that expel water from the treads so as to prevent hydroplaning.
Other features include a full nylon cover that provides extra puncture resistance along the tread area while sidewall protectors help prevent cuts and abrasions. However, you only get a tire with no rim attached.

---
5. General Tire 15463680000 All-Terrain Tire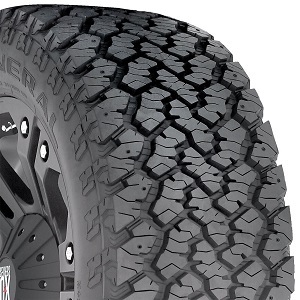 This all-terrain tire is particularly unique due to its highly engineered acoustic design, which reduces road noise.
Additionally, the unit has a relatively shallow 10 thirty_seconds_inches (about 8mm) tread depth, which contributes greatly towards lowering the road noise and this makes it one of the best off-road tires for daily driving.
Other than this, the tire features a 5-row tread pattern that has multiple traction edges and these help in biting hard on snow and mud for better maneuverability. It actually meets the severe snow requirements of RAC and RMA, which shows this feature is very effective.
More features include a self-cleaning tread pattern design, which increases the tire's wet traction and off-road capabilities. However, you only get a single piece per set and therefore, you have to buy more for replacing all the worn-out tires at once.

---
6. Hankook 1008718 All-Terrain Tire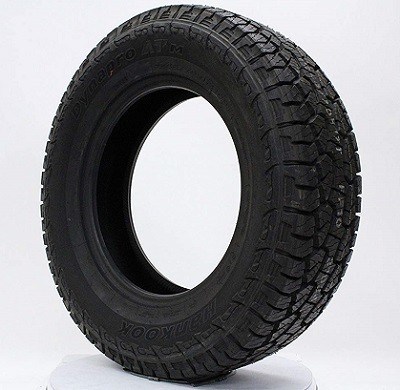 Hankook's 1008718 all-terrain tires are characterized by a waved kerf with deep two-step sipes that enhance your car's handing in wet conditions while also extending the tread's lifespan.
Scallop grooves are also included as part of the tire's design, and these enhance the tire's ability to grip for increased off-road traction while tiered side grooves reduce the moving angle of the tread block for safer cornering.
Other features include a wide footprint that is 7-8% wider than other similar tires in this category, which results in good grip and acceleration, a durable nylon-reinforced construction with a wraparound tread for puncture resistance, and stone ejectors to prevent stones from sticking in.
However, you only get 1 tire per set and without a rim.

---
7. Cooper Tire 90000032686 All-Terrain Tire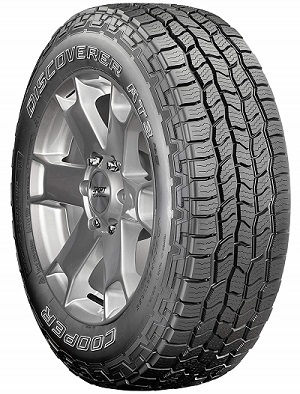 With an adaptive traction technology, Cooper Tire's 90000032686 is one of the best all-terrain tires for snow because it is made using a silica-based all-weather compound plus all-terrain treads, which adapt to wet, dry, hot or cold temperatures so as to give consistent grip.
Other than this, the tire also has a durable and rugged tread construction, which bolsters its overall strength so as to withstand sharp gravel with minimal wear.
More features include a sturdy radial construction, white sidewall lettering and a T speed rating, which means you can drive your car at speeds of up to 118 mph. However, you only get a single tire per set.

All-Season Tires vs. All Terrain Tires
All-season and all-terrain tires may have almost similar names, but they are very different when it comes to functionality. All season tires are actually not designed for off-road use but can be used all year round in all seasons on roads.
That said, such tires are designed to perform much better on highways than their all-terrain counterparts, giving you a smoother, quieter and more fuel-efficient ride.
If you drive on the tarmac most of the time, all-season tires should be your go-to option, especially because they handle snow and wet conditions better as compared to all-terrain units.
All-terrain tires, on the other hand, can be used both on-road and off-road, but they are more suited towards off-road use. There is a performance trade-off on highways, especially in wet or snowy conditions. However, if you spend most of your time off-road, these tires are the best.
How to Buy the Best All-Terrain Tire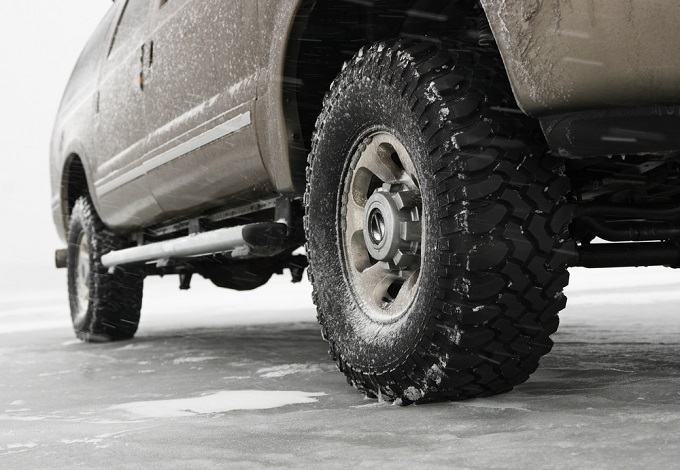 There is usually a lot to check when selecting tires and for the all-terrain type, here is what you need to consider.
1. Reinforced Tire
Since they are all-terrain tires, the expected playing ground is on muddy, rocky, sandy, wet and snowy surfaces, which are not forgiving to the rubber. For this reason, ensure that the tire you buy has features such as reinforced sidewalls, steel cable reinforcement for rigidity and others.
These features help to keep the tire in shape so that it provides the required traction for better handling in all kinds of terrain. Additionally, the reinforcements help to prevent puncturing while also being abrasion resistant for durability purposes.
2. Tread Pattern
Treads play a crucial role in biting into the surface below for grip and traction. That said, there are two main types of tread patterns, which are:
Large Treads
Large treads with deep grooves are the best for off-road driving. With many deep treads, the surface area for biting into the slippery or rocky terrain is increased, which results in better handling and reduced chances of getting stuck.
On the downside, such a tire can be very noisy when driven over the tarmac.
Small Treads
Tires with small treads are definitely weaker off-road than their large tread counterparts, but they capitalize on their design by providing better grip on-road.
Because tarmac is firmer, deep grooves will have a reduced surface area to grip onto the road as compared to small, shallow treads. They are also quieter as compared to tires with deep treads.
3. Size
Of course, for a tire to tire to be of any use, it must fit on your car's rim and wheel well. Given in inches, the rim or inner diameter is usually indicated on the tire's sidewall marking (as explained above), and this should match the rim size that your car has.
As for the outer diameter, this is usually also labeled in inches and it is important to get a fitting size. If you get one that is too large, it may get into contact with the car's body when heavily loaded or when driving on bumpy surfaces.
4. Rubber Quality
You should also consider the quality of the rubber used in the tire's construction because everything about off-road driving involves high performance.
Grip and toughness are very important factors and if the rubber is designed to give these benefits, the better. Features to look for include silica or carbon compound treatments, which result in consistent grip on snow, mud, etc. for improved control.
5. Small Sipes
Sipes are the thin slits that are cut across the rubber, which look like small veins. These work together with the treads to improve on traction, especially on wet or icy conditions. You should definitely consider tires with these slits because of the benefits that come with them.
6. Stone Ejectors
Driving on rocky surfaces, especially with tires having deep, large treads may cause stones to stick in. If this happens, these stones will most likely cause very serious damage to the underlying rubber surface, while also compromising on grip and traction.
Because of this, always ensure that the tires you get have a stone ejection feature, which prevents stones from sticking in and drilling into the rubber.
7. Self-Cleaning
This might be a bit confusing at first. A self-cleaning feature does not mean that the tire washes itself. Rather, it means that the tread patterns are designed in a unique way that makes it easy for mud and dirt to roll out, just as it was easy for it to roll in.
By doing this, the tires provide reliable grip and traction because if the treads are fully covered up, the surface area for making contact with the ground is significantly reduced. This will cause slipping and overall poor performance.
8. Noise
Noise is usually an issue when doing on-road driving because the sound is heard as the tires travel at high speeds on a smooth surface. If this is not a big issue for you, then you can buy any tire that you want.
However, if this is a big issue, first and foremost, you should note that regardless of the acoustics or different tread pattern designs, the factor that influences the amount of noise produced is the tread depth. The deeper they are, the noisier the tire will be on-road and vice versa.
Therefore, if you want quiet driving, buy a tire with a shallow tread groove depth, which is usually given in millimeters or seconds-inches.
Conclusion
In summary, buying an all-terrain tire requires you to clearly know the features that will positively impact your experience for the kind of driving that you want.
This is because there are tires that are purely meant for off-road racing while others are suitable for both on and off-road driving, with a slight compromise on both sides.
That said, this article gives you the best all-terrain tires in the market, with a buying guide that will help you identify the most suitable set for your car and driving conditions.
Sources
All-Season Versus All-Terrain Tires - TireBuyer