Tire chains are important when there is snow on the road and you need to drive through. They come in different sizes and using different techniques, so it's often not easy to choose.
Tire chains attach to drive wheels to help produce more traction and lessen the dangerous effects of snow. They have been around since 1904 and are often mandatory in most cities during snowy conditions.
In this tire chains review, you get a list of the top tire chains in the market, plus a buying guide to help make your choice easier.
Editors' Picks for Top Tire Chains of 2021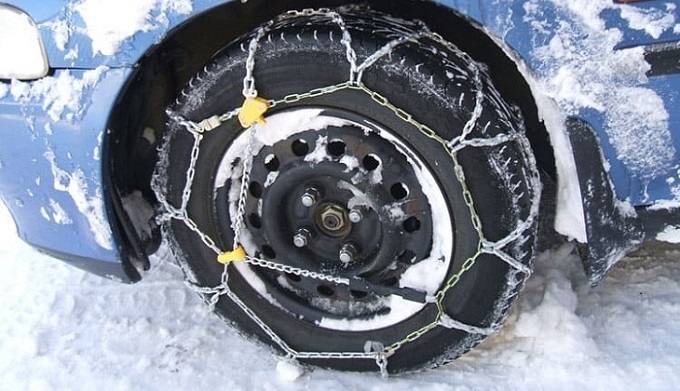 Summary of 7 Best Tire Chains
IMAGE
PRODUCT
FEATURES

1. Security Chain ZT729 (Best Overall)

Features a fast and easy installation
Includes a built-in automatic tightener
Z-chain design for top traction

2. Security Chain QG20070

Adds automatic tensioning to any tire chain
Works with most link chains
Comes at a low and attractive price

3. Konig XB-16

High-quality chains from Konig
Diamond pattern for good traction
Comes with a 5-year warranty

4. Security Chain QG2228CAM

Tire chains designed for optimal traction
Available in cam and non-com versions
Offered at an attractive price

5. TerraGrips ST90001

Rubber slat tire chains with good traction
Protects your floor from the damage of chains
The package has a set of two chains

6. Quality Chain 1046

Low profile carbon steel rollers
Fits a range of tires
Produces lower noise and vibration

7. Security Chain Super Z6

Z-chain tire chains with rubber tighteners
S.A.E. Class S clearance standard
Backed by a 1-year warranty

8. Security Chain 231705

High-quality diamond pattern tire chain
Features the Auto-Trac automatic tightener
Comes in a convenient carrying case

9. Konig XG-12 Pro

Diamond-patterned top-quality tire chain
Includes and auto-tensioning system
Backed by a 5-year warranty

10. Security Chain SC1038

Simple and easy to install system
Needs no extra tensioner
Made from stainless steel for durability
1. Security Chain ZT729 - Best Overall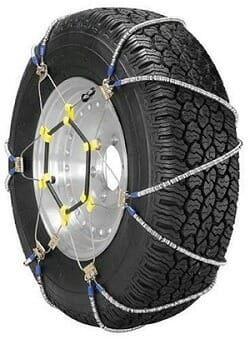 If all you want is a good tire chain for your SUV or truck, then check out this offer from the Security Chain Company. It comes in five different versions, so you're guaranteed to find the perfect size for your vehicle.
Another great feature is its built-in tensioner, which automatically tightens the chain as you drive, making it unnecessary to stop and tighten the chains.
The package includes two chains and they feature a Z-chain design for top traction on the road. It also meets the S.A.E Class S grade low clearance requirements for vehicles with limited clearance.
For its cons, you can only get this chainset for SUV or truck tires, and it also comes with a rubber tensioner, which opens up questions about durability.

---
2. Security Chain Company QG20070 Quik Grip Chain Rubber Tightener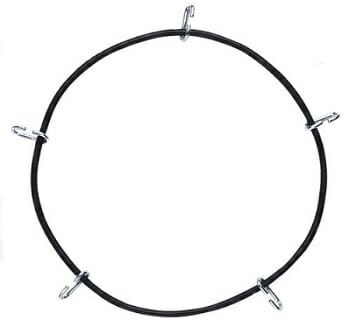 Most chains come with a manual tightening system and this means stopping often to tighten and align your vehicle's tire chains. With this offer, however, you can save yourself the headache.
As a top-rated tire chain tightener, it's made from rubber and comes with five metallic hooks that pull the tire chain together to keep it tight and aligned.
On disadvantage is that it won't last forever because it's a rubber body under heavy tension. This offer is also just for the rubber tensioner and does not include any tire chains.
On the positive side, it's a simple and cost-effective way to save yourself the trouble of constantly having to stop your vehicle on a snowy road, just to tighten and align your tire chains.

---
3. Konig XB-16 Manually Tensioned Tire Chain
This tire chain offer from Konig offers a 16 mm clearance and is specially designed for RVs, large trucks, and for other off-roading vehicles.
The chains are sturdy, rust-resistant, and they offer excellent traction on both snow and ice. Their diamond pattern combines with the integrated tensioner to give this high level of traction and reliability.
Faults with the Konig XB-16 include that you have to manually tighten the chains and the offer is also comparably costly because you can get cheaper tire chains.
However, Konig backs it up with a 5-year warranty and includes lots of accessories in the package, including a storage container, gloves, a kneeling mat, and mounting instructions.

---
4. Security Chain QG2228CAM Light Truck Chain Set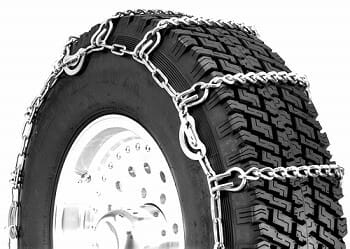 The Security Chain Company makes an extensive variety of tire chains for all vehicle types and tire sizes. This offer is for a set of two chains designed for light-duty trucks.
The chains feature a standard ladder-style chain pattern and are available with or without a cam system. If you choose the cam system, then you can use the cam tool with the included instructions to easily keep your chains tight.
For downsides, these chains only fit large tires for light-duty trucks and they don't meet the S.A.E. Class S requirements. Even when you buy the non-cam version, you'll still need to separately buy a chain tensioner.
On the brighter side, the cam system is metallic and better than having a rubber tensioning system. The package comes with a plastic storage case and it comes backed by a 1-year warranty.

---
5. TerraGrips ST90001 Rubber Slats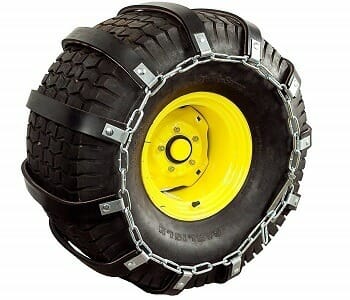 One issue with tire chains is that they can damage the flooring and so, TerraGrips comes up with this innovative offer to offer your better traction, while protecting the floor.
It works well on snowy surfaces, mud, gravel, mulch, and more. You can use it to protect your concrete, brick, and asphalt driveways, as well as other floors that you cherish.
Installation is relatively simple and this makes it one of the best tire chains out there. Just install the chains on your lawnmower or other vehicle and you're good to go.
One inconvenience of these chains is that they are designed for only 8-inch tractor tires and they are also relatively costly. They come, however, as a set of two in the package, are made from corrosion-resistant materials, and backed by a 1-year warranty.

---
6. Quality Chain 1046 Cobra Galvanized Carbon Steel Rollers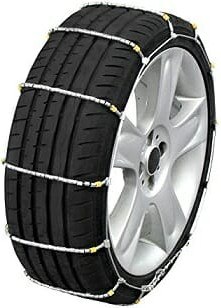 Made using tough carbon steel rollers, these easy to install tire chains offer you improved traction and durability. They have a low profile, which makes them great for low clearance vehicles and increases the vehicle's tire to road contact.
These chains work well on vehicle's with low clearance, plus they are fully galvanized, so you don't need to worry about rust or durability issues.
You also get less noise and vibration as a result of this tire chain's design, making it one of the best low profile tire chains out there.
For cons, the package doesn't include the rubber adjusters, so you'll have to buy them separately. Its ladder pattern is also not as effective as Z-chains, but it works with an extensive range of tire sizes and they're also the cheapest chains so far in this review.

---
7. Security Chain Super Z6 Z Tire Chain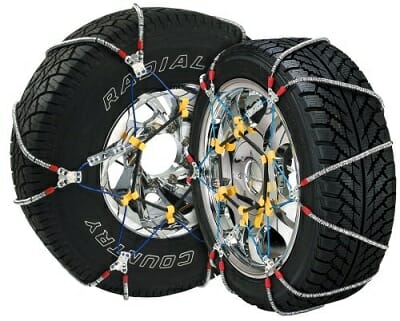 Designed in 17 different models, Security Chain makes this Super Z6 tire chain for a range of vehicles, including sedans, SUVs, trucks, and lots more.
The package includes two chains and they offer fast and easy installation, as well as a low clearance that passes the Class S clearance standards, making it one of the best tire chains for trucks.
You also get an in-built rubber tightener, so there's no need to buy or install any extra tightening or alignment system. Security Chain Company backs it with a 1-year warranty.
Issues with this offer include its high price, plus, its rubber fasteners won't last forever. Its Z-chain design is highly efficient though, and it's very compatible with electronic traction management systems.

How to Buy the Best Tire Chains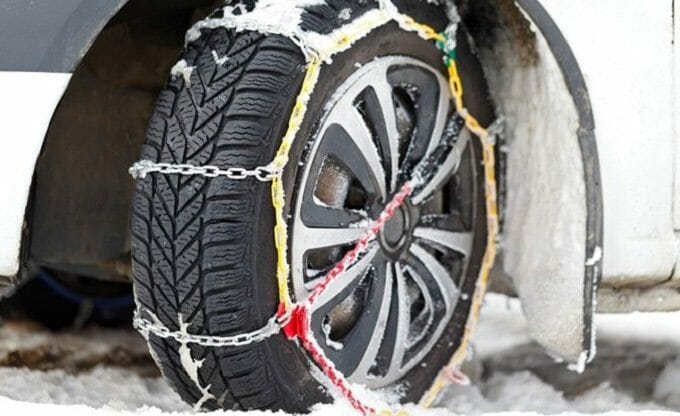 Tire chains offer you the ability to drive with better traction on snowy roads, but all tire chains aren't made equal. There are snow chains for large SUVs, trucks, and even small sedans and hatchbacks, so you need to know how to choose rightly.
Following are the most important aspects and features of the best tire chains. By studying, understanding, and watching out for them, you'll be able to make an informed decision, when the time comes for making your choice.
1. Tire Size
Your first step is to find out the size of your vehicle's tires because tire chains get designed by tire sizes. You can either use many of the many online tire size finders by selecting your vehicle make and model, or just take a look at your tires.
There are three numbers to pick out that are usually on the sides of any tire. The first three digits usually stand for the tire's width, while the next two digits are the tire's height, with the third number following an 'R' and standing for the wheel's diameter.
Once you have your tire's size, simply find a tire chain offer that fits your tires.
2. Types of Tire Chains
Asides from size, you'll also need to understand the different types of tire chains that are available, as well as the advantages and disadvantages of each type. This will enable you to choose the best fitting chains for your vehicle. The different types are as follows.
Entry Level. This is a group of tire chains that are best suited for occasional use. They offer a slightly improved level of traction that is often of tremendous help in emergencies.

Some entry-level chain models include tighteners or other accessories to aid with their installation. You should note, however, that entry-level chains are not ideal for serious and steady use.
Standard. These offer better grip and traction than entry-level chains and they are more durable as well. Standard tire chains also come with more accessories to make installation easier.

If you are in an area that gets regular snowfall and you need reliable tire chains that will last you for at least a season, then standard chains are the way to go. They also cost more than entry-level chains.

Premium. With premium snow chains, you get the best in traction and braking performance, coupled with components that last you for many seasons.

Premium tire chains are the perfect solution for any driver who wants the very best. They include all the bells and whistles you can ask for, but they also cost more than the other offers.
3. Link Types & Chain Patterns
Chain link type here refers to how the chain links look and connect. The three major link types that you'll find are square links, D-shaped links, and twist links. Square links have the best traction but offer the roughest rides, while the other two vary considerably.
Chain patterns refer to how the chains lay over your tires. Patterns are important because they affect the chain's traction level and ride smoothness. Popular patterns include ladder-style, diamond, Diagonal, and full-coverage chains, which produce the most traction.
4. Z-chain vs Radial Chains
These are two basic types of chain patterns and they each have their pros and cons. Radial chains are evenly spaced like a ladder, while Z chains have a Z pattern that zigzags across the tire.
Radial chains have the advantage of lower cost, but they don't have as much grip on the road as Z-chains. It's left for you here to choose between grip and lower cost.
5. Durability
A tire chain's durability depends on its manufacturing quality and on how often you use it. There's no simple solution here because everyone has different needs. So, it's left for you to find your balance between build quality, use frequency, and cost.
6. Ease of Use
Different tire chains come with different extra features to make it easier to use, depending on how much they cost. One of the most important convenience features in a tire chain is its adjustment, and it includes manual, assisted, and fully automatic adjustments.
Manually adjusted tire chains are found in most standard and lower cost chains. You need to drive on to them before you hook everything in place. With assisted adjustment chains, you'll get some sort of pull or cams to help in fitting and securing the chain in place.
You'll find automatically adjusting tire chains mostly in premium models and what they do is to tighten themselves on your tires as you drive. They are best for when you need to drive often in the snow because they free you from having to check, tighten, and align your tire chains.
The Legality of Tire Chains in the United States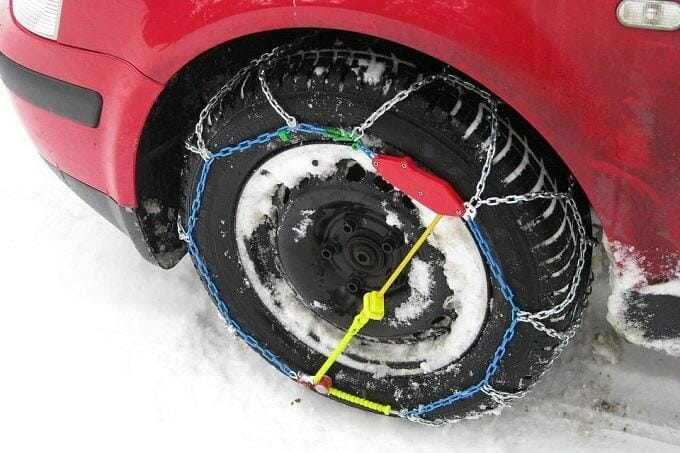 Tire chains are a safety necessity and therefore required on vehicles at times when the snow on the roads could cause accidents. This doesn't mean, however, that having tire chains on your car's tires is legal.
Different states in the United States have different tire chain laws, so it's important that you know these exact laws of the state where you plan to drive in or drive through.
Appropriate Time to Use Tire Chains
As already mentioned above, different states have different snow chain laws, so you need to tackle them individually. For instance, there are no chain laws in Florida, while Delaware allows tire chains when the road has snow on it.
Many states simply don't allow tire chains on paved roads between April and September, while others will paste signs along the road to let motorists know when to use tire chains.
In the end, the time to use tire chains is during the winter months, when there's snow on the roads that can lead to an accident.
Conclusion
We've reached the end of this tire chains review and you've seen all the different sizes and styles out there, including those with automatic tensioners and the manual ones.
It's now your turn to make a choice based on the type of your vehicle, its tire size, and how much money you want to spend.
Sources
Learn About Tire Chain Laws in Each State - The Balance