A pick-up truck is as good as it can get when it comes to sturdy and rugged vehicles built for ferrying heavy loads in almost any terrain.
But, while your truck will help you move cargo it does little to protect it from the element. For this you need a tonneu cover. However, because not just any cover will do, a good idea should be to get the best retractable tonneau cover.
Retractable tonneau covers are the truck bed covers that are typically made from interlocking aluminum panels. And they are designed to retract neatly into a canister at the front of the truck bed to give you access to the truck bed.
This piece is all about helping you find a good retractable tonneau cover, and we do this with our review of top 10 products and by highlighting the important things you need to consider when shopping.
Top Retractable Tonneau Covers of 2021 by Editors' Picks
Summary of 5 Best Retractable Tonneau Covers
IMAGE
PRODUCT
FEATURES

1. Gator Covers G60374 (Best Overall)

Size - 6.5 feet
Compact canister
Easy no-drill or cut installation
Key lockable in any position

2. Roll-N-Lock LG447M (Best Lockable)

Size - 5.7 feet
Quick opening and closing
Lockable in various positions
Durable aluminum frame

3. Retrax 60373 (High-Quality for F-150s)

Size - 5.5 feet
Easy opening and closing
Tough and scratch-resistant finish
Lockable in any position

4. Gator Covers G30373 (Inexpensive but Great Quality)

Size - 5.5 feet
Relatively more affordable
Unlimited locking position
Slim profile canister

5. Retrax 80373 (Heavy-Duty, Low-Profile & Convenient)

Size - 5.5 feet
Super strong aluminum construction
Low profile design
Lockable in any position
1. Gator Covers G60374 - Best Overall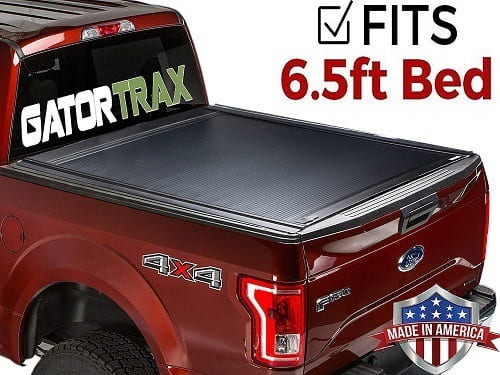 Fits: 2014-2018 Chevy Silverado, GMC Sierra with wide rails
Size: 6.5 feet
Gator has been making some of the best retractable bed covers for many years now and so you can always trust them to know what works well for your truck.
This particular top-rated retractable tonneau cover will be a perfect choice for those that have 2014-2018 Chevy Silverado or a GMC Sierra with the wide rails deign.
It is made with polycarbonate slats that are design to withstand many years of abuse and will offer significant weather resistance. Also, these slats can hold up to 300 pounds of evenly distributed weight.
The compact canister design is also a great addition to the tonneau cover as it ensures that you will get maximum bed usage. Also, the cover uses sealed maintenance-free ball bearing that will never freeze to ensure you never have to worry about jamming.
Installing this cover is fast and easy process that will not require any drilling or cutting and it is also lockable with a key in any position.
Besides the tough build quality, this retractable cover will also look amazing on your vehicle thanks to the low-profile design and high gloss finish that gives it an appealing mirror look.
This tonneau cover is not completely waterproof but the good news is that it still keeps most of the water out.

---
2. Roll-N-Lock LG447M - Best Lockable Tonneau Cover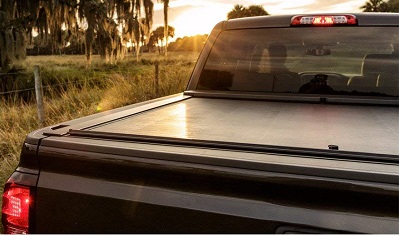 Fits: 2009-2018 Dodge Ram 1500
Size: 5.7 feet
If you prefer the strength and rigidity of aluminum retractable tonneau covers, this is a perfect choice for you. And it also has a vinyl layer for added protection.
Besides the laminated aluminum construction that offers maximum protection for your cargo, this cover is also made with a unique hinge system to provide smooth and frictionless operation.
The truck bed cover uses a heavy-duty torsion spring drive that will ensure both opening and closing only take a few seconds. All it takes to open it is a simple turn of the lever and there is a built-in pull strap to make opening even more convenient.
There is also a ratchet-style locking mechanism that will make it possible to lock it at various points and the clamp-on design if the cover will make installation relatively easier.
While the included instructions might be a little off, this retractable tonneau cover is still straightforward to install, and this should hence not be the deal breaker.
Installation instructions are a little off

---
3. Retrax 60373 - High-quality Cover for F-150s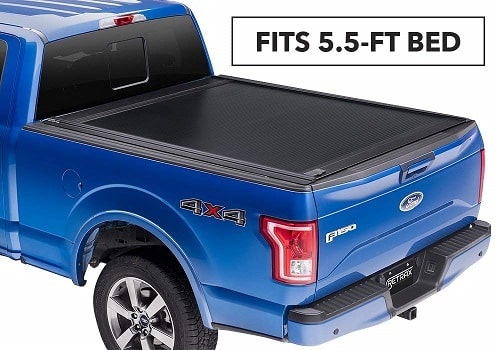 Fits: F-150 Super Crew and Super Cab
Size: 5.5 feet
For the truck owners that drive an F-150 Super Crew or Super Cab truck, here is a high-quality truck bed cover that will help keep your cargo secure while also improving the trucks aesthetics.
Opening and closing the retractable toneau cover should be fast and easy thanks to the sealed ball bearings.
The truck bed cover is made with a spiral track storage canister that comes in a low profile design to ensure it does not affect cargo access and also helps to prevent the cover from rubbing on itself.
With the durable polycarbonate and aluminum rods for reinforcement, you can be confident that this truck bed cover is sturdy and durable enough.
Other things that make this one of the best retractable tonneau covers for F-150 include the fact that it is lockable in any position and that it comes in a low-profile design that will help streamline the overall design for improved gas mileage.
Installation is also a relatively straightforward process as it comes with the necessary hardware and instruction and you will not need to do any drilling.
This tonneau cover needs to be more weather-resistant as it leaks a little around the corners but making it tighter should solve this small issue.
Needs to be more weather-resistant

---
4. Gator Covers G30373 - Inexpensive but Great Quality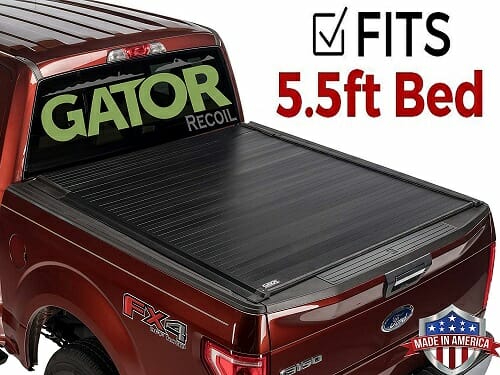 Fits: 2015-2019 Ford F-150
Size: 5.5 feet
Here is another gator cover that many F150 owners will love having on their vehicle. It is the cheapest item on our retractable tonneau cover review, but it is still well-built and quite durable.
The tonneau cover is made with some strong aluminum slats that are powder coated and with a textured matte finish to withstand the elements.
The slim canister is designed to offer maximum protection to the cover when retracted and it will also not take up a lot of precious truck bed space.
Opening and closing the cover is quite easy and convenient thanks to the quick release handle on the driver's side.
Also, the 5 intermittent locking positions and movable latch stops will provide unlimited locking positions to ensure that you can still use your truck to carry different types and sizes of cargo.
With the overall low-profile design of this truck bed cover and the textured black matte finish you can be sure that it will look fantastic on your truck. Also, the low-profile design can help provide significant gas savings.
While this retractable tonneau cover might not be as tight or watertight as other pricier models but for its price it is still good enough.

---
5. Retrax 80373 - Heavy-duty, Low-profile and Convenient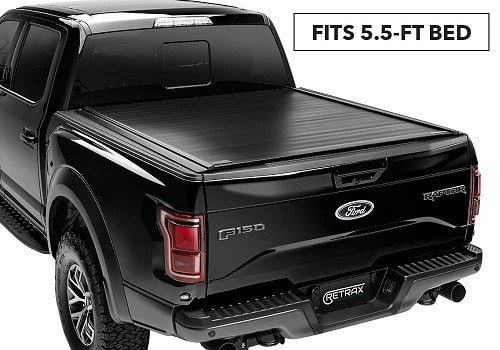 Fits: F-150 Super Crew, Super Cab and Regular Cab
Size: 5.5 feet
Whether you have a Regular Cab, Super Cab or Super Crews F-150, the Retrax Pro MX will be an ideal retractable bed cover for you.
Besides the fact that it will fit most F150s, it is also a highly durable cover and this should explain the relatively higher price tag when compared to others on our retractable truck bed cover review.
Retrax makes it with heavy-duty aluminum slats that are designed to last for a long time and to be super string as they can hold up to 500 pounds of evenly distributed weight.
Opening and closing this cover is quick and easy thanks to the sealed ball bearings. And it is also lockable in any position to give you more cargo hauling options.
The low profile design and the tough matter finish that resistant scratch help to ensure that this tonneau cover will look great on your truck. This truck bed cover is backed by a limited lifetime warranty and so you can buy it with some assurance that it will serve you for long enough.
When compared to others on our list this tonneau cover is a little pricier, but it makes up for this with its top-notch quality construction.

How to Buy the Best Retractable Tonneau Covers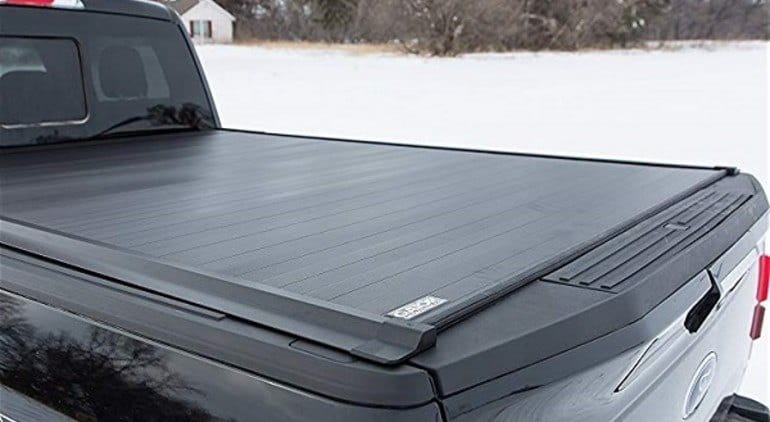 Retractable tonneau covers are often more convenient and secure than the roll-up and folding types and also easier to remove that the hinged types.
However, to get the full benefits that come with these truck bed covers you need to choose the best from the many models out there. But, this should be easy if you consider the following things when shopping.
1. Compatibility
Any truck bed cover that you buy should be compatible with your truck bed's size. Most retractable tonneau covers cannot be adjusted to fit different vehicles because like most other types of truck bed covers they are design for very particular vehicles models and makes.
Compatibility should not be hard to figure out because many manufacturers and retailers will specify the truck models, makes and year of manufacturer that the particular cover is meant for.
But, note that aftermarket bedliner or truck bed enhancements can also affect compatibility, so you also need to take them into account.
2. Material
Retractable truck bed covers are generally more expensive than the folding and roll-up types and so whatever you buy should give you the best value for your money.
The best way to ensure this is by going for something made of a high-quality material. Aluminum is the most common options but you still need to make sure that it is heavy-duty enough.
Vinyl coated aluminum slats are also a great material choice thanks to the added layer of protection. Also, polycarbonate slats can also be tough enough and highly durable and this explains why more and more manufacturers are using them to make retractable bed covers.
3. Weather Resistance
A good retractable tonneau cover is one that is effective in protecting your cargo from the elements. No matter how sturdy a tonneau cover might be it will still not serve you well if it cannot protect your gear and equipment from the rain, snow and other elements.
Weather-resistance is not only important for providing protection for your luggage but also to the tonneau cover.
If it is not weather-resistant, the truck bed cover can get damaged when exposed to the sunlight, heavy rain or snow for extended periods which means you will not get value for your cash.
Retractable covers with a layer of padded polymer vinyl are often good enough for milder weather conditions, but for those that have to face strong winter climate a powder-coated aluminum cover will be a better choice.
4. Ease of Use
Although the retractable truck bed covers might look more complicated than the popular folding and roll-up covers, they can still be easy and convenient to use.
When it comes to the ease of use the most important thing to watch out for is how the cover opens and retracts. The best ones are the types that allows for quick and smooth rolling as the make it easy to access your truck bed.
Also, some will even take things a note higher by being fully automatic. Some will use a switch to open and close while other will come with a remote control that will make them super easy to use.
If you still prefer the more affordable manual retractable tonneau covers, make sure that whatever you buy does not take a lot of effort to open and close or it is not prone to getting stuck frequently.
5. Ease of Installation
Because the retractable tonneau covers are some of the priciest types you do not want to have to spend more money to pay a professional to install yours.
Hence, before you buy any of these covers you should make sure that it will be easy enough for you to install and also without having to use any special tools.
The easiest retractable truck bed covers to install are ones that will come with all the required hardware and installation instructions. Also, those that will not require any drilling or cutting are the easiest and fastest to install.
6. Warranty
Because retractable tonneau covers will require significant cash investment, it is important to make sure that whatever you buy serves you for long enough.
Besides going for something from a reputable brand you should also make sure that the cover comes with a warranty as this is what will give you some assurances that it is well-built and long lasting.
Some companies will provide a limited lifetime warranty for their retractable covers. But, this is quite rare for these truck bed covers and so you should go for something that comes with at least a 2 to 3 years warranty.
Conclusion
A good retractable tonneau cover will help protect your cargo from the elements, improve gas mileage, make the truck bed easier to organize and also enhance your truck's overall appearance.
Finding the perfect retractable truck bed cover for your vehicle should not take a lot of effort as you only need to consider factors like compatibility, weather resistance and ease of use.
With these factors in mind and our review above for recommendations, you can be sure of ending up with something high-quality.