When it comes to cleaning your wheels and tires, you need to have the best wheel and tire cleaner, as regular cleaning agents like soap and detergents will not be very useful.
Wheels and tires will accumulate lots of dirt and road grime, which can be hard to remove with regular soap. These cleaners are also formulated for cleaning various wheel and tire materials like rubber, chrome, and alloy while also being easy to spray on for a simple application.
However, there are many varieties of wheel cleaners in the market. But, we have narrowed down a list of some top-rated models and give you a buying guide to ensure you have an easier time choosing your preferred product.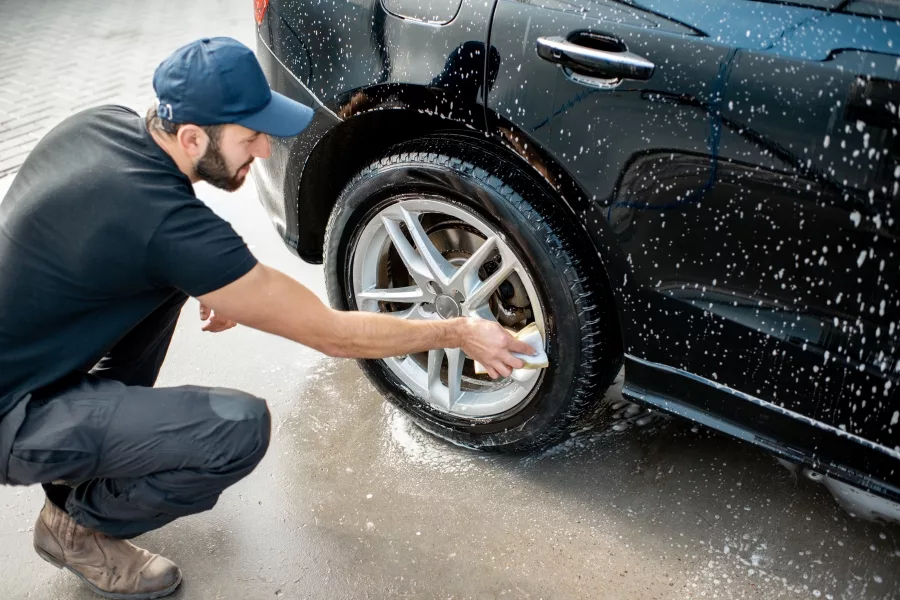 7 Top Wheel and Tire Cleaners of 2021 by Editors' Picks
Summary of 7 Best Wheel and Tire Cleaners
IMAGE
PRODUCT
FEATURES

CarGuys WCG-18OZ

1. CarGuys Premium WCG (Best Overall)

Highly concentrated formula

Safe for all wheels & tires
Acid-free & pH balanced
Environmentally friendly

Sonax 230200-755

2. Sonax 230200-755 (Best for All Wheels)

Suitable for all types of wheels
Color-changing formula
Acid-free & pH balanced
VOC compliant

Meguiar's G9524

3. Meguiar's G-9524 (Best Inexpensive)

Highly affordable
Easy & convenient to use
Safe for clear coated & factory painted wheels

Leaves a brilliant shine

TriNova 5864129805

4. TriNova Premium 33513 (Best Spray)

Convenient spray bottle
Tough on stains & restores shine
Safe to use on all rims & tires
Completely acid-free formula

Meguiar's G180132

5. Meguiar's G180132 (Fastest-Acting)

Fast-acting formula
Tough on road grime & dirt
Safe on painted brake components

Acid-free & pH balanced

Chemical Guys CLD_203_16

6. Chemical Guys CLD_203_16 (Best Citrus-Based)

Citrus-based acidic cleaner
Highly concentrated formula
Can be diluted for light-duty use
Suitable for different wheel finishes

Adam's Polishes DWC-16

7. Adam's Polishes DWC (Best for Heavy Brake Dust)

Potent formula
Color-changing formula
Acid-free & pH neutral formula
Safe for most wheel finishes
1. Best Overall: CarGuys Premium WCG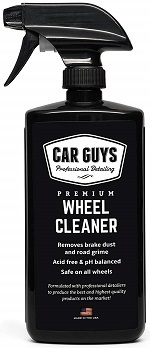 CarGuys' WCG-18OZstands out as our best overall cleaner with its highly concentrated formula. This potent formula removes the corrosive road salts, which can damage protective clear coats over the rim and cause rust. Additionally, the cleaner also gets rid of winter grime, leaving your wheels and tires sparkling clean.
What's more, it will work for all kinds of wheels and tires. This cleaner is safe for various materials, including alloy, chrome, anodized and clear coats.
The CarGuys' WCG-18OZ has a non-corrosive, acid-free, and pH balanced formulation that will not damage the surfaces and makes it more environmentally friendly.
And if you have a classic vehicle with some beautiful white-wall tires, it will be very effective at cleaning and brightening them up for a more pleasant look.
This cleaner can leave a haze and does not spray very well. The good news is that this is simple to remove, while the spray is easy to manage with extra keenness when applying the cleaner.

---
2. Best for All Wheels: Sonax 230200-755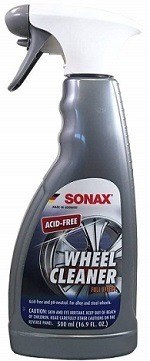 The Sonax 230200-755 has a unique formula that allows you to use it on all wheel types. Better yet, this cleaner is safe for all kinds of wheel finishes from chrome and aluminum to clear coat, PVD, and plastic wheel covers.
The product is also safe to use on motorcycle wheels and custom wheels. And it is VOC compliant, which makes it very environmentally friendly.
When applied, the cleaner is fluorescent green but changes to red as the dirt loosens. Hence, you can even watch the cleaner work. But remember to give up to 10 minutes before rinsing for maximum effectiveness.
That said, this Sonax gel is very effective at removing dirt and brake dust. Also, the product removes baked-on brake dust that has been on the wheel for some time.
However, you will not get a cleaning towel, and so you should buy one separately. Though it may cause skin and eye irritation, this cleaning solution is acid-free and has a pH neutral formulation.

---
3. Best Inexpensive: Meguiar's G-9524

Meguiar's G9524 is a more affordable wheel and tire cleaner that will be perfect for motorists looking to save a few bucks. Besides being inexpensive, it produces a clinging foam that sticks to vertical surfaces to allow enough time to dissolve grime and brake dust.
The cleaner is also straightforward and convenient to apply since it comes in a trigger spray bottle with a contoured grip area for easy holding.
Once applied, the solution is effective to the point you can see dirt and grime lifting off the rim or tire.
That said, this product is safe to use on clear-coated and factory painted wheels, as well as all kinds of tires, and leaves your rims with a brilliant shine.
The most notable shortcoming is that the cleaner is not ideal on painted or aftermarket brake components. But, other than this, it works for most other tire surfaces.

---
4. Best Spray: TriNova Premium 33513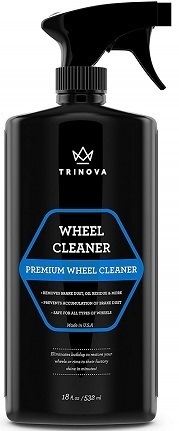 The TriNova Premium 33513 is packed in an extra-long spray tube that reaches deep down into the corners. Besides making it easy to apply, tilting the bottle as you spray ensures you use up the product to the last drop for minimal wastage.
The cleaning solution has an acid-free formula that is safe to use on all wheels, which basically covers chrome to aluminum rims and even white-wall tires.
On all these surfaces, the cleaner is very tough on stains. The potent formula penetrates deep into road salt, snow grime, brake dust, oil residue, and other stain types. And it is very effective at restoring your wheel's shine to an original, showroom-like appeal.
For the drawback, there is no dressing applicator or microfiber towel in the package. However, these are inexpensive and easy to get online.

---
5. Fastest-Acting: Meguiar's G180132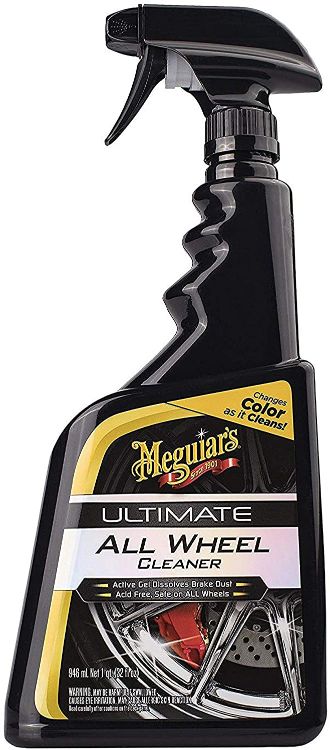 You will never have to spend a lot of time cleaning your wheels with the Meguiar's G180132 as it is a super-fast acting cleaner. The active gel in the cleaner dissolves brake dust quickly. What's more, the cleaner is color-changing as it turns to purple as the dirt dissolves to give you an indication of effectiveness.
This wheel cleaner is tough on the dirt and road grime but does not damage the wheels. Because the formula is acid-free and pH-balanced, it will be safe for all kinds of wheel finishes.
One more thing many motorists will love about this wheel and tire cleaner is that it is easy on your brakes. The cleaner does not affect painted brake components.
Although this product seems a little too mild, this is not necessarily a drawback. The mildness means it will not damage the wheels. The sprayer quality is also not the best as it seems prone to leaks. But, you should still spray quite well and is hence not a deal-breaker.

---
6. Best Citrus-Based: Chemical Guys CLD_203_16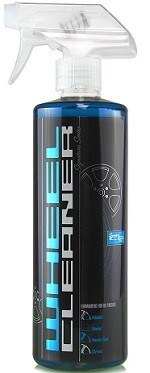 The Chemical Guys CLD_203_16wheel-and-tire cleaner is citrus-based, which gives it the strength required to remove thick, stubborn grime and metallic contamination.
The cleaner has a highly concentrated formula that is best for heavy-duty dirt removal and is 35% stronger than other cleaners. Y
ou can use the cleaner on all wheel finishes from chrome and painted to powder-coated.
With this cleaner, you should dilute to a 4:1 ratio to create the ideal wheel cleaning solution. Better yet, you can mix further to an 8:1 ratio for light-duty cleaning jobs.
Because this is a citrus-based cleaner, it will be slightly acidic. However, the acidity is still not high enough to damage the wheels and tires.

---
7. Best for Heavy Brake Dust: Adam's Polishes DWC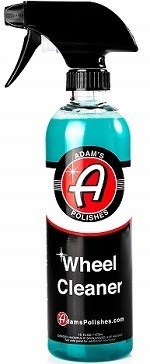 Adam's Polishes' DWC-16 uses a more potent formula that removes the massive brake dust build-up and does it much faster. The formula is color-changing and turns from blue to bright purple, and it lets you watch the brake dust bleed out of the rim.
The product is also acid-free and pH neutral, making it safe on factory powder-coated, factory painted, chrome, alloy, and all other types of wheels.
On the actual cleaning, apart from cleaning brake dust, the cleaner gets rid of stubborn metallic contamination, as well as salt and water grime. Better yet, this cleaner clings on vertical surfaces to ensure maximum effectiveness.
Other features include a thick formula that sticks to the wheel for more effective cleaning and a screw-on sprayer with an extended straw for reaching down to the corners of the 16-ounce bottle.
However, the cleaner may cause skin irritation and, therefore, should be handled with care.

How to Buy the Best Wheel and Tire Cleaner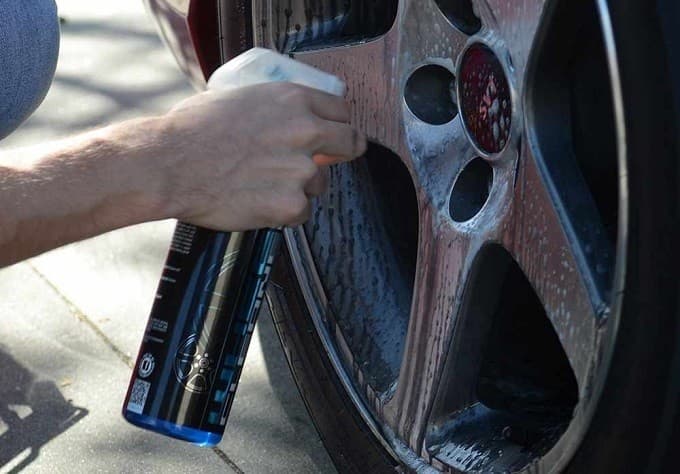 1. Type of Cleaner
Color Change
Some cleaners will change color as they react with the stains. Although this may not affect the product's performance or cleaning ability, it gives you a visual cue, showing whether the solution is working or not.
The color change is beneficial and gives the cleaner an edge over the non-color changing types. Color-changing wheel and tire cleaners like the Sonax 230200-755 also tend to be easier to use, thanks to the visual aid.
pH Neutral
This property is usually indicated on the labeling, and a cleaner can either be pH neutral or not. If the product is pH neutral, it will be safe to use on all kinds of rims and tires since the chemical composition is non-corrosive.
A non-pH neutral cleaner is usually acidic and corrosive on chrome, aluminum, steel, and polished metal surfaces, sometimes even to rubber.
On the bright side, this corrosiveness ensures fast and effective cleaning for clear coated or painted rims. The acid won't come into direct contact with the metal below as it removes any impurities above using the strong acidic power.
Rinse Action
Some cleaners will only require some rinsing after use, thereby eliminating the scrubbing step.
This property makes rinse action cleaners like the Mothers 05924 very easy to use, but you may need to spray and respray a few times to clean the wheel to a spotless finish.
On the other hand, those that require scrubbing are a little difficult to use, but this process spreads the liquid to all the crevices. Hence it aids in removing stubborn stains, reduces product wastage, and provides faster cleaning results.
2. Wheel Material
Wheels, particularly the rim section, are made using different materials. Consequently, most wheel and tire cleaners will often be suitable for use on specific materials.
For instance, some cleaners are designed explicitly for chrome wheels, and you should consider them if your car has such wheels.
That said, you should consider the type of rims you have and buy the most compatible product. But, some products like the CarGuys' WCG-18OZ can work on almost any surface and are hence always a better option as you can use them on different wheel types.
3. Ease of Use
Another vital thing to consider is the ease of use. With a cleaner that includes a trigger spray nozzle, this is well taken care of as it makes the application a breeze.
Other features to look for include checking whether it is a rinse action type of cleaner or not. The rinse action type is easier to use since no scrubbing is required.
Equipment You Will Need to Clean Your Wheel and Tire
1. Pressure Washer
Of course, you need water to clean wheels, but a bucket of water is not very ideal. Pressure washers provide the required force to push stains out of the rim and rubber once the cleaner loosens them.
2. Wheel Brush
A wheel brush enables you to scrub off stubborn dirt and also allows you to reach deep inside the rim into the hidden arches where brake dust or other baked stains hide.
3. Towel
After rinsing, towels are essential for drying off and buffing the wheel's surface so that you can see the results. Once dry, you can determine whether to respray the wheel and tire cleaner or finish the job.
4. Wax
Once you are satisfied with the results, it is vital to finish off the job with some waxing to maintain the shine for a longer time. Waxing also prevents dust accumulation on the surface.
Conclusion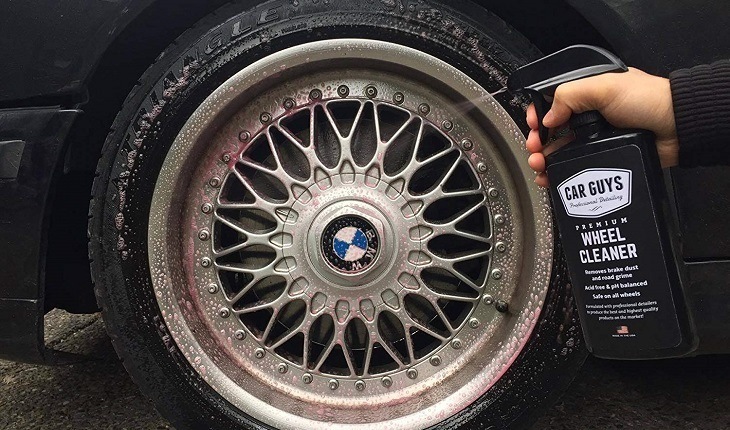 It is essential to take proper care of your wheels and tires. For this, you should invest in the best wheel and tire cleaner. Now finding it should not be a problem with our review to give you recommendations.
To help you narrow down your options even further, the CarGuys' WCG-18OZ is our best overall wheel and tire cleaner. This product has a highly concentrated formula and is suitable for use on all wheels.
Meguiar's G9524, on the other hand, will be a fantastic choice for motorists that prefer a more affordable cleaner, which still does a tremendous job.