As the name suggests, an automotive clear coat is a non-pigmented car body varnish for application over an existing paint job.
Applying a clear coat helps protect the underlying paintwork from the elements, staining, and scratches. Also, it enhances the appearance of the car's paint. To get these and many other benefits, you first need to get the best automotive clear coat.
This post looks at some of the top-rated automotive clear coats you can buy online and provides a buying guide to help you chose one.
Top Automotive Clear Coats of 2021 by Editors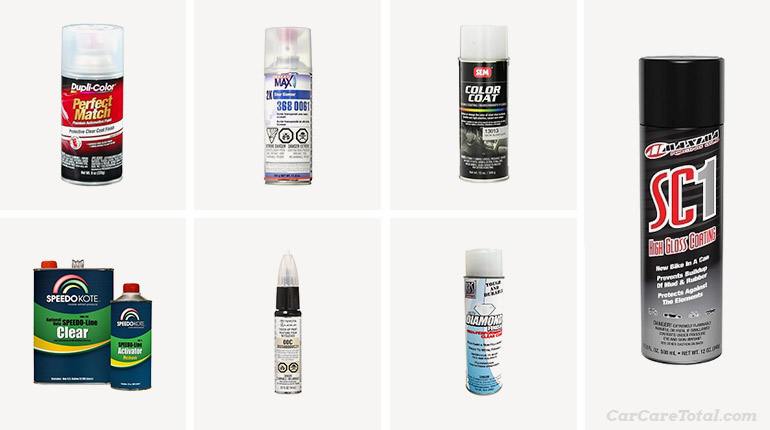 Summary of 7 Best Automotive Clear Coats
IMAGE
PRODUCT
FEATURES

1. Maxima 78920 SC1 (Best Overall)

High gloss coating for any car body painted surface
Adheres strongly
Waterproof, mud & dirt resistant
Fresh, clean scent

2. Dupli-Color BCL0125 (Best Budget)

Budget-friendly
Adjustable EZ touch 360° spray nozzle
Quick-drying formula
Usable over multiple paints

3. UCS 3680061 (Best Spray)

Easy spray application
Maximum scratch & abrasion resistance
Excellent polishability
Long-lasting gloss

4. SEM 13013 (Best for Plastic & Vinyl)

Restores color for vinyl & plastic
Fade-resistant
Creates a durable but flexible coat

5. Speedokote SMR-130/75-K-M (High-Performance)

Potent acrylic urethane formula

UV & chemical resistant
Fast-drying & curing
Easy buffing

6. Genuine Toyota 00258-0000C-21 (Best for Toyota Owners)

Tailor-made for Toyotas
Quick & easy application
Includes a precision pen tip & brush end

7. Dupli-Color EBSP30000 (Mix-Free)

No mixing or reducing required
Does not need recoat window
Quick-drying
1. Best Overall: Maxima 78920 SC1

Maxima 78920 takes our top overall spot as it adheres well to almost any surface, including fiberglass, plastic, carbon fiber, or car body painted surface. Also, it provides effective protection from all the elements.
With this clear coat on your vehicle, cleanups are faster and easier for you. Also, it is very effective at preventing mud and dirt from sticking to your plastic surfaces.
Apart from this, the product also leaves a fresh, clean scent. Better yet, it creates a dry and durable shine that leaves your car looking fresh and new.
This varnish is also waterproof, and thus, it keeps the underlying paint dry on the inside and the automotive body easy to wash.
During the application, the process is quite easy, as no external sprayer is required. This is because it comes in a spray can that simply requires to be sprayed onto the painted surface.
However, this product does not seem to provide significant UV protection, meaning you still need to use a UV-shielding product. But, this is a small issue that should not stop you from giving it a try.

---
2. Best Budget: Dupli-Color BCL0125

Dupli-Color's EBCL01257is a more budget-friendly automotive clear coat for motorists that do not want to spend a lot of cash on their purchase. Despite this, it still performs very well.
Being packed in an aerosol can, the product is straightforward to use and features an adjustable EZ touch 360° nozzle that can deliver a wide spray pattern for smooth and even coats.
With an acrylic lacquer composition, this varnish can be applied over factory finished paint or Dupli-Color's premium automotive paint. It is also ideal for large touch-ups in car or motorcycle body parts and vehicle accessories.
After application, it dries to touch in just 30 minutes and to handle in 1 hour, creating a highly protective clear coat with a high gloss finish that improves your vehicle's look.
For the drawbacks, there seems to be little product in the container, and the formula does not provide UV protection. However, 8 fluid ounces still provides decent coverage, and lack of UV protection should not be a big concern as it is not the primary purpose of this product.

---
3. Best Spray: UCS 3680061

With the Spraymax 3680061clear coat, you get a product that is super easy to apply, as you simply just spray it on the surface straight from the bottle. This clear coat offers a very durable high gloss finish that is resistant to abrasion and scratches.
When properly sprayed and left to dry, the resulting coat can protect the automotive body underneath from chemicals and gasoline, thereby reducing rusting or discoloration.
This clear coat offers a superior polishability, making it very useful when buffing the vehicle's surface. And you can use this clear coat over all basecoats.
However, to use it, you must activate the two acrylic components that make the coat by pulling the tab on the can. But, this is quite easy and should hence not be a huge concern. Also, the toxic compounds should not be an issue provided you wear protective clothing.

---
4. Best for Plastic & Vinyl: SEM 13013

Sem 13013 is designed to restore the color in plastics and vinyl. Therefore, you can also use it to refinish vehicle interiors, motorcycle seats, car carpets, and velour.
This spray-on satin gloss clear coat is fade-resistant and is packed in a 12-ounce aerosol can, which is capable of covering approximately 10 square feet of the car's body surface.
Application is quite easy since it is ready-to-spray out of the can. Once done, the coat dries up quickly with super adhesion while maintaining flexibility and hiding any minor scratches.
Even though the coat does not provide UV protection, it does not crack over time, and this is due to its flexibility factor. As a result, the coat maintains a good aesthetic look over the interior or exterior of your car for a long time.

---
5. High-Performance: Speedokote SMR-130/75-K-M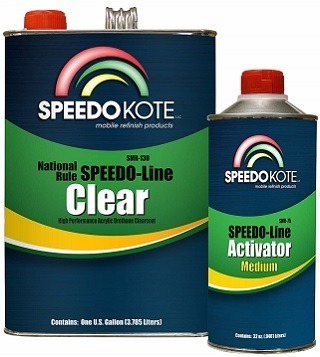 The Speedokote's SMR-130 is a fantastic option if you want a high-performing clear coat as it makes use of a more potent formula that includes acrylic urethane. Better still, it offers UV resistance to ensure less discoloration for your paint job.
Apart from this, the product provides a chemical resistant coat. Once properly sprayed on, it creates a high gloss clear coat that is fast drying and can be buffed in just 4-6 hours to yield a much higher DOI.
The high gloss coat you get with this product also makes it a fantastic choice as it improves the vehicle's overall appearance greatly. And there is lots of product in the kit to ensure you get good value for money.
Because you need to mix the two components, this slightly complicates the application process. However, you can just mix the quantities you need using the provided mix ratio to ease and speed up things. This product is also quite expensive, but you get a lot of clear coat at your disposal per kit.

---
6. Best for Toyota Owners: Genuine Toyota 00258-0000C-21

Toyota and Lexus car owners will love the Genuine Toyota 00258-0000C-21 automotive clear coat as it is specifically designed to protect the paint jobs in their cars.
This clear coat is designed to keep your car looking new for a much longer period of time. Better yet, it comes at a more affordable price tag.
Because it is for small defects, this touch-up clear coat features an abrasive prep tip and a 2-in-1 applicator that consists of a precision pen tip and a brush end. This application method makes it very easy to use.
Even though this product comes in a tiny 0.5-ounce bottle, it is meant for small scratches and chips, making the quantity reasonable.

---
7. Mix-Free Automotive Clear Coat: Dupli-Color EBSP30000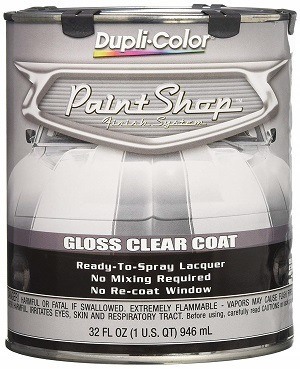 If you want an automotive clear coat that will give you an easy time by not requiring any mixing before application, the Dupli-Color EBSP30000 is a perfect choice.
The paint is pre-reduced in the container, and therefore, no mixing or activation is required beforehand. You only need to have a spray gun for the application, and that's it.
You can use this product for automotive and motorcycle exterior parts. Better yet, it requires no recoat window, which means you can reapply any time. Because it comes in a 32-ounce container, you get relatively more product for large jobs.
The coat dries up quickly and can be easily wet sanded or buffed to create a brilliant smooth finish with a higher DOI.
Some users might not like that you need a spray gun to apply this clear coat and that it does not provide UV protection. However, these few drawbacks do not take anything away from the fact this is a high-quality and effective product.

How to Buy the Best Automotive Clear Coat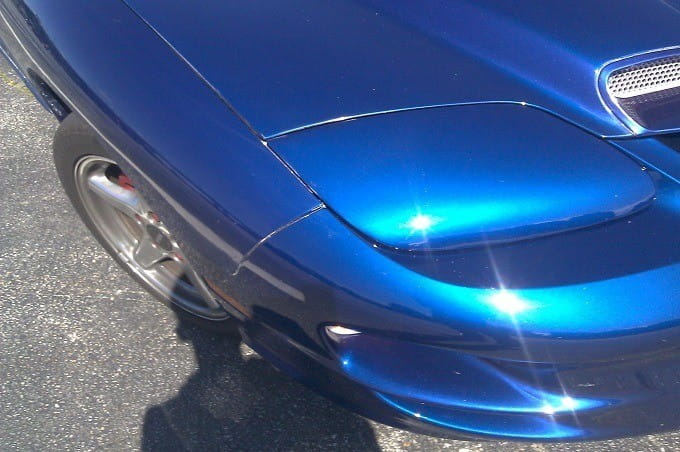 1. Type of Automotive Clear Coat
Topcoat
As the name suggests, a topcoat is a final coat applied to the base paint of your vehicle. This type is usually characterized by great depth and ease of polishing.
Turbo
Turbo clear coats are mostly used in collision repairs. They require more polishing to achieve a glossy look and, in the process, help cover up dents very effectively. Also, they dry up quickly so that buffing can be done shortly after application.
Glamour
This coat dries much slowly as compared to turbo coats, making it less sensitive to moisture. Because of this slow drying process, leveling can be achieved easily.
Higher Solids
Higher solids clear coats like Sherwin Williams FC720 contain more additives such as resin, making them produce a thicker, harder, and more durable coat once cured.
However, this type dries slowly because of the thickness, and its formulation makes it slightly more expensive than the rest. It leaves a super tough coat and usually contains a low concentration of VOCs, making it safer for the environment.
Euro
Euro coats require you to use heat to speed up the drying process. But, once dry, they create a highly durable film.
2. Gloss Level
Gloss level is usually measured on a scale of 0-100 gloss units, with 100 being the highest gloss and 0 being the lowest.
When choosing a clear coat, almost all of them result in a glossy finish, but if you want the glossiest car surface, ensure the clear coat kit you buy can achieve the high levels.
It is actually recommended to choose a product with at least a gloss level of 90 units so that your vehicle looks shiny and new at the end of the process.
3. Transparency
Although the term "clear" refers to no-pigment paint, it is important to note that the finish you get differs from one product to another.
Hence, when shopping, you need to make sure that the product you choose dries to a clear finish and not other shades like cream.
4. Scratch Resistance
Scratches are hard to avoid for most vehicles. The best you can do is use a clear coat that makes it hard for the surface to scratch. Also, a good one should offer abrasion and chip resistance.
On top of this, the coat should also cover up existing scratches and minor dents, acting as a cheaper repair alternative. Other desirable features to consider include UV protection as well as chemical and corrosion resistance. The KBS Coatings 8114 is a good example of a clear coat that provides all this.
5. Ease of Application
The last thing to check is how easy it is to apply. The easiest ones to apply usually come in aerosol cans like the Spraymax 3680061. For these clear coats, you only have to spray the coat onto the car or motorcycle interior or exterior.
Other clear coats are packed in paint cans, and these usually require a paintbrush, roller, or spray gun for the application.
This makes the application process slightly difficult compared to the simple spray action, but the benefit is that these usually come packaged in large quantities per can.
6. Durability
The automotive clear coat you choose also needs to be durable enough to eliminate the need to keep applying new coats.
Durable clear coats are those that dry to a flexible finish that is resistant to chipping, cracking, and denting. Also, UV-resistant coats are more durable as they do not fade or discolor easily.
Frequently asked questions
What Causes Clear Coat Peeling?
A: Natural wear and accidental damage are the main causes of clear coat peeling. However, using a substandard clear coat and improper application of the coat can also lead to peeling.
Can I Wax Clear Coat Paint?
A: Yes, you can wax clear coat paint. Waxing gives the surface a nice finish and extra gloss. However, before waxing, you need to make sure that the dry coat is dry enough. In most cases, you typically have to wait between 24 and 48 hours.
Read More: The Best Car Waxes
When Should I Apply Clear Coat after Applying Base Coat?
A: This largely depends on the drying time of the base coat you are using. That said, for most base coats, you have to wait between 20 and 30 minutes before applying the clear coat. However, make sure you do not wait too long because the clear coats tend to have a hard time sticking when the base coat is too dry.
Will Car Washes Damage Clear Coat Paint?
A: Car washes are mostly safe for clear coat paint. But, if the car wash entails using abrasives and harsh chemicals, it can damage the clear coat.
Conclusion
A good clear coat should protect your car from scratches and the elements while still being completely transparent. And now, finding the best automotive clear coat should be a breeze.
Better yet, to help you narrow down your choices further, the Maxima 78920 is our top recommendation as besides adhering well to most surfaces, it offers effective protection.
However, for motorists shopping for a more budget-friendly option, Dupli-Color's EBCL01257 is a great choice.