Washing your car using old, worn out t-shirts or other pieces of clothing might be the cheapest way to do so, but it may have some negative effects on your paint job.
Sponges and wash mitts are the best options because they are specifically made to have soft surfaces that are gentle on paint, and also absorb a lot of soapy water so that you can conveniently cover a larger surface area after every bucket dip.
However, there are many different types of wash mitts and sponges in the market, which means you have a lot to choose from. To help you in the selection process, we have reviewed the best wash mitts and sponges below, from which you can pick your most preferred piece.
Top Wash Mitts Sponges of 2021 by Editors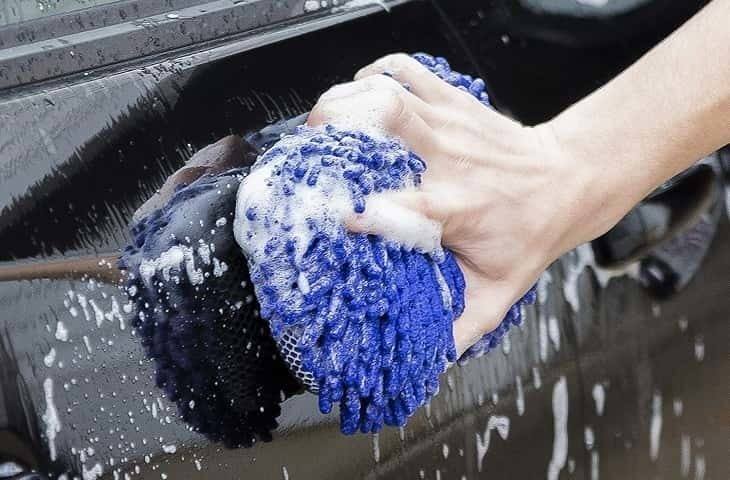 Summary of 7 Best Wash Mitt & Sponges
IMAGE
PRODUCT
FEATURES

1. Relentless Drive 5864132013 (Best Overall)

2-piece wash mitt set with plush microfiber strands
Secure and comfortable cuffs
Can be used for dry or wet washing
Available in 2 sizes

2. Chemical Guys MIC_493

Single piece, machine-washable wash mitt
Double stitched elastic cuff
Extra plush and highly absorbent microfiber strands
Two size options

3. Viking Car Care 845100

Affordable wash sponge with a high-density sponge
Double-layer microfiber-mesh outer cover
Ideal for glass and painted surfaces

4. Relentless Drive 5864126049

Dual-sided microfiber and mesh scrubber sponge
Highly absorbent microfiber fingers
Ideal for wet or dry use
Machine washable

5. Meguiars Inc. X3002

Single-piece wash mitt for wet or dry washing
Ultra-soft, lint-free and swirl-free microfiber strands
Reusable and machine washable

6. BlueCare Automotive AD-0108

Complete 3-piece wash mitt kit
Lint-free plush microfiber construction
Suitable for wet and dry car washing

7. The Rag Company 14111-AMAZON-CHENILLE-MITTS-2

2-piece wash mitt kit
Comfortable soft padded inner liner
Highly absorbent chenille microfiber fingers
Does not loose shape or droop with time
1. Relentless Drive 5864132013 - Best Overall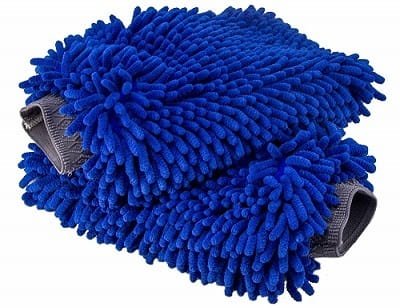 Size: 8 x 11.5 inches
Material: Microfiber
Though quite costly, this piece from Relentless Drive is the top-rated wash mitt and sponge in our review, which shows it is packed with highly useful features. For starters, you get a 2-piece set, which gives you value for money.
Coming in a blue color, the pair of wash mitts are fitted with plush microfiber strands on both sides of the exterior, which soak up quite a lot of water for superior cleaning abilities in wiping grime and dirt stains from the car's surface.
Additionally, microfiber is very soft and this makes the pair ideal for wiping delicate painted surfaces, resulting in a clean, swirl-free finish.
Secure and comfortable cuffs are fitted in each piece for keeping and sticking them to your hands as you wash the surface or as you scoop some water from your bucket.
Other features include availability in a regular (8 x 10 inch) or extra-large (8 x 11.5 inch) size and the pair can be used for dry dusting or wet washing.

---
2. Chemical Guys MIC_493 Wash Mitt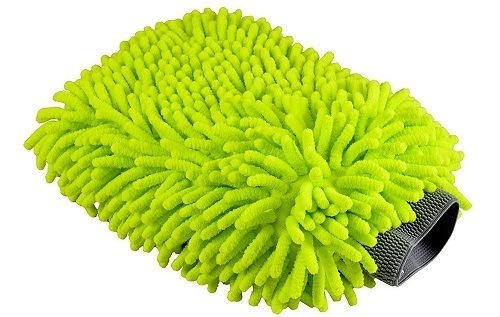 Size: 12 x 8 inches
Material: Microfiber
If you want a tight-fitting wash mitt, then you should consider this MIC_493 from Chemical Guys because it has a double stitched elastic cuff that sticks the piece around your hand as you wash or dip it in soapy water.
That said, the unit's outer surface is filled with extra plush and highly absorbent microfiber strands, which hold quite a lot of soapy water so as to create enough foam when you scrub the car's surface.
After use, the piece is machine washable and Chemical Guys recommend their microfiber wash detergent for this job for improved durability.
However, you only get a single piece per set but with 2 size options, which are large (12 x 8 inches) and extra-large (12 x 12 inches). You also get 4 color options to choose from, which are black, lime green, blue and magenta.

---
3. Viking Car Care 845100 Wash Sponge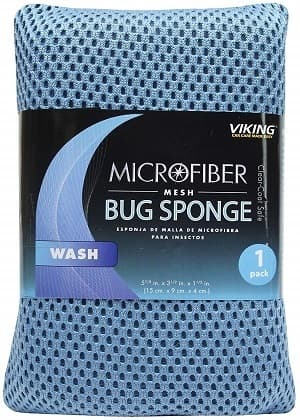 Size: 4 x 6 inches
Material: Microfiber
Viking Car Care's 845100 takes the top spot when it comes to affordability but this does not mean it is substandard. Though quite small in size, the unit has a high-density sponge on the inside that holds a lot of soap and water, enabling it to create thick suds as you scrub.
This sponge is covered in a unique dual layer microfiber mesh material that is designed for scrubbing off stubborn debris and stains from glass or painted surfaces.
On the downside, you only get a single wash sponge in the set, but it is very affordable, making it worth the money.

---
4. Relentless Drive 5864126049 Microfiber Wash Sponge

Size: 9.5 x 4.5 inches
Material: Microfiber
This product from Relentless Drive is quite different from its sibling above in that it is a wash sponge, not a wash mitt, which means it is not wearable into your hand.
On the plus side, the sponge is dual-sided, with one side having plush microfiber strands for dusting and multipurpose cleaning, while the other has a soft mesh scrubbing surface that is designed to remove bird droppings, bug stains, tar, etc.
Both sides are lint-free and create a swirl-free finish, with the microfiber fingers providing a thick absorption layer that holds all the soapy water you need to form a thick lather for easy washing.
The sponge is also ideal for wet or dry use and is machine washable after cleaning. However, you only get a single piece per set but there is a 2-pack kit that comes at a slightly higher price.

---
5. Meguiars Inc. X3002 Wash Mitt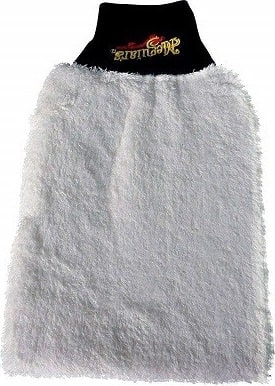 Size: 8 x 10 inches
Material: Microfiber
Meguiars is a well-known brand in making high-quality car care products and this X3002 wash mitt lives up to the brand's reputation. The piece can be used for wet washing using regular car wash soap, or for dry washing using mist and wipe solutions such as the A3316 from Meguiars.
Other than that, the piece contains ultra-soft and lint-free microfiber strands, which are very safe for paints and clear coats. Additionally, these strands lift and trap dirt and grime, preventing them from creating swirls as you continue washing your car.
The wash mitt carries more suds of water on every scoop and this is due to these same microfiber strands, which are super absorbent and can hold a lot of water. The result is a show-car finish, with the piece being reusable and machine washable afterward for easy maintenance.
On the downside, you only get a single piece wash mitt but it is relatively large in size, measuring 8 x 10 inches in size.

---
6. BlueCare Automotive AD-0108 Wash Mitt Kit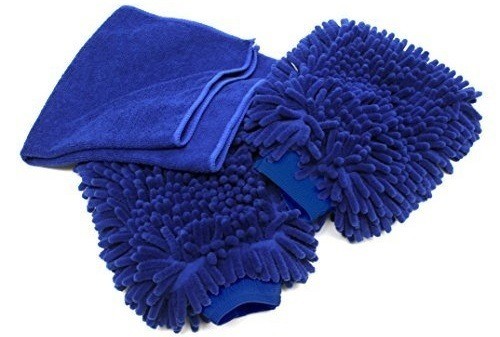 Size: 6.7 x 9.4 inches
Material: Microfiber
BlueCare Automotive's AD-0108 gives you the best value for money because it comes as a complete kit, with 2 premium wash mitts and a microfiber polishing cloth.
The pair of wash mitts are also made using microfiber, which is the form of plush chenille fingers that grab and hold onto dust so as not to create swirls on the paint as you wipe.
These fibers are also lint-free and very versatile because they make the wash mitt usable when wet or dry washing your car.
Water retention is also incorporated into the product's design, with the high-density microfiber fingers being able to hold more soap and water so as to create thick suds for superior cleaning capabilities.
Other features include a relatively large size that measures roughly 7 x 9 inches, and this wide surface area helps is absorbing more water for the cleaning process. However, the kit is quite expensive but you get your money's worth with the 3-piece set.

---
7. The Rag Company 14111-AMAZON-CHENILLE-MITTS-2 Wash Mitt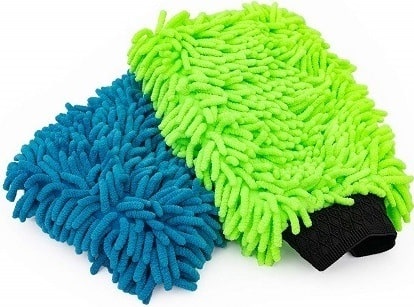 Size: 10 x 7 inches
Material: Microfiber
The Rag Company manufactured this wash mitt to be one of the most comfortable pieces to use by incorporating a soft padded liner on the inside, which also holds the entire unit in shape to avoid drooping.
With its relatively high price, you get two wash mitts per kit (royal blue and lime green) and each one has plush chenille microfiber fingers that are highly absorbent for creating thick suds from soapy water.
They actually hold 8-10 times their weight in soapy water and are soft enough not to create any swirls on your paint job.
Note : The padded inner liner requires special care. Hand wash or machine wash in a gentle cycle. Also, avoid any fabric softener and chlorine bleach when washing.

How to Buy the Best Wash Mitt & Sponge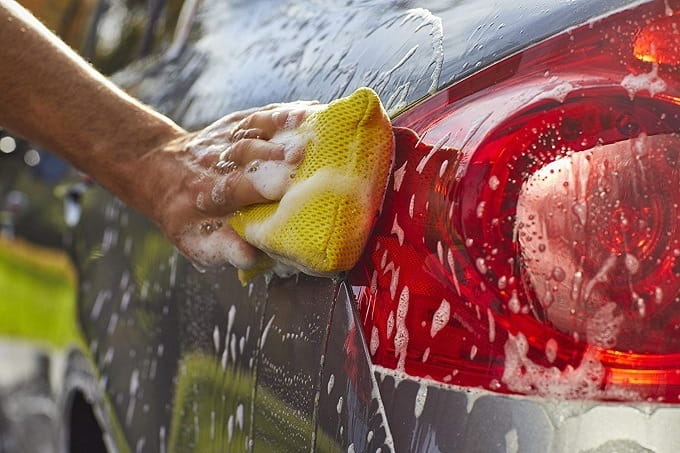 1. Size
On matters size, you must strike the right balance between the recommended large size and a fitting piece. This is because a small wash mitt or sponge can make cleaning a hassle since it covers a small surface area on every pass.
At the same time, you should not just buy the largest unit, but instead, you should go for the one that fits into your hands. If you have small hands, a big piece can be very cumbersome to handle.
If you have large hands, the better since you can buy a bigger wash mitt or sponge, which will allow you to clean much faster.
2. Material
Another thing to consider in this selection process is the material, with the two main ones being microfiber and wool.
Microfiber
Microfiber wash mitts are usually the best option because their finger-like design gives an extensive and detailed cleaning. However, you must ensure that the microfiber density is high so that they can absorb more water to create thicker suds as you wash.
Also, ensure that the fibers and super soft so that they do not scratch or swirl the surface
Wool
With wool, you should be assured of one thing and that is a soft material that will not cause any damage to your car's paintwork. However, wool might not be as effective as microfiber, especially due to its lesser water absorbing capability.
Wool wash mitts might also not be as durable as their microfiber counterparts and therefore, you may find yourself shopping for replacements more frequently.
3. Durability
Durability is also very important and you should carefully consider what the manufacturer states about this. However, one important feature to look for is a high-density foam or fiber construction that regains its shape after being pressed in.
Such a product is highly recommended because it will maintain its optimal cleaning performance despite wearing out along the sides due to continued use.
4. Price
Lastly, an expensive wash mitt or sponge might not necessarily be the best. Similarly, an affordable piece is not always the worst. What should guide you is the product's features first, then its affordability.
However, some of these wash mitts and sponges come as 2 or 3-piece sets and the more you get, the more the value for money. Such kits are the most ideal to buy.
Conclusion
In conclusion, car washing is necessary for proper car care but it should be done using the proper tools. These tools include wash mitts and sponges, and the choice between these two should be based on personal preference.
Considering this, you should be able to pick the best wash mitt and sponge after going through the review above.