When your car parks on an incline or you're changing its wheels or the car is in any other situation that might cause it to roll away, then you need to secure the vehicle with wheel chocks.
Wheel chocks are necessary even if the parking brakes are on because brakes can theoretically fail or an accident could release the brakes and the car would cause mayhem.
In this wheel chocks review, you'll get a list of the top offers in the market, plus a buying guide to help you make sense of the different terms and choose the right chock.
Editors' Picks: Top Wheel Chocks of 2021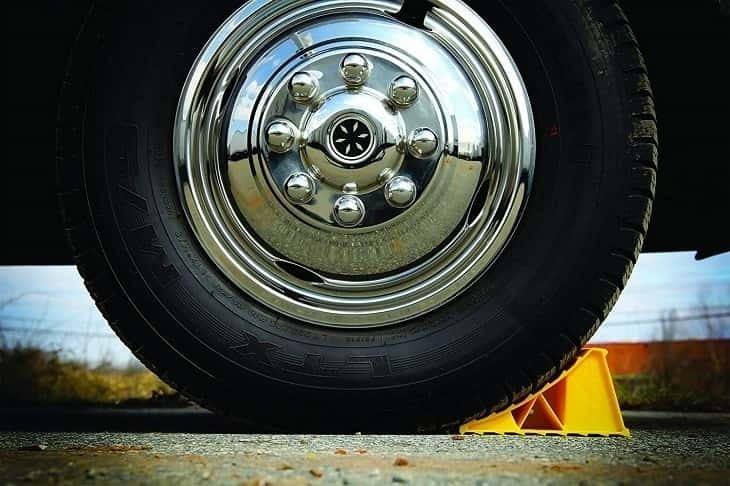 Summary of 7 Best Wheel Chocks
IMAGE
PRODUCT
FEATURES

BAL R.V. 28012

1. BAL R.V. 28012 (Best Overall)

Works perfectly on tandem wheels
Extends from 1.37 to 10 inches of width
Package includes ratchet wrench

Camco 44414

2. Camco 44414

Low-priced plastic chocks
Made of hard plastic with UV inhibitors
For tires up to 26 inches in diameter

MaxxHaul 70472

3. MaxxHaul 70472

Heavy-duty rubber chocks
Features traction pad for the most grip
Performs better than plastic and resin chocks

BAL R.V. 28005

4. BAL R.V. 28005

Solid & durable aluminum X-schocks
Extends from 2.5 to 10 inches
Includes an anti-rust coating

MaxxHaul 70271

5. MaxxHaul 70271

Designed specifically for motorbikes
Adjustable for a perfect fit
Accommodates wheels from 3 to 5 inches wide
Heavy-duty steel construction with powder coating

Trimax TCL65

6. Trimax TCL65

Wheel chock lock chocks and secures
Universal design for universal tire fitting
Made of heavy-gauge and rugged steel fro durability

Camco 44401

7. Camco 44401

Designed for use with leveling blocks
Ideal for larger vehicles like RVs, trucks, & trailers
Comes in a package of two chocks
1. BAL R.V. 28012 - Best Overall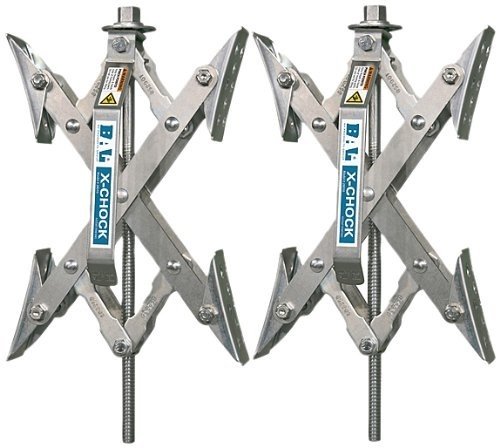 Fits: Tandem wheels up to 10 inches apart
Size: 16 x 7.5 x 4.5 inches
Material: Aluminum
BAL R.V. Products group designed this set of two-wheel X-chocks for those who need a safe and dependable method of keeping their RV or other vehicles with tandem wheels in place.
The idea behind X-chocks is to place them between two tandem tires and then extend the chocks until the fit tightly. This way, any movement in any given direction will get opposed by the other tire.
It's a simple and effective solution to secure any vehicle with tandem wheels, but you should note that the pair of X-chocks also come at a price that's comparably higher than most other chocks. You'll also need a regular chock to make the most of your X-chock.
On the bright side, the X-chocks are metallic and this makes them more durable than most other chocks in the market. They also feature an anti-rust coating and can expand between 1.37 and 10 inches to fit an extensive range of tandem wheel designs.

---
2. Camco 44414 Plastic Chocks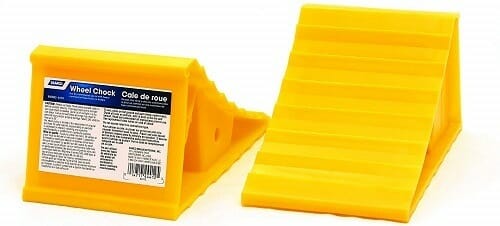 Fits: Up to 26-inch diameter wheels
Size: 8.4 x 6 x 5.1 inches
Material: Plastic
This offer is for a set of two plastic chocks from Camco, a popular RV and Camper accessories maker. Being made of plastic makes the chocks affordable, but they're still of high quality.
Camco makes them using hard plastic for durability and includes UV inhibitors to prevent them from breaking down prematurely. These two features counter the major problems faced by plastic chocks.
What Camco doesn't add here is a rope or other sort of handle to make using the chocks easier. You can select this option though, but it comes at a higher price.
The chocks are lightweight, easy to use, and works well for tires up to 26 inches in diameter. If what you want is a top-rated wheel chock at a very attractive price, then take a closer look here.

---
3. MaxxHaul 70472 Rubber Wheel Chocks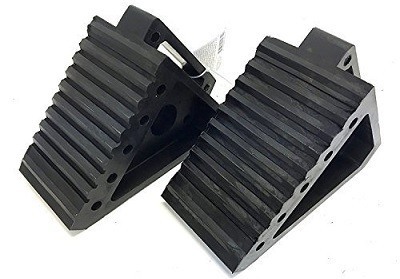 Fits: Sedans, RVs, SUVs
Size: 8 x 4 x 6 inches
Material: Rubber
When it comes to chocks, then rubber generates the most friction and is unbeatable by other materials. To maximize your vehicle's safety, therefore, you'll want to look into these rubber chocks.
The rubber construction features a traction pad that makes these chocks perfect for securing your car or trailer. There's also a handle to make handling positioning easy.
Although MaxxHaul designs them as lightweight as possible, they are still many times heavier than plastic chocks, plus they also cost more. Another issue with rubber chocks is their unpleasant smell and this offer is no exception.
Still, nothing beats rubber's grip on the widest range of surfaces. The rubber is additionally oil resistant and this helps it to prevent slippage.

---
4. BAL R.V. 28005 Deluxe Aluminum Tire X-chocks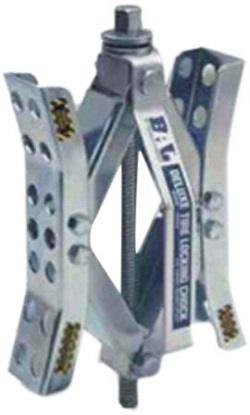 Fits: Tandem wheels up to 10 inches apart
Size: 13 x 5 x 3.8 inches
Material: Aluminum
BAL, no doubt makes one of the best RV wheel chocks and this 28005 model comes guaranteed to offer the high level of traction that's needed to keep your trailer in place.
It's made of good quality aluminum, includes a handle, and features solid construction that can withstand high pressures and can last a long while as well.
Unlike the previous BAL 28012 model with its 1.37 minimum spacing, this one needs a minimum spacing of 2.5 inches between the tires, so check your tandem tires first. It's also twice more expensive than the BAL 28012 but it makes up for this.
This package comes with a ratchet wrench and is also guaranteed to create enough traction on the tires that you won't need to add a regular chock to the mix. It's recommended, however, to get this BAL 28005 chocks in pairs for best results.

---
5. MaxxHaul 70271 Motorbike Wheel Chock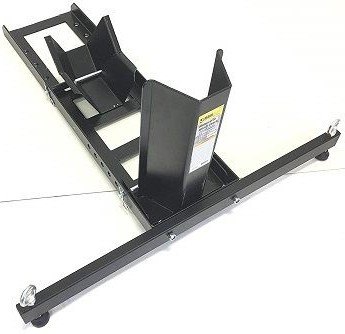 Fits: Motorcycle wheels 3 to 5 inches wide
Size: 36.7 x 11.4 x 6 inches
Material: Steel
If you want safety for your bike, then MaxxHaul's 70271 is probably the wheel chock that you need to offer you a stable and reliable base for your beloved bike. It's designed to hold wheels between 3 and 5 inches thick.
With a top weight capacity of 1,800 pounds, it's also one of the best heavy-duty wheel chocks in the market and it additionally uses the bike's weight to lock the chock.
The construction uses heavy-duty steel and this both makes it relatively heavy and costly, but on the other hand, it also makes it a solid platform that you can rely on.
MaxxHaul coats it with a black powder coating to prevent rust and all forms of corrosion. It also comes with six cradle adjustments for setting the wheel diameter and to keep the bike upright.

---
6. Trimax TCL65 Universal Wheel Chock & Lock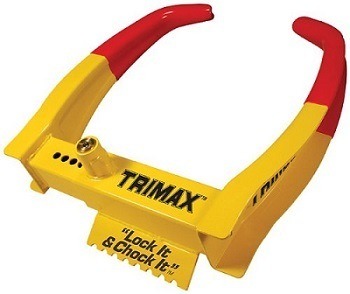 Fits: Universal
Size: 4 x 11.7 x 15.5 inches
Material: Steel & rubber
The best wheel chocks in this review have been regular chocks and X-chocks up to this point, but Trimax comes with an entirely different chock design here and it also offers lots of possibilities.
Made from rugged and powder-coated steel, it's great for cars, trucks, boats, and trailers. Simply push, lock it, and that's it. The package includes a guide that shows the different tire sizes and how well this chock fits them.
On the downside, you'll always need a key to either lock or unlock it and it's not a one size fits all, so you'll need to check first to find out which of the two sizes will best fit your vehicle.
Trimax includes a set of two keys with each wheel chock lock and additionally rubber-coats the arms to protect your car or trailer wheel's finish.

---
7. Camco 44401 Leveling Block Wheel Chocks

Fits: Trailers, RVs, & trucks
Size: 4.3 x 3.5 x 3.1 inches
Material: Plastic
These next set of Camco's wheel chocks are specifically for use with Camco's leveling blocks, which is a set of plastic parts that stack together to form a raised platform to drive your camper tire on for positioning.
You should note, however, that this pair of wheel chocks are useless without the leveling blocks, but if you've already got Camco's leveling blocks, then they'll make a great addition to your set.
Downsides also include their being made from plastic, but Camco is a reputable brand in the RV industry, so you are sure that few levelers will work as good as this system for your RV. Plus, these chocks makes the levelers even better.

How to Buy the Best Wheel Chock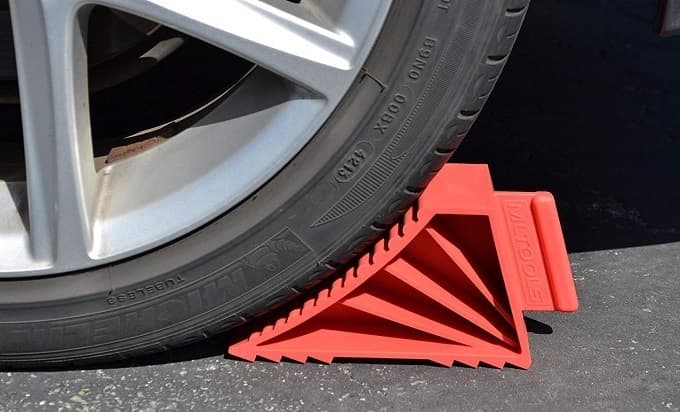 Wheel chocks are different and what's best for one vehicle is often not the best for another vehicle. So, it's important that you understand the differences between the best wheel chocks and what this means when you're making your choice.
Following is a list of these most important differences between chocks. By going through this list, you'll find it easier to choose the best wheel chock for your vehicle.
1. The Floor Surface
Floor surface here refers to the texture of the floor that you'll be parking your car on when using the chocks. The texture is important because it determines the best type of chock, as well as chock material, to use.
If the surface is gravel or dirt, for instance, then a different chock would be more ideal as were it on the pavement. This is because different materials produce different friction levels and wheel chocks generally depend on friction to work.
2. Your Vehicle's Weight
Another important feature is your vehicle's weight and this one is important because getting it wrong means trouble. You need to know your vehicle's weight and the find a chock that's made for that weight range.
This is because of different chock materials, shapes, and sizes that have a certain amount of force where they'll give in. So make sure the chock can handle your car's weight.
3. Tire Diameter
In addition to weight, tire diameter is equally important because it determines the best wheel chock slope and height. Manufactures will often rate their chocks up to certain tire diameters, so you need to pay attention to this as well.
4. Chock Material/Type
There are many wheel chock types and they are mostly determined by the material they're made from. You'll find chocks made from plastic, rubber, wood, aluminum and other metals, and they each look slightly different. Following is a closer look at each material type.
Plastic Chocks. Chocks made from plastic are usually the cheapest and most lightweight, but they are also often the least durable and have the lowest weight ratings. You can get a plastic chock for a small and lightweight vehicle if you want, but it's always better to invest in a more sturdy and durable chock.
Rubber Chocks. These are also quite affordable but they're heavier than plastic chocks and come in different grades up to medium and heavy-duty use.

One con with rubber chucks is that rubber often gets worn out by weather elements, but there are rubber chocks that come with fiber reinforcements and other metallic attachments to make them last longer.

Metal Chocks. You'll also find chocks made from metal and these are usually from Aluminum or steel. Although steel chocks are the sturdiest here, those made from aluminum are more lightweight and rust-free.

Most metal chocks in the market are X-chocks and they're designed to fit between two tandem wheels such as on a truck or RV. They are easy to use and quite efficient, but they usually need regular chocks for maximum effectiveness.
Wooden Chocks. These are the earliest chocks and you may still find them today. Wooden chocks are cheap and effective, but wood has its own limitations, such as not having a good grip on the floor.
5. Grip
A wheel chock's grip is how much friction it produces on the underside against the floor and on the upper side against the vehicle's tires. This friction is usually determined by the specific material used and availability of spikes and notches on the chock.
Rubber produces the most natural grip among the materials used but it's important that you also make sure that any chock you're about to choose has grooves or ridges to produce as much grip as possible.
6. Durability
A wheel chock's durability usually boils down to the material that it's made from. Plastic chocks are the least durable chocks, while steel chocks are the most durable.
You should also note that plastic chocks are cheaper than metal chocks, so it's left for you to choose between a higher-priced, more durable chock and a more affordable, less durable chock.
7. Ease of Use
Most chocks are easy to use, except X-chocks, whose ease of use depends on their specific design and method of adjustment. So, if you're getting an X-chock, then this point is not very important.
8. Storage Design
Some chocks come with handles and other additions to make them easier to use and to store. X-choks are adjustable and can usually get adjusted to a size small enough for easy storage.
Conclusion
We've reached the end of this wheel chocks review and you've seen all the different offers out there, including the plastic ones, the rubber ones, and the metallic X-chocks.
At this point, it's left for you to make your choice from these different offers, because it's only you alone that know what best will fit your vehicle.