If you prefer the power of a subwoofer with a built-in and a larger cone size for deeper bass, the JBL GT-BassPro12 will be a perfect fit. And you can install it in almost any vehicle as it works well with different systems.
This car subwoofer has a solid build that includes some oversize rubber speaker protectors and an MDF housing. Also, remote levels and automatic on and off ensures that it will be simple to operate, which makes it a great all-round model.
JBL GT-BassPro12 Review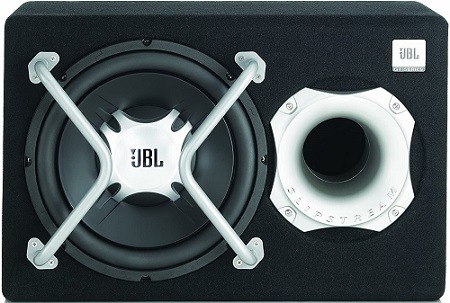 JBL GT-BassPro12

Specs
Product Name:

JBL GT-BassPro12

Product Brand:

JBL

Size:

12-inch

Power:

450 W maximum and 150 W RMS

Frequency Response:

35 Hz to 120 Hz

Dimensions:

22-7/16 x 12 x 14.5 inches

Weight:

38.6 pounds

Warranty:

1-year
Key Features of JBL GT-BassPro12
Large 12-inch woofer
Die-cast aluminum basket for better sound in any condition
Slipstream port delivers distortion-free bass
Signal-sensing for an automatic subwoofer on and off
Remote level control for easy operation
Strong and durable MDF cabinet
Bottom Line
A larger and powerful subwoofer with a built-in amplifier that will deliver a solid, distortion-free sound.

Detailed Review of GT-BassPro12 JBL from an Expert
Sound Quality: Solid and distortion-free
With a powerful 150-watt built-in amplifier and a 12-inch cone, one can rightfully expect nothing short of the best sound quality from the JBL GT-BassPro12. The good news is that it does not seem to disappoint as it packs a nice punch and is also loud enough.
This subwoofer also makes use of a wide variety of design components and technologies to enhance the sound quality greatly.
Key among them is the Slipstream port, which will ensure you will not experience port noise even at the higher output settings. With this special port, you can be confident of getting a clean and distortion-free sound at the highest output possible that this subwoofer can deliver.
The polepiece is also vented to help cool the motor, which in turn improves the sound quality by enhancing the power handling. And there are also some oversized and dual-stacked magnets that will increase the magnetic flux for better cone motion control and higher output. These and other things like the die-cast aluminum basket help deliver superior sound quality.
Design & Construction: Stylish and durable
If you are looking to give your vehicle a stylish touch, this subwoofer has you covered as it has a highly impressive overall look that will be a fantastic addition to any vehicle. The design includes a stylish carpet covering and a sleek-looking metal grille.
When it comes to the construction, the subwoofer will include a polypropylene cone. Which besides being mode durable than the regular ones will also combine with the rubber surround to deliver excellent cone resonance damping and superior reliability.
The die-cast aluminum basket is a nice touch as it gives the subwoofer a more classic look. Also, this basket has a more functional role as it will ensure you always get a solid sound regardless of the conditions.
For the housing, JBL will not disappoint. Like with any other top-end car subwoofer, they will use a genuine MDF board that will provide both strength and durability to ensure the subwoofer will serve you long regardless of the conditions in which you will be using it.
There are some oversized protection bars for the speaker. These bars are designed to ensure the subwoofer looks even more powerful. Also, they will help keep the cone safe to ensure you will hardly ever need to replace it for the lifetime of the subwoofer.
Even the manufacturer, knows that this car subwoofer has a highly impressive and attractive design. Quoting the manufacturer, "The JBL® GT-BassPro12 powered subwoofer pumps out lush, car-rocking bass through a design so cool you won't want to hide it in your trunk".
Installation Process: Easy for anyone with a little wiring experience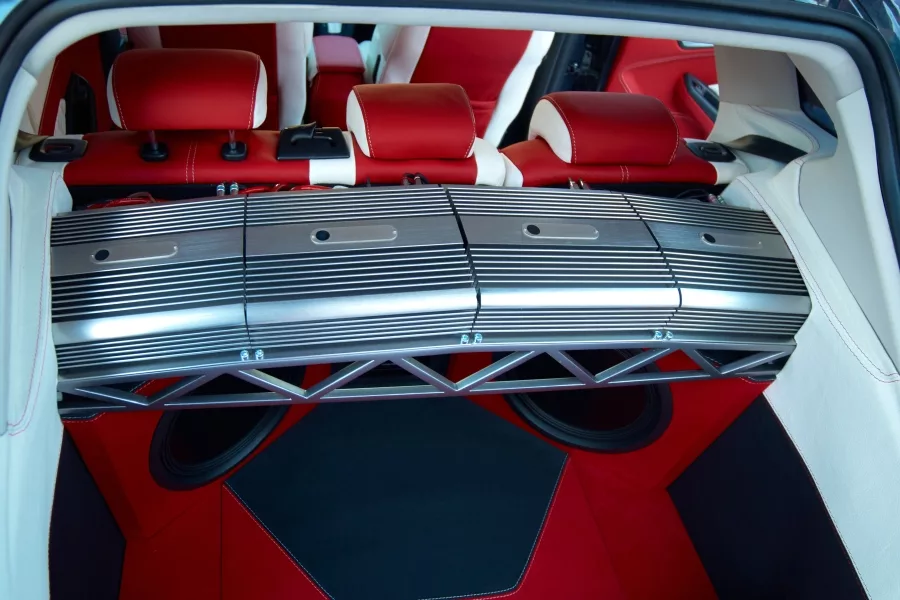 Installing the JBL GT-BassPro12 will take quite some wiring, which is typical of any subwoofer. However, if you have even a little experience with doing vehicle subwoofer, speaker, or amplifier installation, you will have an easier time.
What's more, the manufacturer provides detailed instructions on everything you need to do when installing the subwoofer from start to finish. And to ensure you have an even easier time, the mounting hardware is also provided. In case you get stuck, there are countless videos online to help you out.
Because the amplifier is built-in, you will not have to connect the subwoofer to an external amplifier. This means less and easier work for you as you will not have to figure out how to mount an amplifier.
Another element that will ensure you have an easy time with the installation is the inclusion of an adapter and the fact that this subwoofer will not require a line output converter.
The housing and cone are relatively larger, and this is more so when you compare this subwoofer to other under-seat car subwoofer models out there. What this means is that storage can be a little hectic as you will need a little more space.
That said, it is still quite manageable, and you do not always have to mount it under the car seat. There are countless other suitable places to have the subwoofer, such as behind or over the back row of seats depending on your vehicle type.
22-7/16 inches is quite long and the 12-inch height also means that it will be quite high, but this is a small price to pay given the sound quality and durability that this subwoofer will provide.
But while this might be a heavier (weighs 38.6 pounds) and bulkier subwoofer, it is still small enough to fit perfectly even in vehicles with the smallest trunks.
And if you like showing off your subwoofer, then you can also be confident this larger one with its sleek and muscular look will be hard to miss no matter where you decide to store it.
Controls & Connectivity: Simple with the remote control
When it comes to controls and connectivity, this JBL subwoofer is also built to give users an easier time. One of its main highlights here is the remote levels control. This remote makes it possible to adjust the bass from the driver's seat, which eliminates the need to stop and do it.
Besides the remote control that ensures you enjoy uninterrupted rides, this car subwoofer will have an automatic on/off function.
With this function, it will sense the signal on the speaker level input and turn on automatically. This, in turn, eliminates the need for having a remote turn-on wire. Better yet, the subwoofer will also turn off automatically after a few minutes if the signal stops.
And to make sure that control will be even more effortless, this subwoofer will have everything clearly and boldly marked and in one place at the back. The only thing that some users might not like here is having the controls at the back, but this is something you can live with.
Price: Worth every buck
To get this large and powerful car subwoofer, it should be obvious that you will need to spend a little more cash. And this is even more so given its superior built quality when compared to others in its class from less known brands.
With that in mind, the good news is that this JBL subwoofer is worth every buck you pay for it, if not even more valuable than what you spend.
The sound quality is amazing, and it is built to last for a long time, which means it will provide good value for your cash. Also, the price is inclusive of everything you need to mount it as there is hardly anything else you need to buy before you can use it. And to crown it all, you do not need to pay for installation as it is easy to figure out.

Conclusion on
JBL GT-BassPro12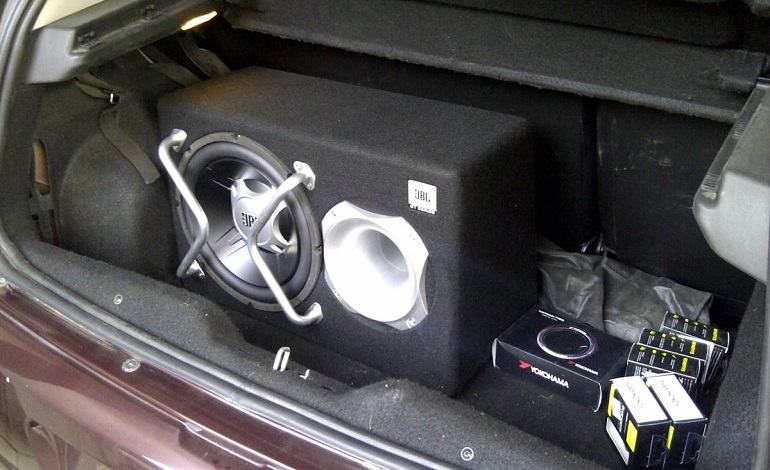 A powerful 12-inch car subwoofer that delivers a solid and distortion-free sound.
Anyone looking to get an amazing bass punch in their vehicle's entertainment system will love this 450-watt peak subwoofer. Besides an amazing sound output, it also has a solid overall build, and with simple remote control and automatic on/off function to ensure operating it is a breeze.