Once your vehicle develops acceleration or startup problems, it's probably time to clean out the carburetor. Gunk, varnish, and gum form on the different carburetor parts over time, resulting in poor acceleration and other performance issues.
But besides improving performance, cleaning your carburetor comes with other benefits, such as better fuel efficiency, improved acceleration, and faster engine starts. That said, you need the best carburetor cleaner for this job.
In this review, we provide a list of some of the top-rated carburetor cleaners in the market, plus a buying guide to help you make the right choice.
Editors' Picks for Top Carburetor Cleaners of 2021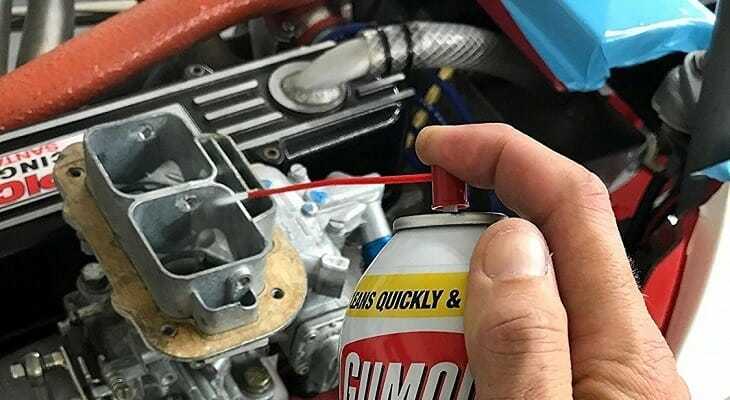 Summary of 7 Best Carburetor Cleaners
IMAGE
PRODUCT
FEATURES

1. CRC 03077 (Best Overall)

Fast-acting cleaning action
Oxygen sensor & catalytic converter safe

Low VOC formula

Includes a straw for precision

2. Berryman 0996 (Best Dip)

Highly effective immersion cleaner
Safe on rubber, plastic, & metal
VOC-compliant

3. Briggs & Stratton 100042 (Best for 2- & 4-Cycle Engine)

Works for both 2 & 4-cycle engines
Improves starting & reduces maintenance costs
Dissolves carburetor deposits fast

4. Gumout 800002231 (Best Inexpensive)

Highly affordable
Cleans all unpainted metal parts
Helps stop hard starts & rough idling

5. WD-40 Specialist (Best Spray)

All-in-one carb spray cleaner
Dual-action cleaning system
Improves performance at high RPMs

Works for both old & new vehicles

6. Genuine Ford Fluid PM-2 (Best for Gasoline Engine)

Safe on gasoline engines
Spray can for easy application
Removes gum & all other deposits

7. Berryman 113 (Residue-Free)

Dries without residue

Removes deposits fast
Gives parts an extra shine
1. Best Overall: CRC 03077

With the fast-acting and more effective formula, the CRC 03077carburetor cleaner spray is our best overall option. It comes in a 12-oz aerosol can that is ready to spray on a range of automotive parts. Also, it works on all kinds of deposits, including sludge, gum, and varnish.
What's more, this carburetor cleaner comes with a straw for those times, you might need some level of precision or have to spray the compound in the hard-to-reach places.
CRC makes the carburetor cleaner with low VOC formula and is safe for catalytic converters and oxygen sensors.
This product will be legal to use in almost all jurisdictions, as it meets a host of regulatory requirements, including the US EPA and the California VOC.
On the flip side, it is not safe on plastic and rubber, but if you are careful not to get it on parts with these materials, you should be okay.

---
2. Best Carburetor Cleaner Dip: Berryman 0996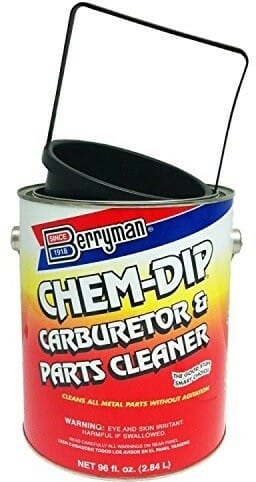 The Berryman 0996 is a highly effective carb dip that will make it easy to clean your carburetor with a simple immersion without having to aerate, agitate, or heat the parts. And you also get an immersion container to make the job easier for you.
Better yet, the dip is fast-acting and effective on all kinds of deposits, including hard carbon, gum, sludge, oil, grease, and varnish. Simply dip the carburetor inside for 15 to 30 minutes, and that's it.
The formula is non-chlorinated and is VOC-compliant across the entire United States. It's safe for use on plastic and metal parts made of aluminum, steel, and various alloys.
While the price is a little steep when you compare this product to others on our list, it is for a 1-gallon container, meaning there is enough product to last you many applications. Also, dipping is not always the best method for cleaning larger parts, but it should be ideal for most carburetor types.

---
3. Best for 2- & 4-Cycle Engine: Briggs & Stratton 100042

Briggs & Stratton is a popular tool and small engine maker. They make their model 100042 carburetor cleaner to work for both 2 and 4-cycle engines to suit almost any vehicle.
This carburetor cleaner will remove all kinds of carburetor deposits fast and effectively by dissolving them. Better still, you can use it to clean chokes and any other metal parts very quickly.
With this carburetor cleaner, you can be sure of minimal downtimes given the fast-acting formula. And besides cleaning the carburetor, it will help improve starting.
Despite not coming with a spray straw, this product is still quick and easy to apply. Also, the manufacturer does not make it clear whether it is safe for plastic or rubber, but this should not be a big issue.

---
4. Best Inexpensive: Gumout 800002231
The inexpensive Gumout 800002231 is a fantastic carburetor cleaner for motorists looking for an effective product for cleaning their carburetor without spending a lot of cash. Furthermore, this product helps solve various engine issues like stalling, rough idling, and hard starts.
This carburetor cleaner is quite versatile as it cleans all kinds of unpainted metal parts, including choke valves. Better yet, it is quick-drying to minimize downtime, no matter the component you might be cleaning.
The Gumout carburetor cleaner will remove gum, varnish, and other deposits quickly and thoroughly. This carburetor cleaner leaves you with a shiny and new-looking carburetor. The spray head additionally includes a straw for more accuracy when you need it.
What's more, this product is safe for use with oxygen sensors and catalytic converters. Still, Gumout advises to avoid spraying directly on oxygen sensors to ensure no disruption of regular engine operation.
This product is not safe for painted surfaces, but you will hardly ever need to use it on any. It is also highly flammable, but with extra keenness when using it, you should be okay.

---
5. Best Spray: WD-40 Specialist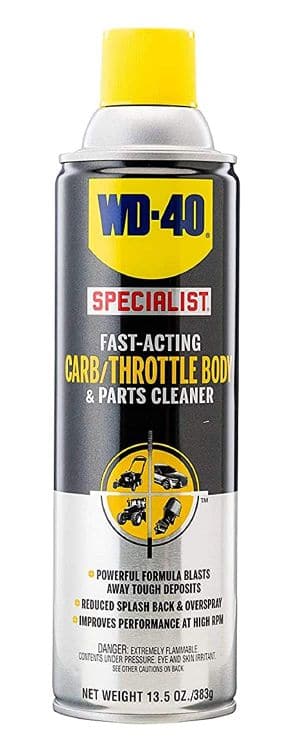 WD-40 Specialist comes in a spray bottle that makes it easier to apply. It is also an all-in-one product that is useful for cleaning carburetors, throttle body and unpainted metal parts.
You can use this carburetor cleaner on both old and new engines and equipment as it does not damage them. Besides vehicles, it cleans other things like lawnmowers, motorcycles, and boats.
The dual-action system ensures that this will be a more effective product as it breaks up the tough deposits and blasts them away.
This carburetor cleaner helps optimize performance at high RPM and is safe on the oxygen sensors and catalytic converters.
The spray straw does not seem good quality, but the good news is that it still works fine and should not be a deal-breaker.

---
6. Best for Gasoline Engine: Genuine Ford Fluid PM-2

Motorcraft is an OEM parts maker, founded in 1972 by the Ford Motor Company. It's well-known for making vehicle-specific spare parts and cleaning products like the Genuine Ford Fluid PM-2 carburetor cleaner that will be ideal for gasoline vehicles.
It removes gums, sludge, and carbon deposits, leaving you with a clean carburetor. You can also use it on other engine parts, including cylinder valves, cast iron, and varnished steel parts.
Its 18-oz spray-can offers enough solution to last you for a while, and you also get the dip version without a spray head.
On the flip side, it's not for diesel engines. However, this should not be a big deal as the manufacturer makes this clear in the description. And despite being a little pricier, it is worth every buck.

---
7. Residue-Free Carburetor Cleaner: Berryman 113

Berryman 113 is your best bet if you want a carburetor cleaner that will clean the carburetor effectively and dry without leaving any residue. What's more, this will be an ideal product for cleaning other components like choke and PCV valve.
This carburetor cleaner is also fast-acting to ensure you have minimal downtime when cleaning your carburetor. You can use it to dissolve and clean gum, sludge, and varnish from the carburetor.
Besides the effective cleaning, this product leaves parts with an extra shine to make them look almost new. You can also be sure of the quality and safety as it is carb compliant.
When you compare this product to others on our list, it seems quite pricey, but it is worth every buck. Also, there is no straw in the package, but this is still an easy product to apply precisely.

How to Buy the Best Carburetor Cleaner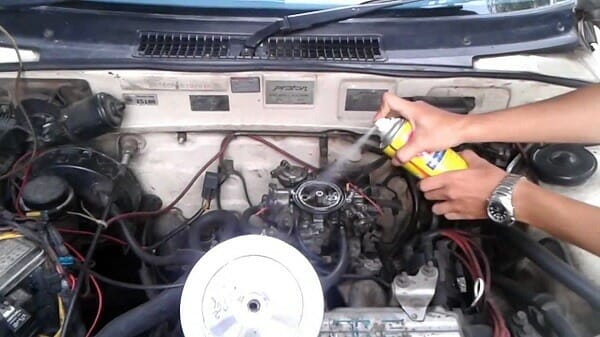 1. Chlorinated vs. Non-chlorinated
Chlorine is a common ingredient in all kinds of cleaning agents, as it helps break down dirt more easily. However, not all carburetor cleaners include it, as some have a non-chlorinated formula.
Chlorinated cleaners like Gunk M4814 are more potent and clean faster and more thoroughly, but they can damage delicate materials.
Non-chlorinated cleaners such as the Gunk M4815NC are milder and safer for all surfaces but can struggle with heavy deposits.
2. Spray or Dip
You will also need to decide whether to buy the spray or dip types of carburetor cleaner. Here each type has its merits and demerits.
Spray carburetor cleaners are the kinds that you have to spray on the carburetor when cleaning. These allow you to clean the carburetor without removing it, but even with the straw that comes with most, you can have a hard time getting the product to the hard to reach places.
On the other hand, dip carburetor cleaners are the kinds you have to immerse the carburetor inside a container full of the product. They allow you to soak the carb for more effective results and to get the product everywhere. However, to use these cleaners, you have to remove the carburetor.
3. Fast-Acting
Since you will not have a lot of time for cleaning your carburetor, you need a cleaner that provides a fast-acting formula.
A fast-acting formula like what you get with the CRC 03077 dissolves the deposits fast and hence ensuring minimal downtime for the vehicle.
4. Compatible Material
As you shop for the best carburetor cleaner, it is vital to note that they are suitable for different materials.
While carburetors are mostly metal, some surrounding components are plastic or rubber materials. Hence, if these materials are in areas you are likely to get the cleaner on when cleaning the carburetor, you need to make sure the formula will not damage them.
5. Safety and Eco-Friendliness
You also need to think about safety and eco-friendliness as you choose a carburetor cleaner. It is essential to make sure the product you buy is safe for users by having non-toxic compounds and being low on VOC.
The eco-friendliness of a carburetor cleaner is subjective. That is, if you care about the environment, then take extra effort to ensure you get an eco-friendly carburetor cleaner.
6. Ease of Use
Another consideration is how easy it is to use the cleaner. Some come in spray cans, while others come in regular containers, intended for dipping the carburetor into it.
Spray carburetor cleaners are generally more straightforward to use than dip ones, and this is more so if they come with a straw for precise application.
How to Clean a Carburetor (Step by Step Guide)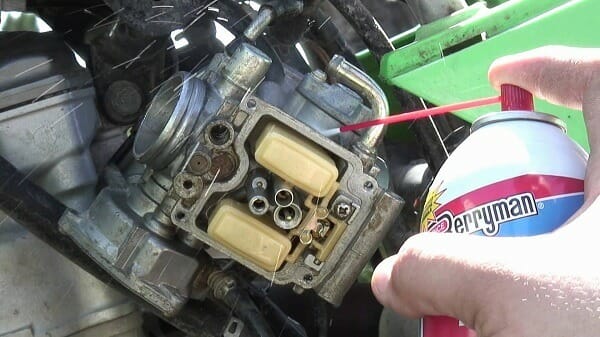 The step by step guide below leads you through the necessary stages of cleaning a carburetor, independent of your car's or tool's make or model.
Step 1: Wear Goggles & Gloves
You should keep in mind that most carburetor cleaners are harmful to both skin and eyes, so it is vital to wear goggles and gloves when using them. In case the solution does spill on you, wash it away as quickly as possible with water.
Step 2: Remove the Carburetor
Engines have different carburetors types, with tools like lawnmowers having simpler ones than cars, whose carburetors are a bit more complicated.
All the same, you may have to disconnect the carburetor from the engine first. In that case, you'll need to remove all the hoses, linkages, springs and separate the carburetor from the engine. Feel free to take pictures along the way, so you remember the location of the components.
Step 3: Dismantle the Carburetor
Once the carburetor is free or you can work on it in place, you need to dismantle. The length of this step depends on your carburetor complexity. Here you will need to find and open the float chamber.
Then remove the float, including any pins, gaskets, O-rings, or other present items, depending on your engine make. It's often a great idea to take pictures before a disassembly, so you'll know how to assemble it back quickly.
You also need to remove any rubber or plastic parts because some carburetor cleaners contain chemicals that can attack and damage them over time.
Step 4: Cleaning
Now is the time to clean your carburetor in and out. Feel free to brush the outside with a brush, but you have to clean the inside with the carburetor cleaner.
You can either use the spray or the dip cleaner, but if you are cleaning the carburetor in place, then spray is your only option.
If you remove the carb from the engine, you can use an immersion or dip cleaner. Make sure you leave the entire carburetor in the solution for some time to get a complete cleansing.
Step 5: Re-Installation
Once your carburetor is clean and properly dried, it's time to re-assemble and re-install it. Here is where the pictures come in handy, especially if you're not familiar with the carburetor assembly.
After reconnecting everything, including all wires and hoses, start your engine to make sure it works, and if it works, the job is complete.
Frequently asked questions
What Symptoms Can a Dirty Carburetor Cause?
A: Although the symptoms largely depend on the extent of the issue, a dirty carburetor can cause hard starts, backfiring, black exhaust smoke, and a dip in engine performance. If it is too dirty, the engine might also fail to start altogether.
How often Should I Clean my Carburetor?
A: Although you can get away with cleaning your carburetor once per year, experts recommend you clean it at least every 6 months. Also, the frequency depends on how often you use the vehicle. Regularly used ones require more frequent cleaning than occasionally used cars.
Do I have to Take the Carburetor Out of the Car to Clean it?
A: No, you can still clean the carburetor when it is still in the vehicle when using the spray carburetor cleaners. However, if you prefer using dip carburetor cleaners, you have first to take out the carburetor.
Conclusion
Whether you are looking for the best carburetor cleaner for your car, motorcycle, or even an RV, there are plenty of fantastic offers to choose from on or list.
To help you narrow down your choice, the CRC 03077 is our best overall and top recommendation thanks to the fast-acting formula that will remove all kinds of carburetor deposits.
But, if you prefer a more affordable carburetor cleaner, the Gumout 800002231 is our recommendation, while the Berryman 0996 is perfect for those that prefer a thorough dip clean.