A car duster offers you the opportunity to clean your vehicle in a way that no other tool does. These tools pick up dust like a magnet, making it possible to get rid of it quickly and effectively.
With the best car duster, you can keep your car's interior and exterior surfaces clean without having to wash them. What's more, these dusters do not scratch the paint, and they are non-toxic, making them safe for the users.
To help you find a good car duster that will do a fantastic job, here we review some top models and give you a buying guide.
Top Car Dusters of 2021 by Editors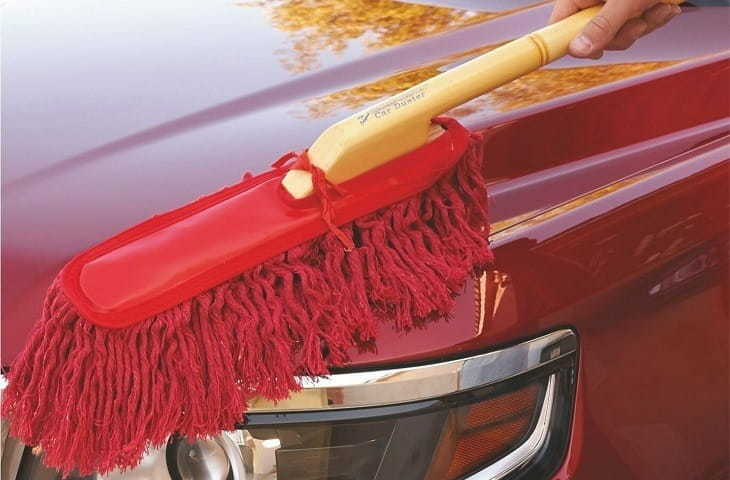 Summary of 7 Best Car Dusters
IMAGE
PRODUCT
FEATURES

1. California 62442 (Best Overall)

Large head cleans in one swoop
Comfortable wooden handle
Cotton material does not scratch finish

2. Carrand AutoSpa 97372AS (Best Inexpensive)

Highly affordable
Long chenille microfiber material
Great for cleaning pockets & cup holders

3. Relentless Drive 8542127580 (Best Professional)

Large & thick microfiber head
Long, secure & extendable handle
Extra-large non-slip grip

4. Takavu TAK153-26 (Best for Car Interior)

Lint-free for interior cleaning
360-degree microfiber fingers
Unbreakable comfort handle

5. OCM TK2 (Best Cotton)

100% soft cotton threads
Large dust head - 13.25 inches
Classic varnished wood handle

6. California 62447-8B (Best for Tight Space)

Mini size for cleaning tight spaces
Wax-treated fibers
Multifunctional design

7. Senhai Mini (Best for Car Air Vent)

Cleans all size air vents
Unique 2-in-1 brush & cloth cleaner
Detachable parts for easy cleaning
1. Best Overall: California 62442

Weight: 1.4 pounds
Material: Cotton with wooden handle
Handle Length: 25 inches
The California 62442 is our best overall car duster as it cleans well, is comfortable to use, and does not damage the finish.
It is a more traditional duster with a large cotton mop head that cleans large areas in just one swoop. Unlike the many substandard dusters out there, this head removes the dirt and does not just push it away.
Additionally, it has a 25-inch wooden handle designed to fit the hand perfectly and with a soft enough material to ensure maximum user comfort.
The soft cotton material cleans without scratching the finish. What's more, this car surface cleaner is safe and non-toxic as it does not contain any materials or compounds that can harm the user or environment.
The downside is that it can sometimes streak the finish. However, you can easily avoid this by following the manufacturer's instruction on how to use the duster.

---
2. Best Inexpensive: Carrand AutoSpa 97372AS

Weight: 1.6 ounces
Material: Microfiber, plastic
If you are looking for the best car interior duster and do not want to spend much, the Carrand AutoSpa 97372AS should be perfect as it is an inexpensive model.
This car duster has long chenille microfibers that lift dust more effectively and are soft enough to ensure they never scratch the vehicle surfaces. Being just six inches long, you can easily maneuver the duster to clean pockets or cup holders quickly.
You can be confident this duster is super comfortable to use as it includes a nice molded handle. Users can hold this handle for long periods with minimal hand fatigue. One more thing motorists love is that the duster is easy to take apart for cleaning.
However, it has a relatively shorter handle. But, there is still enough space to grasp it well enough. Also, the lack of a storage pouch should not be a deal-breaker as you can easily find other ways of storing it.

---
3. Best Professional: Relentless Drive 8542127580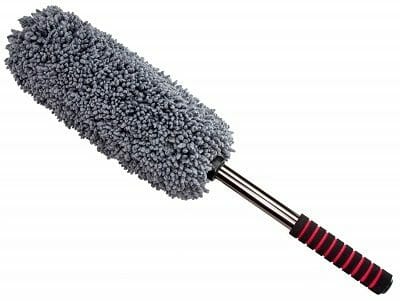 Weight: 1 pound
Material: Microfiber, steel
Handle Length: 16 to 28.5 inches
The Relentless Drive 8542127580 is a well-built car duster designed to provide professional-quality results. It features a more extensive 16 x 6-inch head that removes dirt quickly as it also has 360-degree fingers for a better reach.
This duster comes with a steel handle that's guaranteed to be unbreakable. Additionally, the handle is telescoping, allowing you to extend it from 16 to 28.5 inches for an extra reach. What's more, the duster has an extra-large and non-slip grip for a comfortable hold.
Another element making this a fantastic duster is that it uses an electrostatic chenille microfiber material to easily pick up dust.
You can also get this duster as part of a 2-piece kit that includes a dash duster to ensure you get everything needed to clean vehicle interior or exterior and the dashboard.
One significant con with this model, however, is its relatively higher price. But, for a professional-grade duster, it still comes at a bargain. Also, cleaning it is a little hectic as machine washing is not recommended, but this is a small issue you can live with.

---
4. Best for Car Interior: Takavu TAK153-26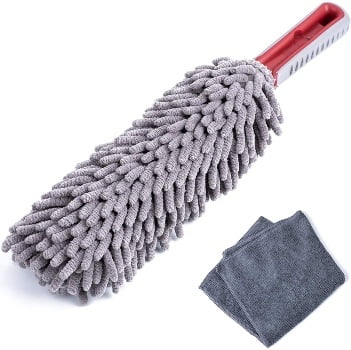 Weight: 7 ounces
Material: Microfiber, plastic
For motorists on the hunt for the best microfiber car duster for cleaning the vehicle interior, the Takavu TAK153-26 is perfect as it does not leave any residue or lint.
Additionally, this duster has 360-degree microfiber fingers that clean well without ever missing a spot. To ensure you have everything you need to clean up the interior effectively, the manufacturer provides a free microfiber cloth.
Using the duster should be super comfortable as it has a nice handle that fits the hand perfectly and provides a non-slip grip. This handle is almost unbreakable for a long service life.
The few drawbacks for this duster include the fact that the handle is not extendable and does not get into small spaces. However, it still does a great job cleaning your vehicle's interior.

---
5. Best Cotton: OCM TK2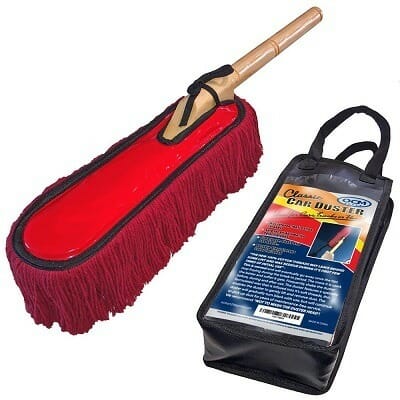 Weight: 1.18 pounds
Material: Cotton, wood
Handle Length: 22 inches
The 100% soft cotton threads are among the key highlights of the OCM TK2and what makes it a fantastic product. These 3-inch long threads lift dirt from the car surface without scratching it. Also, they are safe for all finish types.
However, this duster also has a longer 13.25-inch head that cleans a large area with every pass and is narrow enough to ensure it gets into the hard to reach places with ease.
OCM TK2 is a more comfortable car duster to use thanks to the solid wood handle that offers durability to ensure many years of exceptional service. Also, when you buy the duster, you get a nice and durable storage cover.
The handle is not extendable, but at over 9 inches long, it should still offer a good reach to make cleaning easier.

---
6. Best for Tight Space: California 62447-8B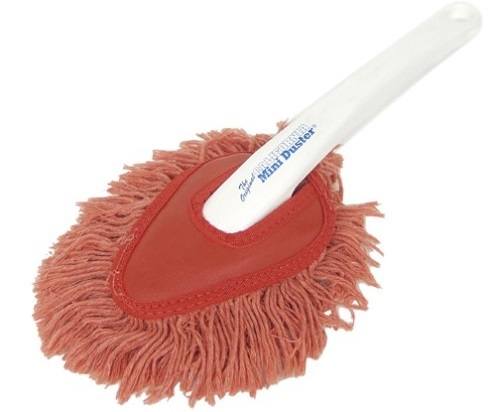 Weight: 5.1 ounces
Material: Microfiber, plastic
California 62447-8Bis a top-rated car duster that will be ideal for cleaning tight spaces. Its head is just 7 x 5 inches, which allows you to get the duster into confined areas with ease.
This California car duster delivers exceptional cleaning results as it uses some wax-treated fibers to lift off dirt and dust from the surface without scratching it.
With safe and non-toxic materials, you can be sure this duster does not contain anything that can harm you or the environment.
What's more, this model is quite versatile as it can clean all vehicle surfaces, including seats and dashboard.
Overall, this small car duster comes at a more affordable price tag, making it an excellent choice for those shopping on a tight budget.
Some motorists can have an issue with the lack of instructions, but this is a simple gadget that is easy to figure out even with no directions. Provided you give it a shake before use to remove any loose fibers, you never have any left on your surfaces.

---
7. Best for Car Air Vent: Senhai Mini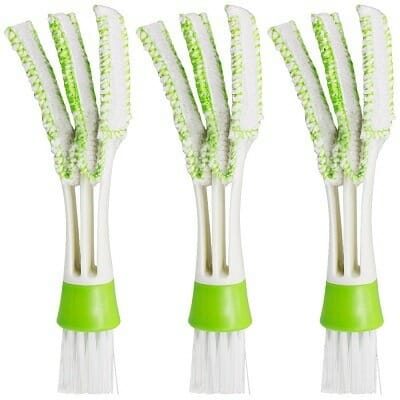 Weight: 3.84 ounces
Material: Plastic, nylon, microfiber
Handle Length: 6 inches
Most microfiber car dusters cannot clean out tiny spaces like air-vents and similar locations effectively. However, the Senhai Mini aims to change that as it can clean any air vent size with ease.
What's more, this is a 2-in-1 car duster that includes cleaning cloth and brush to make it ideal for various uses. Hence, it is a multifunction product you can use to clean other things like shutters or blinds.
As the parts can be easily detached and reattached again, this car duster will give you an easy time when both cleaning or storing. Also, its small size means you can keep it almost anywhere. Since it comes as a 3-piece, motorists are sure of getting great value for cash.
Given the brush's size, it might not be as useful as the larger ones, but you can still find many surfaces on your vehicle where the duster comes in handy.

How to Buy the Best Car Duster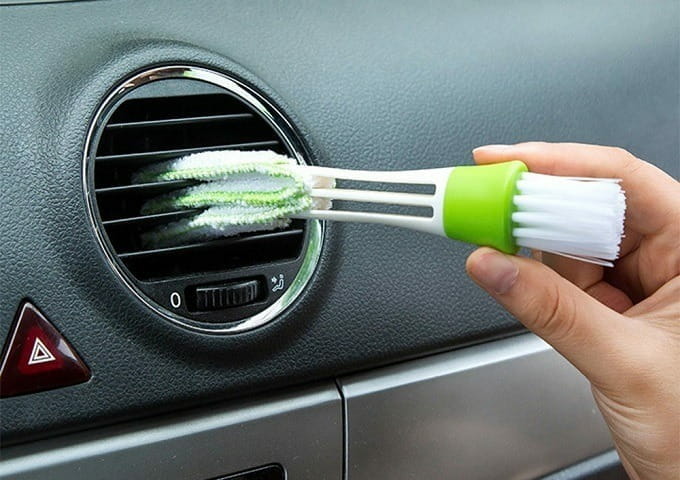 1. Shape & Size
Car dusters come in different shapes and sizes, so you need to choose what fits your specific needs. Here you need to consider the overall shape/size of the duster and the head.
With a larger duster that also includes a large, rectangular head like the California 62442, for instance, you can get more done within a short time as it cleans a large area with every swoop.
A more compact one like the California 62447-8B, which also has a narrow, triangular head, is better for interior cleaning or for tighter spaces that are hard to reach.
2. Material
A duster's material makeup is another crucial issue to consider because your choice of material determines its durability or what you can use it to do. Here cotton and microfiber are the most common options.
Cotton
Cotton is gentler on the paint job as it is a soft material. Hence, it is an ideal option when you want to clean delicate surfaces. These dusters work well for the car's interior surfaces like seats, dashboard and also for cleaning glass.
But, cotton dusters need a wax coating to help them trap dust particles. This coating means you can't wash them. They are also prone to creating streaks due to their wax content.
Microfiber
Microfiber is a synthetic material with an electrostatic charge that traps tiny materials like dust particles, lint, and pollen.

The microfiber dusters are also quite soft, meaning they do not damage the paint. Additionally, they are washable and can clean any surface effectively. If you are dealing with heavy dirt build-up or want something for both exterior and interior use, microfiber is the best option.

3. Effectiveness
The goal of car dusters is to pick up dust with just one swoop over the surface. It should also hold the particles until you shake or wash them off.
A product that merely moves dust does not do you any good. Hence, before settling on any model, you need to check its effectiveness by reading customer reviews and analyzing its design.
4. Versatility
You'll get better value for your money with a versatile car duster that you can use to clean more surfaces and car parts. Features like a telescoping handle or a 2-in-1 design like the Senhai Mini can make one duster more versatile than the other.
5. Washing & Maintenance
You need to think about the ease of washing or maintenance as you decide on the best car duster to buy as you do not want something that takes lots of effort to clean after use.
Something with a washable head is always the best, and this is more so if it is washing machine safe. Those that are not washable but still easy to clean with a simple shake to remove the dirt and dust are also quite convenient.
Frequently asked questions
Can I Use a Car Duster on Glass?
A: Yes, you can use a car duster to clean glass. However, this is only so if it has soft bristles or threads because rough ones can leave unsightly scratches on the glass. Also, car dusters are only good for removing dust from the windshields or mirrors and not other things like stains.
How Do I Clean my Car Duster?
A: It depends on the type. Some have removable heads that you can pop into your washing machine when you want to clean them. For others, a thorough shaking is all you need to remove the dirt and dust particles before using it again.
My Car Duster is Leaving Streaks or Lint on My Vehicle. What Do I Do?
A: Good quality car dusters should not leave any lint behind, but an easy way to ensure this never happens is by shaking it to remove any loose fibers before use. To avoid streaks, make sure both the duster and car surface are dry before use.
Will a Car Duster Pick up Dog Hair?
A: Some like those with chenille microfiber can pick up dog hair. However, the construction of most is not for picking up dog hair. Therefore, you still need other tools like a handheld vacuum for this.
Conclusion
A car duster provides a simple but effective way of cleaning up your vehicle. Also, they get the job done much faster and with minimal downtime as there is hardly any wait time after the job.
With our review above, finding the best car duster is now more straightforward. To make your choice an even easier one, the California 62442 is our top recommendation thanks to a larger, more effective head and other things like a super comfortable handle.
However, for those that prefer something more affordable, the Carrand AutoSpa 97372AS should be a fantastic choice.