When it comes to washing vehicles, you will be happy to have the best foam cannon around as it makes the job simpler and ensures you get better results.
The foam cannon is a device that connects to your water pressure washer and outputs foam to quickly shampoos your vehicle. Unlike the regular foam gun, it provides much thicker foam without using up a lot of the car soap.
The foam from a cannon comes out at high pressure to ensure it clings to the surfaces much better and for longer. Unlike foam guns, cannons cannot use a regular sprayer hose, which makes the setup a little pricier as you also need to buy a water pressure washer.
To help you choose a foam cannon that delivers superior cleaning results while also giving you good value for money, we look at some top options in the market and show you how to pick the right model.
Editors' Picks for Top Foam Cannons of 2021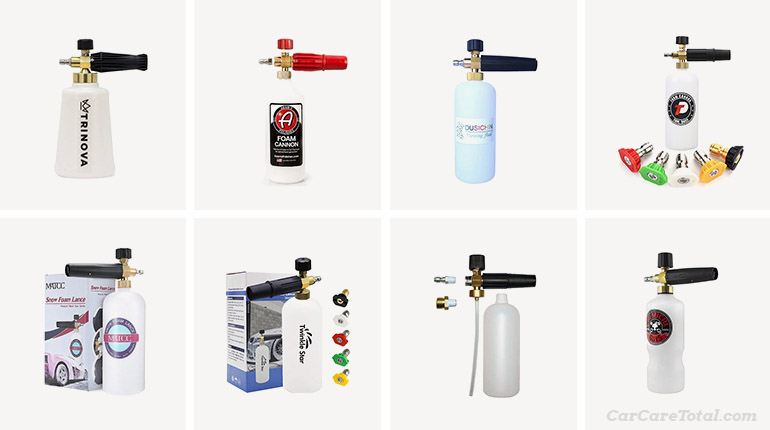 Summary of 7 Best Foam Cannons
IMAGE
PRODUCT
FEATURES

1. TriNova 33910 (Best Overall)

Extremely easy to use
Superior build quality
Flexible flow rate
Large base & wide mouth

2. Adam's Polishes AFC (Best Brand)

Premium foam cannon from a top brand
Easily adjustable flow rate
Adjustable spray pattern
Large capacity container

3. Dusichin SFL-001 (Best Budget)

Budget-friendly
High-quality brass connectors
Variable & adjustable spray nozzle

4. Tool Daily Foam Cannon (Most Versatile)

Suitable for various cleaning jobs
Easy to install
Adjustable nozzle

5. MATCC PMH101 (Best for Beginners)

Beginner-friendly design
Stainless steel foam maker core
Durable & rustproof brass connectors

6. Twinkle Star 4336320841 (Best Heavy-Duty)

Heavy-duty design
Sprays thick foam up to 20 feet
Adjustable spray pattern
Kit includes 5 nozzle tips

7. MTM Hydro 14.0263 (Best for Professionals)

Works with a high-water pressure of up to 5,000 PSI
Withstand high water temperatures

Delivers a flow rate of up to 5.3 GPM
1. Best Overall: TriNova 33910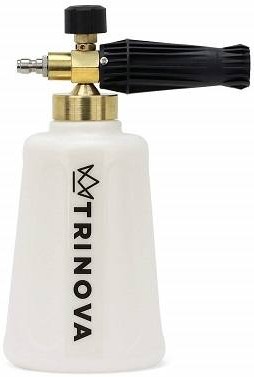 Pressure: 800 - 3,200 PSI
Capacity: 1 L
Flow Rate: 1.4 - 5.3 GPM
What separates the TriNova 33910foam cannon from the rest of the competition and makes it our best overall is its combination of ease-of-use and heavy-duty build construction. The build features a heavy-gauge container, brass body, and a stainless-steel nozzle.
When it comes to the use, you only need to fill up the reservoir with soap then connect it to the pressure washer. You should then adjust the knob to the desired foam level and the spray foam to the vehicle's surface.
The water pressure required by this foam cannon is very flexible because as it can work with water pressure as low as 800 PSI to 3,200 PSI. What's more, the flow rate of 1.4 GPM to 5.3 GPM is flexible enough. Also, adjusting the flow rate is extremely easy, as you only have to twist the knob at the top.
Other things that make this such a great foam cannon are the wide mouth, which makes soap refills easy, and a large base for ensuring the container never tips.
The only issue we take with it is that the price could have been more competitive. However, you can be sure it is worth every buck. There are also no accessories provides but these should be cheap to buy separately.

---
2. Best Brand: Adam's Polishes AFC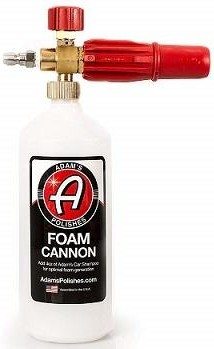 Pressure: 870 - 3,190 PSI
Capacity: 1 L
Flow Rate: 1.3 - 5.3 GPM
Adam's products are always premium quality as they go through a rigorous development process to ensure they are the best quality possible. Hence, if you want a premium foam cannon from a top brand, Adam's Polishes AFC should be perfect.
This foam cannon will work with a maximum water pressure of 3,190 PSI, which is more than most other models can withstand. The minimum water pressure of 870 PSI is a welcome addition for those without a powerful water pressure washer.
When it comes to using the cannon, you can be sure you will be in full control as it offers both adjustable flow rate and spray pattern. What's more, it has a decent capacity of 32 fluid ounces and is well-built with a tough container and sturdy connectors.
The absence of accessories seems to be the most significant shortcoming for this foam cannon, but this should not be the deal-breaker given their wide availability and affordability.

---
3. Best Budget: Dusichin SFL-001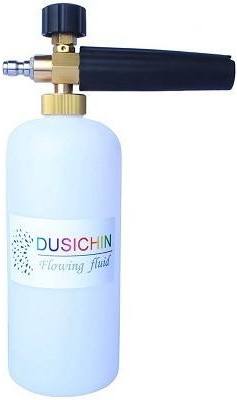 Pressure: 1,000 - 3,000 PSI
Capacity: 1 L
Flow Rate: 2 - 5.3 GPM
The Dusichin SFL-001 is a more budget-friendly foam cannon that will help save you cash while ensuring you get a well-built and effective product.
Its heavy-duty design makes it ideal for both enthusiasts and professional car washers. And it also makes use of some equally durable brass connectors to ensure you will get a leak-free connection.
Moreover, you can make various adjustments to the nozzle spray patterns and get a very accurate foam mixing with this foam cannon. Many users love that the container has grading to ensure you know the exact amount of water and shampoo you add.
This foam cannon requires high pressure as it cannot work with anything under 1,000 PSI, but the good news is that almost any standard car pressure washer can generate this pressure. And despite the foam not being super thick, it is still within the acceptable standards.

---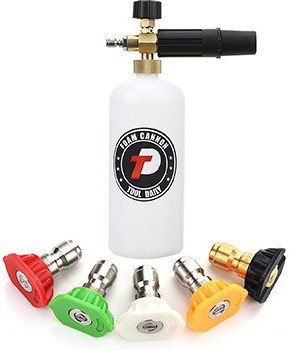 Pressure: 1,000 - 3,000 PSI
Capacity: 1 L
If you are looking for a foam cannon that will come in handy for different applications from washing all vehicle parts to cleaning the driveways, the versatile Tool Daily Foam Cannon is a good buy.
This versatile foam cannon will come with 5 different nozzle tips to ensure you have the exact one that you need for these varying applications. Better yet, setting it up is easy, thanks to the quick connect fittings.
The nozzle is also adjustable to ensure you are in full control of foam mixing and generation for maximum precision. What's more, you will have control over the spray pattern as it is also adjustable.
For the drawbacks, the adjustment knob seems to be a little confusing, and the instructions are also a little off. However, the knob should be okay once you get used to it, and even if the instructions are not very helpful, you will not have difficulties using this cannon.

---
5. Best for Beginners: MATCC PMH101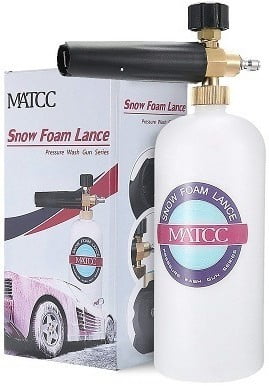 Pressure: 1,000 - 3,000 PSI
Capacity: 1 L
Flow Rate: 2 - 5.3 GPM
The MATCC PMH101 is a straightforward foam cannon that does not take much experience to operate. Simply connect this unit to your water pressure washer via the 1/4-inch connector, and you are good to go. This simplicity makes it an excellent model for absolute beginners.
Moreover, this foam cannon's core is made from stainless steel, which will not corrode and guarantees that it produces a thick lather every time.
Also, you can adjust the nozzle on the fly as there is a precise adjustment knob. All you have to do is twist the handle left or right, and the spray nozzle patterns, as well as the amount of foam it outputs, will change accordingly.
You can also be sure that this cannon will give you a longer service life because, besides the sturdy bottle, it has some rustproof and durable brass connectors.
We recommend cleaning the foam cannon container thoroughly after every use as it is not chemical resistant. But, you should not have any issues provided you keep it clean.

---
6. Best Heavy-Duty: Twinkle Star 4336320841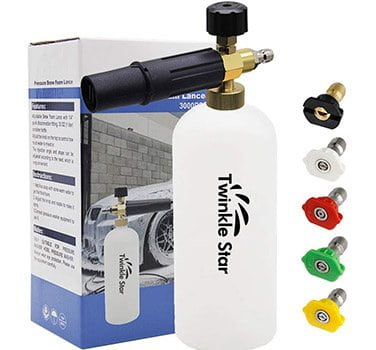 Pressure: 1,000 PSI
Capacity: 1 L
Flow Rate: 2.5 GPM
Twinkle Star 4336320841 is a heavy-duty foam cannon that ensures it will be a long time before you need to replace it as it serves you well for ages.
Besides being a long-lasting model, it is built for versatility. The cannon includes 5 different nozzle tips that will ensure you can use it for various cleaning jobs. And the spray pattern is also easily adjustable to your liking.
What's more, this cannon will provide one of the thickest foams you can expect to get from these products and can spray up to an impressive 20 feet. Overall this is quite an easy model to set up and use, making it ideal for use by both professionals and DIY enthusiasts.
Like any other foam cannon, this one has a few shortcomings, such as the bottle threads being a little misaligned and a super-sensitive adjuster knob. However, the bottle still holds securely enough, and provided you do not keep touching the knob, you should not have any problem.

---
7. Best for Professionals: MTM Hydro 14.0263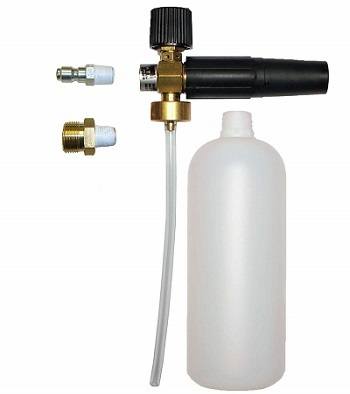 Pressure: 1,100 - 5,000 PSI
Capacity: 1 L
Flow Rate: 1.8 - 5.3 GPM
The MTM Hydro 14.0263 has a flexible flow rate of 1.8 GPM to 5.3 GPM, can withstand up to 5,000 PSI, and is highly maneuverable, making it very ideal or professional car washers. This high maneuverability allows you to clean any part of your vehicle with ease.
Also, this foam cannon can withstand water temperatures up to 153 degrees Fahrenheit, which is higher than most other models in its class.
Additionally, it has a superior build quality that ensures it can take a lot of abuse for a long time, which also gives you good value as you will not need to replace it prematurely.
However, a few disadvantages we note with this product is that the price a bit on the higher side. You also need a minimum water pressure of 1,100 PSI for it to work correctly. Just make sure that you have the required water pressure at the tap before you get this foam cannon, and you will be good to go.
Note: This foam cannon may not directly fit electric pressure washers by GreenWorks. You may need an adapter for it.

How to Buy the Best Foam Cannon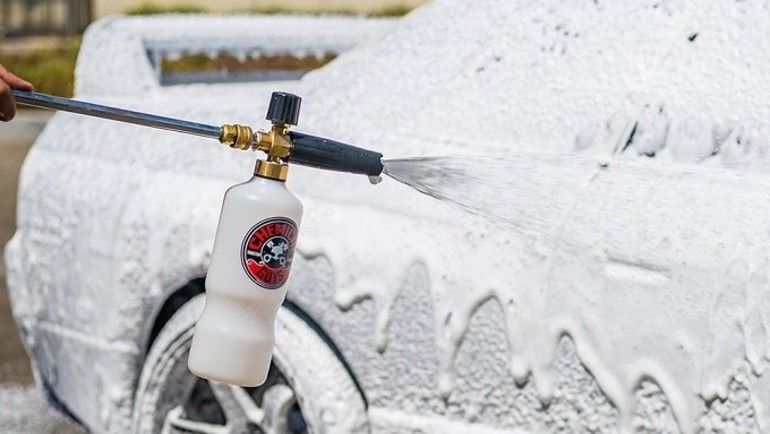 1. Pressure
First and foremost, you need to ensure that you have sufficient water pressure to operate the foam cannon.
Remember, unlike the foam gun, the foam cannon requires a pressure washer to ensure there is enough pressure to push out the foam and water mixture through the nozzle.
The required pressure will depend on the model you choose. In general, an average foam cannon will need a minimum water pressure of 800 - 1,300 PSI and a maximum of 3,000 - 5,000 PSI.
2. Capacity
The container on the foam cannon is what holds the water and car shampoo mixture. Therefore, if you will be using your foam cannon for heavy-duty use, you need a big capacity model.
For casual use or a single vehicle, a foam cannon with a capacity of 1 L will be more than enough.
3. Water Output
The output or flow rate is how much foam it can deliver. Most top-rated foam cannons will provide you with the ability to adjust the flow rate on the fly.
A foam cannon with a water output of anything between 1.3 GPM and 5.3 GPM like Adam's Polishes AFC and many others on our list should be good enough for most vehicle cleaning jobs.
4. Connector
For your foam cannon to work, you will need to connect it to the pressure washer using connectors. Most foam cannons have a standard 1/4" connector for quick and easy connectivity.
Besides making sure that the connector size is correct, you need to ensure they are well-built to serve you well for long. Here, brass connectors like what you get with the Dusichin SFL-001 are the best option.
5. Durability
You don't want to replace your foam cannon after every use, as this can be very costly. Hence, whatever model you buy should be durable enough.
Something with solid brass or heavy-gauge plastic body and some stainless-steel nozzle will give you a long enough service life.
6. Nole and Orifice Adjustments
The nozzle is the part of the foam cannon where the foam leaves the unit. It often comes in two orifice sizes, which usually measure 1.1 mm or 1.25 mm.
A smaller orifice size of 1.1 mm will typically deliver a higher foam output than the larger 1.25 mm orifice. However, it is always best to go with a model that has 2 orifices because it is more versatile and brings more value to the table.
Conclusion
Using foam cannon when washing your vehicle will always give you superior results than cleaning it with just soap and water.
With this piece, you can be sure of getting the best foam cannon. If you prefer to go straight to the point, the TriNova 33910is our best overall recommendation as it delivers in all aspects from the build construction and ease of use to the flow rate.
However, if you prefer to buy from a top brand, go with Adam's Polishes AFC, while the Dusichin SFL-001 is what we recommend for those shopping on a tight budget.