If you want to restore the shine on a worn-out part of your car, for instance, the chrome bumper, a chrome spray paint should do the trick.
However, this spray paint is quite versatile because it can also be handy for revamping other interior and exterior vehicle parts like dashboards and wheels. What's more, it gives the surfaces a more attractive metallic finish that looks very professional.
That said, you first need to get a top-quality chrome spray paint. Here we look at some of the best ones available out there and provide a buying guide to show you how to choose.
Editors' Picks: Top Chrome Spray Paints of 2021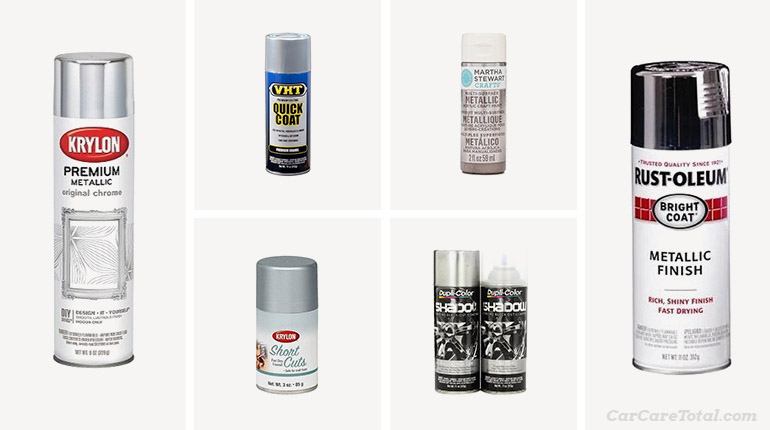 Summary of 5 Best Chrome Spray Paints
IMAGE
PRODUCT
FEATURES

1. Krylon K01010A07 (Best Overall)

Fast-drying in just 10 minutes
Creates a smooth, lustrous finish
Acid-free formula
Covers up to 20 square feet

2. Rust-Oleum 7718830 (Best Budget)

Budget-friendly
Excellent color retention & chip resistance
Works on various materials

Tough & attractive finish

3. VHT SP525 (Best Premium)

Premium-quality enamel-based paint
Suitable for both interior & exterior use
Lead-free & ozone-safe
One coat coverage

4. Martha Stewart Crafts 32995CA (Best Multi-Surface)

Suitable for multiple surfaces
Non-toxic, water-based formula
Available in multiple colors

Pleasant glittering finish

5. Krylon KSCS032 (Easiest to Apply)

Easy to apply
Usable on different surfaces
Smooth & elegant finish
Multiple color options
1. Best Overall: Krylon K01010A07

Color: Original Chrome
Size: 8 ounces
The Krylon's K01010A07creates a deep and lustrous finish that resembles actual chrome plating and not paint. This, and the fact is it dries to touch in just 10 minutes, make it our best overall option.
This fast-drying spray paint is also acid-free, which ensures it does not damage any paint job, and that it is safe for the user to touch.
The coverage is quite reasonable, given that there are only 8 ounces of product in the bottle. You can cover up to 20 square feet. Hence, there is enough of it to give a typical bumper at least a couple of coats.
The paint can also work on multiple surfaces such as plastic, metal, wood, ceramic, paper, wicker, and paper mache. Besides the original chrome color, it is also available in various others such as gold and sterling silver to ensure it matches the particular surface's color.
However, it is only for indoor use, and the price is relatively high. But, the good news is that it is worth every buck.

---
2. Best Budget: Rust-Oleum 7718830

Color: Metallic Chrome
Size: 11 ounces
Rust Oleum's 7718830 is the perfect choice for motorists looking for a good chrome spray paint on a budget. It is one of the cheapest options on our list, which means it gives you quality at a bargain.
The product comes in an 11-ounce aerosol can, so there is quite a lot of it at your disposal for large projects.
Once applied, this chrome paint dries to the touch in just an hour. It leaves a highly attractive finish that does not dull and is more fade-resistant.
This spray paint also offers high chip resistance and color retention, keeping your work looking neat and clean for a long time.
If you are looking for a spray paint that gives you a nice shine, this might not be it as it is not very glossy, but the finish is still highly attractive.

---
3. Best Premium: VHT SP525

Color: Silver Chrome
Size: 11 ounces
If you prefer a premium chrome spray paint made with top-quality materials, the enamel-based VHT SP525 is perfect. Better yet, it is a more environment-friendly product that is both lead-free and ozone-safe.
You can use the VHT SP525 for both the interior and exterior surfaces. What's more, you can apply it to metal, wood, plaster, and masonry surfaces. And just one coat is enough to give good coverage.
Being enamel-based, another benefit you get from buying this product is that it dries to touch quickly (about 30 minutes), but may require a little longer time to handle, usually overnight. The coat formed is tough, durable, weather-resistant, glossy, and prevents rust or corrosion on the underlying metal surface.
Usage directions do not seem very clear, but it should still be easy to figure out. Although this chrome spray paint will also need extra prep work, the outcome is worth the extra effort.

---
4. Best Multi-Surface: Martha Stewart Crafts 32995CA

Color: Rose Chrome
Size: 2 ounces
The Martha Stewart Crafts 32995CA is a versatile and multi-surface chrome spray paint that you can use on various surfaces such as metal, glass, wood, and fabric.
Besides being ideal for a wide variety of surfaces, this spray paint will leave the vehicle surface with a more pleasant glittering finish that makes it look all new.
Also, it is non-toxic thanks to its water-based acrylic formula. Additionally, you get several color options to choose from besides the rose chrome. Hence, it should be easy to match it to the exact color of your vehicle.
For a 2-ounce bottle, this chrome spray paint is quite expensive, but it stands out due to its versatility and attractive finish. Hence, it is still worth giving a try.

---
5. Easiest to Apply: Krylon KSCS032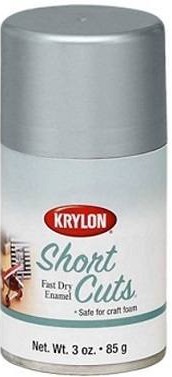 Color: Chrome
Size: 3 ounces
The Krylon KSCS032chrome spray paint comes in a nice aerosol container to make it super-easy to apply. What's more, you can use it on different car surfaces such as glass, metal, ceramic, and wood.
This enamel-based spray paint dries fairly quickly. Also, it creates a hard, durable, and glossy coat that will be very effective at renewing old or worn out surfaces.
You can get this spray paint in a wide variety of colors. This ensures there is something that suits your specific projects perfectly.
Although 3 ounces seems relatively small, you will be surprised with the area it covers when used correctly.

How to Buy the Best Chrome Spray Paint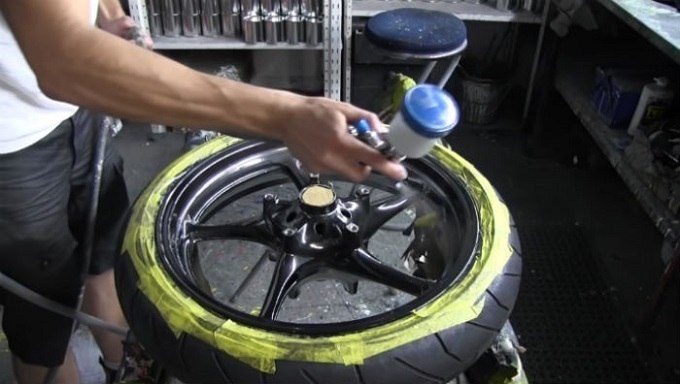 1. Color
Before buying any chrome spray paint, the first thing to check is its color. You should not assume that all have one color just because of their name. There are some slight differences in the chrome shades.
What should guide you is either the cap or container color of the spray can. Typically, the cap will have the same shade as the coat you get after the application.
2. Size
You need to consider the size of your project when choosing chrome spray paint. Larger sizes are better because it doesn't hurt to have some chrome spray leftover, but the best thing to do is buy just enough quantity for the current job to avoid wastage.
For instance, if you want to chrome paint the whole bumper, a large quantity is required. An 11-ounce or at least 8-ounce bottle should be enough for this. But if you are doing just a small touch up, a 2-ounce container like the Martha Stewart Crafts 32995CA will be enough.
3. Surface That Needs to be Applied
Another vital thing to consider is compatibility. Not all chrome spray paints can stick to every car surface. Most manufacturers will list the compatible surfaces on the product's packaging. Hence, it should be easy to tell if the product is ideal for your project or not.
4. Ease of Application
All spray paints are easy to apply. The difference comes about in the preparation process. Some require extensive preparation before application, which makes them more tedious to apply. On the other hand, those that require little surface preparation are easier to use.
5. Drying Time
Each product has a different drying time, and this mostly depends on its chemical composition. Water-based paints usually dry faster, but their coats might not be very tough.
Enamel-based paints such as the VHT SP525, on the other hand, have longer drying times, but they create very tough and weather-resistant coats.
How to Apply Chrome Spray Paint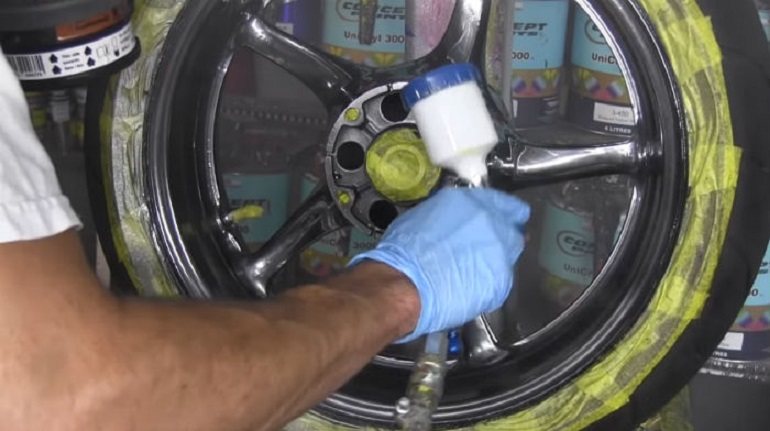 Find a Good Spot
First things first, you must find a suitable place to do the spraying. If it is in your garage, make sure it is well ventilated, with the humidity levels being less than 50% and the temperature between 70 and 100°F.
Get the Right Protective Gear
You should also wear some protective gear because most of these sprays can cause skin and eye irritation. Some might even be harmful to your respiratory system. Always wear a mask and have some gloves over your hands.
Prepare the Surface
With the location and gear in check, its time to get down to work. Begin by scraping off rust and dirt from your car's surface.
A good suggestion would be to sand the surface until you get to the underlying metal, plastic, or other material. Spraying to the base material will create a more durable coat.
Prime
Once the surface is ready, you can now apply primer to create a good base for your paint. However, make it light, and it is a good idea to apply the primer using a spray gun to make the layer thin.
Also, a glossy black primer is best because it will help create a bright finish. When dry, sand the primer lightly, then wipe it before moving onto the next step.
Spray
Now you can apply the chrome paint. Application is typically from top to bottom, and you should avoid forming paint droplets.
The recommended technique is to spray while holding the can about 10 inches away from the surface, then move the spray in straight lines for even application.
Note : You may be required to apply multiple chrome coats. The more coats you use, the more the background color fades to leave your chrome layer looking lustrous.
Read More: 10 Best Chrome Polishes
Conclusion
One common thing with all chrome spray paints listed above is that they leave a high-quality finish on your car's surface. Hence, you will still be okay, regardless of your pick among them.
From our list, the Krylon's K01010A07 is our best overall product as it will dry super fast and also leaves a more lustrous finish. However, the more affordable Rust Oleum's 7718830 is a perfect choice for those shopping on a tight budget.