Pro-Lift C-2036D comes in handy for the many mechanics out there looking for the versatility of the 2-in-1 convertible creepers but want to spend relatively less cash. And despite the smaller price tag, this is still a well-built creeper.
The creeper is made with a heavy-duty steels frame for extra durability. Also, you can be confident that it will be super comfortable thanks to the thick padding and soft covers. To crown it all, the creeper also has some nice casters to make it easy to maneuver.
Pro-Lift C-2036D Review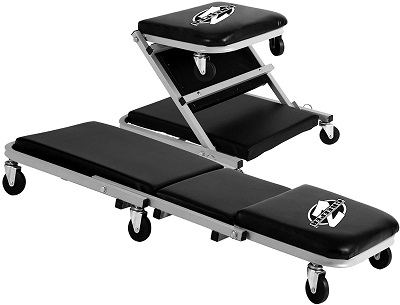 Pro-Lift C-2036D

Specs
Product Name:

Pro-Lift C-2036D

Product Brand:

Pro-Lift

Weight Capacity:

300 pounds

Frame Material:

Steel

Casters:

Yes, six 2-inch swivel casters

Dimensions:

21.9 x 17.3 x 4.5 inches

Weight:

15 pounds
Key Features of Pro-Lift C-2036D
Heavy-duty steel frame for long service life
2-in-1 design for increased versatility
6 swivel caster for easy mobility and maneuverability
300-pound weight capacity still accommodates most adults
Thickly-padded for increased user comfort
Easily retractable pin for an effortless seat change
What We Like
Bottom Line
The perfect creeper for mechanics looking for a more budget-friendly 2-in-1 model that works perfectly as both a creeper and mechanic seat.

Detailed Review for Pro-Lift C-2036D from an Expert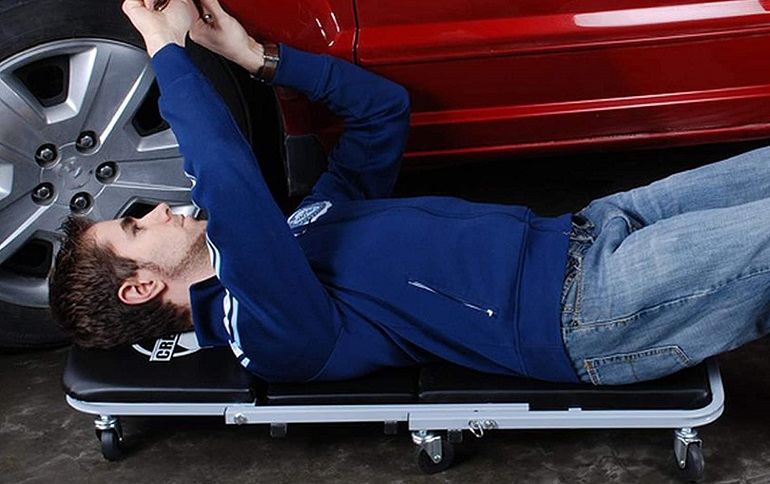 Weight Capacity: Smaller but still enough
Pro-Lift C-2036 is rated to carry up to 300 pounds but given it is a solid steel frame creeper it can probably hold way more than this without caving in or breaking apart.
The 300-pound capacity is relatively lower when compared to other steel models, but it is still enough to accommodate most mechanics out there.
There are also six 2-inch wheels on the creeper that are tough enough to handle the weight and will distribute it more evenly to ensure the creeper maintains good mobility even when fully loaded.
Design: Highly versatile
The design of the Pro-Lift C-2036D is one of the main elements that many mechanics will love most about it. This creeper has a 2-in-1 design that allows you to use it as both a creeper and mechanic seat, which means it will be very handy around the garage no matter what part of the vehicle you are fixing.
Also, you will never have to struggle with the conversion or waste a lot of time trying to do it as this creeper will include an easily retractable pin. This pin allows you to change it from a creeper to seat in just a few steps.
And you can be sure that this creeper will still be stable and comfortable enough even when using it as a seat as the "Z" shape is highly sturdy and stable.
There is also enough space on the creeper when being used as both a creeper and mechanic seat to ensure it can hold anyone. The creeper is 21.9 inches long and about 17.3 inches wide, which means there is more than enough space to accommodate most adults.
Another element of the design that many mechanics will appreciate is that it is available in black and green, and so you will not have to be tied down to just one color option like with many other creepers out there. And overall this creeper has a sleeker and more modern design.
Durability: Solidly built for long service life
No matter how careful you are when working from your creeper, you cannot protect it completely as chances are you will still bump it into things and even drop tools and parts on it. But, this will hardly be an issue with a durable model like this one.
Pro-Lift understands the abuse that a typical creeper has to withstand in its line of duty. Hence, they build this one with a heavy-duty steel frame that can take a lot of beating and do it for a long time.
With the frame also secured by solid nuts and bolts and with very little welding, you can be confident that your creeper will not only last a long time but also remains sturdy and secure for its lifetime. Because the frame is powder-coated and painted, you will also never have to worry about rust and corrosion, which can reduce the lifespan greatly.
The wheels are also designed with durability in mind as they are made from high-quality material for both the wheels and frame. And vinyl padding that covers the seat and headrest is also made to be tough and withstand common issues like tears and punctures for a long time.
Comfort: Spacious and adequately padded
Comfort is another area that Pro-Lift mechanic creepers like the model C-2036D are often unbeatable. For this one, the more spacious design that ensures mechanics can fit perfectly and use it comfortably is one of the main things that make it super comfortable.
The seat and the headrest are also built for comfort. According to the manufacturer's description, "With its thick padded bed, it gives you the extra comfort while getting your job done."
Besides being thickly padded, these cushions also us a high-quality foam material that will not thin out easily to ensure you get maximum comfort for a long time.
The cushions that make up the headrest and seats are perfectly contoured to ensure they conform perfectly to the shape of the body for an even more comfortable posture when working.
Portability: Easily foldable and easy to carry around
You can easily throw the Pro-Lift C-2036D into your trunk or even the back seat and take it with you anywhere you want to as it will not take a lot of space. In case you do not have a lot of room in the back seat or trunk, you can store it in the "Z" position, which takes up less room.
Also, despite being a solid steel frame creeper, it still does not weigh that much. It has a total weight of 15 pounds, which means that it will also be easy to carry around by hand for both men and ladies.
Another element related to portability that many mechanics will love is the swiveling casters. The 6 swivel casters make this creeper easy to move when you are on and off, and you can easily maneuver it when under the vehicle, which makes it quite convenient.
Price: More budget-friendly
If you are not looking to spend a lot of cash but still want to get a solid creeper build to last a long time, this Pro-Lift model is a choice you are unlikely to regret for a long time.
When compared to other 2-in-1 mechanic creepers out there, this is relatively more affordable, and you will need to spend more bucks to get anything better from Pro-Lift and other top mechanic creeper brands.
Also, value for money is further ensured by the fact that it has a solid and heavy-duty steel frame that will ensure you get a long service life. Other things like the thickly padded cushions that provide both comfort and long lifespan also ensure good value for your bucks.

Conclusion on Pro-Lift C-2036D
More budget-friendly but still well-built 2-in-1 creeper that will provide a comfortable platform for working under your vehicle.
Being able to work as both a creeper and mechanic seat, the Pro-Lift 2036D will be very useful around the workshop for a wide variety of fixes. The creeper also has a solid steel frame, 6 swivel caster for easy mobility, and thickly padded cushion for maximum comfort when working.