How comfortable you are when working on your vehicles is a major determinant of how fast you finish the job, and even how good you do it. Hence, it is always a great idea to have a super-comfortable creeper like the Pro-Lift C-9100 around.
And its suitability for the garage does not stop at the comfort, as you can use it as both a creeper and seat, which is quite convenient. Also, it has a solid build that is meant to ensure a long service life so that you will not need to buy a new one any time soon.
Pro-Lift C-9100 Review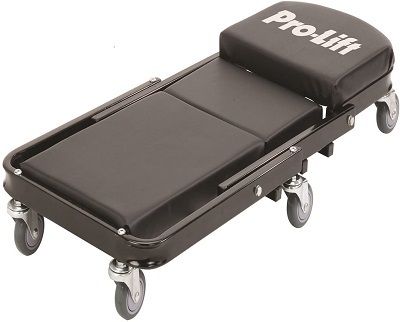 Pro-Lift C-9100

Specs
Product Name:

Pro-Lift C-9100

Product Brand:

Pro-Lift

Weight Capacity:

450 pounds

Frame Material:

Steel

Casters:

Yes, six 3-inch casters

Dimensions:

27.4 x 18.9 x 6.7 inches

Weight:

25.5 pounds
Features of Pro-Lift C-9100
Solid steel frame for increased durability
450-pound capacity to accommodate most adults
2-in-1 design for versatility
Thickly-padded seat and headrest for maximum comfort
Six 3-inch full bearing caster ensure easy mobility
Tool-free transformation
Bottom Line
The Pro-Lift C-9100 is a versatile 2-in-creeper that will work as both a mechanic seat and creeper. Also, it is super comfortable and requires no tools for transformation.

Detailed Review for

Pro-Lift C-9100 from an Expert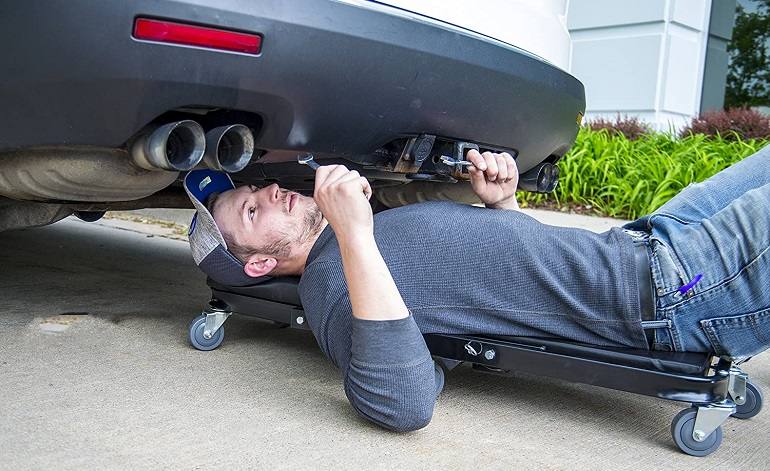 Weight Capacity: Can carry any mechanic out there
Even if you are buying a creeper for use in your home garage, the chances are at some point it will end up being used by others. Hence, when picking up one, you need to make sure that it can accommodate enough weight for use by different individuals.
The good news is that the Pro-Lift C-9100 is built to accommodate any mechanic out there as it can easily carry up to 450 pounds. Better yet, its stability and even overall durability are not affected no matter the weight of the user and how frequently you use it.
Many other creeper models in its class and price range will hardly carry anything more than 250 pounds, which makes this one the perfect buy when looking for something that can be used by different people.
And despite the relatively higher weight capacity, it is still quite compact and also does not weigh a lot. Hence, you will not need to compromise on the size and weight just to get a higher capacity, which is typically the case with many other models.
Design: Versatile 2-in-1 creeper
To work effectively on your vehicle, you will need to not only be able to get under it easily but also be able to seat comfortably when working depending on what you are fixing. Hence, a versatile 2-in-1 creeper like the Pro-Lift C-9100 is a perfect buy.
According to the manufacturer, "Pro-Lift C-9100 Creeper is a 2 in 1 creeper that is designed to be folded in a "Z" shape for use as a mechanics seat or unfolded for use as a mechanics creeper." From this statement, it is clear that it will be very handy whether you are using it like a creeper or garage seat.
Another element of the design that many mechanics will appreciate is the inclusion of 6 casters. These casters are 3-inch and made from a durable polyurethane material. Also, they are full-bearing and completely oil-resistant, which makes them perfect for use in the garage.
With these swivel casters, you can easily move the creeper in an out if the vehicle even when lying down as they roll smoothly and easily and are also easy to direct.
Durability: Solid build for a long service life
Garage creepers have to take a lot of abuse when being used in the garage. And given their typical work environments, you can also be sure that they will have to face various hazards both when in use and storage.
But, with a well-built model like this one, you can be sure it will take everything you throw its way. This ensures that it will serve you well for many years, and hence offer you great value for your money.
The creeper has a 40-inch solid steel frame that is almost indestructible. This frame has almost zero weak points since there is minimal welding as most of the connection is done by nuts and bolts, which makes it even more durable. Also, the frame has a powder-coated finish, which makes it resistant to rust and corrosion for even longer service life.
The casters are equally durable thanks to the polyurethane material and the solid steel holders. Hence, you can be sure that they will also last as long as the rest of the creeper.
With the thickly padded header and seat, the Pro-Lift C-9100 is one of the most comfortable mechanic creepers out there.
The thick padding does not thin out no matter how much weight you put on them as they are made from a high-quality foam material. And the softcover, which is water-resistant, will also add to the overall comfort of the creeper.
Still on the comfort, another element that will ensure this is a highly comfortable creeper is the spacious design. This creeper's dimensions are 27.4 inches long, 18.9 wide and 6.7 inches high, which means there is more than enough space for almost any adult. Also, the seat is equally spacious as it is 14 by 12-1/4 inches.
Portability: Easy enough to pack and carry
You will probably need to carry your creeper around for repairing vehicles in different places, and the Pro-Lift C-9100 will be easy enough to carry around.
Although it might not be the most compact, it is still easy to pack and carry. Folding it only takes a few steps, and best of all, you will not need to use any tools to fold it up.
Also, for such a heavy-duty mechanic creeper, the 25.5-pound total weight is still on the lower side, and this makes it even easier to carry around. You can throw the creeper into the truck or even the back seat of your vehicle, and it will not take up a lot of room when folded.
Price: Fair enough given the quality
For a heavy-duty steel and versatile 2-in-1 mechanic creeper, the Pro-Lift C-9100 is quite fairly priced, and you would need to spend close to double its price tag to get an even better model.
The versatile design helps to save you even more money because, you will not need to buy a separate seat for your garage, which is also quite convenient.
Unlike with many other models where you still need to find better cushions to use it comfortably, this one is good enough as it is.
This, the fact that it is super easy to assemble without any professional help, and the long service life, will ensure that you get an even better value for your cash, and hence making this creeper worth the price.

Conclusion on Pro-Lift C-9100
Sturdy and comfortable 2-in-1 mechanic creeper that will be very handy in the garage when working on different parts of the vehicle.
If you are looking for a comfortable mechanic creeper for your garage, Pro-Lift C-9100 is a fantastic choice. Besides comfort, it is also versatile as it can work as a mechanic seat, and it is also built with a heavy-duty steel frame for durability and 6 swivel casters for effortless mobility.