Has your car's paintwork started to fade off due to increased swirls and scratches? Well, you should try buffing the surface using a polishing pad.
Basically, a polishing pad is a circular-shaped buffer that is designed to be used with an orbital or rotary sander and a polishing compound to scrub through the uneven finish, resulting in a polished, shiny surface that looks as good as new.
The pad can also be used to wax painted, leather and other surfaces for protective purposes. However, you need to invest in high-quality buffer pads if you want the best results and here is a closeup look at 7 best polishing pads that you should consider buying.
Top Polishing Pads of 2021 by Editors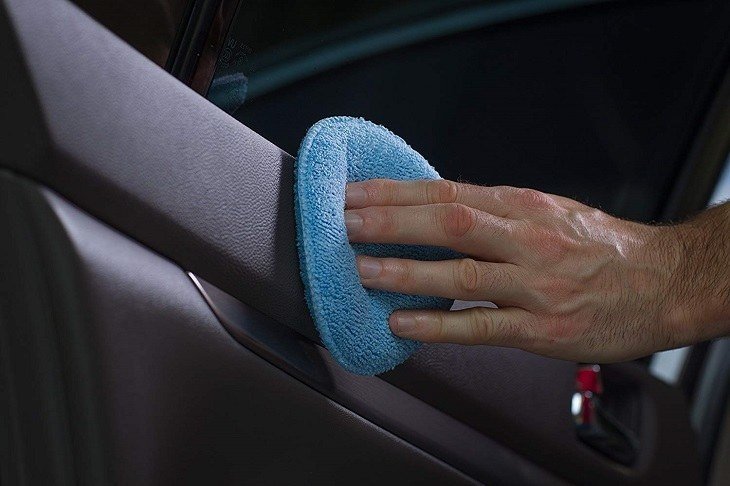 Summary of 7 Best Polishing Pads
IMAGE
PRODUCT
FEATURES

1. Viking Car Care 862400 (Best Overall)

Affordable 6-pack of microfiber polishing pads
Suitable for interior and exterior use
Machine washable
5 inches in diameter

2. Porter-Cable 18007

6-inch lamb wool buffer pad
Can be used on multiple surfaces
Hook and loop design

3. Chemical Guys BUFX_104_HEX5

Durable fine foam polishing pad
Hex-logic design
Maintains 100% coverage on all surfaces
Ideal for 1500-2000 grit count cutting compounds

Meguiar's 7" Rotary Foam Polishing Pad - Hook and Loop Foam Pad Restores High Gloss - WRFP7

4. Meguiar's WRFP7

Recessed backing
Improved foam technology
Hook and loop attachment system

5. TCP Global 5864125919

Complete kit with six 8-inch polishing pads
5 foam waffle pads, 1 wool pad
Hook and loop attachment system
Color-coded waffle pads

6. Griot's Garage 10426

Dual-sided with a foam side and a microfiber side
Chamfered edges
High-tech thermoset bond

7. DeWalt DW4985CL

7-inch single piece polishing pad
Comes with a backing pad and arbor
Soft and durable wool material
1. Viking Car Care 862400 - Best Overall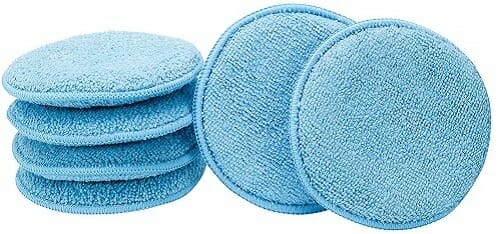 Diameter: 5 inches
Material: Microfiber
Viking Car Care's 862400 is the top-rated polishing pad in our review due to a number of reasons. For starters, it is the most affordable product and despite this, you get a 6-pack of microfiber pads, which are quite gentle to paint and clear coats.
Each piece is designed to promote a uniform application by distributing polish, dressing, protectants or wax evenly on the applied surface, which leads to optimal results in the form of an evenly renewed surface.
The pads are actually ideal for interior or exterior application, which makes their use very versatile, and after use, they can be easily machine washed for clean reuse.
On the downside, the units are not designed to be used with rotary or orbital sanders but with a 5-inch diameter size, they are fairly easy to handle by hand.

---
2. Porter-Cable 18007 Wool Polishing Pad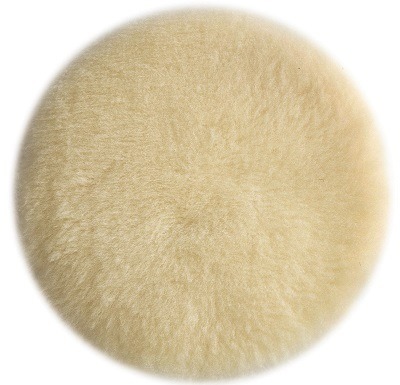 Diameter: 6 inches
Material: Wool
This 18007 stands out as the best wool polishing pad because it is made using fine lamb wool that is very soft and has a thick, pliable texture that enables it to polish surfaces to have the shiniest and glossiest finish without causing any damage.
Additionally, this material makes the pad quite versatile because it can be used on multiple surfaces, while its relatively wide 6-inch diameter size gives good maneuverability so as to reach hidden corners quite easily.
Another benefit you get with the 18007 is a universal fitting design that can be used in a wide variety of standard orbital sanders, and actually has a hook and loop design for easy and quick mounting onto the sander. However, you only get a single buffer pad per pack.

---
3. Chemical Guys BUFX_104_HEX5 Polishing Pad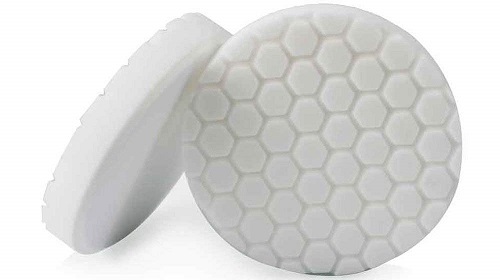 Diameter: 5.5 inches
Material: Foam
If you are a car detailing professional, then this polishing pad from Chemical Guys should interest you because it has a hex-logic design that keeps it constantly lubricated, thereby reducing any friction that may damage clean, unscratched surfaces.
These hexagons are actually laser cut, which helps in distributing the product evenly for uniform application, while also conforming to the shape of the car's surface so as to maintain 100% coverage on all surface contours, be it flat, rounded or angled.
Other than this, the piece is made of a durable fine foam material that is long lasting and ideal for heavy-duty cutting compounds with a grit count of 1500-2000.
The pad measures 5.5-inches in diameter, but there are 3 other different sizes to choose from, which are 4, 6 and 6.5 inches. However, you only get one pad per kit regardless of the size you choose.

---
4. Meguiar's WRFP7 Polishing Pad
Diameter: 7 inches
Material: Foam
Meguiar's WRFP7 is quite easy to use because it features a recessed backing that allows for easy centering when fitting it into a backing plate so as to install it into a rotary buffer.
Other than this, the piece has a hook and loop attachment system, which makes pad changes very quick and easy.
An improved foam technology is used in the making of the pad's foam material, and this helps in eliminating minor surface defects so as to restore the glossy finish, while at the same time improving the piece's durability.
On the downside, you only get a single pad in the kit, but with its 7-inch size, the unit is quite effective at reaching deep into the hidden parts in corners so as to create an evenly smooth finish.

---
5. TCP Global 5864125919 Polishing Pad Kit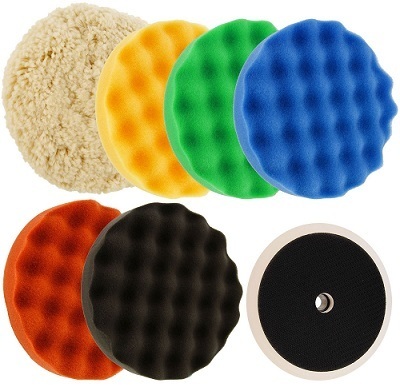 Diameter: 8 inches
Material: Foam, Wool
Though expensive, TCP Global's polishing pad takes the best kit title because it practically contains everything you need.
Basically, you get five 8-inch waffle-designed polishing pads that are made of foam and a single 8-inch wool pad, with all having a hook and loop attachment system for quick changing.
A 7-inch backing plate is also included, and it has 5/8-inch standard polisher threads that provide a non-slip grip while also enabling quick pad changes.
As for the polishing pads, their waffle faces are built to maximize contact with the surface being polished, resulting in smoother buffing while generating less heat.
Additionally, these pads are color coded for different uses, with black being for extra fine ultra-smooth finishes, green for fine final cut finishing, medium blue for removing light oxidation and scratches, and coarse orange for mildly aggressive sanding.
The wool pad also has a coarse texture for polishing hard topcoats while extra coarse red ends the list on the coarsest end for deep scratches and peelings.

---
6. Griot's Garage 10426 Polishing Pad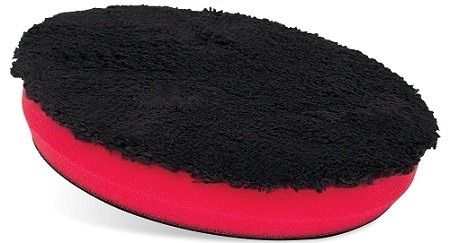 Diameter: 6 inches
Material: Foam, Microfiber
As a 6-inch polishing pad, this 10426 stands out from the rest because it is dual-sided, with one side having plush, nap heavy-grade microfibers for applying sealants, wax, and polish, while the other side has a reticulated foam material.
However, this foam side is not meant for buffing but rather, it helps push the microfiber side to the car's body surface so as to align with the contours as you push through using your orbital sander.
Speaking of the sander, the pad is equipped with chamfered edges that maximize the unit's footprint as you spin it using your sander, which increases productivity especially in reaching tight corners, while also improving on safety.
Other features include a high-tech thermoset bond between the foam and microfiber layers which does not delaminate under heat or chemical reactions, and two other size options to choose from, which are 4 and 5 inches. However, you only get a single pad in the kit.

---
7. DeWalt DW4985CL Polishing Pad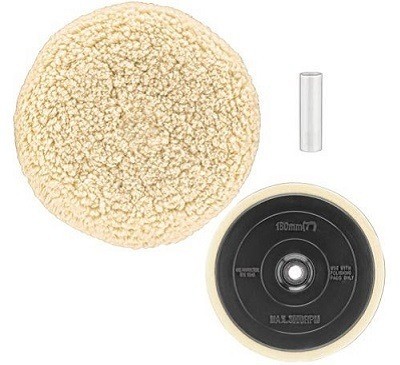 Diameter: 7 inches
Material: Wool
DeWalt's DW4985CL comes with a backing pad for fitting it into a sander without having to buy anything extra. A 5/8 - 11-inch arbor is also included, giving you some extras at your disposal.
Other than this, the polisher is composed of a wool surface, which is very durable and gives good buffing performance
This pad is 7-inches in diameter and once fitted into your sander, the large size easily reaches into the farthest corners so as to create a uniform shiny and glossy finish across the entire surface.
The only issue is that you get a single pad in this kit, but it is very soft and smooth due to its wool material composition.

How to Buy the Best Polishing Pad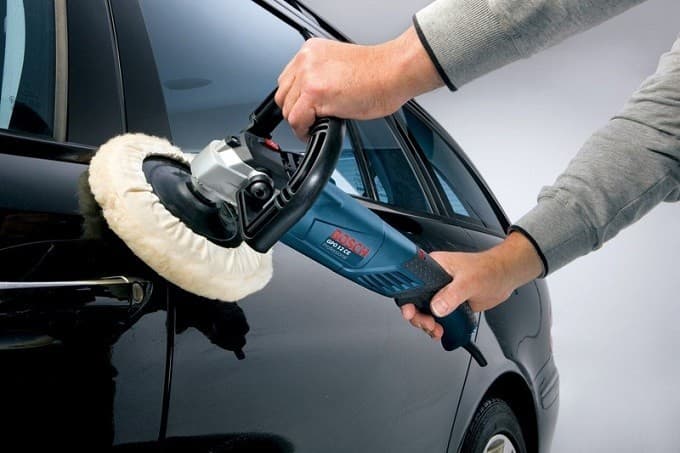 1. Diameter
First things first, you should look at the polishing pad's diameter before anything else because different sizes are designed for slightly different uses.
For instance, large diameter pads (typically 6 inches and above) are better for exterior use, especially when using a sander or dual action polisher for the job.
However, when using such a polishing machine, ensure that the backing plate has a slightly smaller diameter than the pad so that it does not protrude more outwards.
On the other hand, small diameter pads can be good for interior use, especially when you are hand polishing because they fit better in the hand.
2. Material
Foam
Foam pads are very common and can be split into 3 types according to the aggressiveness or cut level.
Compounding foam pads are the most aggressive and should be used with high-level cutting compounds as the initial step for removing surface defects.
Finishing pads come at the last step for applying wax or sealant while polishing foam pads lie somewhere in between these two, with mid-level aggressiveness.
Wool & Microfiber
Wool and microfiber pads are usually graded as either compounding or finishing pads, with the former being more aggressive and the latter being less abrasive.
Buying Guide : Even though some may claim that wool or microfiber is better at polishing than foam, generally, each material can be used to achieve the same results. However, wool is more expensive than the other two but has a high-end feel to it.
3. Technology
It is important to check the technology used in each pad. For instance, a hex-logic design promotes better airflow for reduced heating as you polish the surface, and also distributes the product evenly for a better outcome.
CSS technology has its own benefits and such pads should be considered more than the other plain ones because the polishing results afterward will be better and glossier.
4. Type of Paint
This factor has to do with compatibility. You should check if the pad can be used on the specific surface that you want to polish, which could have a clear coat, plain paint or even have an unpainted surface such as fiberglass. Make sure to get a compatible buffer pad for your job.
5. Backing Pad
A backing pad is required if you are to detail your car using a polishing machine. If this is the case, then at least make sure that the kit you buy contains a backing pad that is the same size or smaller than your polishing pad.
Also, the polishing and backing pads should have an easy changing system (such as a hook and loop system) for quick switching, say from a compounding pad to a finishing piece.
Conclusion
As you get into car detailing, you can clearly see the importance of a good quality polishing pad such as the ones listed above. Basically, after compound buffing, a polishing pad comes in to tidy up the job for smooth finishing.
With the detailed list above, you should be able to pick the best polishing pad that suits your need so as to restore your car to its original shiny look.