As much as covering yourself in a helmet, tough leather jacket and pair of tough pants helps to protect your body from injuries in case of a motorcycle accident, wearing high quality, protective boots will also certainly contribute to making your ride much safer.
That said, if you are new into motorcycle riding or you have been in riding for some time now, don't just buy any pair of boots that you come across. The list below covers the best motorcycle boots that you need to consider.
Editors' Picks for Top Motorcycle Boots of 2021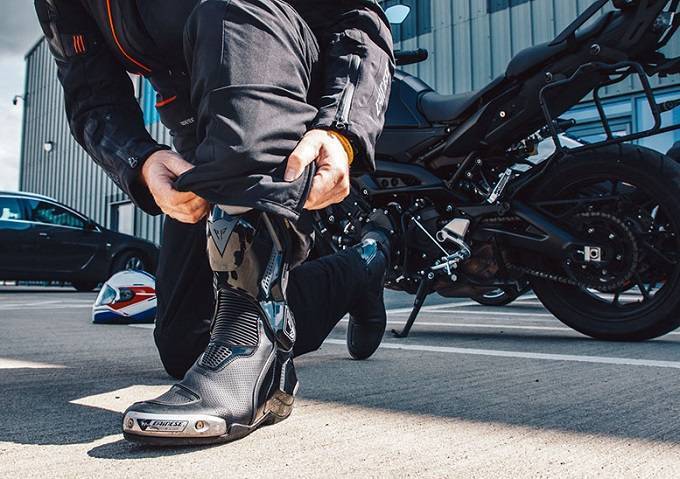 Summary of 7 Best Motorcycle Boots
FEATURES

1. Harley-Davidson D91680 (Best Overall)

Goodyear Welt Construction
100% leather upper side
Full-length soft-cushioned lining
Oil and slip-resistant rubber sole

2. AdTec 11 Inch Harness Boot-M

Long 11.75-inch shaft
Heavy-duty full-grain oiled leather construction
Comfortable cushioned insole
Goodyear Welt Construction

3. O'Neal Rider Boots

Metal toe guard
Injection-molded plastic plates
Breathable air mesh interior
Synthetic leather heat shield

4. Polar Fox Wyatt MPX608005

Synthetic leather construction
Adjustable metal buckles
Impact and skid-resistant rubber sole
Comfortable padded interior

5. Bruno Marc New York Motorcycle Combat Boots

Affordable
Comfortable shaft height for walking
Non-skid rubber sole
Available in multiple color options

6. TCX X-Blend WP Boots

Wear-resistant sole with a leather upper part
Anatomic footbed
Reinforced toe and heel counters
3 color options to choose from

7. Alpinestars Tech 7 Enduro Boots

Microfiber construction with PU leather reinforcement
Wide entry opening
Anti-slide microfiber suede
1. Harley-Davidson D91680 - Best Overall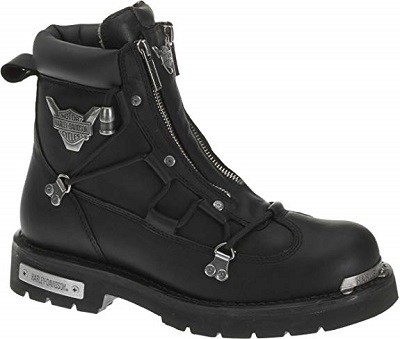 Size: Multiple Sizes
Height: 6.25 inches
Material: Leather
In addition to having a comfortable and durable rubber outsole, Harley-Davidson's D91680 is finished off using a Goodyear Welt Construction process, which makes the boot more durable if treated with proper care.
The bottom rubber sole is characterized by an oil-resistant design, which makes the boots slip-resistant for safety purposes.
On the upper side, the pair is made using 100% full-grain leather with dual zippers and diagonal cording for easy and perfect fitting.
Comfort is also factored into the boot's design in the form of a full length soft cushioned lining, which ensures you get fatigue-free wear for the entire time you have them on.
Other features include a 1.5-inch heel height, 6.25-inch shaft height (ankle boot) and a silver logo finish on the ankle with metal tabs on the heel, toe, and shaft to give it a toughened look. However, the boot is only designed for men.

---
2. AdTec 11 Inch Harness Boot-M Motorcycle Boot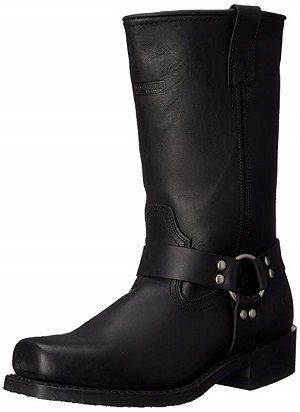 Size: Multiple Sizes
Height: 11.75 inches
Material: Leather
If you are looking for a long shaft motorcycle boot, Adtec offers their pair at an 11.75-inch height and this means most of your lower foot will be protected from mud, water, dust and injuries in case of an accident.
The upper part of the boot is actually made from black, heavy-duty full-grain oiled leather that is very durable while a synthetic sole with a 1.5-inch heel gives the required cushion from the ground.
These two are joined together using a tough Goodyear Welt Construction that ensures long-lasting use
Other features include a comfortable cushioned insole, O-ring ankle harness strap and a split shaft, which gives the boot a classic look. However, the boot is only available in black color and for men only.

---
3. O'Neal Rider Boots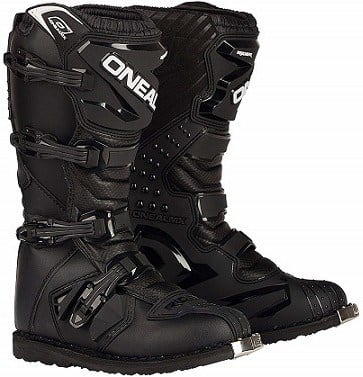 Size: Multiple Sizes
Material: Synthetic Leather
Apart from the "ONEAL" writing on the boot, the other most noticeable thing on this pair is the shiny metal toe guard at the front, which is designed to protect the outsole from delaminating.
In addition to this, the boots have injection-molded plastic plates that protect against impacts while metal shank inserts support the pair to ensure they maintain their original shape.
Comfort is provided by a breathable air mesh interior, soft cushioned insole, and generous heel support. This is topped off by a synthetic leather exterior, which doubles up as a heat shield so as to prevent heat damage.
Other features include a unisex design, snap-lock adjustable 4 buckle closure, and a durable Goodyear Welt construction. However, the pair is only available in black color.

---
4. Polar Fox Wyatt MPX608005 Motorcycle Boots
Size: Multiple Sizes
Height: 6.1 inches
Material: Synthetic Leather
Polar Fox's motorcycle boots are also made using synthetic leather, which is specifically a top-tier handcrafted variety, and this gives extra comfort, breathability and water resistance.
Two heavy-duty adjustable metal buckles are included to protect and stabilize your mid-range ankle area as you walk or ride your bike, as well as for cosmetic purposes while a built-in zipper gives easy and perfect fitting.
On the inside, a padded interior provides a soft cushion for comfort while a rubber sole gives flexible cushioning from the ground. This sole is also impact and slip-resistant for safety purposes. However, the pair is designed for men only but you get black and brown color options.

---
5. Bruno Marc New York Motorcycle Combat Boots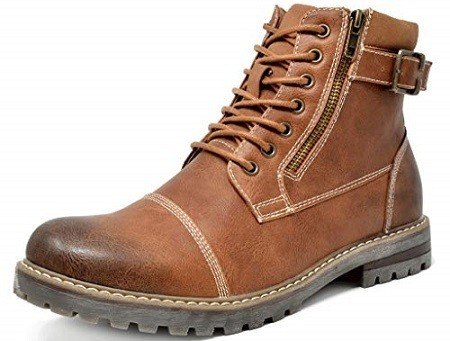 Size: Multiple Sizes
Height: 2.8 inches
Material: Faux Leather
If you are on a tight budget, Bruno Marc New York offers this pair of motorcycle boots at a very fair price for any size, and you get multiple colors to choose from, ranging from black to brown and grey.
Other than this, the boots have a relatively short 2.8-inch shaft height, which protects a relatively smaller surface area, but is one of the best motorcycle boots for walking because the short ankle height gives you more flexibility as you walk.
As for the design, the pair is actually a set of combat boots that have a classic vintage design and with this, comes a non-skid rubber sole, faux leather upper section, round toe design, side zipper, decorative buckle, and a lace-up design. However, the pair is only available for men.

---
6. TCX X-Blend WP Boots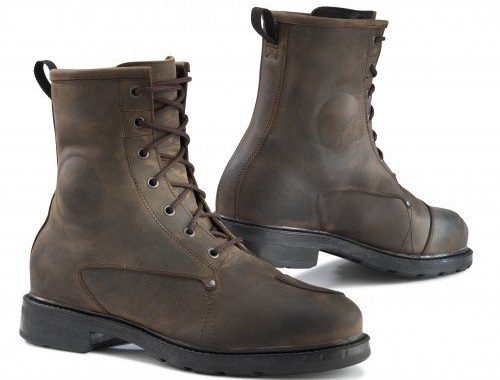 Size: Multiple Sizes
Material: Leather
TCX's X-Blend motorcycle boots are particularly unique because they have an anatomic footbed, which makes them one of the most comfortable motorcycle boots. This basically means the footbed is shaped according to the physiognomy of the human foot for the best support.
Apart from this, the shoes have a T-dry waterproof lining that keeps you comfortably dry on the inside while a wear-resistant rubber sole and a full-grain vintage leather top offer reliable coverage while also enhancing the durability factor.
Other features include reinforced toe and heel counters, a lacing closure system and the availability of black, brown and vintage brown color options to choose from. However, the boots do not have a Goodyear Welt construction, which is a good durability feature.

---
7. Alpinestars Tech 7 Enduro Boots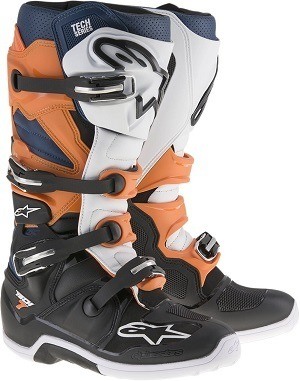 Size: Multiple Sizes
Material: PU Leather, Microfiber
Alpinestars' Tech7 are the top-rated motorcycle boots in this review and a couple of factors contribute to this. For starters, the pair has a very stylish, sporty design that makes them look very cool.
Aside from looks, these boots are very well-equipped performance-wise, with a flexible microfiber upper construction that is abrasion resistant, and this is reinforced using PU leather for water resistance and durability.
This upper section is also characterized by a wide entry opening for easy wearing while also giving enough allowance to fit in a wide range of calf sizes.
A 3D lining on the interior contains an anti-slide microfiber suede at the heel section to assist in keeping the foot in position while soft foam on the collar and ankle sections absorbs shocks for high levels of comfort.
Other features include a specially designed compound sole for superior grip, durability, and structural rigidity, and an innovative buckle system that gives easy and precise closure. However, the boots are quite expensive but you get a lot of beneficial features.

How to Buy the Best Motorcycle Boots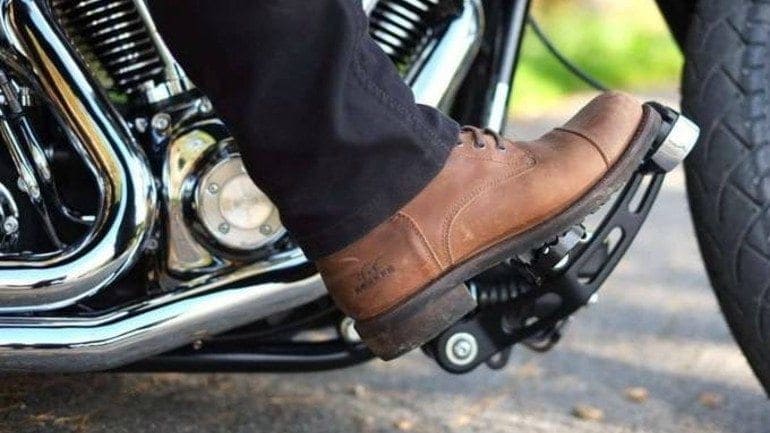 1. Type of Rider
When narrowing it down to the best motorcycle boots. You must go for the option that will work for you. To do this, consider which type of rider you are.
For instance, if you are a street biker, you need to buy a pair that is more suitable for streetwear so that as you make stops along the way, you can walk comfortably and blend in with what everyone else is wearing. A good option, in this case, is the military-style boot.
If you are a dirt-trail or off-road biker, your best bet would be heavy-duty boots with multiple protective features such as a metal toe guard and a tall shaft so that your feet are fully covered.
Lastly, regardless of the type of rider that you are, it is important to buy waterproof boots because it may snow or rain while you are on the road, or you may have to ride on muddy roads filled with water puddles, which may splash over to your boots.
2. Size
A motorcycle boot can only be useful if it fits. Therefore, before buying your preferred pair, check its sizing, which is usually given in US and Euro sizes. Also, check if it is for men or women. If it's unisex, this does not matter.
3. Material
Another important factor to consider is the construction quality and with this, you check the material used. The common ones are:
Leather: Leather by far is the most reliable material that is used in making motorcycle boots because, not only does it look good and premium, but is also tough, resistant to abrasion, waterproof and natural.
However, leather is not very breathable and therefore, in hot weather, these boots will be very uncomfortable.
Kevlar: While leather is the preferred material in making classic leather boots, most modern motorcycle boots are made using Kevlar, primarily due to its lightness.
Such boots are usually supported by metal or plastic inserts for protection and are the preferred choice for most racing tournaments.
Gore-Tex: Gore-Tex has the main advantage of being highly breathable and this makes such boots very comfortable even in hot weather. However, this also means it lacks the waterproof characteristic.
Thermal Plastic Polyurethane: This material is very similar to leather because it is highly resistant to abrasion, windproof and waterproof. However, it is not a natural material and also not very breathable, but it is cheaper than leather.
Buying Guide: The selection you make should be based on your needs. If you want strong protection from the elements and injuries, leather and thermal plastic polyurethane are the best options. For breathability, the rest will do.
4. Level of Protection
In considering crash protection, aside from the outer material, ensure that the boot has features such as plastic or metal inserts, toe and heel counters, toe guards, etc.
These layers will combine to provide abrasion resistance (using the tough outer layer), impact protection (using the molded inserts) and also protect the toes.
The other kind of protection offered by motorcycle boots is weather protection and with this, you only need to check if they have a waterproof lining to prevent moisture from sipping in.
5. Comfort and Duration
Comfort is always an important factor and more so with shoes. However, if you only intend to wear these boots for a short while, say when racing or for short rides, then you can pick a pair that is not loaded with padded inner soles, cushioned inner linings, and other comfort features.
On the other hand, if you intend to wear the boots for longer periods when riding, walking around as you make stopovers or even to work, then comfort should be given a high priority.
Apart from the padded and cushioned design, the boot should provide excellent ankle support and also be lightweight to avoid fatigue.
6. Style and Design
Style and design should be considered purely for cosmetic purposes. Some have long shafts while others have short ones, some have a classic design while others have a military design.
There are many styles and designs to choose from and selection should be done based on personal preference.
7. Price
The last thing to consider is the price factor. Motorcycle boot prices range from as low as $30 to as high as over $350. Of course, the expensive ones are usually made using high-quality materials but this does not necessarily make them the best.
Ideally, what should guide you are the features that you need. Identify the boots that contain these then pick the one that is within your budget.
Conclusion
The importance of motorcycle boots for any rider cannot be overemphasized. They are good for safety, protection, comfort, and style as you take on the track or road.
However, considering that there is a wide variety of these products in the market, you need to do some careful selection and this article will help guide you in picking the best motorcycle boots that fit your usage requirements.