The Subaru Outback is a highly advanced and versatile crossover that is known for its exceptional performance both on and off-road.
However, just like any other car, tires are a vital part that affects its overall performance and therefore, you should get the most ideal tires that match your driving conditions.
There are several options to choose from and with that in mind, here are the best tires for Subaru Outback to buy.
Top Tires for Subaru Outback by Editors' Picks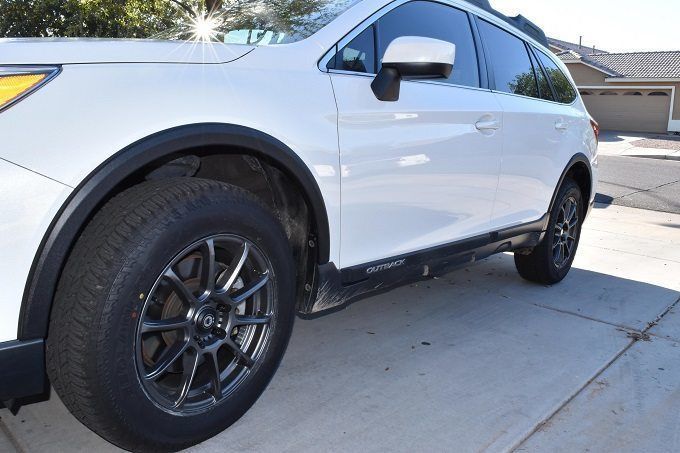 Understand Your Tires
All vehicle tires have some standardized markings on their sidewalls, and these contain a lot of information about the tire's:
Type
Width
Aspect ratio
Construction type
Rim diameter
Load index
Speed rating
With a tire marked P225/65R17 102T, this implies the following.
Type
P shows that this is a passenger car tire. Other markings such as LT means it is a light truck tire, ST is for special trailers and T is for a temporary or spare tire, which is the one found in the trunk.
Width
This tire's width is the next number (225), which means it measures 225mm from sidewall to sidewall.
Aspect ratio
Aspect ratio indicates the ratio of the tire's height to its width. In this case, it is given a 65, which means the tire's height is 65% of 225mm, giving you 146.25mm.
Type of construction
There are 3 main types of tires by construction. Radial tires (indicated as R) are built with fabric cords placed at a 90˚ angle to the centerline. This type is generally considered the best as compared to the rest because of its strength, durability, and better traction.
D stands for Diagonal, which implies the tire has a bias-ply construction where the fabric cords layers run diagonally at 30-45˚ angles from the tread's centerline.
The third type is Belted Bias, and this combines a diagonal ply construction with fiberglass belts placed under the treads for enhanced traction.
Rim Diameter
The tire's internal diameter is indicated by 17, which means a 17-inch rim diameter.
Load Index
The load index and speed rating finish off the marking, and in this case, 102T is the marking. 102 is the load index rating, which implies the tire can carry up to 1874 pounds in weight.
Speed Rating
Lastly, the tire's speed rating shows its ability to withstand rolling at certain speeds. With a T speed rating, the tire can handle rolling stress up to 118 mph, and you should not exceed this.
Summary of 7 Best Tires for Subaru Outback
IMAGE
PRODUCT
FEATURES

1. Goodyear 407285374 (Best Overall)

Wide tread grooves
Shallow tread depth with optimized tread patterns
Multiple biting edges
Large, stable shoulder blocks

2. Michelin 20563

Evertread compound construction
Shorter braking distance on wet and snowy surfaces
MaxTouch construction improves fuel economy
70,000-mile limited treadwear warranty

3. Milestar MS932 Sport

Affordable
Silica tread compound
Wide circumferential ribs and grooves
Optimized tread patterns for all-season use

4. Westlake 22265015

Multi-snipe shoulder design
Variable pitch tread blocks
Two high strength steel belts with a double polyester cord in the interior

5. Toyo Tires 147680

Symmetric tread patterns
Circumferential grooves and variable pitch channels prevent hydroplaning
Multi-wave sipes
Treadwear indicator

6. BFGoodrich 36457

Split and bruise resistant sidewalls
Advanced deflection design redirects protruding objects
Protruding traction bars and a serrated shoulder
Low rolling resistance

7. Yokohama 01526

Triple 3D sipes
Circumferential and Edgetec grooves
Full nylon cover for puncture resistance
Enduro compound construction with special polymers
1. Goodyear 407285374 - Best Overall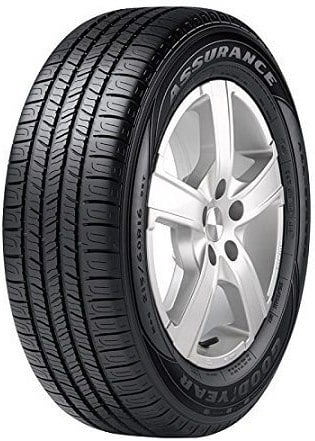 Starting off the list is Goodyear's 407285374, which is designed to have wide tread grooves that help to push out water from the treads so as to enhance traction in wet road surfaces.
Additionally, the tire has multiple biting edges that are particularly useful when driving under wet, snowy and even dry conditions. The treads are organized into large shoulder blocks that also contribute towards good handling on wet or dry surfaces.
Other features include a shallow 9 thirty_seconds_inches tread depth that works in tandem with the optimized tread pattern to reduce road noise for a quieter ride, a 65,000-mile treadwear warranty (105,000 km) and a treadwear indicator to show you when a replacement is due.
However, set contains only a single tire without any rim attached.

---
2. Michelin 20563 Subaru Outback Tires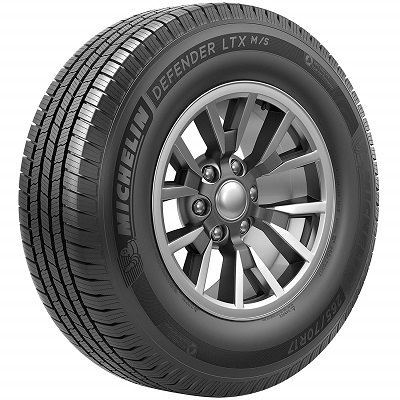 Michelin's 20563 is characterized by an Evertread compound, which makes the rubber last longer, especially in severe and difficult driving conditions where it is subjected to lots of stress.
This material also makes the tire usable all season and with this, it gives the unit a shorter braking distance in wet and snowy surfaces because of the enhanced traction.
Another important feature that this product has is a MaxTouch construction, which helps in improving the car's fuel economy, and it can actually contribute to saving up to 65 gallons of fuel over the entire lifespan of the tire.
Other features include a T speed rating, a load index rating of 107, a tread depth of 12 thirty_seconds_inches and a 70,000-mile limited treadwear warranty. On the downside, you only get a single tire per set without a rim attached.

---
3. Milestar MS932 Sport Tires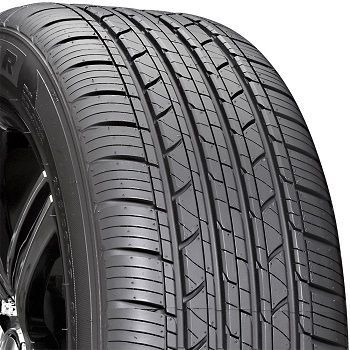 If you are looking for an affordable tire for your Outback, you should consider this MS932 Sport from Milestar and despite this, the unit has all the features required for all-season performance.
For starters, the tire has an advanced silica tread compound that gives superb wet weather handling and improved tread wear. It is actually backed by a 50,000-mile limited treadwear warranty to assure you of its long-lasting wear duration.
Wide circumferential ribs are built in to help in improving handling, grip, and stability while wide circumferential grooves help to reduce hydroplaning by getting water away from the treads.
Other features include optimized tread patterns for all-season use, lateral siping for consistent traction and strong biting in wet and dry surfaces, and a treadwear indicator for showing you when the tire needs to be replaced. However, no rim is included with the unit.

---
4. Westlake 22265015 Tires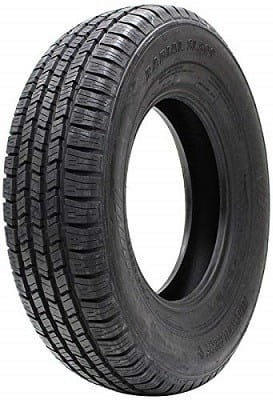 This tire from Westlake is featured with a multi-snipe shoulder design, which helps in pushing water away from the rubber so as to prevent hydroplaning and maximize the contact between the tire and the road below for improved grip.
The tire also has variable pitch tread blocks that assist in increasing traction while also reducing road noise. These also give it a uniquely attractive appearance that enhances your Outback's visual appeal.
For its construction, the unit's radial interior consists of two high strength steel belts plus a double polyester cord, making it very sturdy while also improving your car's cornering ability.
Additionally, it has strongly built sidewalls that are thicker, making them puncture and tear-resistant for better durability.
On the downside, the tire has a relatively low Q speed rating, which limits your top speed to 99 mph. However, this is still quite high, unless you are planning to race your Subaru Outback.

---
5. Toyo Tires 147680 Tires

Toyo Tires' 147680 is equipped with symmetric tread patterns and these are not just for show. The symmetric design enables the tire to be cross-rotated to any corner of the car while also reducing irregular wear for improved durability.
Four circumferential grooves are built into the treads for evacuating water to avoid hydroplaning, and these are backed up by variable pitch channels to collectively improve on traction along wet surfaces.
Other features include multi-wave sipes and shoulder ribs for reducing uneven wear and increasing the tread's lifespan and a treadwear indicator for showing the level at which the treads have been depleted. However, no rim is included with this purchase.

---
6. BFGoodrich 36457 Tires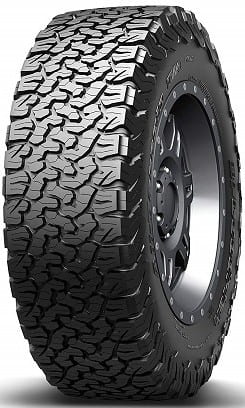 Though very costly, BFGoodrich's 36457 offers the best solution of you are looking for high-performance all-terrain tires for your Subaru Outback.
First and foremost, this tire is made using CoreGard Technology, which gives it a tough sidewall rubber that is split and bruise resistant. Additionally, this sidewall has an advanced deflection design, which is meant to redirect protruding objects so as to prevent splitting and snagging.
The unit's upper sidewalls feature protruding traction bars that increase traction in muddy, snowy and rocky driving conditions, and these are mud-phobic, which means they don't grab onto the mud. This helps to maintain sufficient surface area for consistent traction.
To boost its performance, the tire has a serrated shoulder that gives better maneuverability in deep snow and soft soil, and this is further enhanced by locking 3D sipes that bite into the snow for better traction.
Other features include a specially formulated tread rubber that resists chipping and tearing, interlocking treads, low rolling resistance and a relatively deep tread depth of 15 thirty_seconds_inches.
On the downside, even though this deep tread depth is good for all-terrain use, it means the tires will be noisy on road.

---
7. Yokohama 01526 Tires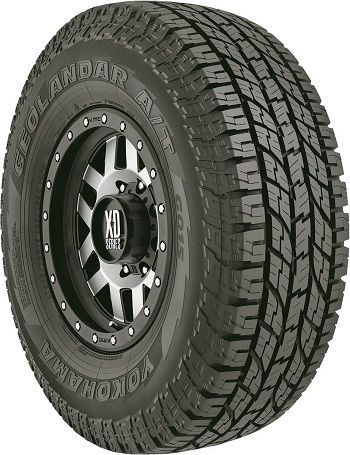 Yokohama's 01526 is also an all-terrain tire and it features triple 3D sipes that help to maintain block stiffness for longer. Additionally, these sipes change shape as the treads wear, and this assists in maintaining strong biting edges for superb all-season traction.
An Enduro compound plus special polymers are used to make tire's treads, and this helps to optimize durability off-road by being cut, chip and wear-resistant.
Other features include circumferential grooves that evacuate water from underneath the tire to prevent hydroplaning, Edgetec grooves to create more biting edges, a full nylon cover for puncture resistance and sidewall protectors that help in resisting cuts and abrasions.
However, you only get a single tire per set, which means you need to buy more for a complete replacement.

How to Buy the Best Tires for Subaru Outback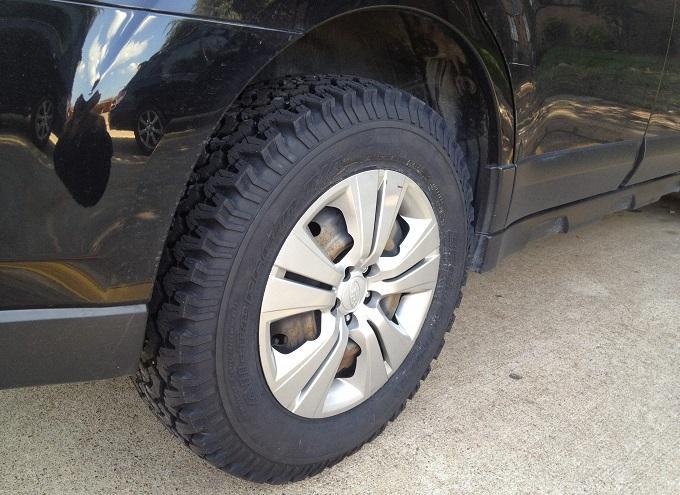 1. Where you Drive
For the best driving performance, you should fit your Outback with the best tires for your local climate. For instance, if you live in the city, touring tires are the best. However, if you live in a rural area, then it would be ideal to fit your car with all-terrain tires so that you don't get stuck.
Basically, the type of road you drive on and the weather conditions should determine which set of tires you need to buy.
2. Tire Size
This factor should be considered for compatibility purposes. Obviously, you should buy a tire that fits in the wheel well and most importantly, on your car's rim.
Therefore, always check the overall diameter of the tire, as well as the internal one, which is usually indicated as part of the markings as described above.
3. Types of Tires for Subaru Outback
Continuing from the first point above, there are 4 main types of tires to choose from, and these should be selected based on the climatic conditions in your area, type of road and intended use of the car. These are:
All Season
This is a very popular type because of its all-year-round use. However, since there is no tire that can be absolutely perfect in everything, this type gives modest traction and grip during all seasons.
All Terrain
All-terrain tires are characterized by an aggressive and deep tread pattern that will get you moving on muddy, snowy or gravel road surfaces with ease.
The only problem is that on highways, they can be noisy. Their main playing ground is off-road where conditions are tough and sticky.
Winter
As the name suggests, these tires work best in low-temperature conditions and most of them have metal studs that bite into ice and snow for better traction. However, you cannot use such tires on tarmac or smooth surfaces because they will cause the car to vibrate a lot.
Some winter tires are built using a flexible rubber compound that remains pliable in the cold, but these will not work well in the warm summer months.
Ultra-High Performance
These tires are meant for speed and usually have either an H or V speed rating. With this, you should expect superior construction that can handle high speeds, but mostly on warm and dry conditions.
This is because the soft, grippy rubber that is used to make them does not perform well in the cold.
4. Grip and Handling
Regardless of the type of tire that you buy for your car, always ensure it has good grip and traction so that you can have improved handling and better maneuverability, which is ideal in any driving condition.
5. Comfort
Comfort is also very important to consider and even though Subaru Outbacks have very good suspension systems, a tire that makes your drive bumpy can be very distracting.
Another disturbing feature is noise and this is very common on all-terrain tires once you speed them up on a smooth road.
Putting all factors into consideration, ensure the tire you pick has the highest levels of comfort so that you can drive at ease.
Conclusion
In summary, selecting tires for your Outback basically requires you to consider their sizes, type, and your driving location.
That said, after going through the review and buying guide above, you should have an easier time picking the best tires for Subaru Outback that match your needs.