Paint sealants provide paint care and protection while removing road grime, debris, and fingerprint. Also, they protect the car's paint job against the elements and give it a mirror-like shine.
You will only get these benefits if you choose the best paint sealant from the many options out there. Finding a suitable paint sealant should not take a lot of effort as you only need to consider things like type, ease of application, and durability.
This piece explains these factors in more detail and review 10 top-rated paint sealants to give you some recommendations.
Editors' Picks for Top Paint Sealants of 2021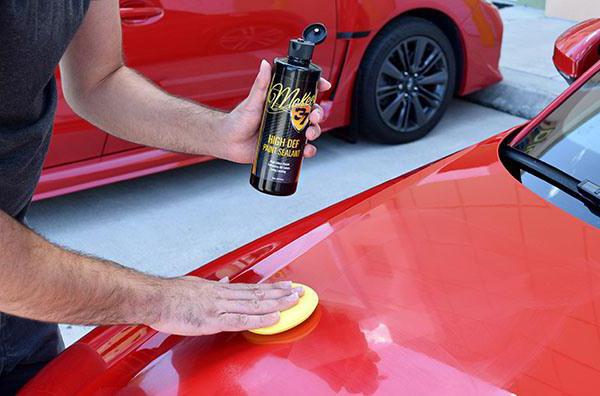 Summary of 10 Best Paint Sealants
IMAGE
PRODUCT
FEATURES

1. Meguiar's M2164 (Best Overall)

Technologically advanced paint care & protection

Amazing water beading action
Eliminates scratches & swirls
Smooth application

2. Wolfgang Concours Series WG-5500 (Best Polymer)

Dirt-repelling super polymers
Anti-static property
Long-lasing & non-abrasive
Incredible, vivid shine

3. Chemical Guys WAC_808_16 (Best Inexpensive)

Relatively affordable
High gloss shine & optical clarity
Long-lasting UV protection

Works for most exterior surfaces

4. CarGuys Hybrid Wax Sealant (Best Wax Sealant)

Safe for all surfaces
Super-slick hydrophobic finish
Durable UV protection
Professional-grade sprayer

5. Chemical Guys WAC_118_16 (Most Durable Protection)

Lasts up 12 months
Advanced UV protection

Superior hydrophobic properties
Sharp luster finish

6. Klasse KL-02-33 (Best Acrylic)

Highly concentrated acrylic formula
Brilliant mirror-like shine
Works on a wide variety of surfaces
Protects for up to 12 months

7. TriNova 33306 (Easiest to Apply)

Applicable by hand or polisher
Premium UV protection

Leaves hydrophobic finish
Mirror-like finish
1. Best Overall: Meguiar's M2164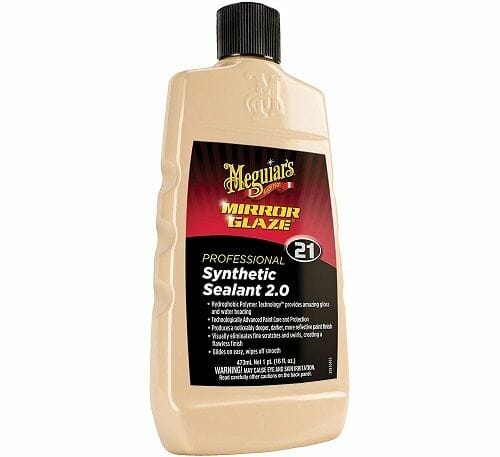 Meguiar's M2164 is our best overall product as it is a top-quality sealant that uses an advanced synthetic polymer formula to ensure superior paint care and protection.
This paint sealant also uses hydrophobic polymer technology to offer a lovely gloss and superior water beading action.
Motorists will love that this product gives the vehicle a more flawless look by removing the scratches and swirls. The application is also easy and smooth as it glides on and wipes off easily. And with a darker, reflective finish, the car maintains a pleasant look for a long time.
You may find this product little hard to buff, but with the right tool and a little extra muscle grease, you should be able to do it.

---
2. Best Polymer: Wolfgang Concours Series WG-5500

Wolfgang makes the Concours Series WG-5500 paint sealant with super polymers that will provide superior dirt-repelling power to keep the vehicle clean and with a nice shine for longer.
This paint sealant is not only long-lasting but also non-abrasive to ensure it never ruins your paint. And the fact that it is also easy to apply makes it very convenient to use on your vehicle.
The sealant is suitable for all kinds of car paints, including the clearcoats. Better yet, it has anti-static properties to repel water, dust, dirt, and all types of road grime. Motorists also love that besides protecting the paint, it leaves a vivid shine.
While this product's price is slightly higher, you can be sure that you will get the best value for your cash as it lasts long enough.

---
3. Best Inexpensive: Chemical Guys WAC_808_16

Any motorist looking for an affordable sealant that still does a fantastic job will love the Chemical Guys WAC_808_16. The paint sealant's formula has rapid bond technology that provides both superior optical clarity and maximum protection.
Furthermore, it works at a nano-spec level and seamlessly sticks to the surface. And you can use this sealant on various exterior surfaces, including glass. What's more, it comes in a spray bottle for quick and easy application.
This paint sealant provides long-lasting UV protection for the surfaces to ensure the sun's rays do not damage them. Because it also includes advanced polymers, it leaves the cars with a super glossy, slick, and non-stick finish that lasts a long time.
While this paint sealant might streak a little, if you give the finish a nice buff, you hardly ever have to worry about streaks.

---
4. Best Wax Sealant: CarGuys Hybrid Wax Sealant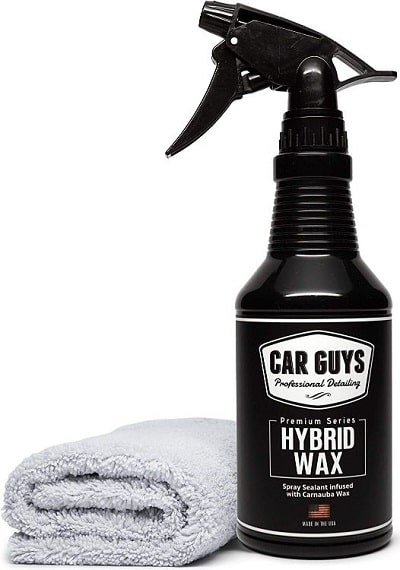 The CarGuys Hybrid Wax Sealant is a premium-quality hybrid wax designed to offer your vehicle's paint job long-lasting protection. And it is safe for use on almost any surface, including glass and rubber.
With this paint sealant, the surfaces get durable UV protection to ensure they do not fade quickly. What's more, it leaves a super slick hydrophobic finish that allows water to bead off the surface.
When applying this sealant, you will hardly ever worry about streaks as it does not leave any. And with the professional-grade sprayer bottle, the application is also a breeze.
Given that this product contains carnauba wax, one would expect it to leave the surfaces with a super shine, which does not seem to be the case. However, the shine is still quite okay if you give the body a good buffer.

---
5. Most Durable Protection Paint Sealant: Chemical Guys WAC_118_16

With a single application lasting up to 12 months, the Chemical Guys WAC_118_16 is one of the most durable paint sealants on our list. This extended service life will eliminate the need to keep reapplying it now and then.
Besides being more durable, this product also offers advanced UV protection to ensure you never have to worry about your surfaces fading or discoloring due to sun exposure.
Water will not be a problem as the product has superior hydrophobic properties to ensure water beads off nicely. And you also get a sharp luster finish that leaves the paint surfaces looking all new.
The scent and price are the most significant drawbacks for this sealant as it is a little pricier and does not smell very nice. However, its superior protection capability makes up for these minor shortcomings.

---
6. Best Acrylic Paint Sealant: Klasse KL-02-33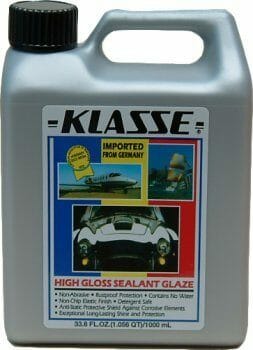 Klasse is an exclusive brand when it comes to car detailing solutions. And if you are a professional that has to work on several vehicles a day, they have you covered with the Klasse KL-02-33 acrylic paint sealant.
The highly concentrated sealant that ensures a little goes a long way and offers long-lasting protection for up to 12 months.
This Klasse acrylic paint sealant offers UV protection and allows users to apply several layers for a high gloss finish. Better yet, it leaves a mirror-like shine, and the sealant is safe for use on all paints and a wide variety of other surfaces or materials.
This acrylic paint sealant might not be very good for first-time users, and also seems a little pricier, but for a commercial-grade product, these are not deal-breakers.

---
7. Easiest Paint Sealant to Apply: TriNova 33306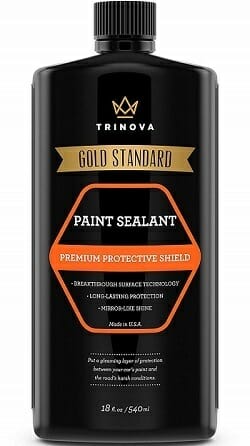 The TriNova 33306 makes caring for your vehicle a breeze. Besides being easy to apply and remove, it will allow you to use either an orbital polisher or apply by hand, which is quite convenient.
The synthetic polymer formula is highly effective and ensures the sealant can resist the UV rays' harmful effects. Better yet, it repels dirt and road grime.
And to make it even better, this paint sealant is also non-abrasive, which ensures it does not scratch your vehicle's surface.
The quality of the finish you get is also highly impressive. Besides being hydrophobic to allow water to bead off quickly, this finish will have a mirror-like shine that brings back your car's lost luster.
This paint sealant can leave some white streaks on black surfaces, but this is only so if you use too much of it.

How to Buy the Best Car Sealants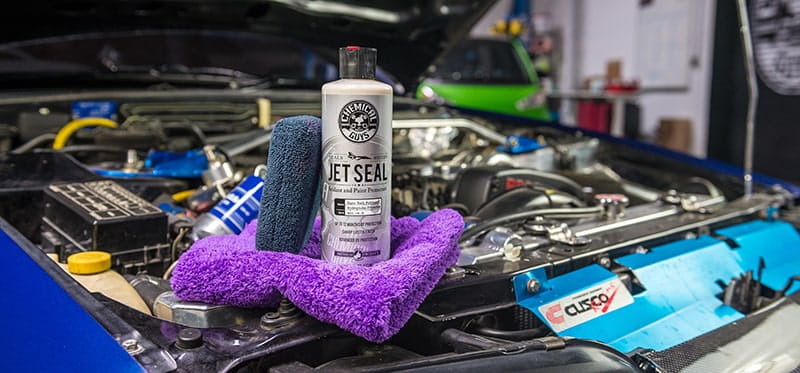 1. Acrylic or Polymer Sealant
Acrylic Sealant
This one is an oil-based sealant and is thicker than most polymer sealants. The acrylics are not very ideal for use by a non-professional, and they are common in car service stations as they are suitable for commercial purposes.
Polymer Sealant
As the name suggests, this sealant is from light polymers and is much easier to use. These sealants are abrasion-resistant and possess excellent adhesion properties. But their high performance and ease of use come at a price as they often cost more.
2. Contaminant Resistant
The car is always exposed to different contaminants, from dirt to debris, and so any paint sealant you buy should be formulated to be resistant to them.
With these paint sealants, the degree of contaminant resistance varies, and some will only be good enough for keeping out specific contaminants and not others.
Hence, the best car paint sealant is one that can keep out common contaminants like road grime, dirt, debris, and fingerprints.
3. Ease of Application
There is no point in purchasing a paint sealant that will take several hours to apply or come with a very complicated application process.
A good paint sealant should be straightforward to apply like the TriNova 33306to ensure you can finish the entire vehicle in just a few minutes.
The sealant should not be too thin or thick so that it is easy to spray on, and some detailed instructions will always be beneficial.
4. Durability
Lastly, paint sealants should be highly durable. Paint sealant application is not something you want to do every other weekend, so what you buy should provide long-lasting protection.
A durable paint sealant not only saves you cash and time but also ensures you protect your vehicle's paint for the longest time possible. Something that lasts up to 12 months, like the Chemical Guys WAC_118_16, is a perfect example of a durable paint sealant.
How to Apply Car Paint Sealant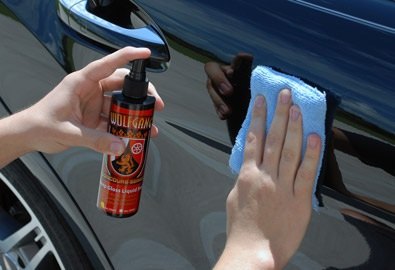 While the applications might vary from one model to another, using most sealant types will involve the following steps.
Prepare the Surface
It is vital to prepare the car paint before applying a sealant. For that, you first need to wash it with whatever soap you use for washing the car. Once done with that, make sure to dry the car carefully and clear all the water spots.
Apply Sealant
The next step is to apply the paint sealant on an applicator pad and then rub it on the vehicle or spray directly on the surface if the sealant is in a sprayer bottle.
Spread it Evenly
You should make sure to spread the paint evenly and in thin layers. Try to follow the same pattern throughout the surface and cover all the areas.
Buff the Surface
Once the entire vehicle is covered, grab a clean microfiber cloth and use it to buff the surface and remove any excess sealant. Buffing helps to give the paint a nice shine and finish.
Frequently asked questions
Is Paint Sealant only for Paint?
A: No, most paint sealants are multipurpose products. Besides car's paint, they are often safe for use on other surfaces such as glass, plastic, and rubber.
When Should I Use Paint Sealant?
A: You should use a paint sealant anytime you want to protect your paint from the elements and other damages. However, it is a great idea to use paint sealants in situations such as when you want to highlight a good paint job and when driving in extreme conditions such as winter or hot weather.
Is Paint Sealant better than Wax?
A: This depends on what you want to achieve with the product. Overall, paint sealants offer more protection for the paint job than wax. However, wax does a better job of giving the vehicle an excellent gloss and making it hydrophobic.
Should I Wax after Sealant?
A: While it is okay to wax after applying a paint sealant, you do not always have to wax. And this is because with a high-quality paint sealant, you will still get a lovely gloss, and hence no need for wax. But, waxing can still give you an extra layer of protection.
Conclusion
Finding the best paint sealant for your vehicle should not be a difficult task. You only need to understand the type you want and watch out for other things like ease of application and durability.
And from our review, the Meguiar's M2116 takes our top overall spot. This paint sealant provides advanced paint care and protection, superior water beading, and much more.
But, if you are looking to save a few bucks on your purchase but still get a quality product, go with the Chemical Guys WAC_808_16.
Sources
What is Car Paint Sealant? - Gold Eagle