The best thing about traveling in an RV is that it is quite affordable and you get to see different parts of the world with unique sceneries. However, for you to really enjoy the journey stress-free, you need to fit your RV with the proper tires so as to avoid accidents or repairs on the road.
Considering that there are many different varieties of these tires in the market, here are the best RV tires that stand out from the rest.
Editor's Recommendation: Top RV Tires of 2021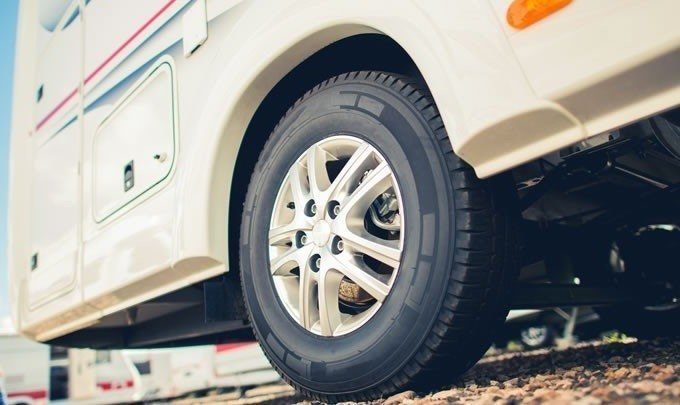 Understand Your Tires
A tire is usually marked on the sidewall with its type and size measurements for easy identification and selection. More specifically, this marking contains the following information.
Type
Width
Sidewall aspect ratio
Internal construction
Rim diameter
Load index
Speed rating
If you have no clue what the marking means, given ST225/75R15 117L, this implies the following.
Type
ST means this tire is designed for special trailers. You may get other letters such as P, which indicates it is a passenger car tire, LT means for a light truck tire, and T is for a temporary tire, which is the one found in the trunk.
Width
This tire's width is indicated as 225, which means it measures 225mm from sidewall to sidewall.
Sidewall aspect ratio
A tire's aspect ratio is used to show its sidewall height. The number given is a percentage or ratio of the tire's height to its width. In this case, 75 is the aspect ratio, and this means the tire's sidewall height is 75% of 225mm, which is 168.75mm.
Internal construction
This is a radial tire because it is marked R. Radial tires are very popular nowadays because of their strength and durability, and are built using fabric cords placed at a 90˚ angle to the centerline.
If marked D, this implies a diagonal or bias-ply construction where the fabric cords layers are placed diagonally at 30-45˚ angles from the tread's centerline. B indicates a Belted-Bias internal construction, which combines a diagonal ply with fiberglass belts.
Rim Diameter
The tire's internal diameter is indicated by 15, which means a 15-inch rim diameter.
Load Index
A tire's load index shows its maximum carrying capacity. Given as 117, this means the tire can carry up to 2833 pounds in weight.
Speed Rating
Lastly, the tire's speed rating is L, which means it can handle speeds of up to 75 mph.
Summary of 7 Best RV Tires
IMAGE
PRODUCT
FEATURES

1. Trailer King TKS53 (Best Overall)

Strong nylon overlay construction
Enhanced shoulder design gives better heat dissipation
Center groove gives consistent tracking and stability
Optimized tread design resists heat buildup

2. Freestar 29865009

All-season tire
Strong 8-ply construction
Relatively affordable
Widely compatible with different types of trailers

3. Bridgestone 190840

All-season tire
Aggressive symmetrical tread design
Wide circumferential grooves prevent hydroplaning
Lateral grooves and multiple sipes provide more biting edges

4. Michelin 13080

Strong steel casing reinforcement
Can be retreaded for a longer lifespan
Durable tread compound for commercial use
Treadwear indicator

5. Hankook 2001939

Reinforced belt layer
Double steel belt for additional durability
The internal lining prevents air leakage
Carcass helps to maintain the tire's shape

6. Goodyear 748535189

DuPont Kevlar reinforcement
Multiple traction ridges give a firm grip on all terrains
Treadwear indicator
Noise-canceling design

7. Goodyear 139229099

High load index rating
Durable heavy-duty construction
Enhanced rib provides better stability
Shallow tread patterns
1. Trailer King TKS53 - Best Overall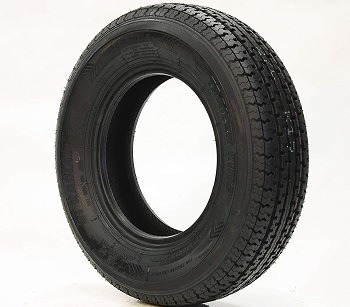 RV tires should be particularly strong due to the weight of the vehicle and Trailer King's TKS53 features a nylon overlay construction, which ensures that the tire lasts longer and can comfortably carry up to 2833 pounds in weight (117 load index rating).
Other than this, the unit features an enhanced shoulder design that provides better heat dissipation so as to lengthen the lifespan of the treads and eliminate uneven wear.
More features include a center groove that evacuates water from the surface below so as to maintain a firm grip while also giving consistent tracking and stability and a modern tread design that is optimized to resist heat buildup.
However, the tire has a relatively low L speed rating and comes without a rim.

---
2. Freestar 29865009 Tire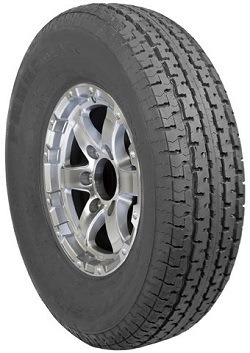 Freestar's 29865009 is an all-season tire that is designated for trailer use only with a fitting of 15 inches on the internal or rim diameter.
The tire has a load range of D, which implies a sturdy and thick 8-ply construction that can handle up to 1820 pounds in load capacity.
Another benefit you get with this tire is that it is relatively affordable and is also compatible with a wide array of boat, utility and cargo trailers, making it very versatile in terms of use. Other features include a J speed rating (quite low) and radial construction.
However, there is even a more affordable option, which is the Freestar 29865012, and this one has a slightly higher L speed rating, but its C load range (6-ply construction) makes it a bit inferior. Most of the other features are similar between the two.

---
3. Bridgestone 190840 Tire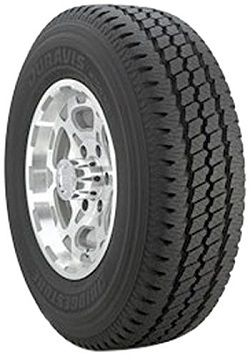 This product is also an all-season tire and it is designed with an aggressive symmetrical tread design with notched shoulders plus independent intermediate tread blocks for enhanced dry and wet road handling.
Additionally, the unit features wide circumferential grooves that help in preventing hydroplaning while their lateral counterparts and multiple sipes provide more biting edges for improved traction on snow.
Other features a Q speed rating, 118 load index rating and a treadwear indicator, which shows you when its time to do a replacement. However, the tire only comes as a single piece per set without a rim attached.

---
4. Michelin 13080 Tire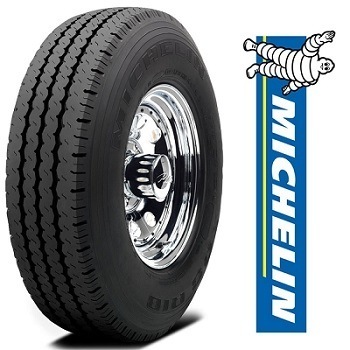 Michelin's 13080 is the top-rated RV tire in this review and this can be attributed to its sturdy, stable design, in which the unit has steel casing reinforcement for additional strength.
This reinforcement also allows for retreading, which lets you extend the lifespan of the tire for extended service.
On top of this, the tire has a unique tread compound that is specifically developed for commercial use, and this helps in extending the tire's lifespan further.
Other features include an R speed rating, which is relatively high when considering RV standards, a load index rating of 120, a treadwear indicator and wide circumferential grooves that help in evacuating water below the treads. However, the tire comes as a single piece with no rim.

---
5. Hankook 2001939 Tire
This RV tire also has a reinforced construction in the form a belt layer and this is further enhanced by a double steel belt for additional durability while an inner lining prevents air leakage so as to maintain the internal pressure.
Further reinforcements include a carcass that helps to maintain the tire's shape and bead fillers that enhance stiffness on the rim joints for better handling.
Other features include a three-channel wide groove design that evacuates water to prevent hydroplaning while also improving on performance and safety at high speeds, a wide footprint with lateral grooves for better traction and an R speed rating.
On the downside, you only get a single tire per set with no rim attached.

---
6. Goodyear 748535189 Tire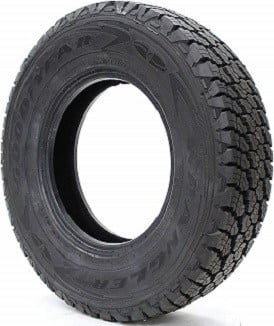 With DuPont Kevlar reinforcement, Goodyear's 748535189 gives unbeatable protection from cuts, abrasions, and punctures, making the tire more durable.
The tire is also designed to handle tough and extreme weather conditions, and this can be attributed to an aggressive tread design that provides multiple traction ridges for a firm grip on all kinds of terrain.
More features include a load index rating of 121, an R speed rating, a treadwear indicator and a noise-canceling design that makes it roll quietly on the road. On the downside, no rim is included in this set, which only contains a single tire.

---
7. Goodyear 139229099 Tire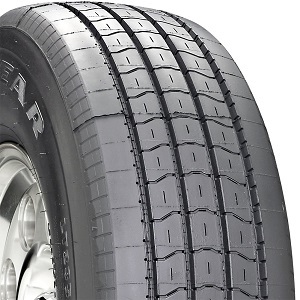 Goodyear is one of the best tire brands in the market and their 139229099 is particularly unique because it has a high load index rating (126), in which it can comfortably carry up to 3748 pounds in weight. This makes it ideal for a large RV with lots of components inside.
This is made possible by a heavy-duty construction, which also means the tire will last longer, while an enhanced rib gives better stability.
More features include shallow tread patterns that wear evenly and reduce running temperatures, multiple sipes that provide extra biting edges for improved traction on wet surfaces and 4 circumferential grooves to prevent hydroplaning. However, the tire is sold only as one piece.

How to Buy the Best RV Tire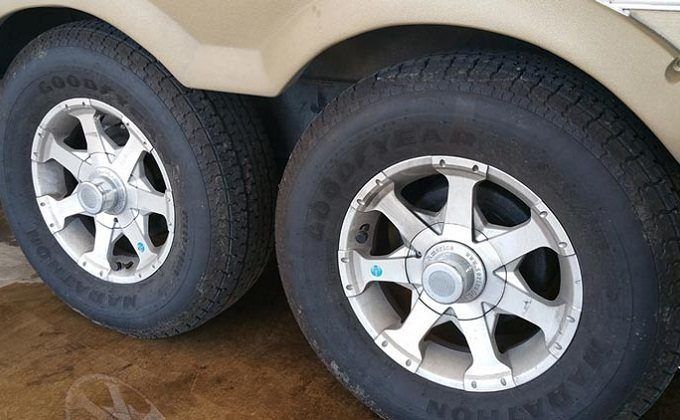 1. Your RV
RV's are usually categorized by size, with class A being the largest motorhomes and fifth wheel campers being the largest towable RVs. The larger the vehicle, the heavier it is because it also contains tons of equipment inside.
That said, the best RV tire for fifth-wheel and class A motorhomes should be strong enough to handle the heavyweight.
For this, you should check the tire's load range and the higher the ply rating the better. Road Warrior's 660, for instance, is ideal for heavy RVs due to its 16-ply rating.
You should also check the tire's load index rating and make sure that the 4 or 6 of them combined can carry the weight of your RV.
Additionally, for such RVs, ensure you but ST tires, which are built to carry heavy loads. If your vehicle does not fit into any of these classes/categories, then fit it with LT tires, which are designed for grip.
2. Radial or Bias Tire
These are the two main types of tires.
Radial
Radial tires have steel belts that run at a 90˚ angle from the centerline, making them more stable, durable and tougher than bias tires, while also providing better traction.
These tires also have very flexible sidewalls, which contribute towards extending the lifespan of the treads and also give less rolling resistance for better fuel consumption. However, they are more expensive than the Bias type.
Bias
Bias tires are made up of nylon belts running at 30 - 45˚ angles to the centerline. This means the tire has stronger sidewalls and can handle heavier loads, but it limits its flexibility, which reduces the tire's lifespan and can make the ride a bit uncomfortable.
On the bright side, this tire is cheaper.
3. Size
A tire's size is usually indicated on the sidewall as a combination of numbers and letters. With this, you should check the width, which is usually given in mm.
There is also the aspect ratio, which gives you the sidewall height, and the internal diameter, which shows you the rim diameter (in inches) that the tire can fit. You should check all these in order to get a fitting tire.
4. Load Rating and Maximum Weight
This is a very crucial factor that should not be ignored because ultimately, the tire should be able to carry the RVs weight.
Therefore, from the sidewall marking, the load index rating is usually given next to the speed rating, and this value represents a certain weight that the tire can handle. This is given in the table below.
| Load Index | Pounds |
| --- | --- |
| 80 | 992 |
| 81 | 1019 |
| 82 | 1047 |
| 83 | 1074 |
| 84 | 1102 |
| 85 | 1135 |
| 86 | 1168 |
| 87 | 1201 |
| 88 | 1235 |
| 89 | 1279 |
| 90 | 1323 |
| 91 | 1356 |
| 92 | 1389 |
| 93 | 1433 |
| 94 | 1477 |
| 95 | 1521 |
| 96 | 1565 |
| 97 | 1609 |
| 98 | 1653 |
| 99 | 1709 |
| 100 | 1764 |
| 101 | 1819 |
| 102 | 1874 |
| 103 | 1929 |
| 104 | 1984 |
| 105 | 2039 |
| 106 | 2094 |
| 107 | 2149 |
| 108 | 2205 |
| 109 | 2271 |
| 110 | 2337 |
| 111 | 2403 |
| 112 | 2469 |
| 113 | 2535 |
| 114 | 2601 |
| 115 | 2679 |
| 116 | 2756 |
| 117 | 2833 |
| 118 | 2910 |
| 119 | 2998 |
| 120 | 3086 |
| 121 | 3197 |
| 122 | 3307 |
| 123 | 3417 |
| 124 | 3527 |
| 125 | 3638 |
| 126 | 3748 |
With this table as a guide, you should know the weight of your RV when fully loaded, then this weight should be divided by the number of wheels that the vehicle needs. The value you get should be used to pick the most suitable set of tires that can comfortably carry the vehicle.
5. Speed Rating
The speed rating is always indicated as a letter next to the load index rating, and this shows the limit or maximum speed that the tire can handle. These letters mean the following:
| Speed Rating | Maximum Speed (mph) | Maximum Speed (kph) |
| --- | --- | --- |
| L | 75 | 120 |
| M | 81 | 130 |
| N | 87 | 140 |
| P | 93 | 150 |
| Q | 99 | 160 |
| R | 106 | 170 |
| S | 112 | 180 |
| T | 118 | 190 |
| U | 124 | 200 |
| H | 130 | 210 |
| V | 149 | 240 |
It is important to check this factor so that you do not exceed unknowingly and put the tire at a risk of bursting, which may cause a fatal accident. Ultimately, the tire with the highest speed rating is best because this shows that it is strongly built.
6. Strong Sidewall
Since RVs are very heavy, they put a lot of pressure on the tires. A tire can only cope with this for long periods of time if it has strong and enhanced sidewalls. Features to look for include high ply ratings and reinforced sidewalls.
However, this thick layer or reinforcement stiffens the tire, making it less comfortable. Therefore, you should check for a tire that balances between strength/durability and comfort for the best results.
7. Weather Condition, Distance, Terrain
Weather conditions and terrain should also be considered because there are tires meant for all-season use while others are for all-terrain use. This should be picked based on your driving conditions.
As for the distance, if you take your RV for long journeys, ensure you get high-speed tires so that you can at least quicken the pace sometimes so as to cover more ground.
When to Replace RV Tires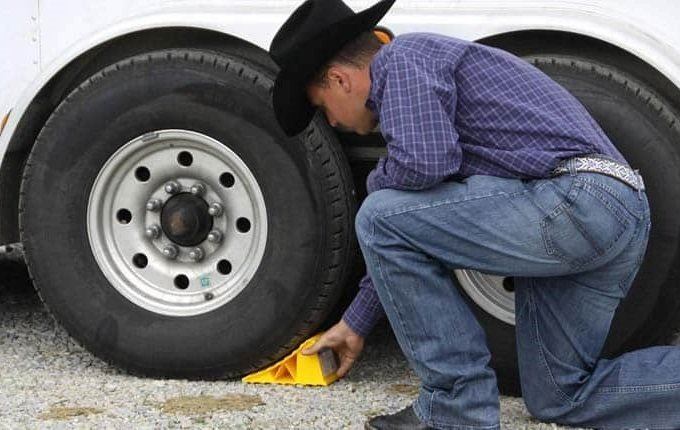 RV tires are not meant to last forever. At some point, you have to replace them but the question is when. Below is a look at the times when you should consider doing a replacement.
1. Time
As a general rule of thumb, RV tires should be changed anywhere between 3 to 6 years. However, this depends on your frequency of use.
If you only take out your RV a few times during the year, then the tires can even exceed the 6-year limit. If you use it very frequently though, then you might want to change them much sooner.
2. Structural Damages
Even though time is a factor to consider, you should always check your tires before heading out. If you notice cracks, uneven wear or any other kinds of structural damages, then have them replaced immediately.
Read More: How to fix Cracked Tires
Another thing that you should check is the tread depth left. Using the tire's tread wear indicator, check if the treads are worn out. If the treads lie flush with the indicator, then the tire's purpose is done and needs to be replaced immediately.
3. Length of your Trip
Last, you need to consider the length of your next trip. If it is going to be long, then you need to change the tires, especially if the treads are almost worn out.
This is because they will continue wearing off to dangerous levels as you proceed on your trip, thereby exposing you to lots of dangers.
On the other hand, if you are going for a quick weekend trip, then you can leave them on, but remember to change them as soon as you get back.
Conclusion
As you can see, there are a lot of RV tire varieties to choose from, and all these have different features that are suitable for particular rigs.
However, this RV tire review and buying guide break down all the information for you so that you can have an easier time picking the best RV tire that suits your vehicle.
Sources
Understanding the Numbers on Your Tires - Bridgestone