Vehicle safety encompasses many things, but one that is easy to overlook is keeping the windshield clean enough.
While many motorists often use regular soap and water to clean their windshields, this is not always very effective. For fast and effective windshield cleaning, you need the best windshield cleaners.
Windshield cleaners have a unique formula for cleaning glass, and they will leave with a clear windshield to ensure excellent visibility. Also, they protect the glass from the elements to ensure long service life.
To help you choose something effective at cleaning your windshield below, we review 7 top-rated windshield cleaners and explain the vital factors to watch out for when shopping for one.
Editors' Picks: Top Windshield Cleaners of 2021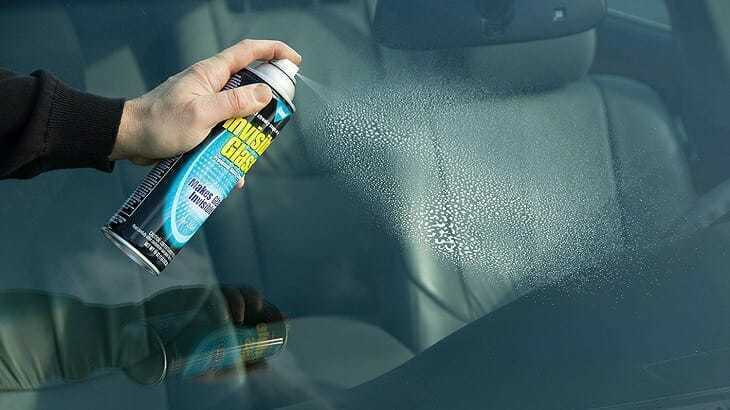 Summary of 7 Best Windshield Cleaners
IMAGE
PRODUCT
FEATURES

1. Invisible Glass 91164 (Best Overall)

Deep-cleaning foaming action
Ammonia-free formulation
Ideal for both tinted & non-tinted windows
Delivers a deep clean with a nice shine

2. RainX 800002243 (Best Water Repellent)

Water-repelling formulation
Removes haze & discoloration
Improves wiper blade performance
Super easy to apply

3. Meguiar's G8224 (Best for Perfect Clarity)

Delivers streak-free clarity
Safe for tinted windows
Anti-hazing formulation
Spreads & wipes easily

4. Rain-X 5080217 (Best Budget)

More budget-friendly
Removes haze & discoloration
Restores headlights & clear plastic
Improves wiper blade performance

5. 3M 08888 (Best Aerosol Cleaner)

Quick & easy aerosol application
No-drip foaming action
Great for all glass surfaces
Non-dripping formulation

6. Windex Ammonia-Free 679593 (Best Spray)

Convenient spray bottle
Does not contain any ammonia
Removes fingerprints & smudges
Leaves streak-free shine

7. Rain-X 5071268 (Rain Repellent)

Water beading technology
Streak-free cleaning
Prevents & removes all road grime
Fast & easy to use
1. Best Overall: Invisible Glass 91164

The Invisible Glass 91164 is our best overall windshield cleaner as it is a premium-quality product with a deep-cleansing foam.
This deep-cleaning foam will ensure the product scrubs deep to remove all kinds of windshield contaminants, including bird droppings, salt spray, smoke haze, bug splats, plasticizer film, and road grime.
This top-rated windshield cleaner is perfect for both tinted and non-tinted windows, and it will be more eco-friendly as the formula does not contain any ammonia. Also, the formulation does not have soaps, dyes, additives, and scents.
This product is easy and convenient to use thanks to a non-drip formula and does not make any mess or leave streaks on your windows. Also, this cleaner is ideal for both indoor and outdoor use.
Although the nozzle seems to dispense a little slowly, this will hardly be a significant concern for most motorists.
Note: You can also get this windshield cleaner as part of a combo kit, the Invisible Glass 99031. This kit will include everything you need to clean your windshield, including some microfiber glass cleaning bonnets.

---
2. Best Water-Repellent: RainX 800002243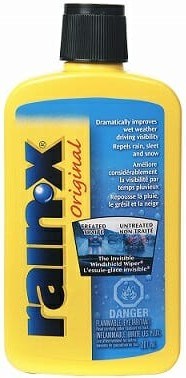 The RainX 800002243 glass cleaner is the perfect option for motorists looking for a cleaner that repels snow and rain. This product uses a water-repelling formula to ensure you maintain excellent visibility in any weather condition.
Many motorists love that besides improving visibility, this windshield cleaner will also enhance wiper blade performance to make driving under inclement weather more effortless.
Also, it removes discoloration and haze to restore headlights and clear plastic. And the use is straightforward as you only need to squeeze a little to a cleaning cloth and then use it to wipe the windshield or headlights.
Although 7 fluid ounces is relatively little compared to what other options in our automotive glass cleaner review provide, its formulation ensures that a little goes a long way. And the scent is still okay once you get used to the product.

---
3. Best for Perfect Clarity: Meguiar's G8224

Meguiar's G8224 is one of the best car window cleaners out there, not only because it is from a reputable company but also thanks to a unique formulation that delivers a perfect streak-free clarity.
This high gloss formula not only cleans windshields but will also leave tires looking nice and shiny. Its formula has water-resistant polymers and anti-hazing technology. Hence, it can deal with the dirtiest glass.
What's more, this cleaner spreads and wipes off quickly and is safe for tinted windows as well. Using Meguiar's G8224 will also take care of the premature aging of glass. And motorists will love that it makes driving safer, thanks to the anti-hazing formula, which clears the mirror.
When using this product, sometimes it can dry with few water spots, but they are hardly noticeable, and you can easily buff them off.

---
4. Best Budget: Rain-X 5080217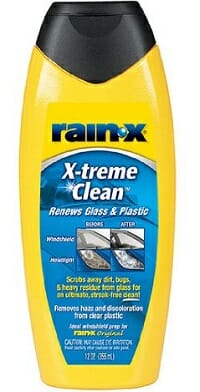 The Rain-X 5080217 is a more budget-friendly windshield cleaner for motorists shopping for an affordable but still highly effective glass cleaning solution.
This glass cleaner removes grime, dirt, and dust build-up from windshields and most other glass surfaces. Plus, you can also expect outstanding results when using it on headlights and clear plastic.
Rain-X 5080217 is ideal for removing haze and discoloration to ensure excellent driving visibility. And besides cleaning the glass, this cleaner also leaves it streak-free and with a pleasant shine.
One more thing that makes this an outstanding product is its usefulness in improving wiper blade performance to ensure you will always get even better driving visibility.
Using this windshield cleaner will require quite some elbow grease, but the results make it worth the effort. The instructions are not very good, but you should not have any issues using the product.

---
5. Best Aerosol: 3M 08888

If you want a windshield cleaner that will give you an easy time during application, the 3M 08888is perfect, thanks to the nice aerosol container.
This cleaner is ideal for most glass surfaces, including mirrors, windows, side glass, windshields, automotive vinyl, chrome, metal, and plastic, and it will also leave them with a pleasant gloss and streak-free.
With the no-drip foaming action, this windshield cleaner will cling to vertical surfaces to ensure you can clean them more effectively.
While this cleaner has quite a strong odor that might be super annoying for some motorists, you should not have any issues if you use it outdoors. Although you also need to do some scrubbing, this should still not take a lot of effort.

---
6. Best Spray Windshield Cleaner: Windex Ammonia-Free 679593

With the spray bottle that will also include a nice trigger, the Windex Ammonia-Free 679593 is quite a convenient windshield cleaner as it gives motorists a much easier time.
Besides being convenient, this windshield cleaner has a potent formula that effectively removes fingerprints, smears, and smudges from glass surfaces. Better yet, the glass cleaner cleans without leaving any streaks.
Because the formula is ammonia-free, you will never have to worry about a choking ammonia smell lingering for hours after application. You will be happy to know the bottle is 100% recycled plastics if you are an environment-conscious motorist.
The scent seems to be a little too overpowering, but the good news is that it dissipates quite fast, and so you should not have any issues if you are in a well-ventilated room.

---
7. Rain Repellent Windshield Cleaner: Rain-X 5071268

If you drive in rainy conditions a lot, the rain-repellent Rain-X 5071268 will serve you well. This cleaner allows water to bead up and roll away, leaving your windshield clear to maintain excellent visibility.
With this cleaner, you will never have to worry about unsightly streaks on the glass as the formula always leaves the surface streak-free. Applying this product is a breeze as you just need to spray and wipe off with almost no buffing required.
Besides cleaning your windshield, the Rain-X 5071268 helps remove and prevent snow, ice, sleek, and all kinds of road grime from sticking in the glass.
While this windshield cleaner will sometimes leave a thin film on the glass, this is something that you can easily remove with a little buffing.

How to Buy the Best Windshield Cleaner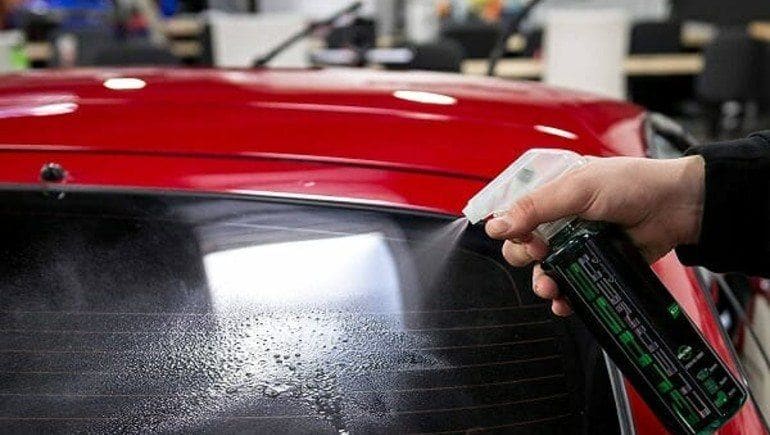 1. Size
The windshield cleaner size is an essential factor to consider to ensure you get the best value for your money.
Given that you will need to use this product quite often, you should choose an option with enough cleaner to last several uses.
Depending on the brand and price, you can get windshield cleaners in bottles that are small as 5 fluid ounces or as large as 100 or more fluid ounces. Hence, it is up to you to decide the size you need.
But a 128-ounce bottle like the Chemical Guys CLD-202 will always give you great value for money.
2. Multi-surface
Besides cleaning your windshield, a good windshield cleaner is one that you can also use to clean different surfaces like the Glass Plus 1920089331 as it will be handier to have around.
Something you can use to clean fiberglass, Plexiglas, mirror, stainless steel, computer screens, tablets, smartphones, and other glass surfaces will be very useful. Also, it should be ideal for use on both interior and exterior surfaces.
3. Eco-Friendly
You cannot overlook the impact that the product you use will have on the environment because it can even land you in trouble in some jurisdictions.
It is crucial to ensure the windshield cleaner you buy does not have any harsh or harmful chemicals or ingredients that can harm animals or plant life.
The best idea is to avoid products with things like ammonia and bleach, as they are bad for both the environment and the user.
4. Ease of use
The windshield cleaner must be easy to use. And this implies that the product should neither be too sticky nor too runny as both can give you problems during application.
An easy-to-use windshield cleaner will come with a good spray bottle that lets you adjust the nozzle to control the flow. If the cleaner also comes with a free cleaning cloth, it will even be better.
How to Clean Your Windshield
Here is how to clean both the exterior and interior sections.
Exterior
Step 1: Wipe the outside section of the windshield with a soft cloth to remove any large debris and dirt.
Step 2: Spray the cleaner on the windshield and make sure you cover it adequately.
Step 3: Next, take a microfiber towel and wipe off the surface. Do this vertically, moving up and down from one end to the other.
Step 4: Once you finish, you can proceed to the horizontal wipe down. Start from the top and wipe back and forth. If you cannot cover the entire length in one swoop, you can divide it into two sections.
Step 5: The last step is to give the windshield final touches as you might have missed some sections. Make sure you never use a circular motion as it will leave an unsightly look.
Interior
Step 1: Start by wiping the surface with a clean cloth to eliminate any loose debris and dirt.
Step 2: Spray the cleaner on the windshield generously and try to cover as much of it as possible.
Step 3: Now, take a clean microfiber cloth and use it to wipe off the cleaning agent. But, if you think the glass is too dirty, you can use a scrub pad instead.
Step 4: Lastly, take a clean microfiber towel and use it to dry the whole windshield. Make sure there is no residue left behind.
Conclusion
If you want your car glass to look clean and shiny for better visibility to ensure safer driving, you need to invest in the best windshield cleaner.
With this guide to help you, finding an effective cleaner for your windshield should now be quick and super-easy. From our list, the Invisible Glass 91164 is our top recommendation thanks to the highly effective deep-cleansing foam.
But, if you want something that will help save you some cash, the more budget-friendly Rain-X 5080217 is what we recommend.