Different sound components have different uses and this includes tweeters and subwoofers. With the best car tweeter system installed in your vehicle, you'll get a boost in the quality and clarity of your car's stereo system.
A tweeter's main job is to reproduce high-frequency sounds ranging from around 2,000 Hz up to 20,000 Hz. These higher ranges add more brightness to sound and make your sound system come alive.
Being highly specialized devices, a good tweeter needs a good power rating, a well-performing material, an overall good frequency response, and good quality mounting options.
This best car tweeters review provides you with all the necessary features that you need to understand and look out for when choosing tweeters for your vehicle or boat.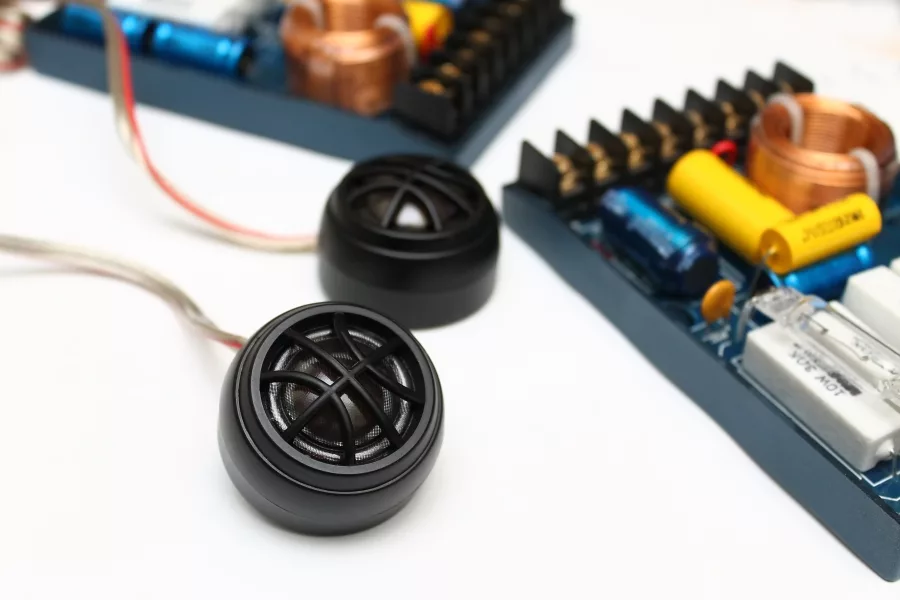 IMAGE
PRODUCT
FEATURES

Polk Audio DB1001

1. Polk Audio DB1001 (Flush & Surface Mount)

Pair of silk-polymer dome tweeters
High 180-Watt peak power and 60-Watts RMS
Comes backed by a 1-year warranty

Rockford R1T-S

2. Rockford R1T-S (High Sensitivity Mylar Set)

Set of two Mylar-balanced dome tweeters
Features a 40-Watt RMS and 80-Watt peak power
Offered at a low and attractive price

DS18 TW120B

3. DS18 TW120B (Super Loud Aluminum Tweeter)

Powerful aluminum tweeter with 200-Watt RMS
Comes with a built-in crossover
Offers a super-loud 103-dB sensitivity

Infinity REF-275tx

4. Infinity REF-275tx (Edge Driven Textile Tweeters)

Compact 3/4-inch tweeters
Features a 135-Watt peak power & 45-Watt RMS
Package includes all installation hardware

JBL GTO19T

5. JBL GTO19T (Set of Two High-quality Tweeters)

Pair of high-quality tweeters with in-line crossover
Features a 45-Watt RMS and 135-Watt peak power
Backed by a 1-year warranty

Kicker 43CST204

6. Kicker 43CST204 (Pair of Titanium Dome Tweeter)

Crystal clear titanium tweeters
Offers 92 dB sensitivity with 50-Watt RMS
Kicker backs it with a 1-year warranty

Pioneer TS-T110

7. Pioneer TS-T110 (Surface & Flush Mount Hard Dome Tweeter)

Pair of PPTA hard-dome tweeters
2.5 to 30 kHz frequency response with 7 kHz crossover
The package includes flush and surface mount hardware
1. Polk Audio DB1001 - Flush & Surface Mount Car Tweeter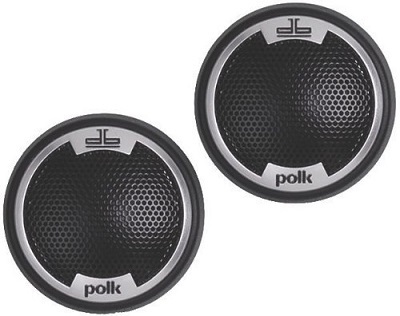 RMS: 60 Watts
Peak Power: 180 Watts
Material: Silk/polymer
Sensitivity: 92 dB
This Polk Audio DB1001 offer combines high performance with a great price to create a top product that's available for flush and surface mount and includes swivel cups for flexibility.
The tweeters have a top power rating of 180 Watts and an RMS of 60 Watts. They get manufactured using silk-polymer composite domes and are marine certified, so they are also good for boats.
Another feature that makes it one of the best car tweeters is the included 12db/octave passive crossover that's included in the package, and which helps to produce a better quality sound and keep the tweeter for as long as possible.
For the cons, you'll find tweeters with a wider frequency response than the 4kHz-23kHz response of this one and it's also not the most stylish of twitters. It's backed by a 1-year warranty, however, and has a metal mesh cover that gives it that 'factory' look.

---
2. Rockford R1T-S - High Sensitivity Mylar Car Tweeter Set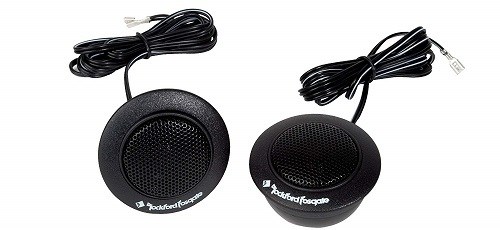 RMS: 40 Watts
Peak Power: 80 Watts
Material: Mylar
Sensitivity: 72.5 dB
Here's a good offer for those who want the best car tweeters for the money. It's a set of two tweeters made using Mylar balanced dome for highly-accurate sound reproductions.
Its frequency response ranges from 2.5 kHz to 22 kHz, with a 40-Watt RMS and 80 Watts of peak power. The package also includes a 6 dB/octave crossover for finer sound production.
Downsides include the Rockford Fosgate logo on each tweeter, which some people may not like, and the package is also not as powerful as the Polk Audio DB1001.
It comes with a 1-year warranty, however, costs much less, and is available for flush, surface, and angle mounts.

---
3. DS18 TW120B - Super Loud Aluminum Car Tweeter Package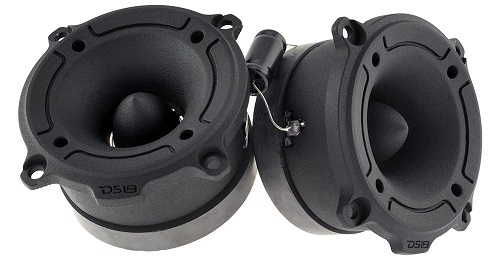 RMS: 200 Watts
Peak Power: 300 Watts
Material: Aluminum
Sensitivity: 103 dB
If you are looking for the best 1-inch car tweeter when it comes to pure loudness, then this aluminum tweeter might impress you with its specs.
It comes with a 103-dB sensitivity, a 200-Watt RMS and 300 Watts of peak power. It's additionally made from aluminum, which reproduces high frequencies very clearly, making this package ideal for loud music lovers.
Measuring just 1-inch across, it has a 2 kHz to 20 kHz frequency response and comes with a built-in crossover, guaranteeing you a super-bright sound every time. Although it could be too loud for some people, this set of 2 tweeters will sound perfect if you love dance music.

---
4. Infinity REF-275tx - Edge Driven Textile Car Tweeters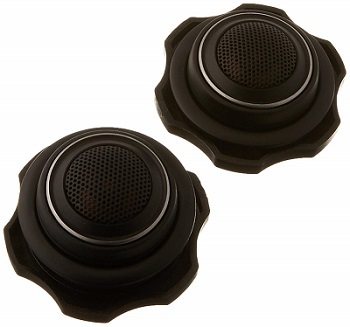 RMS: 45 Watts
Peak Power: 135 Watts
Material: Textile
Sensitivity: 93 dB
For that smooth and warm sound of a set of textile tweeters, you may want to check out this offer from Infinity. As part of a larger collection of speakers, these tweeters offer a high-quality reproduction of higher frequencies.
They measure just 3/4-inch in diameter and have a 93-dB sensitivity, with a 45-Watt RMS and 135 Watts of peak power.
In the package, you'll get the set of two speakers, plus an owner's manual and accessories for both surface and flush mounting.
Two issues here include other cheaper tweeters, as well as more powerful tweeters, although they don't necessarily offer the good quality and warm sound of these textile tweeters.

---
5. JBL GTO19T - Set of Two High-quality Car Tweeters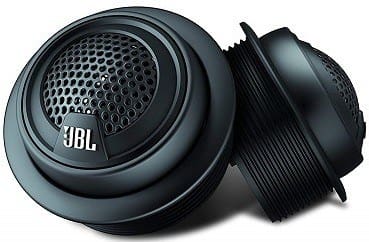 RMS: 45 RMS
Peak Power: 135 Watts
Material: Fabric
Sensitivity: 93 dB
JBL is a well-known brand when it comes to musical equipment like speakers, so you can rest assured that this offer is one of the best sounding car tweeters out there.
With a 93-dB sensitivity, it's one of the loudest tweeters here and it can handle up to 135 Watts of power, with an RMS of 45 Watts.
The package includes two tweeters, each 3/4-inch wide. Then there is a pair of grilles, in-line crossovers, and all the necessary mounting hardware.
Although you could get cheaper and more powerful tweeters elsewhere, they won't have that JBL logo. This set is also backed by a 1-year warranty.

---
6. Kicker 43CST204 - Pair of Titanium Dome Car Tweeter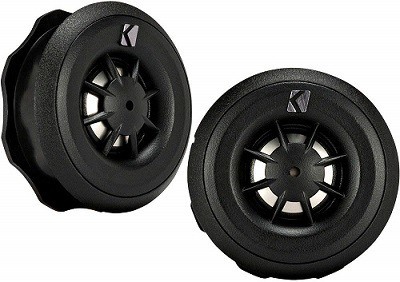 RMS: 50 Watts
Peak Power: 100 Watts
Material: Titanium
Sensitivity: 92 dB
The Kicker 43CST204 is one of those exceptional tweeters that feature a titanium dome, designed to produce crystal clear high-frequency sounds.
Designed for flush, surface, and angle mounting, they deliver a 50-Watt RMS and 100-Watt peak power, at a 92-dB sensitivity, which puts them among the ranks of very good tweeters.
Where they lack, however, is frequency response, with their 4.5 to 21 kHz response, which is narrower than the response of most other tweeters in this review.
Kicker includes a high-quality, 6 dB/octave crossover anyway, and backs up the offer with a 1-year warranty.

---
7. Pioneer TS-T110 - Surface and Flush Mount Hard Dome Tweeter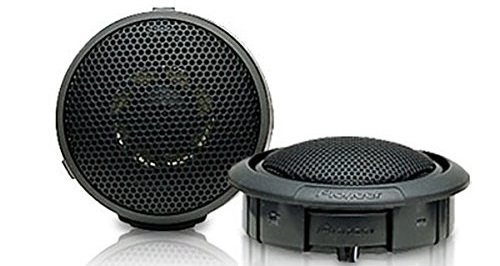 RMS: 40 Watts
Peak Power: 120 Watts
Material: PPTA
Sensitivity: 90 dB
Pioneer is another well-known brand when it comes to car audio equipment, so you can as well be sure of this TS-T110 tweeter's quality.
Unlike other tweeters here, this one uses PPTA, which is a synthetic material for the dome, making it a hard dome tweeter. Each of the two tweeters is also 7/8-inch wide and fluid cooled.
They produce a 90-dB sensitivity, with a 2.5 to 30 kHz frequency response, a 40-Watt RMS, and a 120-Watt peak power.
One issue, however, is that you can't remove their front mesh grilles. Asides from that, the package includes everything for flush and surface installation, as well as a top-quality 7 kHz in-line crossovers.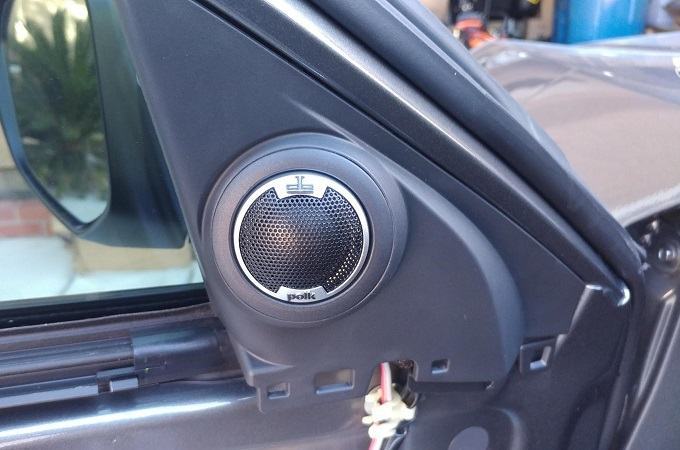 Car tweeters add better sound quality to your ride but you already know that all tweeters are not equal. So, it's important to know what makes some better than the rest, so you can make an informed choice.
Following are the most important features that differentiate tweeters and what to look out for.
1. Power Handling & Impedance
All types of speakers, including tweeters, have a power rating that lets you know how loud it can get or how much power it can easily handle from an amplifier.
Most car tweeters lie between 25 Watts and 50 Watts RMS, which is an acronym for stating average power over time. The second power rating is peak power, a self-explanatory metric.
Impedance is an electrical term used in referring to the resistance that a load creates for the flow of electricity. Many engineers design their systems for specific impedance ratings, so it's important to stick to them for the best sound quality.
You'll find car amplifiers rated 4 Ohms, 8 Ohms, or even Ohms. This Ohm-rating simply states the recommended impedance, so all you have to do is to find tweeters that have the same Ohm rating and that's it.
2. Material
The material used in making the tweeter also affects its sound, in addition to determining its durability. You need to know the popular materials and the costlier ones, so you can comfortably make your choice.
They are as follows.
Synthetic Films. This type of tweeter is resistant to humidity and lightweight as well, meaning they don't need lots of power to drive. The materials used here can include PET and polyimide.

Their downside includes a lower-quality sound reproduction, which means they are not an option for audiophiles.
Textiles. This group of tweeters uses textile materials for their cones. The most popular material here is silk, although it's most often blended with other materials for strength.

The beauty of silk tweeters lie in their warm and soft to the ear sound and this makes them the preferred option for audiophiles.

Metal/Ceramic. Metal and ceramic tweeters are the perfect design when it comes to loud volumes because they can reproduce high frequencies at high volumes.

If you are the type that likes very loud and deafening music, then you want a ceramic or metal tweeter from either aluminum, titanium, or even a ceramic and metal blend.
3. Size
Most car tweeters are just one or a few inches in diameter and just like standard speakers, a larger size often makes a louder tweeter. To get a good car tweeter, simply focus on its manufacturing material, shape, and its size.
A tweeter's shape matters because it determines how its sound gets distributed around your car. Different tweeter shapes combine with the different tweeter materials to create unique sound characteristics, so it's worth knowing a little about them.
Cone Tweeters: These are very common tweeter designs and are usually found in factory speakers. The good thing is that they are inexpensive to produce, but this comes at the cost of poor reproduction and spreading of sounds.
Semi-Dome Tweeters: Here, you get a small dome inside a relatively shallow cone. This design is also inexpensive and often found in lower-cost tweeters, but it allows the use of softer materials and better production than pure cone tweeters.

Dome Tweeters: This design features only a dome and works to disperse the sound as widely as possible. This produces a higher-quality sound because high-frequency waves are very directional. Also, wider dome tweeters produce better sounds than smaller ones.
Focal Tweeters: With focal tweeters, you get a tweeter with an inverted dome. This means that the dome doesn't protrude from the coil as dome tweeters do, but it's positioned upside down like a crater. Focal tweeters produce good sound and are often used in top-rated car tweeters.
5. Installation Ease
You'll do well to consider a tweeter's ease of installation before deciding to get it. First, consider where you want to install it, and then check to see that the tweeter can fit. Popular mounting options include surface mounting, flush mounting, and bottom mounting.
Conclusion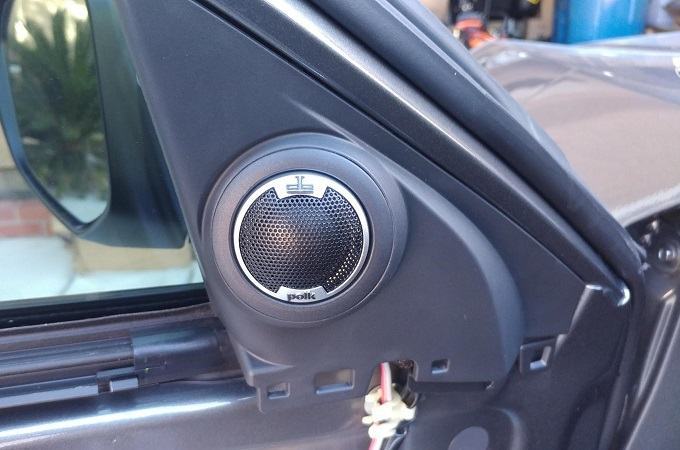 We've come to the end of this car tweeters review and you've seen all the exciting offers out there, from the small and budget options, all the way to the premium tweeters with their impressive performances.
The last choice, however, is yours alone to make because it's only you that know how much power you need and how much money you also plan on investing.