A car power inverter transforms the Direct-Current electricity that you find in cars into the higher voltage Alternating-Current electricity that you normally find in homes.
This enables you to plug home appliances into the power inverter wherever you are and have them powered by your car. This is the magic of the car power inverter.
For most users, having a car power inverter makes charging phones and laptops easy while on the road. Others use it for family entertainment as well on the road, such as playing DVDs and for powering kitchen appliances.
In this best car power inverters review, you'll get all the information you need to make the right inverter choice, plus you get a list of the top car power inverters in the market, as well.
Editors' Picks: Top Car Power Inverters of 2021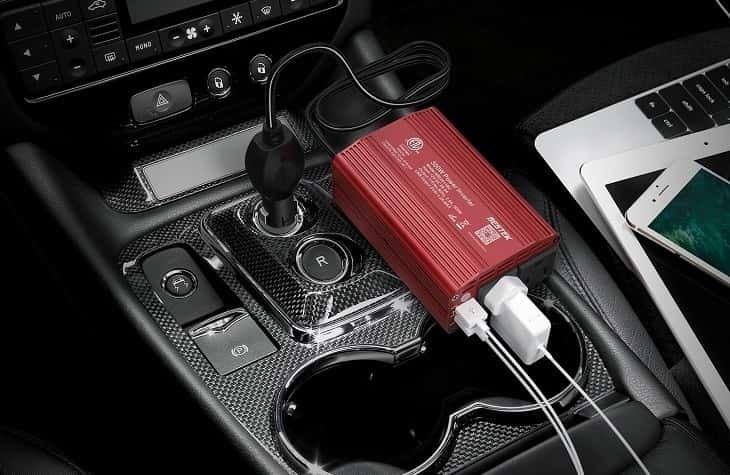 Summary of 7 Best Car Power Inverters
IMAGE
PRODUCT
FEATURES

1. Foval MT-MX (Best Overall)

Compact and modern power inverter
Ideal for charging everyday devices
Offered at a low and attractive price

2. Bestek MRI3011BU

Durable metal housing
Offers two AC outlets
Delivers up to 300 Watts of power

3. Bestek MRI4011IU

Lovely design and overall style
Features two AC sockets & 4 USB ports
Supports up to 400 Watts

4. Krieger KR1100

Compact powerhouse of 1,100 Watts
Includes two AC sockets and two USB ports
Backed by a 3-year warranty

5. Bestek MRI2011GU

Compact power inverter with sleek design
Handles up to 7 devices at a go
Provides 200 continuous Watts and 500 peak Watts

6. Potek PI-750

Provides up to 750 Watts
Robust and compact design
Comes with cigarette plug and battery clips

7. Tripp Lite PV200CUSB

Unique & intelligent design
Features 2 AC sockets and 2 USB ports
Comes backed by a 1-year warranty
1. Foval MT-MX - Best Overall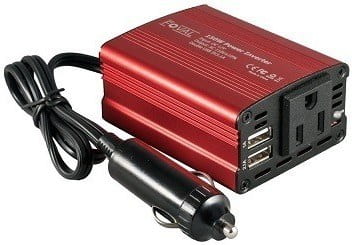 Power Output: 150 Watts
Number of Outlets: 1x AC, 2x USB
This 150-Watt Foval power inverter is perfect for anyone who just needs a compact car inverter to run and charge everyday appliances. It produces 150 Watts at most, so it's not heavy-duty.
However, you can use it to charge up to two mobile phones at once, as well as run most basic appliances like a breast pump, a game console, DVD player, and the likes.
It comes with multiple safety protections like over-voltage, short-circuit, over-charge, low-load, over-load, and over-heating protections.
This makes it a reliable piece of equipment that you can count on for a long time to come and it's also the cheapest car power inverter on this list.

---
2. Bestek MRI3011BU Power Inverter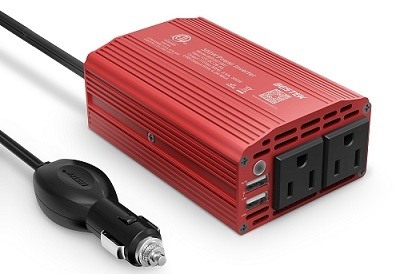 Power Output: 300 Watts
Number of Outlets: 2x AC, 2x USB
Here's another top-rated car power inverter, and this time, it offers two AC outlets, allowing you to plug up to two appliances at a go.
There are two USB ports as well, so you can charge your smartphones and other gadgets on the go. The USB ports are high-powered 2.4-Amp ports, designed for fast charging of compatible devices.
This unit comes with a 40-amp fuse and provides other safety options like overheating, over-charging and short-circuit protections.
Its downsides are its higher price and that it's not a pure sine wave inverter.

Another feature is the housing color, which you can get in either Red, Blue, or Grey. It comes with only a cigarette lighter cable, but this is understandable since its top output is 300 Watts. Bestek backs it with an 18-month warranty.

---
3. Bestek MRI4011IU Power Inverter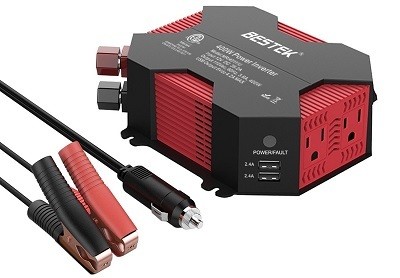 Power Output: 400 Watts
Number of Outlets: 2x AC, 4x USB
The Bestek 400-Watt car inverter is a uniquely designed device, which offers lots of features and is worth its price. Its 8-sided design is reminiscent of the X-box but in a smaller package.
It offers a total of four USB ports, including 2.4-Amp ports, with two on each side of the front panel. In the rear, you get the power terminals, the fuses, and a cooling fan.
The two AC sockets are on the front side of the device and together, they allow you to run as many appliances as 400 Watts can handle. All the standard circuit and voltage protection functions are also included.
Like the previous power inverter, this one also produces a modified sine wave and not a pure sine wave. Its second con is that it also comes at a higher price.

Unlike the previous power inverters in this review though, this one comes with both a cigarette lighter and a battery clip cable, and Bestek backs it with an 18-month warranty.

---
4. Krieger KR1100 Power Inverter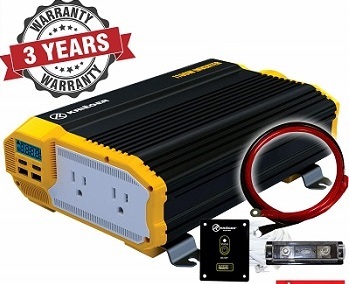 Power Output: 1100 Watts
Number of Outlets: 2x AC, 2x USB
Krieger brings lots of power here with its range of car power inverters, starting from this 1,100-Watt model with a dual AC outlet and LCD display.
It also offers a dual USB output for charging your mobile devices and the package includes an installation kit, plus a wired remote system for On and Off control.
There are all kinds of protections built into this power inverter, and it's guaranteed to safely power your vacuums, blenders, and power-hungry power tools.
The downside is that it costs more than the previous offers in this review and you also can't run it from the cigarette lighter port. Still, it's one of the best power car inverters you'll find.
Other models in this series include the 1,500-Watt up to 4,000-Watt models. Krieger also includes a 3-year warranty in the package, plus an in-line fuse and user manual.

---
5. Bestek MRI2011GU Power Inverter
Power Output: 200 Watts
Number of Outlets: 3x AC, 4x USB
Bestek is known as one of the best car power inverter brands, making some of the best automobile inverters and this one is no different. Though it comes with a 200-Watt power rating, it does offer many interesting advantages.
The first plus on this power inverter is its sleek design. You can integrate it into many settings and it will fit in perfectly, such as fixing it permanently in your camper or on a shelf.
Another plus is its generosity with three widely-spaced AC outlets and four USB ports, which include 1-Amp and 2.1-Amp ports for fast charging of devices.
The problem is that seven devices can easily use more than 200 Watts, so it's a bit limited there.

It comes with a cigarette lighter adapter for easy setup, and a 2.5-ft cable allows it for easy backseat use. There are also anti-slip rubber feet and Bestek backs it with an 18-month warranty.

---
6. Potek PI-750 Power Inverter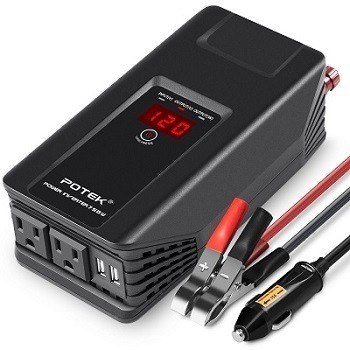 Power Output: 750 Watts
Number of Outlets: 2x AC, 2x USB
How about an power inverter that's great for charging small devices like phones and tablets, but can also provide enough power to run small power tools?
What makes this offer one of the best car power inverters, is its complete package, which includes both battery clip cables and a cigarette plug cable to allow the user more freedom.
It's recommended to use the cigarette lighter plug when using 150 Watts or less and to use the battery clips for more power intensive applications.
One downside is that its design lacks style, and the other is that the output is not a pure sine wave. It does include an ingenious On/Off button, a digital display, a smart cooling fan, and an 18-month warranty from the manufacturer.

---
7. Tripp Lite PV200CUSB Power Inverter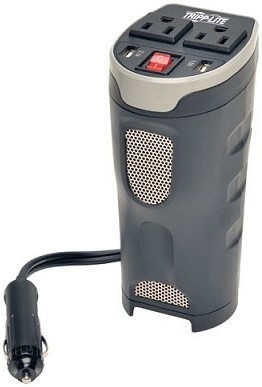 Power Output: 200 Watts
Number of Outlets: 2x AC, 2x USB
It's safe to assume that the best power inverter for cars should include some out of the box thinking, and that's exactly what you're seeing here.
Many car power inverter users like to recharge their gadgets or power up some devices while on the road, so a safe location for the inverter often becomes an issue.
To solve this issue, Tripp Lite came up with this design that fits beautifully into your car's cup holder, so you can focus on your driving with complete peace of mind.
Its downsides include a plastic housing with a fragile look and its 200-Watt maximum output.

It offers two AC sockets and two USB ports, plus it comes with a cigarette lighter plug for easy setup, and Tripp Lite backs it with a 1-year warranty.

How to Buy the Best Car Power Inverters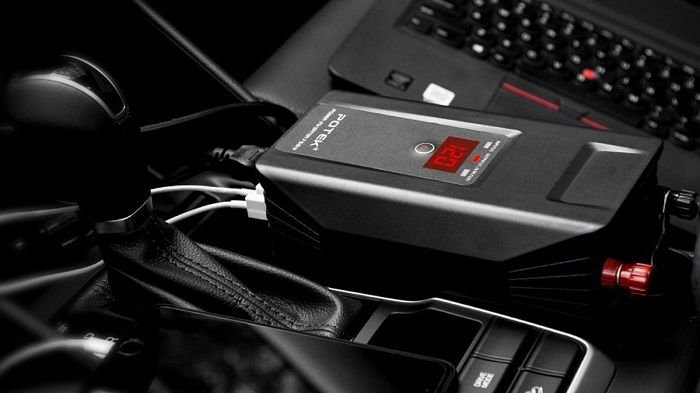 Car power inverters are unique devices with distinctive technologies, making it necessary that you learn at least, a little about them, so you can understand their different features and what these actually mean.
It's this understanding that'll offer you enough information to make an informed decision when choosing an power inverter for your car.
Following is a listing of these important factors.
1. Output Power
This refers to the total amount of power that the power inverter can deliver, and from this figure, you'll also know the types of devices and how many of them that it can power at a time.
To get the best car power inverter with the right output power requires that you think about your purpose for the power inverter first because it's easy to calculate the total power consumption of all the devices that you'll be using.
Just look behind them and you'll see the watts figure. You may also want to add an extra 20% or more of power to the figure that you calculated because you never know when you might need more power.
Another very important consideration is 'starting power', which is the amount of power that devices with induction motors need only when starting. This is often many times more power than what they need to run continuously.
If you have such devices, then it's important that you consider a larger power inverter. These devices include fans, fridges, and air conditioners.
2. Number of Outlets
Outlets are another important deciding factor. You want an power inverter that offers you as many options as possible, and this usually means multiple outlets.
Most car power inverters out there will offer you two or more AC outlets, which is great, although some will only offer a single AC outlet.
Another feature is USB ports. Some power inverters offer USB ports for charging mobile devices and other similar items, although USB is D/C power and doesn't need an power inverter to produce from a car.
Read More: The Best USB Car Chargers
3. Cables & Accessories
Some car power inverters work from cigarette lighters, while others need a direct connection to the battery or the fuse box. Yet, there are those that come with more than a pair of cables, so you can either attach them to the battery or the cigarette lighter, as is necessary.
The choice here is left for you to make based on your power needs and availability. If you need about 100-300 Watts of power, then most cars will do okay and most cigarette lighter sockets can deliver the power.
Check with your vehicle first though, because many cigarette adapters get fused at 10 Amps, which means they will deliver a top power of 120 Watts. Even with a 20-Amp fuse, you'll get about 240 Watts of power.
This means that you need a real wire connection to the fuse box or battery for higher powered uses, and even then, you still need to make sure that your vehicle's alternator can deliver the needed level of power, else you'll be draining your battery really fast.
4. Construction
You need an power inverter housing that's well made to protect the components inside, so they can last longer. This may mean focusing only on power inverters with steel construction.
For the connection cables, you want them as thick as possible, because the thicker they are, the more power they can handle, and the longer they'll last.
5. Ease of Use
Obviously, you want an power inverter that's easy to set up and to use when you want. A simple design with a clean interface is best, and it should come with everything you need for a quick setup.
6. Safety Features
Power inverters work with dangerous voltage levels and often heat up during operation. It's, therefore, necessary that a good device comes with important safety features to keep itself and its users safe.
Such features include a fan for cooling the components, an LCD monitor for displaying warnings, or surge and short-circuit protection.
7. Warranty
You want the best value for your money, so you need a good product that will serve you well. One way to check out a product's quality is to check out its warranty. In simple terms, you want a car power inverter with a warranty that's as long as possible.
Conclusion
We've come to the end of this car power inverters review and you've seen all the different and impressive offers in the market, including the powerful, the nicely designed, and those with the longest warranties.
Since it's impossible to have a single best car power inverter because we all have different needs, it's left for you, therefore, to make your choice, based on which of these power inverters best meets your needs.